David Tennant - Broadchurch
David Tennant plays DI Alec Hardy and Olivia Colman plays DS Ellie Miller in Broadchurch. The original series won a BAFTA in 2014 and was ITV's highest rated drama of 2013. The series finale was watched by over 10 million and consistently delivered in excess of 9 million viewers. It was broadcast in 2013 in the UK and all around the world.
In the original series, the drama explored what happened to a small community when it suddenly became the focus of a major event and was subjected to the full glare of the media spotlight. Broadchurch is written by Chris Chibnall.
The second series of Broadchurch was broadcast in early 2015. The subject matter was kept secret and no advance press screenings were arranged. When it was broadcast it was revealed that it looked at the trial of the killer of Danny Latimer and Hardy's previous, unsolved case, Sandbrook.
Filming on the third and final series of Broadchurch started on Monday 23rd May 2016 and the series will be broadcast starting in February 2017 on ITV and in March on BBC America in the US. David and Olivia are joined in the third series by Arthur Darvill, Andrew Buchan and Jodie Whittaker from the first two series. Sir Lenny Henry, Roy Hudd, Julie Hesmondhalgh, Georgina Campbell, Sarah Parish, Charlie Higson and Mark Bazeley are new cast members with significant roles.
It will consist of a brand new case for Miller and Hardy with the detectives teaming up to investigate a serious sexual assault and its consequences as the drama's Dorset community comes under scrutiny. The third series is set three years since the second series and will premiere in the UK on Monday 27th February on ITV at 9pm.
Broadchurch Series Three will be released on Blu-ray and DVD on Monday 24th April in the UK.
Also a Broadchurch combined Series One, Two and Three 6 disc box-set will be released on the same day.
David Tennant reprised a similar role in the American remake of Broadchurch which filmed from January to May 2014. This ten part drama was called Gracepoint and had a different killer. It was broadcast on Fox Television on Thursday evenings from October 2014 but was not renewed for a second season. It was shown in the UK on ITV Encore.
Synopsis of each episode of Series One.
Broadchurch Series One Filming dates / locations
David Tennant interviews, appearances and videos for Series One.
Synopsis of each episode of Series Two.
Broadchurch Series Two Filming dates / locations
David Tennant interviews, appearances and videos for Series Two.
Broadcast dates/times for Series Three.
David Tennant interviews, appearances and videos for Series Three.
Broadchurch Series Three Filming dates / locations
Link to posts related to Broadchurch on Blogger.com. (Usually with more detail.)
February 2017
A photo of David Tennant and Olivia Colman on the front cover of The TV Guide in New Zealand has been posted to Twitter. Updated 22/2
MP3s of David Tennant's interview on Front Row tonight.
David discussed Broadchurch and commented on the idea he suggested Olivia Colman would make a good Doctor. Updated 22/2
David Tennant to be a guest on Front Row on BBC Radio Four tonight. Updated 22/2
Radio Times has the first review of episode one of Broadchurch Series Three and describes it as 'It's quietly brilliant.' Updated 22/2
The Broadchurch Series Three start date has been announced for New Zealand. It's Sunday 5th March on TVNZ 1 at 8.30pm. Updated 21/2
A short video clip of David Tennant and Olivia Colman talking about their characters in Broadchurch has been posted to Twitter. Updated 21/2
Today Julie Hesmondhalgh on Lorraine described David Tennant and Olivia Colman working on Broadchurch as "incredibly generous, lovely and really funny." Updated 21/2
The Broadchurch Series Three Press Kit is now available to download from the ITV website.
We have previously posted David's interview from it. Updated 21/2
Julie Hesmondhalgh will be on Lorraine on ITV at 8.30am today talking about Broadchurch. Updated 21/2
Radio Times has an interview with David Tennant and Olivia Colman about Broadchurch. Updated 21/2
There's a new interview with David Tennant and Olivia Colman in TV Times from the set of Broadchurch. Updated 21/2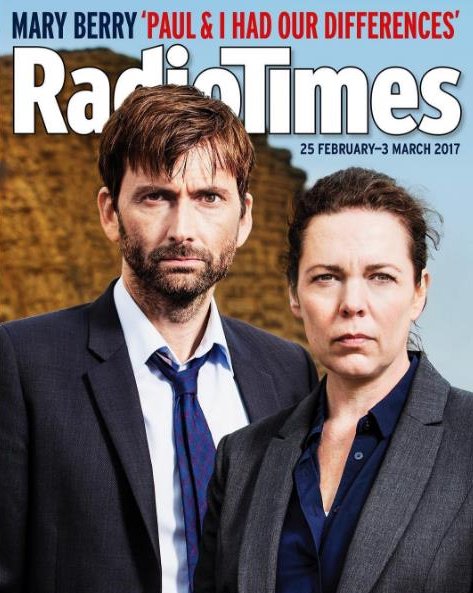 David Tennant on the front cover of Radio Times (which is published tomorrow) for Broadchurch Series Three has been posted to Twitter. Updated 20/2
Sarah Parish speaks about working with David Tennant on Broadchurch Series Three, Recovery and Doctor Who etc. Updated 19/2
A 3 minute clip of Broadchurch Series Three has been posted online. Updated 17/2
David Tennant will be a guest on The Chris Evans Breakfast Show on Friday 24th February on BBC Radio Two to promote Broadchurch.
The station can be heard worldwide, plus we will post a MP3 of David's interview afterwards. Updated 17/2
Broadchurch Series Three start date announced for Australia: Friday 3rd March at 8.30pm on ABC. Updated 16/2
Broadchurch highlights video showing all three series. Updated 16/2
David Tennant interview about Broadchurch Series Three from ITV press pack. Updated 16/2
Four new photos of David Tennant from Broadchurch Series Three. Updated 15/2
Via Digital Spy two new photos of David Tennant with Olivia Colman from Broadchurch have been posted to Twitter. Updated 15/2
Broadchurch Series Three start date announced: Monday 27th February. Updated 15/2
Now Magazine posted to Twitter they had a new interview with David Tennant about Broadchurch.
However it appeared to be only quotes from the press screening on Monday 30th January with old photos. Updated 14/2
Via Radio Times a new photo of David Tennant with his on-screen daughter from Broadchurch has been posted to Twitter. Updated 14/2
A new Broadchurch trailer has been posted online. Updated 13/2
Telegraph interview with Julie Hesmondhalgh about Broadchurch and working with David Tennant. Updated 11/2
David Tennant's interview in The Times Magazine today.
As well as life in general, David briefly discusses Doctor Who, Broadchurch, Mad To Be Normal and Don Juan In Soho. Updated 11/2



A new interview with David Tennant (about Broadchurch among other topics) will be published in The Times Magazine tomorrow. New photos from the article have been posted to Twitter and Instagram. Updated 10/2

The UK release date of the Broadchurch Series Three DVD and Blu-ray box set and the Broadchurch combined Series One, Series Two and Series Three Three 6 disc box-set have been brought forward from Monday 29th May to Monday 24th April. Updated 10/2

9 new promo photos of David Tennant from Broadchurch Series Three. Updated 10/2

A new fun photo of David Tennant from when he was filming Broadchurch Series Three has been posted to Twitter. Updated 6/2

Recording of the Broadchurch Series Three screening press interview (including David Tennant) on Monday 30th January. Updated 5/2

The Broadchurch Season Three start date has been announced for Canada. It's on Sunday 5th March on Showcase. The start time is not known yet. Updated 1/2

The ITV Press Centre has an article about filming about Broadchurch Series Three. Updated 1/2