This section of the website looks at David Tennant's recent radio interviews.
MP3s of all of David Tennant's recent interviews and appearances can be found on the MP3 page of this website.

Over the years David Tennant has appeared in a number of different radio productions. Link for news about these.
David Tennant on Just A Minute.

May 2018
A video of David Tennant talking about Christian O'Connell's final show on Absolute Radio today has been posted to Twitter.
David's part starts at 2 minutes 10 seconds. Updated 18/5

Audio interview with David Tennant by Chris Hardwick about Bad Samaritan, Doctor Who and about changing his name (again!) Updated 5/5



April 2018
Audio of the full press conference about Bad Samaritan yesterday (and a new photo from it) has been posted to Twitter. Updated 29/4

MP3s, videos and photos of David Tennant's interview broadcast on Magic Radio this morning.
This was a pre-recorded interview to promote You, Me And Him but David also speaks about Camping. Updated 14/4



March 2018
Heart Radio News has an audio interview where David Tennant talks about You Me And Him and filming in Stratford-upon-Avon. Updated 31/3

MP3s of David Tennant on Heart West Midlands Breakfast Show today. Updated 29/3

David Tennant to be on Heart West Midlands Breakfast Show tomorrow. Updated 28/3

MP3s of all 3 hours of David Tennant on Absolute Radio today.
The MP3s will play worldwide. Updated 28/3

David Tennant to co-host the Absolute Radio Breakfast Show tomorrow morning starting at 6am. Updated 27/3

It has not been announced which day yet but David Tennant will be on Heart Breakfast sometime later this week according to Twitter. Updated 26/3



February 2018
A fun audioclip from Heart Scotland News where David Tennant apologies for 'Square sausage-gate' and jokingly says he's not as Scottish as he used to be! Updated 28/2

Another audio clip of David Tennant have been posted to Twitter by Heart Scotland News.
In this clip he talks about Doctor Who and Good Omens. Updated 26/2

David Tennant's video 'advert' for You, Me And Him movie and an audio interview from yesterday. Updated 26/2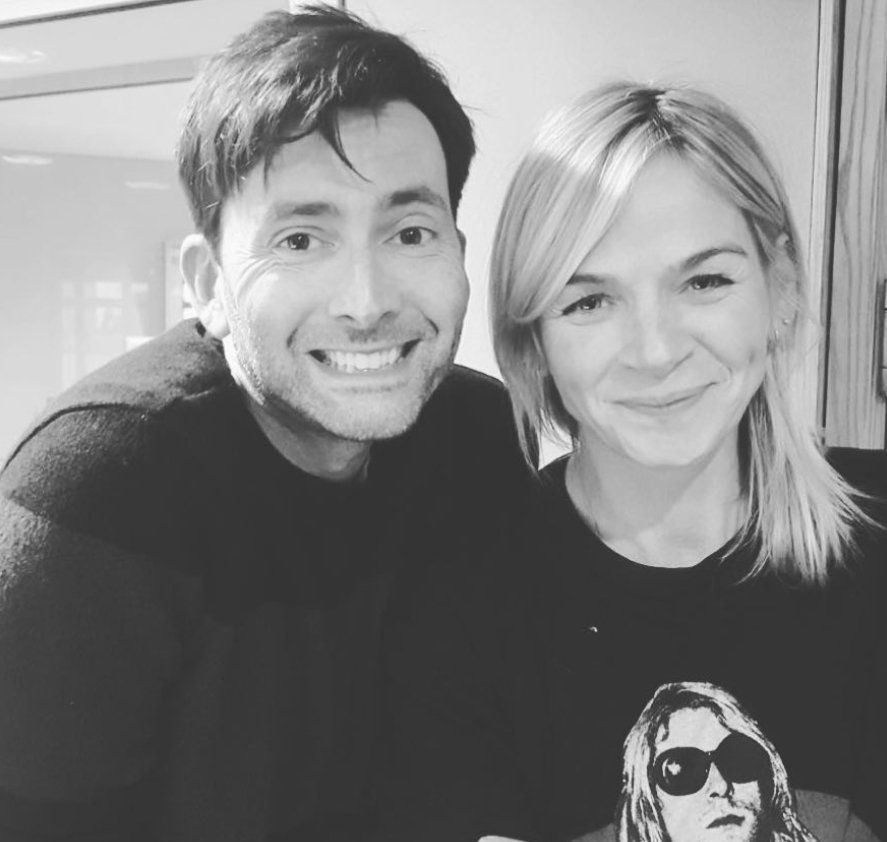 A lovely photo of Zoe Ball and David Tennant today has been added to Twitter. Updated 24/2

MP3s of David Tennant on The Zoe Ball Show.
As well as discussing You, Me And Him, David was also asked about Good Omens, Mary Queen Of Scots and Doctor Who. Updated 24/2

Siobhan Synnot posted to Twitter that tomorrow's Sunday Times Scotland will include an article about her chat with David Tennant which was broadcast on BBC Radio Scotland earlier this week. Updated 24/2

David Tennant is a guest on The Zoe Ball Show this afternoon.
This interview is mainly to promote You, Me And Him. Updated 24/2

David Tennant to be a guest on The Zoe Ball Show on Saturday afternoon on BBC Radio Two.
The interview is to promote You, Me And Him. Updated 22/2

MP3 of David Tennant's interview on Radio Scotland today about You, Me And Him. Updated 22/2

An interview with David Tennant will be broadcast on BBC Radio Scotland today sometime between 2pm and 4pm. Updated 22/2

David Tennant will be interviewed on BBC Radio Scotland on Thursday (22nd). Updated 20/2

The soundtrack CD for Bad Samaritan will be released in the US on Friday 30th March (which is the same date as the movie is released).
The CD is available to pre-order. Updated 5/2



January 2018
There will be a rare radio broadcast of David Tennant in Doctor Finlay: Adventures Of A Black Bag tomorrow and on Thursday. Updated 2/1



October 2017
David Tennant narrated trailer for Tales Of A Time Traveler. Updated 20/10

An audio clip from David Tennant's interview in Doctor Who Magazine #518 Has been posted to Twitter. Updated 19/10



July 2017
David Tennant to voice Drostan Hynd in Call Of Duty: WWII zombies mode game. Updated 15/7



April 2017
Broadchurch Series Three soundtrack released on CD in the UK today. Updated 28/4

Broadchurch Series Three soundtrack is released on digital download today. Updated 7/4

Videos of David Tennant being interviewed on Magic Radio about Mad To Be Normal and Doctor Who. Updated 4/4

MP3 of David Tennant's interview on The Gaby Roslin Show about Mad To Be Normal. Doctor Who is also mentioned. Updated 2/4

A David Tennant interview will be broadcast on The Gaby Roslin Show on BBC London today. Updated 2/4

MP3s of David Tennant's interview on Loose Ends.
In the interview David was asked about Mad To Be Normal, Don Juan In Soho, Doctor Who and Broadchurch. Updated 1/4

David Tennant is a guest on Loose Ends on BBC Radio Four at 6.15pm today. Updated 1/4



March 2017
David Tennant interview on The Gaby Roslin Show on BBC London on Sunday. Updated 31/3

MP3s of all the David Tennant sections on Absolute Radio today (plus videos and photos). Updated 31/3

Broadchurch Series Three soundtrack to be released in April.
The digital download will be released on Friday 7th April and the CD is set to be released on Friday 28th April. Updated 31/3

David Tennant is a guest on Loose Ends on BBC Radio Four tomorrow. Updated 31/3

MP3 of David Tennant's appeal on behalf of Comic Relief on BBC Radio Four. Updated 26/3

David Tennant will make a radio appeal on behalf of Comic Relief this morning. Updated 26/3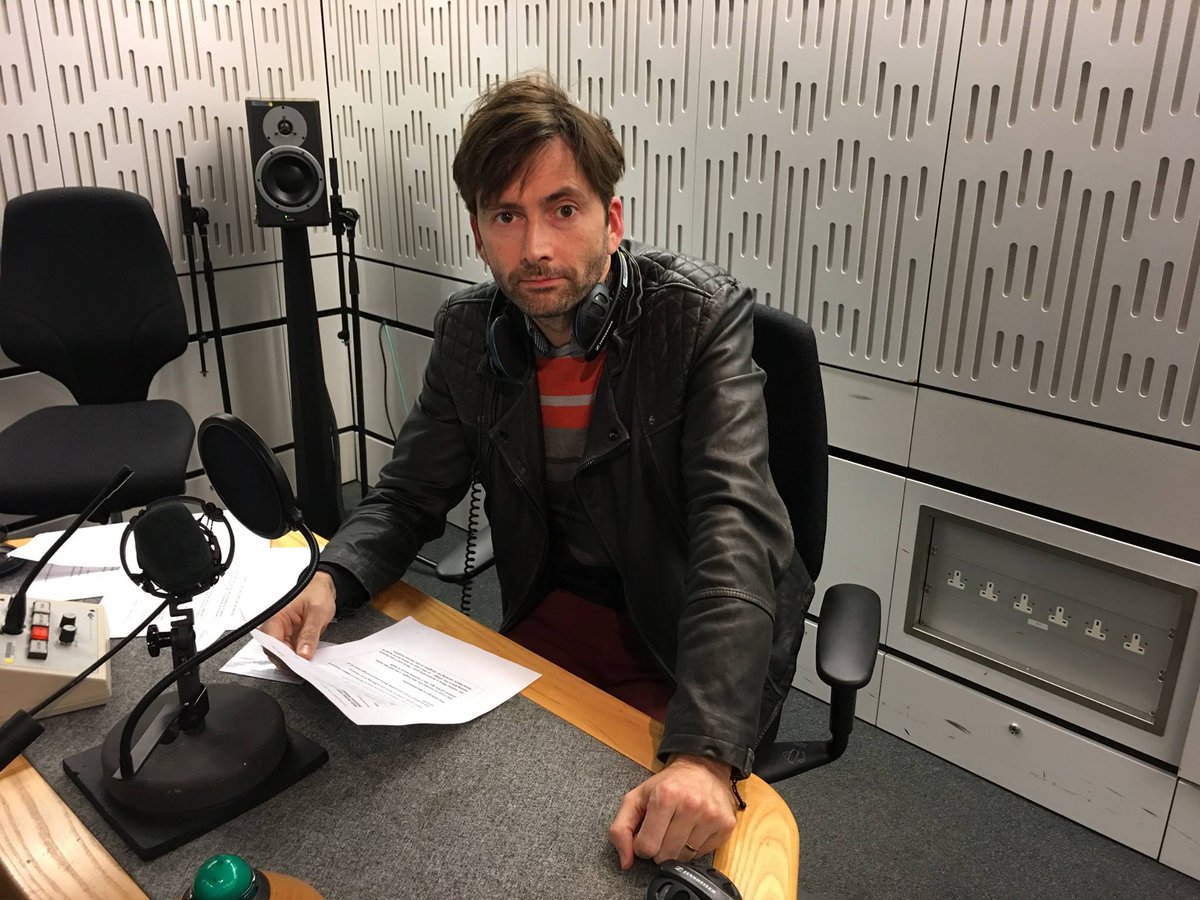 A new photo of David Tennant from his charity appeal on Sunday for Comic Relief has been posted to Twitter. Updated 24/3

MP3 of David Tennant interview and review of Mad To Be Normal on BBC Radio Scotland yesterday. Updated 24/3

MP3 of a David Tennant interview on BBC Radio Two yesterday about the Doctor Who breakfast for Comic Relief. Updated 24/3



David Tennant to make a radio appeal on behalf of Comic Relief on Sunday 26th March.
A photo of David making the recording has been posted to Twitter. Updated 18/3

David Tennant to co-host the Absolute Radio Breakfast Show on Friday 31st March. Updated 18/3

MP3 of David Tennant interview about Broadchurch on Radio London today. Updated 5/3

David Tennant will be interviewed on the Gaby Rosline Show about Broadchurch on BBC Radio London today starting at 2pm. Updated 5/3



February 2017
Heart Scotland has another audio interview with David Tennant about Broadchurch, Don Juan In Soho and Doctor Who. Updated 28/2

Another David Tennant audio interview from the Mad To Be Normal press interviews yesterday has been posted online. In this interview he talks about about RD Laing, 'red velvet suits and being lanky! Updated 27/2

Heart Scotland News has an audio interview with David Tennant from the Mad To Be Normal premiere last night. Updated 27/2

MP3s of David Tennant on The Chris Evans Breakfast Show yesterday. Updated 25/2

Photos of David Tennant at BBC Radio Two today. Updated 24/2

The BBC website (with a new photo of him) has a clip from The Chris Evans Show where David Tennant tells Chris about the final series of Broadchurch and how Doctor Who lives on. Updated 24/2

David Tennant is a guest on The Chris Evans Breakfast Show on BBC Radio Two this morning to discuss Broadchurch. Updated 24/2

The first review of David Tennant's forthcoming movie Mad To Be Normal (with lovely comments about his acting) has been posted online by Radio Scotland. Updated 23/2

David Tennant's forthcoming movie Mad To Be Normal will be reviewed on The Janice Forsyth Show today on BBC Radio Scotland today. Updated 23/2

MP3s of David Tennant's interview on Front Row tonight.
David discussed Broadchurch and commented on the idea he suggested Olivia Colman would make a good Doctor. Updated 22/2

David Tennant to be a guest on Front Row on BBC Radio Four tonight. Updated 22/2

David Tennant will be a guest on The Chris Evans Breakfast Show on Friday 24th February on BBC Radio Two.
The station can be heard worldwide, plus we will post a MP3 of David's interview afterwards. Updated 17/2

Recording of the Broadchurch Series Three screening press interview (including David Tennant) on Monday 30th January. Updated 5/2



January 2017
A six minute telephone interview with David Tennant was broadcast today on the BBC Radio Four Show World At One about the news that Peter Capaldi will leave Doctor Who.
Link to listen to the MP3. Updated 31/1

Unfortunately neither David Tennant or his Doctor Who audiobook are finalists for the BBC Audio Drama Awards. Updated 3/1

The finalists of the BBC Audio Drama Awards will be announced today.
Both David Tennant and Doctor Who were shortlisted. Updated 3/1



October 2016
A new photo of David Tennant today has been posted to Instagram. He was doing an audio recording. Updated 20/10

David Tennant rings Christian O'Connell for charity and discusses Broadchurch. Updated 7/10



July 2016
Video of Olafur Arnalds talking about David Tennant reading Undone from his album Late Night Tales. Updated 1/7

How To Fight A Dragon's Fury to be released on Thursday 7th July on audio download. Updated 1/7



June 2016
Ólafur Arnalds album Late Night Tales is released today. It includes a spoken track by David Tennant. Updated 24/6

David Tennant features on Bowvayne's album The Mark Of Gold Light. Updated 5/6



May 2016
David Tennant interview on This Week In Marvel Podcast. Updated 24/5

David Tennant did the announcement to collect spare money for charity on his flight home yesterday. Updated 1/5



April 2016
How To Train Your Dragon writer Cressida Cowell had some lovely things to say about David Tennant on SoundCloud. That part starts at 3 minutes and 39 seconds. Updated 27/4

BBC Radio Four has also have posted a clip from Archive On 4: Looks Back At John Osborne. Updated 27/4

BBC Radio Four have posted a clip from Look Back In Anger. Updated 27/4

David Tennant's interview about Shakespeare from ABC radio (which plays worldwide) has been added to Ivoox. Updated 26/4

NPR Radio broadcast an interview today with David Tennant and Greg Doran about the 4 plays currently playing in Brooklyn and about the 400th anniversary. Updated 23/4

MP3 of David Tennant and Gregory Doran talking about Shakespeare Live! this morning on BBC Radio Four. Updated 23/4

Audio of David Tennant's at Madison Comic Con. Updated 15/4

Look Back In Anger play and David Tennant documentary premiere date is Saturday 30th April. Updated 13/4

A new photo of David Tennant from a radio interview on ABC has been added to Twitter.
The interview will be broadcast on the morning of Friday 22nd April. Updated 11/4

New audio interview from The Joe D Show with David Tennant about Richard II, Doctor Who, Jessica Jones and Shakespeare Live! Updated 1/4
March 2016
The clip of David Tennant talking about Hamlet (which we posted on Monday) will be broadcast tonight on Front Row on BBC Radio Four at 7.15pm. Updated 30/3

MP3 of David Tennant discussing Hamlet as part of Shakespeare's People on Front Row. Updated 28/3
December 2015
Audio of David Tennant and Krysten Ritter press conference in Brazil. Updated 8/12

A video clip of David Tennant voicing the Propaganda Minister in Just Cause 3 has been posted to YouTube. Updated 2/12

Just Cause 3 video game is released today. David Tennant voices the propaganda minister. Updated 1/12
November 2015
David Tennant's telephone call to Absolute Radio this morning. Updated 30/11

Absolute Radio has announced on FaceBook that David Tennant will be chatting to Christian O'Connell on the Breakfast Show tomorrow morning. Updated 29/11

David Tennant to star in the Absolute Radio Breakfast Show pantomime on Friday 18th December. Updated 27/11

An audio clip about how David Tennant chose his surname has been posted to Twitter (with a new photo). Updated 19/11

David Tennant and the Jessica Jones cast are on this week's Marvel podcast. Updated 19/11

Wall Street Journal has an audio interview with David Tennant about Jessica Jones. Updated 17/11

Classic FM will broadcast a pre-recorded interview with David Tennant this afternoon. Updated 15/11

Tomorrow Classic FM will broadcast an interview with David Tennant. That link includes a video clip. Updated 14/11

David Tennant co-hosting the Absolute Radio Breakfast Show on Tuesday 10th November. Updated 10/11

David Tennant was interviewed on Today FM's show this morning. This was to promote Marvel's Jessica Jones. Updated 9/11
October 2015
A new photo of David Tennant at his recording of the Peter And The Wolf And Jazz CD has been posted to Twitter. Updated 9/10

Episode two of Classic FM's Upstairs Downland Abbey play (narrated by David Tennant) is released today. Updated 8/10

Episode one of Classic FM's Upstairs Downland Abbey play (narrated by David Tennant) is released today. Updated 5/10

Peter And The Wolf And Jazz CD (narrated by David Tennant) is released today in the UK. Updated 2/10
September 2015
David Tennant has provided the voiceover for a new The Scotsman promotional video. Updated 29/9
David Tennant is the narrator of a play in aid of Classic FM's charity Global's Make Some Noise. The play is titled Upstairs Downland Abbey and a brief interview with David was broadcast today on Classic FM to announce the project.
Photos of David at Classic FM and a video of him recording the play.
Link to a MP3 of the interview. Updated 25/9
Peter And The Wolf And Jazz CD (narrated by David Tennant) is released today in the US. Updated 11/9
Peter And The Wolf And Jazz CD (narrated by David Tennant) to be released in the US and the UK on Friday 11th September and Friday 2nd October respectively. Updated 2/9
May 2015
David Tennant has provided a voiceover for another Labour Party video. Updated 3/5
April 2015
David Tennant has recorded a voiceover for another Labour party video (and a new old photo from 2012). Updated 16/4
March 2015
MP3 of David Tennant's second appearance on Just A Minute. Updated 30/3

David Tennant has provided the voiceover at the end of a Scottish Labour election video starring Martin Freeman. It will be broadcast on television tonight. Updated 30/3

David Tennant's second appearance on Just A Minute is broadcast on BBC Radio Four at 6.30pm tonight. Updated 30/3

There will be a rare re-broadcast of David Tennant in The Wooden Overcoat on Tuesday (17th) on BBC Radio Four Extra. Updated 11/3
February 2015
It's not confirmed but Christian O'Connell said this morning that he hopes to speak to David Tennant (who is currently filming A.K.A Jessica Jones in NYC) tomorrow morning live on Absolute Radio. Updated 23/2

The Telegraph reports that David Tennant was the most successful debut contestant ever in 50 years of Just a Minute! Updated 9/2

MP3 of David Tennant's first appearance on Just A Minute (which plays worldwide). Updated 9/2

Radio Times has posted an audio clip of David Tennant's first attempt on Just A Minute. Updated 9/2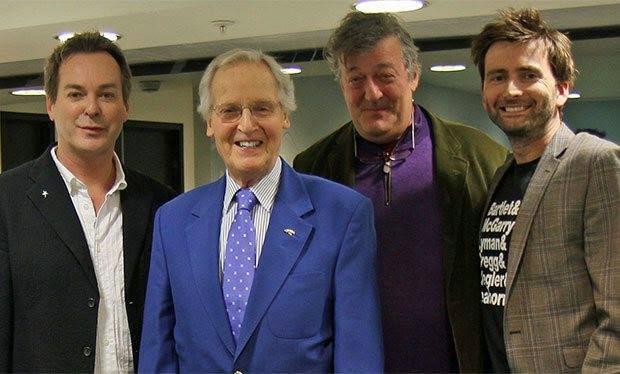 Funny audio clip of David Tennant clarifying the rules on Just A Minute. The photo above is from the recording. Updated 6/2
January 2015
MP3 of David Tennant interview on Magic Radio at National Television Awards. He discusses winning the award, making a speech and Doctor Who. Updated 25/1

David Tennant recorded the radio panel show Just A Minute last night. Updated 24/1

Broadchurch (Series one and two) soundtrack album is released today in the UK. Updated 19/1

A hilarious MP3 of David Tennant reading lyrics to the Broadchurch theme tune. Updated 12/1

MP3s of all three hours of David Tennant this morning on Absolute Radio (which play worldwide). Updated 12/1

David Tennant co-hosts the Absolute Radio Breakfast Show with Christian O'Connell from 6am today. Updated 12/1

MP3s of David Tennant's interview to promote Broadchurch on The Matt Edmondson Show on Radio One today. Updated 11/1

A pre-recorded interview with David is broadcast today on the Matt Edmonson Show on BBC Radio One sometime between 10am and 1pm. Updated 11/1

It seems that David Tennant got his wish as Monday's Absolute Radio Breakfast Show is titled The David Tennant Breakfast Show on the Absolute Radio website! Updated 9/1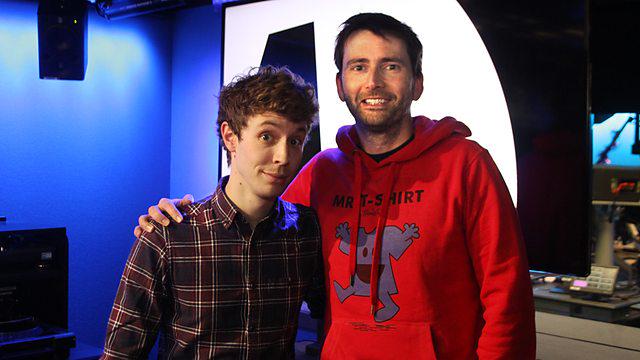 The BBC posted a new photo (above) of David Tennant with Matt Edmondson for the interview on Sunday on BBC Radio One from 10am. Updated 8/1
David Tennant will co-host the Absolute Radio Breakfast Show with Christian O'Connell on Monday (12th). Updated 7/1
David Tennant's pre-recorded interview on The Matt Edmondson show on BBC Radio One ('recreating Broadchurch in accents from around the world!)' will be broadcast on his show on Sunday between 10am and 1pm. Updated 7/1
David Tennant will be on The Matt Edmondson show on BBC Radio One this weekend 'recreating Broadchurch in accents from around the world!' Updated 5/1
MP3 of David Tennant's interview about Broadchurch on Front Row tonight. Updated 5/1
David Tennant will be interviewed on Front Row on BBC Radio Four tonight.
A photo of him from the interview has been posted to Twitter. Updated 5/1
Starting at 6am Wessex FM's Breakfast Show will be broadcast from West Bay. They say that they will talk to some of the cast and to Chris Chibnall. Updated 5/1
December 2014
Wessex FM's Breakfast Show on Monday will be broadcast from West Bay. They say that they will talk to some of the cast and to Chris Chibnall. Updated 31/12

Christian O'Connell said today that unfortunately David Tennant won't be in this year's Absolute Radio pantomine. However they hope to have him back on air in 2015 to talk about Broadchurch Series Two. Updated 09/12

The Day Of The Doctor soundtrack is released in CD today in US and Canada. Updated 02/12
November 2014
The Day Of The Doctor soundtrack is released in the UK today. Updated 24/11

MP3 of a David Tennant interview which was broadcast today on Inverclyde Radio about his school visit on Monday. Updated 19/11

MP3 of David Tennant interview on NPR today about Gracepoint and Doctor Who. Updated 11/11

MP3 of David Tennant's interview on The Kevin and Bean Show today. Updated 11/11

David Tennant is interviewed on The Kevin and Bean radio show on 106.7 KROQ in Los Angeles today. Updated 11/11

David Tennant will be interviewed on The Kevin and Bean radio show on 106.7 KROQ in Los Angeles tomorrow. His interview will be at around 8am (which is 4pm in London).
The programme can only be heard online in the US but the show adds a podcast later which plays worldwide. Updated 10/11

The US release date has been brought forward to 2nd December for The Day Of The Doctor CD. Updated 05/11
October 2014
It wasn't announced in advance but EWlive interviewed David Tennant today on a subscription only channel on the radio. They posted a photo of him with two presenters to Twitter. Updated 29/10

Magic FM broadcast a David Tennant interview about What We Did On Our Holiday, Broadchurch and his future plans. Updated 6/10

Penwith Radio has posted a telephone interview with David Tennant about What We Did On Our Holiday. David said that he was starstruck by Billy Connolly! Updated 2/10
September 2014
Entertainment Now has posted two audio clips of David Tennant from the premiere of What We Did On Our Holiday. In the first clip he talsk about the secrecy surrounding Broadchurch. Updated 25/9
August 2014
Hachette Audio have posted an audio clip of the prologue of the Broadchurch book which is released on 14th August. Updated 1/8
July 2014
Andrew Buchan said that filming on Broadchurch Series Two is scheduled for four months in an interview today on BBC Radio Four. Updated 3/7

A clip of David Tennant talking about the play Great Britain was broadcast on BBC Radio Four today. Plus a photo of him at the theatre was posted to Twitter. Updated 01/7
June 2014
David Tennant has recorded another series of The Great Scott for BBC Radio Four.
The first episode, The Bride of Lammermoor, will be broadcast on Sunday (29th) at 3pm. Updated 21/6

A new audio interview with David Tennant talking about Chitty Chitty Bang Bang has been posted to Tumblr. Updated 4/6
May 2014
MP3 of episode 1 of Mansfield Park (which plays worldwide). Updated 12/5

A new MP3 of David Tennant choosing a song on Magic Radio yesterday. Updated 12/5

A rare repeat of Mansfield Park (featuring David Tennant and Benedict Cumberbatch) starts on BBC Radio Four Extra today at 2pm. It can be heard worldwide.
The synopsis of episode one is 'On a quest to find a position in society young Fanny Price goes to live with her rich aunt and uncle.' Updated 12/5

Today Stephen Mangan is talking about Postman Pat: The Movie at 2pm on BBC Radio Five Live. Updated 9/5

Tomorrow Stephen Mangan will be talking about Postman Pat The Movie on BBC Radio 5 Live from 2pm. Updated 8/5

The eleven Disc Doctor Who music collection by Silva Screen is available for pre-order and it comes in 2 editions. Updated 3/5
April 2014
A rare repeat of the ten-episode drama Mansfield Park (starring David Tennant and Benedict Cumberbatch) from 2003 will be broadcast on BBC Radio Four Extra starting on Monday 12th May at 2pm. Updated 28/4

The London premiere of Postman Pat: The Movie is set for Sunday 11th May.
Radio Times has a competition to win tickets to the premiere.
The movie soundtrack will be released on Monday 19th May. Updated 23/4

Today Classic FM are playing their Friday Five a Day in honour of David Tennant's birthday. Updated 18/4

Kinect Sports Rivals is released today in the UK and Europe. Updated 11/4

Kinect Sports Rivals (with David Tennant voiceover) is released in North America today. Updated 8/4

ABCGoldCoast in Australia has an audio interview with Freema Agyeman talking about filming Doctor Who with David Tennant. The relevant part starts at around 6 minutes. Updated 8/4

Kinect Sports Rivals (with David Tennant voiceover) is released in Australia today (New Zealand on Thursday). Updated 8/4

Chris Chibnall is asked whether David Tennant is in Broadchurch Series Two in a Front Row interview on BBC Radio Four. Updated 2/4
March 2014
Kafka The Musical is cited in a Canada.com blog about BBC Radio's commitment to quality drama compared to that in Canada. Updated 26/3

The video interview of David Tennant recording and talking about Kinect Sports Rivals has been posted to YouTube, plus the company says some lovely things about David. Updated 19/3

David Tennant speaks about voicing Kinect Sports Rivals (with a new photo). Updated 18/3

David Tennant has provided the voiceover for Kinect Sports Rivals. It will be released on Tuesday 8th April in North America, Australia and New Zealand and on Friday 11th April in Europe. Updated 17/3

Animation Magazine reports that the animated 6 minute long video '365' (including David Tennant's voice for 1 second) is now available to purchase. Updated 6/3
February 2014
David Tennant has voiced an advert for the Dogs Trust charity. Updated 14/2
January 2014
An audio clip of Peter Davison talking about The Five-ish Doctors, David Tennant and appearing in Australia has been posted to Soundclip. Updated 30/1

BlogtorWho has an exclusive look at the David Tennant Tenth Doctor disc from the upcoming 11 CD Doctor Who Soundtrack Box-set. Updated 28/1

Unfortunately David Tennant will not host the BBC Audio Drama Awards this year (which are held on Sundayin London) as he has in previous years. Lenny Henry will host instead. Updated 20/1

Sunday Times reports that a David Tennant recording introduced Labour's Ed Miliband speech this week. However it is unclear if this was a new or his old recording for Labour. Updated 19/1

Repeats of Dixon Of Dock Green (starring David Tennant) start tomorrow on Radio Four Extra at 6.30am. Updated 9/1

Episode 4 of series 2 of Believe It! is on BBC Radio Four today at 11.30am today but David Tennant is not listed in the cast. Updated 1/1
December 2013
Today John Downer is a guest on BBC Breakfast at 8.40am and on Radio BBC 5 Live at about 2.15pm to discuss Dolphins - Spy In The Pod. Updated 30/12

Tomorrow John Downer will be on BBC Breakfast at approx 8.40am and on BBC Radio Five Live between 2.15pm and 2.45pm about Dolphins - Spy In The Pod. Updated 29/12

A MP3 of Believe It! Series Two Episode 3 (Danger Man).
Unfortunately David Tennant is not listed in the cast for the final episode of Believe It! which premières next Wednesday. Updated 25/12

Today at 1pm pre-recorded links by David Tennant and Shane Richie will be included on Christmas lunch With Christian O'Connell on Absolute Radio. Updated 25/12

David Tennant and Shane Richie have pre-recorded some links for tomorrow's Christmas Lunch With Christian O'Connell Show on Absolute Radio from 1pm until 4pm. Updated 24/12

Tonight Front Row on BBC Radio Four includes a pre-recorded interview with David Tennant at 7.15pm. The clip has already been posted online. Updated 24/12

MP3s of all of of David Tennant's parts on Absolute Radio Breakfast Show today have been posted to the Absolute Radio Zombie Claus pantomime page. Updated 20/12

David Tennant's interview on BBC Radio Four People Of The Year 2013 Show (broadcast next Tuesday) has been posted to the Radio Four website. David discusses Richard II, Broadchurch, Doctor Who and Gracepoint among other topics. Updated 20/12




This morning David Tennant co-hosts from 6.30am and then stars in Absolute Radio pantomime at 8am with Christian O'Connell from the Soho Theatre in London in front of an invited audience. Updated 20/12

The David Tennant voiced radio advert for Heinz Soups has won the November Aerials Award.
The judges' decision included 'David Tennant doesn't sound like he's selling, just telling.' Updated 19/12

A MP3 of Believe It Series Two Episode Two (where David Tennant sings (badly!) as an Australian) has been posted to the Believe It! page. Updated 18/12

Today Absolute Radio announced that David Tennant will co-host the Breakfast Show on Friday with Christian O'Connell, as well as appearing in their pantomine. Updated 18/12

Front Row on BBC Radio Four has two special programmes on 23rd and 24th December (at 7.15pm each day) about People Of The Year In The Arts. David Tennant will be interviewed in the second programme about his work in Broadchurch, Doctor Who and Richard II this year.
The Front Row website has a page about David. Updated 18/12

Starting tonight, this week Radio Four extra are repeating A Night With A Vampire Series Two at 12.45am. Updated 16/12

David Tennant will star in the second series of Richard Wilson's radio comedy Believe It!
It starts at 11.30am on Wednesday 11th December on BBC Radio Four. Updated 4/12

WhovianNet has the details about a 4-disc 50th Anniversary Collection of Doctor Who music which will be released on Monday 9th December. Updated 2/12

Absolute Radio have posted an audio clip from when it was announced that David Tennant would be the star of this years Breakfast Panto. The clip includes an amusing phone call from David! Updated 2/12

David Tennant will star in the Absolute Radio pantomime again this year with Christian O'Connell. The pantomime is on Friday 20th December amd will be at the Soho Theatre in London in front of an invited audience. Updated 2/12



November 2013
Starting today for 4 days is the Tales At Twilight charity event in aid of National Brain Appeal for which David Tennant recorded a Christmas story. Updated 27/11

MP3s of Jo Whiley's interview with David Tennant on BBC Radio Two.
David Tennant revealed that he guessed Peter Capaldi would be the next Doctor!
David also said that he does not know yet if he will be in Broadchurch Series Two.
David also talks about Richard II, The Day Of The Doctor, Gracepoint and Nativity 2.

At 8pm on BBC Radio Two tonight is Jo Whiley Spends An Evening In With David Tennant. This is a two hour programme. Updated 25/11

ABC in Australia has a pop-up Doctor Who radio channel which starts straight after The Day Of The Doctor. Updated 23/11

Today The Graham Norton Show on BBC Radio Two is a special Doctor Who episode at 10am. Updated 23/11

The BBC website has a clip (where they are talking about Doctor Who) and new photos of David Tennant on An Evening In With Jo Whiley. Updated 22/11

At breakfast time this morning Billie Piper is on BBC Radio Two and Matt Smith is on both Radio One and BBC Breakfast. All three appearances are to talk about about Doctor Who. Updated 22/11

At 10pm tonight BBC Radio Two will broadcast The Blaggers Guide To Doctor Who followed by a 90 minute documentary programme about Doctor Who called Who Is The Doctor at 10.30pm. Updated 21/11

BBC Radio Wales hosts a Doctor Who Day today. Updated 21/11

Jo Whiley: An Evening With David Tennant has been moved forward to Monday 25th November (instead of Tuesday). Updated 20/11

Doctor Who News reports that ABC in Australia has announced a pop-up Doctor Who radio channel for 24th November. It starts straight after The Day Of The Doctor. Updated 19/11

At 8pm on Tuesday 26th November on BBC Radio Two there will be a programme called Jo Whiley Spends An Evening In With David Tennant. This is a two hour programme. Updated 19/11

Cheltenham Festivals has posted the video of the Steven Moffat / Doctor Who panel in October. Updated 18/11

BlogtorWho has posted the tracklist of 50th Anniversary Collection 4CD set (which includes tracks from David Tennant's era. It is released on 12th December. Updated 15/11

Link to audio of Greg Doran's Directors Talk about Richard II from a few weeks ago. Updated 15/11

BBC Radio Wales will host a Doctor Who Day on Thursday 21st November. Updated 15/11

The RSC have posted more backstage calls to Soundcloud including Richard II half hour call, Part 1 beginners' call and David Tennant call for Deposition scene. Updated 13/11

David Tennant's stage call to the wig room this afternoon has been posted to SoundCloud. (Please note that David has hair extensions, not a wig.) Updated 13/11

CultBoxTV reports that two retrospective Doctor Who CD boxsets, featuring music from the show including David Tennant's era, will be released. Updated 7/11

BlogtorWho has details about the radio documentary Who Is The Doctor? which premieres on Thursday 21st November at 10pm on BBC Radio Two. Updated 5/11

This morning on the BBC Radio Four programme Today there was an interview with David Tennant about him wearing Ian Richardson's ring in Richard II.
Click here for a MP3 of the item and photos. Updated 1/11



October 2013
David Tennant has recorded a Christmas story for a Tales At Twilight charity event in aid of National Brain Appeal. Updated 28/10

MP3 of review of The Escape Artist on BBC Radio London today. Updated 28/10

The Escape Artist will be reviewed by BlogtorWho on BBC Radio London at 5.15am today. Updated 28/10

News about David Tennant, Broadchurch, Olivia Colman and Andrew Buchan winning Crime Drama Awards last night was even an item on the 1am news on the various radio stations! Updated 25/10

The Ten/Sex audio download from Splendid Chaps about David Tennant in Doctor Who has been posted online. Updated 23/10

The Escape Artist will be reviewed by BlogtorWho on BBC Radio London next Monday morning. Updated 21/10

MP3 of the review of Richard II from Saturday Review tonight on BBC Radio Four. Updated 19/10

Richard II will be reviewed on BBC Radio Four on Saturday Review tonight at 7.15pm.

David Tennant's ads for Heinz Tomato Soup are again being played on local radio stations.
Link to a MP3 from last year (the add is the same this year). Updated 18/10

iTunes link to download the Richard II music and speeches tracks. Updated 18/10

A MP3 of BBC Radio 3's NightWaves great review of Richard II from last night. Updated 18/10

Richard II Music and Speeches CD is released today including speeches by David Tennant. Updated 18/10

Night Waves on BBC Radio Three will be reviewing Richard II tonight at 10pm. Updated 17/10

The BBC Radio 3 programme Private Passions with Greg Doran is now available to download. Richard II is only mentioned in passing. Updated 6/10

Richard II director Greg Doran is the guest on BBC Radio 3's Private Passions at midday today. Updated 6/10

Current radio adverts for Touch 102FM (in the Warwickshire, Worcestershire and Gloustershire areas) mention David Tennant as one of the highlights for 'Shakespeare's Stratford-upon-Avon!' Updated 5/10

The Royal Shakespeare Company have the Richard II Music and Speeches CD available to pre-order in The RSC Online Shop. It will be released on Friday 18th October and includes speeches by David Tennant and others. Updated 4/10

MP3 of the David Tennant and Greg Doran interview on Front Row on BBC Radio Four about Richard II. Updated 1/10

In the 10 minute Front Row interview on BBC Radio Four:
David Tennant said that he will not use his Scottish accent in Richard II.
David Tennant refused to say whether he is in Broadchurch Series Two or not (or even if he is keeping that time free) but that he hopes he will be.
David Tennant was very supportive of Doctor Who fans in the interview and remarked on how intelligent they are! Updated 1/10

Brush Up Your Shakespeare (read in an American accent by David Tennant), as broadcast on the Mike Read Show today on BBC Radio Berkshire has been posted to Tumblr. Updated 1/10

Richard II director Greg Doran will be a guest on BBC Radio 3?s Private Passions this coming Sunday at midday. Updated 1/10

David Tennant and Greg Doran will be interviewed on Front Row tonight on BBC Radio Four about Richard II at 7.15pm. Updated 1/10



September 2013
Tonight Bruce O'Neil tweeted that The RSC will be releasing a CD of music from Richard II. Updated 30/9

An audio of Simon Russell Beale discussing David Tennant in Hamlet from 2008 has been posted to The Space. Updated 30/9

BBC Radio Four Extra are starting to repeat from today David Tennant's November 2010 radio series of five stories A Night With A Vampire. Each episode will be on at 6.30pm and repeated at 12.30am this week. Updated 30/9

An audio clip of Cressida Cowell has been posted to Tumblr. In it she says that David Tennant will read all the How To Train Your Dragon audiobooks. Updated 26/9

David Tennant will be one of the Poetry Week readers next week on Mike Read's BBC Berkshire radio show. Updated 25/9

David Tennant and Greg Doran will be interviewed on Front Row on 1st October on BBC Radio Four about Richard II. Updated 20/9

Radio Today has announced that the BBC Audio Drama Awards are now open for submissions (by companies in the industry only). David Tennant is eligible and MAY host the award ceremony for the third time. It will be heald on Sunday 26th January. Updated 17/9

The August section of the 365 film has been added to Vimeo. David Tennant's audio (which he recorded on Friday) is right at the end. Updated 4/9



August 2013
Yesterday in Stratford-Upon-Avon David Tennant did an audio recording for a year-long animation project in the area. The 365 film project is developed by animating one second a day so that a film will form itself over the course of 2013. Animation is posted once a month to their Facebook page.
David's voice-over section will be posted on Monday.
A photo of David recording was posted online. Updated 31/8
A new audio CD boxset will be released on 3rd October titled Fifty Years Of Doctor Who At The BBC. It can be pre-ordered in the UK here and in the US here. Updated 20/8
NPR have posted the full transcript of David Tennant's interview about Broadchurch. Updated 12/8
MP3 of David Tennant's interview about Broadchurch on NPR today. Updated 10/8
NPR have added details about the highlights of their interview with David Tennant. Updated 10/8
David Tennant will be interviewed today on NPR between 8am and 10am ET (1pm and 3pm in UK) about Broadchurch. Updated 10/8
David Tennant will be interviewed on the radio network NPR in the US tomorrow morning on the programme Morning Edition which is broadcast from 8am until 10am on the East Coast (1pm to 3pm UK time). This interview was recorded via telephone on Wednesday. Updated 9/8
July 2013
Worldwide link to listen to last night's Doctor Who Prom on iPlayer.
Vale Decem starts at 2 hours 27 minutes and the new Murray Gold song called Song For Fifty starts at 2 hours 14 minutes. The soloists are Allan Clayton and Elin Manahan Thomas. Updated 14/7

Today is the first 2013 Doctor Who Proms in London. It will star Matt Smith and Jenna Coleman plus there will be one piece of music from David Tennant's era.
It will be broadcast live on BBC Radio Three and recorded to be televised later in the year. Updated 13/7

MP3 of Chris Chibnall on Foreign Bodies on BBC Radio Four today about Broadchurch. Updated 12/7

Broadchurch writer Chris Chibnall will be discussing the programme on Foreign Bodies on BBC Radio Four at 1.45pm today. Updated 12/7

Broadchurch writer Chris Chibnall will be discussing the programme on Foreign Bodies on BBC Radio Four on Friday at 1.45pm. Updated 8/7

Kasterborous reports that BBC Radio Two will broadcast a 90 minute documentary programme about Doctor Who called Who Is The Doctor on Thursday 21st November. Updated 6/7

Christian O'Connell speaks about how David was "grooming" him on Tuesday's podcast (from 46:40). Updated 4/7



June 2013
MP3s of Bernard Cribbins talking about David Tennant and the Doctor Who 50th on the Graham Norton Show on BBC Radio Two last Saturday. Updated 11/6

In Christian O'Connell's Daily Choice Cuts from Monday 3rd June he mocks David Tennant when musing about the future Twelfth Doctor. He also tries to remember Blackpool. It starts at about 13 minutes. Updated 6/6



May 2013
MP3 of an interview with Joe Sims today on BBC Three Counties Radio about Broadchurch. Updated 22/5

MP3 of Chris Chibnall interview last night on Radio Five Live. The interview is safe to listen to even if you do not know who the killer is yet. Chris also discussed Doctor Who and Torchwood. Updated 22/5

Chris Chibnall will be interviewed by Phil Williams on Radio Five Live at 11.30pm on Tuesday 21st May about Broadchurch. Updated 16/5

MP3 of Jemma Redgrave talking about the Doctor Who 50th Anniversary episode yesterday on the Graham Norton show. Updated 12/5

MPs of the David Tennant and Russell T Davies interview clips in Bernard Who? today. Updated 2/5

David Tennant is interviewed in the second episode of Bernard Who? on BBC Radio Four at 11.30am today. Updated 2/5



April 2013
MP3 of Waverley. Updated 28/4

MP3 of David Tennant in episode one of Bernard Who? on BBC Radio Four. Updated 28/4

MP3 of a discussion on Front Row about The Politician's Husband. It includes clips from both The Politician's Wife and then The Politician's Husband. Updated 28/4

David Tennant interviewed is in Bernard Who? on BBC Radio Four today at 11.30am. Updated 25/4

MP3 of Matthew Gravelle interview on BBC Radio Wales today about Broadchurch (NAMES KILLER). Updated 23/4

MP3 of a text David Tennant sent to Christian O'Connell about the Broadchurch killer. Updated 23/4

MP3 of Chris Chibnall interview this morning on Daybreak. Updated 23/4

Matthew Gravelle (Joe Miller in Broadchurch) is interviewed on BBC Radio Wales at 1pm today. Updated 23/4

MP3 of Chris Chibnall interview on Front Row today about Broadchurch. Updated 22/4

Broadchurch writer Chris Chibnall will on Front Row tonight on BBC Radio Four at 7.15pm. This seems to be instead of The Politician's Husband discussion which was originally scheduled. Updated 22/4

Matthew Gravelle (who plays Joe Miller in Broadchurch) will be interviewed tomorrow on BBC Radio Wales at 1pm. Updated 22/4

MP3 of Joe Sims interview on What's Cooking? today about Broadchurch. Updated 22/4

MP3 of Joe Sims interview on Lorraine today about Broadchurch. Joe says in the interview about tonight's episode "You can rest assured there's a few more twists and turns to come!" Updated 22/4

At 7.15pm real life political couple Peter and Virginia Bottomley will discuss The Politician's Husband in Front Row on BBC Radio Four. Updated 22/4

On Monday 22nd at 7.15pm real life political couple Peter and Virginia Bottomley will discuss The Politician's Husband in Front Row on BBC Radio Four. Updated 20/4

David Tennant will be one of the stars interviewed about Bernard Cribbins in a two part documentary titled Bernard Who?
The first episode premieres on BBC Radio Four at 11.30am on Thursday 25th April. Updated 19/4

MP3 of David Tennant's telephone call to Chris Evans from the set of Doctor Who today. Updated 19/4

David Tennant spoke to Chris Evans on BBC Radio 2 briefly this morning via telephone from the Doctor Who set. Updated 19/4

The Broadchurch soundtrack EP by Olafur Arnalds will be available to American fans from 30th April on iTunes. Updated 18/4

CustardTV has an audio interview with Simone Mcaullay who plays Becca Fisher in Broadchurch. Updated 18/4

MP3 of the Paula Milne interview this morning on Woman's Hour about The Politician's Husband. It includes a new clip of David Tennant and Emily Watson from the drama. Updated 16/4

The Politician's Husband writer Paula Milne will be interviewed on Woman's Hour on BBC Radio Four from 10am today. Updated 16/4

The Politician's Husband writer Paula Milne will be interviewed on Woman's Hour on BBC Radio Four from 10am tomorrow. Updated 15/4

The Broadchurch soundtrack EP is available for download from today on Mercury Classics. Updated 15/4

MP3 of David Tennant in The Great Scott: The Fair Maid Of Perth from BBC Radio Four today. Updated 14/4

Joe Sims was interviewed briefly today on BBC Radio London by Gaby Roslin about Broadchurch. Click here to listen to a MP3 of the interview. Updated 13/4

CustardTV has an audio interview with Joe Sims who plays Nige Carter in Broadchurch. Updated 12/4
The original soundtrack EP of Broadchurch, featuring music written by Ólafur Arnalds, will be available for download on Mercury Classics from next Monday (15th). Clips have been posted to Mercury Classics Sound Cloud. Updated 9/4
Radio Times has details about episode 2 of The Great Scott. The second episode is Rob Roy and again David Tennant is the narrator. It premieres on Sunday 21st April at 3pm and is repeated on Saturday 27th at 9pm. Both on BBC Radio Four. Updated 8/4
The Great Scott (starring David Tennant) on Sunday at 3pm on BBC Radio Four will be repeated on Radio Four the following Saturday at 9pm. Updated 8/4
At 10pm tonight Chain Reaction will be repeated on Radio 4 Extra. Tonight's episode is where Catherine Tate interviews David Tennant and next week it is David interviewing Richard Wilson. Updated 7/4
A MP3 of Joe Sims interview on Radio Five Live about Broadchurch today. Afterwards Joe tweeted us and said "Thanks so much for listening. David's a legend and i know is truly grateful to all his incredible fans." Updated 6/4
Broadchurch actor Joe Sims discusses the drama at 8.40am today on BBC Radio Five Live. Updated 6/4
MP3 of Tanya Franks discussing Broadchurch on Daybreak today. Updated 5/4
The Radio 5 Live interview tomorrow with Joe Sims about Broadchurch has been brought forward to 8.40am. Updated 5/4
Actor Joe Sims will be talking about Broadchurch on BBC Radio 5 on Saturday at 7.50am with Phil Williams. Updated 4/4
MP3 of a brief interview clip of David Tennant and Olivia Colman talking about Broadchurch which was shown on Daybreak this morning. Updated 1/4
March 2013
David Tennant will play Walter Scott in a 3 part dramatisation of works by the Scottish writer on BBC Radio Four. It starts on Sunday 14th April at 3pm with The Fair Maid Of Perth. Updated 29/3

MP3 of Arthur Darvill interview on Daybreak about Broadchurch (plus he is asked about Doctor Who and David Tennant). Updated 25/3

MP3 of Will Mellor on Loose Women talking about Broadchurch. Updated 24/3

MP3 of writers Dick Clement and Ian La Frenais interview about Spies Of Warsaw. Updated 24/3

TheCustardTV has a MP3 of an interview they did with Broadchurch writer Chris Chibnall. Updated 20/3

MP3 of the Jonathan Bailey interview about Broadchurch on BBC Radio One yesterday. Updated 17/3

Jonathan Bailey (who plays reporter Oliver Stevens in Broadchurch) will be interviewed before 10am on Radio One today. Updated 16/3

MP3 of Radio Five Live review of Broadchurch which included the phrase "Incredibly compelling, brilliantly acted." Updated 10/3

MP3 of Jodie Whittaker interview on Radio Five Live about Broadchurch. Updated 10/3

Broadchurch writer Chris Chibnall was interviewed on BBC Radio Four at 4.30pm today on The Media Show. As well as discussing whether Broadchurch was influenced by The Killing, they also spoke about British drama in general. Click here to listen to a MP3 of the section. Updated 6/3

A MP3 of a recording of the David Tennant, Olivia Colman, Chris Chibnall etc. BAFTA screening Q&A about Broadchurch on 19th February has been posted online. Updated 4/3

David Tennant's (pre-recorded) interview about Broadchurch is likely to be aired on Newsbeat on BBC Radio One today. Updated 4/3



February 2013
MP3 of a review of Broadchurch from the BBC Radio Four show Front Row tonight. They also compare it to BBC One's drama Mayday. Updated 27/2

Broadchurch was reviewed on the BBC Radio Four programme Saturday Review from 7.15pm today. The reviewers were Tom Sutcliffe and guests artist Grayson Perry, playwright Laura Wade and writer Susan Jeffreys.
Click here for a MP3 of the six minute review but they all enjoyed the drama and said that they would be watching the series.
The MP3 contains a clip of the drama. The first part of it is from the video posted yesterday but this audio is slightly longer. Updated 23/2

At 11.30am today Olivia Colman was a guest on The Graham Norton Show on BBC Radio Two to promote Broadchurch.
In the first section (MP3 here) they discussed Broadchurch and David Tennant's character in the drama. (Olivia described David as 'the nicest man in the world.')
In the second section (MP3 here) Olivia talks about having her knee put out in Broadchurch towards the start of the clip and then they took questions from listeners. The final question was about the Broadchurch posters. Updated 23/2

There are two David Tennant related radio items today. Sometime between 10am and 1pm on BBC Radio 2 Olivia Colman will be interviewed on the Graham Norton Show. Also at 7.15pm tonight on BBC Radio 4 the Saturday Review programme will include a discussion about Broadchurch. Updated 23/2

Tomorrow on BBC Radio 4 at 7.15pm the programme Saturday Review features a discussion about Broadchurch. Updated 22/2

David Tennant's Broadchurch co-star Olivia Colman will be a guest on Graham Norton's Radio Two Show on Saturday (23rd). The programme is from 10am until 1pm and can be heard worldwide at this link. Updated 21/2

Every Seventh Wave premieres on BBC Radio Four at 2.15pm today. Updated 14/2

John Downer will be interviewed today on BBC Radio Scotland at 8.15am and on Radio 5 Live at 8.55am about Penguins - Spy In The Huddle. Updated 11/2

WessexFM has posted a MP3 of Richard Stokes talking about filming Broadchurch in the area and about the drama. Updated 7/2

The Adventures Of Luther Arkwright CD is only £5 on special offer from Big Finish for this weekend only. Updated 1/2

Maybe because it's a slow news day but the final item on Magic radio's 5pm news tonight was about David Tennant playing Richard II for The RSC which was 9 days after the announcement! Updated 1/2



January 2013
A MP3 of David Tennant singing on Daybreak today. Updated 31/1

Believe It! starring David Tennant and Richard Wilson has won the award for best scripted comedy at the BBC Audio Drama Awards tonight. Updated 26/1

Kafka: The Musical has been awarded the Tinniswood Award at the BBC Audio Drama Awards tonight. Updated 26/1

David Tennant hosts BBC Audio Drama Awards 2013 ceremony today. Plus two David Tennant radio dramas (Believe It! and Kafka The Musical) have been short-listed for awards. Updated 27/1

A photo of David Tennant recording a voiceover has been posted onto Twitter today. Updated 26/1

Gregory Doran was interviewed via telephone on the BBC local radio station Coventry and Warwickshire this afternoon about David Tennant playing Richard II later this year. Greg also talks about his plans for The RSC over the next five years. Greg thinks that Richard II will be more of a challenge to David than Hamlet was in some ways!Updated 23/1

David Tennant to host BBC Audio Radio Drama Awards on Sunday 27th January. Updated 16/1

The news about David Tennant becoming a father again is even being mentioned in news reports on some local radio stations around the UK today! Updated 6/1



December 2012
At 10am David Tennant will be featured in the (pre-recorded) programme Christmas Morning With Christian on Absolute Radio. Updated 25/12

Absolute Radio are listing a programme with the strap-line "David Tennant joins Christian O'Connell and Richie on Christmas morning for the funniest way to wake up and open your presents" for tomorrow between 10am and 1pm. It will not be a live programme and most likely is just clips from David Tennant's appearance on Absolute Radio last Friday. Updated 24/12

The Sonnets app is voted one of the Top Ten apps of 2012 by The Independent. Updated 20/12

An audio recordimg of the David Tennant and Billie Piper panel on Sunday at the Midnight Fan Convention has been posted onto MixCloud.com. Updated 18/12

Christian O'Connell is asking for help for writing the Nativity play which David Tennant will star in on Friday on Absolute Radio. Currently Christian is looking for funny titles for the play and has suggested people use the hashtag #twitvity to post them onto Twitter. Updated 17/12

The Metro newspaper has a contest today to watch David Tennant perform in Absolute Radio's nativity play on Friday. Updated 17/12

More details about David Tennant's appearance on Absolute Radio in their Nativity play on Friday 21st. Updated 12/12

Today Christian O'Connell said on the Absolute Radio Breakfast Show that David Tennant will take the role of The Virgin Mary in their Nativity play on 21st December. Also appearing will be Ian Wright and Newton Faulkner. The play will be broadcast from 8am that Friday. To win tickets to watch it in person, Absolute Radio are asking fans to contact them with a fact about the show. Updated 10/12

Absolute Radio again opened their telephone lines for people to do an open audition to appear in their Nativity play with David Tennant on Friday 21st. To audition telephone 0330 123 1215 and the line you need is: "We bring gifts from the East of Gold, Frankincnce and Myhrr." Updated 5/12

This morning Absolute Radio sent a tweet asking for fans to ring in if they wish to appear in their Nativity play with David on Friday 21st December. Updated 4/12

No reason was given but David Tennant did not appear on Magic Meets With Neil Fox tonight. Updated 2/12

Today Christian O'Connell tweeted that on his show tomorrow on Absolute Radio (from 6am) he will have details regarding how fans can get tickets to attend the show when David Tennant is co-hosting on Friday 21st December. Updated 2/12

From 7pm today David Tennant is one of the guests choosing his favourite tracks on Magic Meets With Neil Fox on Magic 104.5 FM which can be listened to worldwide. Updated 2/12

Tomorrow at 7pm David Tennant will be one of the guests choosing his favourite tracks on Magic Meets With Neil Fox on Magic 104.5 FM. Updated 1/12



November 2012
Christian O'Connell further tweeted that the show will be on Friday 21st December and that it will be in front of a live audience with people taking part as in a children's Nativity play. He will broadcast how to win a part in the audience next week. Updated 28/11

Christian O'Connell has tweeted that his last show of 2012 on Absolute Radio will be co-hosted by David Tennant and he has described it as an 'Alternative Nativity.' Christian did not specify on which day the programme will air. Updated 28/11

A clip of David Tennant reading an extract from Harry Potter and the Philosopher's Stone has been posted onto Tumblr. Updated 28/11

The soundtrack of Nativity 2 Danger In The Manger! now available on iTunes. Updated 27/11

A MP3 of David Tennant's interview on MovieJuice on STV on Friday evening about Nativity 2 Danger In The Manger! plus their review of the movie. Updated 25/11

A MP3 of the review on Kermode and Mayo's Film Review Show on BBC Radio Five Live about Nativity 2 Danger In The Manger! which was broadcast on Friday. Updated 25/11

A MP3 of David Tennant's interview on T4: Watch and Listen about Nativity 2 Danger In The Manger! which was broadcast earlier today. Updated 25/11

A MP3 of David Tennant's interview on the Trevor Nelson Show on BBC 1Xtra about Nativity 2 Danger In The Manger! which was broadcast on Friday. Updated 25/11

Marc Wootton has posted some candid photos of himself and David Tennant on the set of Nativity 2 Danger In The Manger! Updated 25/11

Nativity 2 Danger In The Manger! will reviewed on Kermode And Mayo's Film Review Show on Radio Five Live sometime between 2pm and 4pm today. Updated 23/11

Magic Radio have posted their video interview with David Tennant about Nativity 2 Danger In The Manger! Updated 22/11

A MP3 of the review of Nativity 2 Danger In The Manger and of David Tennant's interview clips from Film 2012 last night. Updated 22/11

On Sunday (25th) from 11.45am there will be a pre-recorded interview with David Tennant about Nativity 2 Danger In The Manger! on Spin1038.com on their show We Love Movies. The link should play worldwide. Updated 21/11

Nativity 2 Danger In The Manger! will reviewed on Kermode And Mayo's Film Review Show on Radio Five Live on Friday sometime between 2pm and 4pm. Updated 21/11

David Tennant and Tom Baker are currently voicing radio ads for Heinz soup. Updated 9/11

There is currently a special offer from AudioGO on the 007 Reloaded titles including On Her Majesty's Secret Service read by David Tennant. The download is £6.99 (usual price £15) and the CD is £7.05 (usually £15). Updated 8/11

There are a number of David Tennant / Tenth Doctor ringtones, including one where you can let David Tennant tell you when you receive a text message! Updated 3/11



October 2012
Next year AudioGo and Big Finish will produce a series of releases to commemorate the Doctor Who 50th anniversary. The series will feature one Doctor per month. Updated 17/10

This afternoon David Tennant provided the voice-over introduction to Ed Milliband's speech at the Labour Party Conference. (This may have been the voice-over recording he did yesterday morning.) Journalist Asa Bennett tweeted about David's introduction "David Tennant booms 'THEY WILL REQUIRE STRONG LEADERSHIP' as Ed Miliband is shown speaking," "Tennant: British values are Labour values" and "it's not just what we do that makes us British, it's what he stand for!" Updated 2/10

SilverfishMedia tweeted that they had done a voice-over with David Tennant this morning. Updated 1/10



September 2012
A week of walks start today in Milton Keynes for which David Tennant has provided some narration. Updated 17/9

This morning David Tennant rang into Radio One as part of Chris Moyles final week on BBC Radio One. David rang from the car park of where he is currently filming Broadchurch. Click here for a MP3 of David's call. Updated 12/9

The BBC have announced that they will be holding the BBC Drama Awards 2013. David Tennant hosted and won an award in the 2012 ceremony and he is eligible for 2013. Updated 11/9

This afternoon Steve Wright played a clip of David Tennant reading On Her Majesty's Secret Service on BBC Radio Two so that was the David Tennant Treat 4 Today. Updated 5/9



August 2012
David Tennant has recorded some messages for walks in Milton Keynes for their Woodland Whispers project. It runs from Monday 17th to Saturday 22nd September. This link has full details. Updated 26/8

Today and tomorrow at 2.15pm BBC Radio Four are repeating the two parts of the Stevenson In Love radio drama which David Tennant recorded in September 2011. Updated 22/8

MP3 of David Tennant reciting the words of Spandau Ballet's Gold from Absolute Radio which was broadcast (twice) this morning. Updated 13/8

Absolute Radio DJ Christian O'Connell will play a recording of David Tennant reciting the words of Spandau Ballet's 1983 hit Gold during his breakfast show tomorrow. Updated 12/8



July 2012
A MP3 of Christian O'Connell talking about a party at David Tennant's house yesterday and about Wimbledon which was broadcast on Absolute Radio this morning. Updated 9/7

A MP3 of the interview by Janice Forsyth with David Tennant which was broadcast on BBC Radio Scotland today. David discussed playing Doctor Who, Hamlet, playing live theatre, Twenty Twelve, The Pirates! In An Adventure With Scientists and True Love. Updated 7/7

An interview by Janice Forsyth with David Tennant will be broadcast on BBC Radio Scotland today. Janice's show is from 10am until noon and David's pre-recorded interview will on the air during the early part of her programme. This is the link to listen worldwide and, as usual, afterwards we will add a MP3 of David Tennant's interview. Updated 7/7

David Tennant will be a guest on the Janice Forsyth Show on BBC Radio Scotland this Saturday (7th) sometime between 10am and 12pm. This is because it is Janice's penultimate show on the station and David was a guest back in 2005 before he was on Doctor Who. Updated 2/7



June 2012
A MP3 showing David Tennant's level of professionalism in understanding the character he plays in True Love which is the David Tennant Treat 4 Today). Updated 23/6

True Love will be discussed on the Saturday Review show on BBC Radio Four at 7.15pm tonight. Updated 16/6

True Love will be discussed on the Saturday Review show on BBC Radio Four tomorrow at 7.15pm. Updated 15/6

True Love will be reviewed on Front Row on BBC Radio Four tonight at 7.15pm. Updated 12/6

True Love will be reviewed on Front Row on BBC Radio Four tomorrow evening at 7.15pm. Updated 11/6

Unfortunately last night during Dominic Savage's interview on the BBC Radio Two Arts Show he only spoke about his new play and not True Love. Updated 9/6

Dominic Savage, the director of True Love, will be interviewed on the BBC Radio Two Arts Show tonight at 10pm. Updated 8/6

Dominic Savage, the director of True Love, will be interviewed on the BBC Radio Two Arts Show on Friday 8th June at 10pm. Updated 4/6



May 2012
Starting today and for the next 6 weekdays BBC Radio Four Extra are repeating David Tennant's episodes of Dixon Of Dock Green. Each day there are broadcasts at 6am, 1pm, 8pm and 1am. Updated 30/5

Episode one of Believe It! premieres today at 11.30am on BBC Radio Four. It can be heard worldwide at this link. This four part comedy is loosely based on Richard Wilson's life and David Tennant is part of the cast. Updated 9/5

Richard Wilson is on the radio twice today to promote Believe It! Updated 5/5

Richard Wilson will be a guest on the Jon Holmes Show on Saturday at 10am on BBC Radio 6 Music to promote Believe It! Updated 3/5

Richard Wilson will be on Loose Ends on BBC Radio Four on Saturday at 6.15pm. He will probably talk about Believe It! Updated 2/5



April 2012
An MP3 of Pick Of The Week in which David Tennant featured heavily in the section on Twelfth Night. Updated 29/4

David Tennant will appear in a four part radio comedy on BBC Radio Four called Believe It! which is based loosely on Richard Wilson's life. The episode is on Wednesday 9th May at 11.30am. Updated 20/4

MP3 of a new David Tennant interview for The Pirates! movie (recorded 21st March). As well as discussing The Pirates! movie, David is also asked about Doctor Who and Hamlet. Updated 12/4

Tonight at 7.15pm Saturday Review on BBC Radio Four will review The Minor Character. Updated 7/4

Saturday Review on BBC Radio Four will review The Minor Character at 7.15pm tomorrow evening. Updated 6/4

A MP3 of The Book Café on BBC Radio Scotland's review of Silver: Return To Treasure Island including an audiobook extract read by David Tennant. Updated 2/4

At 1.15pm today The Book Café on BBC Radio Scotland will review Silver: Return To Treasure Island with an audiobook extract read by David Tennant. Updated 2/4

As part of it's Shakespeare Season the BBC have announced that Twelfth Night (with David Tennant as Malvolio) will broadcast on Sunday 22 April at 8.30pm and Romeo and Juliet (with David as Prince Escalus) will have its first transmission on Sunday 29th April also at 8.30pm. Both plays will be broadcast on BBC Radio Three. Also there are some great new pages for all the BBC Shakespeare programmes in the upcoming months including a new photo of David Tennant recording the radio plays. Updated 1/4

The Book Café on BBC Radio Scotland on Monday 2nd April at 1.15pm will review Silver: Return To Treasure Island with an audiobook extract read by David Tennant. Updated 1/4



March 2012
The Movie Café on BBC Radio Scotland will review The Pirates! movie at 1.15pm today, plus they have an interview with Peter Lord. Updated 29/3

MP3s of David Tennant's interview on XFM Radio interview to promote The Pirates! movie. The interview was broadcast today although it was recorded last Wednesday. Updated 27/3

The Movie Café on BBC Radio Scotland will review The Pirates! In An Adventure With Scientists movie on Thursday 29th at 1.15pm plus they will have an interview with Peter Lord. Updated 27/3

An interview with David Tennant was played on the breakfast show on the radio station XFM this morning. (We will post a MP3 of the interview later.) Updated 27/3

MP3 of David Tennant interview on Irish Radio tonight. As well as talking about The Pirates! movie, David discusses his Irish roots, Doctor Who and future projects. Updated 26/3

A MP3 of the review of The Pirates! In An Adventure With Scientists from Front Row tonight. Updated 26/3

A recorded interview with David Tennant and Hugh Grant will be on The Green Room Irish Radio tonight (about The Pirates! movie). The show can be heard worldwide. Updated 26/3

The Pirates! In An Adventure With Scientists movie is reviewed tonight on Front Row on BBC Radio Four at 7.15pm. Updated 26/3

Synopsis, video, audio & photos of David Tennant on the Kermode and Mayo's Film Review Show today on Radio 5 Live. David spoke about The Pirates!, Doctor Who and Postman Pat. Updated 23/3

David Tennant will be a guest on Kermode & Mayo's Film Review Show on Radio 5 Live at 2pm. Updated 23/3

Following the press junket and then the premiere of The Pirates! movie last night there may be brief clips of David Tennant popping up on all different programmes today. These include This Morning on television and Heart and XFM on the radio. Updated 22/3

MP3s of David Tennant on BBC Radio One today. Updated 21/3

MP3s of David Tennant on Absolute Radio today. Updated 21/3

David Tennant will be on Breakfast Radio today on both BBC Radio One and Absolute Radio. Updated 21/3

Links to listen to David Tennant on Breakfast Radio tomorrow. Updated 20/3

Absolute Radio have posted onto their website that David Tennant's interview tomorrow will be sometime between 7.30am and 8.30am. Updated 20/3

It was announced tonight via Twitter that David Tennant will be a guest on the Absolute Radio Breakfast Show on Wednesday 21st March. However it has already been announced that David will be on The Chris Moyles Show on Radio One on Wednesday too. It is quite possible that David will not actually visit both stations but will do both interviews from the one studio as he has done in the past. Updated 19/3

On Wednesday 21st March David Tennant will be a guest on The Chris Moyles Show on BBC Radio One sometime between 6.30am and 10am. Updated 18/3

Hardeep Singh Kholi had some lovely things to say about both David Tennant and Love Virtually on Pick Of The Week on BBC Radio Four. Updated 18/3

On Sunday 1st April at 8.30pm BBC Radio Three will repeat Kafka The Musical. Updated 17/3

Peter Lord will be on Loose Ends on BBC Radio Four at 6.15pm today to talk about The Pirates! movie. Updated 17/3

David Tennant will be a guest on Kermode & Mayo's Film Review Show on Friday 23rd at 2pm on Radio 5 Live. This is to promote The Pirates! movie. The show can be heard and watched worldwide online. Updated 16/3

Peter Lord (of Aardman Productions) will be on Loose Ends on BBC Radio Four at 6.15pm on Saturday to talk about The Pirates! In An Adventure With Scientists movie. Updated 11/3

During Kermode and Mayo's Film Review show on Radio 5 Live yesterday they said that David Tennant will be a guest in the next few weeks, probably to promote The Pirates! movie. Updated 10/3

David Tennant will be reading Iain Banks' Stonemouth on Book At Bedtime on BBC Radio Four at 10.45pm Monday to Friday starting 19th March. Updated 9/3

Unfortunately The Decoy Bride was not reviewed on Front Row this evening as expected. However BBC Scotland reviewed it this afternoon and played a new clip from the movie. Updated 8/3

The iPlayer link to listen to David Tennant in Love Virtually. (The link is valid for 7 days but we will add a MP3 of it too later). Updated 8/3

The Movie Cafe on BBC Radio Scotland at 1.15pm and Front Row on BBC Radio Four at 7.15pm will both review David Tennant's movie The Decoy Bride. Updated 8/3

At 2.15pm today on BBC Radio Four the premiere broadcast of Love Virtually is broadcast. This programme can be heard worldwide online. Updated 8/3

Unfortunately, due to an extended interview with Andrew Lloyd Webber, Front Row on BBC Radio Four did not review The Decoy Bride tonight. It seems that Front Row will review the movie tomorrow evening instead. Updated 7/3

Tonight at 7.15pm Front Row will review David Tennant's movie The Decoy Bride on BBC Radio Four. Updated 7/3

On Wednesday 7th March at 7.15pm on BBC Radio Four Front Row will review the film The Decoy Bride. Updated 2/3

The Movie Cafe on BBC Radio Scotland will review The Decoy Bride on the programme next Thursday (8th) from 1.15pm. Updated 1/3



January 2012
David Tennant has been nominated for the Best Actor In An Audio Drama Award for Kafka The Musical at the first ever BBC Audio Drama Awards. David will also present the ceremony to announce the winners in the Radio Theatre at BBC Broadcasting House, London on Saunday 29th January. See here for more details. Updated 9/1



December 2011
Today Richard Bacon tweeted about his interview with Steven Moffat and Mat Smith on Radio Five Live that "probably the best fact to come out of the Dr Who edition of my programme today is that David Tennant was Matt Smith's first Dr Who." Click here to listen to the interview (the David Tennant comment is in the first clip). Updated 15/12



November 2011
Click here to listen to a David Tennant interview from Radio One earlier today. Updated 17/11

Click here for a sample of 3 tracks of music from David Tennant's movie The Decoy Bride. Updated 7/11



October 2011
Doctor Who Magazine writer Benjamin Cook has posted an exclusive interview audio clip of David Tennant talking about Elisabeth Sladen. Click here to listen to it. Updated 20/10



September 2011
Matt Smith mentioned 'wonderful' David Tennant in an interview on BBC Five last night. Updated 17/9

Sky News report that Postman Pat is to be made into an animated film and David Tennant will voice one of the characters. Updated 15/9

Click here to watch a video demonstration of the iPhone app with David Tennant's voice. Updated 6/9

Absolute Radio have added a wake up call by David Tennant iPhone app. (Switch to the dynamic link for it to work.) Updated 5/9

Posted at 5pm: It wasn't announced in advance but David Tennant is currently dong some of the intros to tracks on Absolute Radio Choice Cuts. Updated 4/9

Click here for clips of all of David Tennant's sections on the Absolute Radio Breakfast Show this morning. Updated 2/9

Just before 10am today David Tennant rang into the Absolute Radio Breakfast Show about his co-hosting stint tomorrow. Click here to listen to it. Updated 1/9

David Tennant has sent a text today to the Absolute Radio Breakfast Show to say that he WILL be co-hosting the show from 6am tomorrow. Updated 1/9



August 2011
Fearne Cotton has tweeted that David Tennant will not be on her show on Radio One this morning. See here for more details. Updated 31/8

David Tennant is supposed to be on the Fearne Cotton Show sometime between 10am and 12.45pm today on BBC Radio One. However please read this about his appearance possibly being cancelled. Updated 31/8

The Now Toronto interview with David Tennant now has audio clips of his interview. Updated 28/8

David Tennant's appearance on the Absolute Radio Breakfast Show this Friday (2nd) will be shown live on video at this link. There is currently a countdown clock on the page. Updated 28/8

The Absolute Radio Breakfast Show are also offering David's fans a chance to ask David a question on Friday. Updated 27/8

Absolute Radio advertised both a concierge service for David Tennant and a chance to leave him a voicemail which might be played on the air but apparently the website was swamped with requests so the links are no longer valid. Updated 25/8

David Tennant will be a guest on the Fearne Cotton Show on BBC Radio One on Wednesday 31st (sometime between 10am & 12.45pm) to promote Fright Night. Updated 25/8

Posted at 3.55pm: david Tennant will be interviewed on The Film Show on GTFM Radio at 4pm. (Unfortunately this was not announced in advance.) Updated 21/8

MP3s of all of David Tennant's parts of The Chris Evans Show yesterday have been added to the MP3 section of DavidTennantOnTwitter.com or click here for the direct link. Updated 20/8

Click here for an audio link and new photo of David Tennant from the Chris Evans show today. Updated 19/8

This is the link to the iPlayer to hear David Tennant on The Chris Evans Show from this morning. (We'll MP3s of just David's parts later too.) Updated 19/8

To promote Fright Night, David Tennant is on Chris Evans Show on BBC Radio Two this morning which streams worldwide. He will probably be on from about 8am. If you miss David Tennant on Chris Evans Show today, as usual MP3s of all David's clips will be added later to this website. Updated 19/8

David Tennant will be on the Chris Evans Show on BBC Radio Two on Friday 19th August sometime between 6.30am & 9.30am. David will most likely be on the show after 8am. (As usual DavidTennantOnTwitter.com will post MP3s of all the programme afterwards.) See here for more details. This is to promote Fright Night. Updated 13/8

David Tennant will be co-hosting the Absolute Radio Breakfast Show on Friday 2nd September from 6am. (As usual DavidTennantOnTwitter.com will post MP3s of all the programme afterwards.) Updated 12/8



June 2011
David Tennant Treat 4 Today - the Jo Whiley interview. Updated 23/6

David Tennant was interviewed briefly on the Jo Whiley show last night. Click here to listen to it (his section starts at 18 minutes 50). Updated 22/6

Friday Night Is Music Night on BBC Radio 2 tonight celebrates 50 Years Of The RSC at 8pm which may or may not include David Tennant. Updated 10/6
May 2011
This evening at 7.15pm David Tennant and Catherine Tate were interviewed by Mark Lawson on BBC Radio Four on the arts programme Front Row. The interview was recorded earlier today from David's dressing room at the theatre. Click here to listen to it. Updated 19/5

The Today programme on BBC Radio Four played a recorded interview with David Tennant and Catherine Tate about Much Ado About Nothing. Click here to listen to it. Updated 17/5

David Tennant and Catherine Tate will be interviewed on Front Row on BBC Radio Four on Thursday 19th May. See here for more details. Updated 13/5



April 2011
David Tennant Treat 4 Today - a clip of David from episode 3 of The RSC At 50. Updated 26/4

David Tennant Treat 4 Today - the Front Row review of Unted. Updated 21/4

Front Row on BBC Radio 4 tomorrow at 7.15pm will be reviewing David Tennant's United. Updated 20/4

David Tennant Treat 4 Today - the Radio Four Extra / Desert Island Dics interview. Updated 19/4

Unfortunately David Tennant's "interview" on Radio Four Extra was just a repeat of part of his Desert Island Discs interview. Updated 19/4

David Tennant may also be included in the third episode of the Radio Four programme The RSC At 50 at 11.30am today. Updated 19/4

David Tennant is on The 4 O'Clock Show on Radio Four Extra today and it's 27 days until he plays the first performance of Much Ado About Nothing. Updated 19/4

Today at 11.30am on BBC Radio Four episode two of The RSC At 50 has its premiere airing. Updated 12/4

The David Tennant Treat 4 Today is the Radio Wales documentary about Jimmy Murphy. There are two clips of David Tennant talking in it, plus two anecdotes about him. Updated 9/4

David Tennant now has his own page on the BBC website about Desert Island Discs. (MP3s of his appearance are also available on our MP3 page or click here for the direct link.) Updated 8/4

Tomorrow at 1.05pm (and repeated on Sunday at 5pm) BBC Radio Wales will have a programme about Jimmy Murphy who is David Tennant's character in United. See here for details. Updated 8/4

On Tuesday 19th April David Tennant will be one of the guests on Radio Four Extra's 4 programme The 4 O'Clock Show. Updated 8/4

David Tennant Treat 4 Today - the two David Tennant clips from the programme The RSC At 50 which was broadcast today. Updated 5/4

At 11.30am David Tennant is included in a programme called The RSC AT 50 on BBC Radio Four (which can be heard worldwide on the internet). This is the first of a three part series. Click here for more details. Updated 5/4



March 2011
At about 1.55pm today David Tennant rang into Jo Whiley at Radio One as it was her final show before she moves to Radio Two. Click here to listen to a MP3 of his call. Updated 27/3

David Tennant will be included in a Radio Four programme about the Royal Shakespeare Company called The RSC At 50 on Tuesday 5th April at 11.30am. See here for more details. Updated 18/3

David Tennant Treat 4 Today - a brief mention of David on the Christian O'Connell show today. Updated 10/3



January 2011
Click here for MP3s of all the David Tennant sections of the Christian O'Connell Show on Radio Five Live today and here for a photo and recap of the new things mentioned. David spoke about Much Ado About Nothing, Comic Relief, United, Fright Night and Decoy Bride amongst other things. Updated 29/1

Today David Tennant appears on Radio Five Live and it's 107 days until his first performance of Much Ado About Nothing. Updated 29/1

Christian O' Connell announced at the end of his BBC Radio 5 live show today that David Tennant will be on the show next Saturday. Updated 22/1

David Tennant Treat 4 Today - a MP3 from the Graham Norton Show about David Tennant being a good citizen earlier today. Updated 15/1

David Tennant Treat 4 Today - a MP3 from David Tennant, Russell T Davies, Julie Gardner and Euros Lynn. Updated 12/1

Apparently Single Father was mentioned on Radio 2 today as Richard Madeley was asking for choices for the National Television Awards. The listener who chose Single Father also said that David Tennant was "yummy"! Updated 12/1