David Tennant - Absolute Radio Breakfast Show
Friday 20th December 2013



On Friday 20th December David Tennant appeared in the Absolute Radio Christmas Pantomine.

The theme was Zombie Claus and EastEnders actor Shane Ritchie also appearred.

The pantomine was broadcast live from the Soho Theatre in London and hosted by Christian O'Connell The show streamed live on the internet and was heard worldwide at this link.

Please note the timings may not be exact as there was a delay online, plus sometimes different songs / ads were played on the radio version compared to online.

Start time of clip

Clip length

Topics discussed

Listen

6.36am
4 mins 32 secs
Just missed the beginning) David Tennant's hair / Zombie Claus script / Under the seats / Wickesaroo
Click here
6.51am
6 mins 46 secs
Wickesaroo
Click here
7.01am
48 secs
Where's Shane?
Click here
7.13am
6 mins 23 secs
Christmas gifts
Click here
7.37am
6 mins 26 secs
Broadchurch/Gracepoint / Radio Times Schedule Bingo Game
Click here
7.51am
51 secs
David says hello to his family
Click here
7.58am
1 min 20 secs
David Tennant dressed as Santa Claus
Click here
8.10am
10 mins 33 secs
Zombie Claus part one
Click here
8.25am
8 mins 25 secs
Zombie Claus part two
Click here
8.42am
8 mins 7 secs
Zombie Claus part three
Click here
9.17am
5 mins 20 secs
Post Zombie Claus / Upcoming events / Pantomines / Richard II
Click here
9.22am
19 secs
David reading the end of the traffic news
Click here
9.38am
2 mins 44 secs
Richard II / David's Christmas song / Gracepoint / David's American accent

Please do not link directly to these MP3s if you post them elsewhere, but rather link to this page

Click here
Daily Mail has an article about David Tennant in Zombie Claus yesterday (with photos). Updated 21/12
Absolute Radio have added videos of the Zombie Claus pantomine to YouTube. Updated 20/12
Huffington Post have posted more photos of David Tennant in the Absolute Radio Zombie Claus pantomine earlier today. Updated 20/12
Radio Times has more photos of David Tennant in the Absolute Radio Zombie Claus pantomine. Updated 20/12
A video of David Tennant being hit in the face with a fajita during Zombie Claus has been posted to YouTube. Updated 20/12
A photo of David Tennant with Maggie Doyle has been posted to Instagram. Updated 20/12
David Tennant said in the last section on Absolute Radio that he will start working on his American accent for Gracepoint this afternoon via Skype. Updated 20/12
Photo of David Tennant and Christian O'Connell dressed in their Zombie Claus costumes. Updated 20/12
Photo of the cast of Zombie Claus. Updated 20/12
Close-up photo of David Tennant dressed as Zombie Claus. Updated 20/12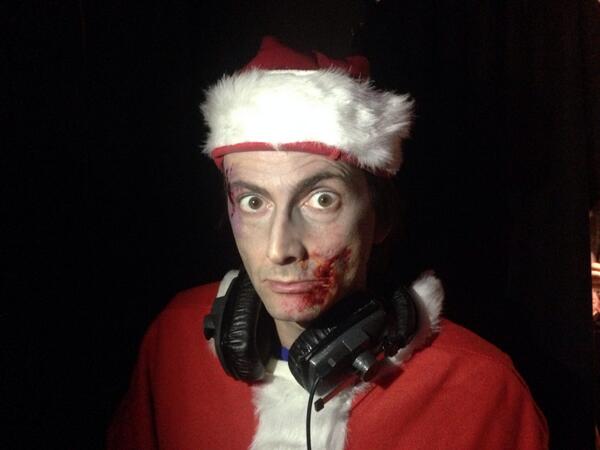 Huffington Post have posted a photo of David Tennant at the North Pole. Updated 20/12
Photo of David Tennant dressed as Santa Claus on stage. Updated 20/12
Close-up photo of David Tennant dressed as Santa Claus. Updated 20/12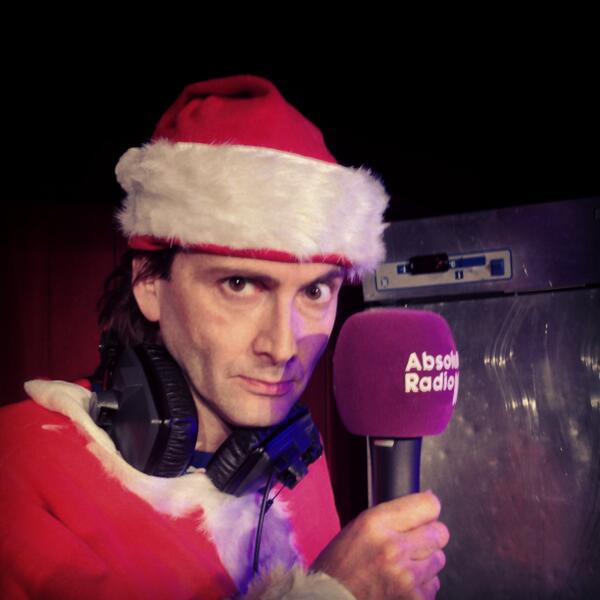 Full length photo of David Tennant dressed as Santa Claus. Updated 20/12
Huffington Post have posted a photo of David Tennant and Shane Ritchie on stage. Updated 20/12
Photo of David Tennant playing Radio Times Schedule Bingo Game. Updated 20/12
Photo of David Tennant and all the cast with their Christmas presents. Updated 20/12
A photo of David Tennant laughing at Shane Ritchie's Christmas presents has been posted to Twitter. Updated 20/12
Absolute Radio have posted a photo of David Tennant on stage when they are giving Christmas presents to Instagram. Updated 20/12
Absolute Radio have posted a photo of David Tennant with a sign about Zombie Claus to Twitter. Updated 20/12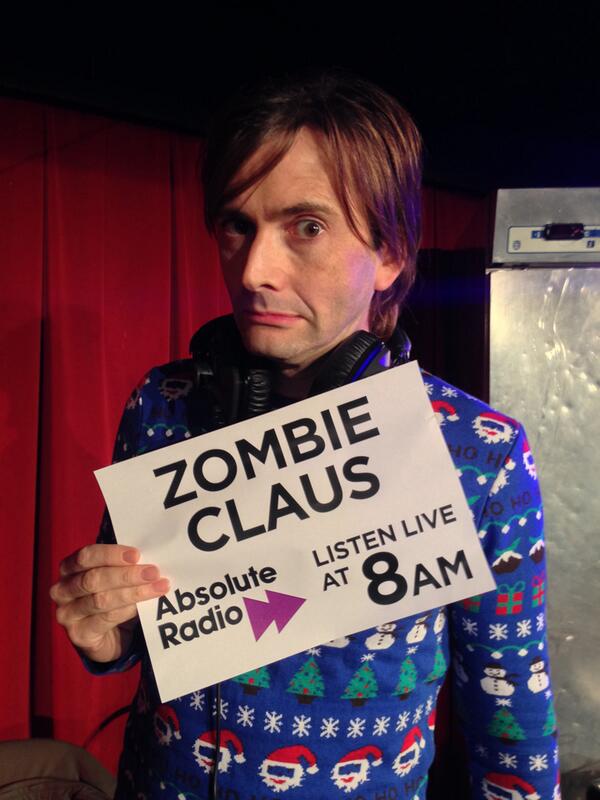 Absolute Radio have posted a photo of David Tennant playing Radio Buckaroo to Twitter. Updated 20/12
Absolute Radio have posted a photo of David Tennant reading his Zombie Claus script to Twitter. Updated 20/12
This morning David Tennant co-hosts from 6.30am and then stars in Absolute Radio pantomime at 8am with Christian O'Connell from the Soho Theatre in London in front of an invited audience. Updated 20/12
Christian O'Connell tweeted over 11 million people have tried to win tickets to watch David Tennant in Zombie Claus tomorrow! Updated 19/12
ATV has some plot details about Zombie Claus:
'The panto is set in the North Pole where Santa Claus mysteriously contracts a zombie virus and goes on the rampage – nobody is safe from his hungry jaws – but will the elves find a cure before Christmas Eve?' Updated 18/12
Today Absolute Radio announced that David Tennant will co-host the Breakfast Show on Friday with Christian O'Connell, as well as appearing in their pantomine. Updated 18/12
Christian O'Connell has posted to Twitter the title page of the Zombie Claus script which states that David Tennant plays both Santa and Zombie Claus. Updated 17/12
Absolute Radio have posted to their Facebook page a contest to win tickets to the Zombie Claus panto next Friday. Updated 15/12
Radio Times reports that the Zombie Claus panto by Absolute Radio will start at 8am on Friday 20th December and that David Tennant 'will appear in a full Zombie costume!' Updated 11/12
David Tennant will play Zombie Santa in the Absolute Radio Christmas Panto on Friday 20th December.
The website has a competition to win tickets to watching the recording, plus they have a poster for the panto online here. Updated 10/12
The theme of the Absolute Radio panto on 20th December will be Zombie Claus! They describe it as Zombies + Santa Claus = Zombie Claus. Updated 4/12
Today Absolute Radio announced that Shane Richie will join David Tennant in this year's Breakfast Show Pantomime on 20th December. Updated 3/12
Absolute Radio have posted an audio clip from when it was announced that David Tennant would be the star of this years Breakfast Panto. The clip includes an amusing phone call from David! Updated 2/12
David Tennant will star in the Absolute Radio pantomime again this year with Christian O'Connell. The pantomime is on Friday 20th December amd will be at the Soho Theatre in London in front of an invited audience. Updated 2/12