DavidTennantOnTwitter.com
David Tennant - Good Omens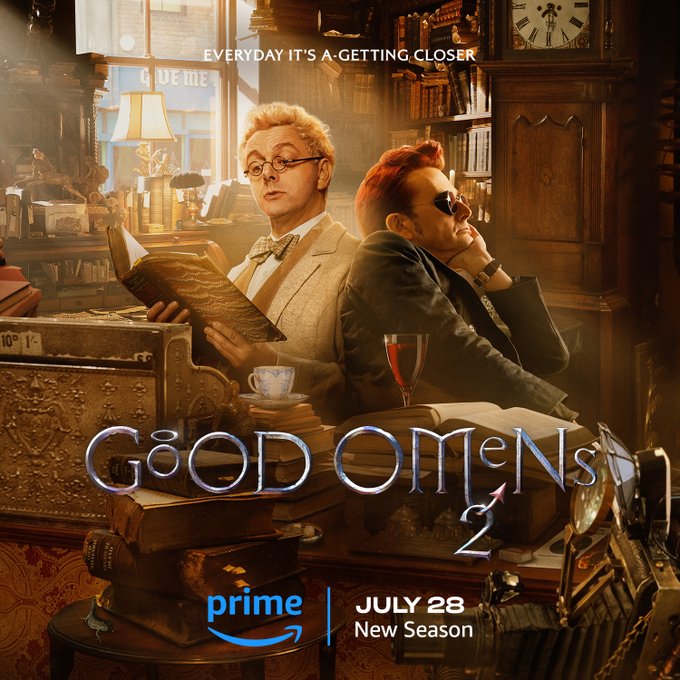 David Tennant and Micheal Sheen star in the adaptation of Neil Gaiman and Terry Pratchett's comedy Good Omens. The six part television series was released on Amazon Prime on Friday 31st May 2019 and was shown on BBC Two starting at 9pm on Wednesday 15th January 2020. Television channels where it will be broadcast in other countries have not been announced yet.

Good Omens is set in 2018 on the brink of an apocalypse as humanity prepares for a final judgement. But a somewhat fussy angel called Aziraphale (played by Michael Sheen) and Crowley (David Tennant's character who is a demon) aren't enthusiastic about the end of the world and can't seem to find the Antichrist.

Neil Gaiman adapted all six episodes of the series (which were all an hour in length on Amazon) and served as showrunner.

Good Omens was Neil Gaiman's first novel and was written in collaboration with Terry Pratchett who died in 2015.

The quote from David about the project was "Michael Sheen, Neil Gaiman, Terry Pratchett and directed by Douglas Mackinnon, it's a dream team and a dream gig. I am very excited that I've been asked to be part of this amazing project. Bring on the Apocalypse!"

Filming started on Monday 18th September 2017 and David completed filming his scenes in South Africa on Tuesday 20th February 2018. Principal filming ended on Saturday 10th March. The read-through for the first three scripts took place on Wednesday 13th September.

Good Omens was released on DVD and Blu-ray in the UK on Monday 28th October 2019 and in the US on Tuesday 5th November. It was released in Australia and New Zealand on Wednesday 13th November.

A Good Omens audiobook (starring David Tennant and Michael Sheen) was released on Tuesday 2nd November 2021.
It is available to pre-order on Audible.

A second series of Good Omens was announced in June 2021.
Once again it stars David Tennant and Michael Sheen as Crowley and Aziraphale.
Neil Gaiman and Douglas Mackinnon are the showrunners.
Filming started on Monday 18th October and was scheduled for 18 weeks until Friday 11th March (with a three week hiatus for Christmas and New Year). However the final day of filming was Tuesday 1st March 2022.
The production was based in Bathgate and filming was in various locations in the Central Belt of Scotland.
Good Omens Series Two premiered on Prime Video on Friday 28th July in more than 240 countries and territories worldwide.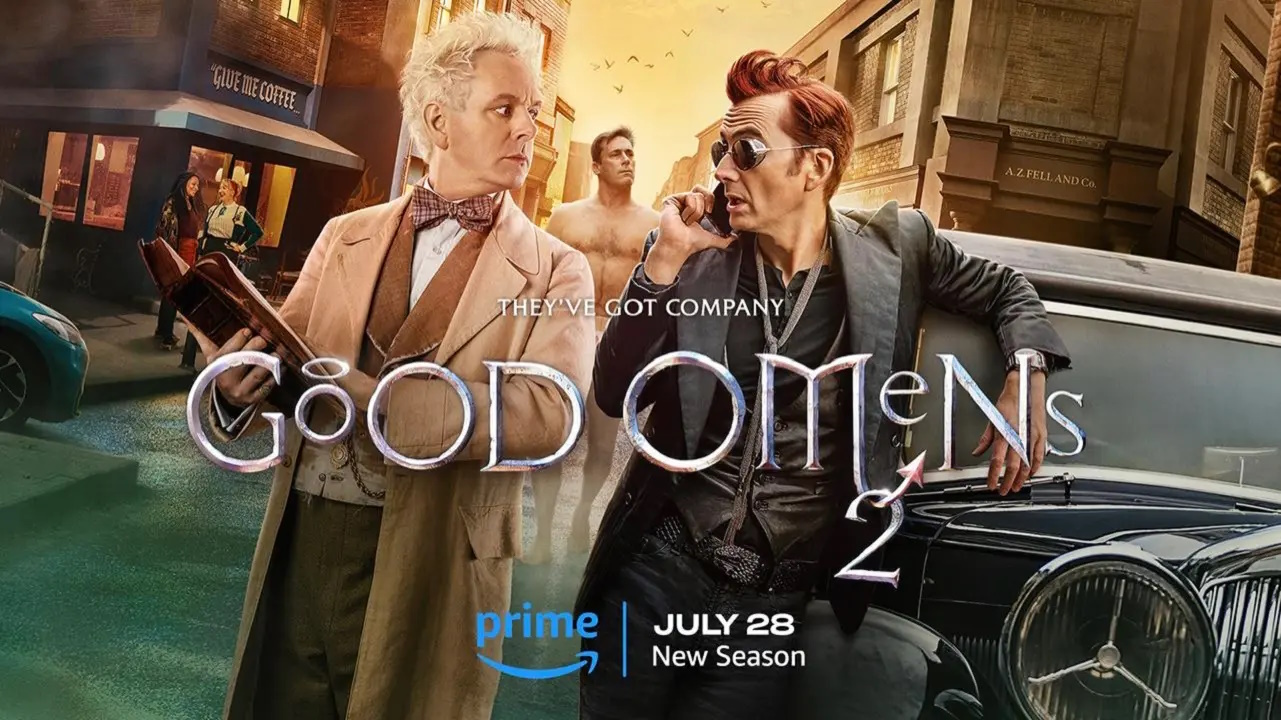 The trailer for the second series of Good Omens:

The promo events David attended for the first series of Good Omens were:
2018:
Tuesday 2nd October - Press panel for Good Omens in London.
Saturday 6th October - Media day for Good Omens at New York Comic Con.
2019:
Wednesday 13th February - Good Omens panel at the Television Critics Association Winter Press Tour in Los Angeles.
Wednesday 17th April - Two Good Omens promo events in Los Angeles, CA.
Wednesday 22nd May - Kevin And Bean radio show.
Wednesday 22nd May - The Late Late Show With James Corden.
Friday 24th May - Third Hour Today show on NBC.
Tuesday 28th May - Steve Wright show on BBC Radio Two.
Tuesday 28th May - Good Omens premiere in Leicester Square, London.
Wednesday 29th May - Good Omens panel in London at the Royal Festival Hall.
Friday 31st May - The Graham Norton Show on BBC One.

Link to posts related to Good Omens on Blogger.com. (Usually with more detail.)
September 2023
David Tennant nominated for Best Actor Award in TV Choice Awards.
The nomination is for his role in the ITV drama Litvinenko.
Also Good Omens has been nominated for the Best Comedy Show Award and Ahsoka for the Best Family Drama Award.
In competition with each other, both Inside Man and Litvinenko are nominees for the Best New Drama Award.
Plus Spy In The Ocean (which is narrated by David) has been nominated for the Best Factual Show Award.
Voting opened today and all votes must be cast by midnight on Tuesday 10th October. Updated 26/9
A new photo of David from when he was filming Good Omens has been posted online. Updated 22/9
A Stroke Of The Pen by Terry Pratchett is released today.
How It All Began is read by David Tennant. Updated 7/9
August 2023
A clip (which features David Tennant and may contain spoilers) from Good Omens Series Two has been posted online. Updated 19/8

A new photo of David Tennant, Michael Sheen and Neil Gaiman from Good Omens Series Two filming has been posted online. Updated 17/8

The Best Of David Tennant As Crowley in Good Omens Series Two video (according to Amazon Prime) has been posted to YouTube. Updated 13/8

David Tennant is the guest on Radio Times Podcast this week.
He was asked about Good Omens Series Two and Doctor Who amongst other topics. Updated 8/8

Video of the audio interview (posted on 28th July) by BBC Radio One's film critic Ali Plumb (in the photo) with David Tennant and Michael Sheen about Good Omens Series Two has been posted to YouTube. Updated 5/8

A video interview by Cinema Blend with David Tennant and Michael Sheen about Good Omens Series Two has been posted to YouTube. Updated 5/8

A video interview by Comic Book with David Tennant and Michael Sheen about Good Omens Series Two has been posted to YouTube. Updated 4/8

A video interview by JoBlo Celebrity Interviews with David Tennant and Michael Sheen about Good Omens Series Two has been posted to YouTube. Updated 1/8



July 2023
Amazon Prime have posted a video of David Tennant (and other Good Omens Series Two cast members) answering questions about the show. Updated 31/7

Geeks Of Colour has a video interview with David Tennant and Michael Sheen about Good Omens Series Two and on why humans are worth saving. Updated 29/7

BBC Sounds has an audio interview with David Tennant and Michael Sheen about Good Omens Series Two (with a photo of the host). The interview starts at the 4 minutes mark. Updated 28/7

David Tennant to play the Tenth Doctor in Doctor Who for a Big Finish audio drama which will be released in September.
The story is titled The Martian Invasion Of Planetoid 50 and is part of Big Finish's Doctor Who - Once And Future audio series.
Pre-order link. Updated 28/7

The Movie Podcast has an audio interview with David Tennant and Michael Sheen about Good Omens Series Two (their part starts at about the 6 minute mark). Updated 28/7

Sky has an audio interview with David Tennant and Michael Sheen about Good Omens Series Two (their part starts at about the 15 minute mark). Updated 28/7

Variety interview with David Tennant about Good Omens Series Two (including a minor spoiler), Doctor Who and Macbeth. Updated 28/7

Good Omens Series Two is released worldwide today on Amazon Prime. Updated 28/7

Mashable has a video interview with David Tennant and Michael Sheen about Good Omens Series Two and on why humans are worth saving. Updated 27/7

A 6 minute interview by The Movie Podcast has a video interview with David Tennant and Michael Sheen about Good Omens Series Two. Updated 27/7

New Zealand show The Project has a video interview with David Tennant and Michael Sheen about Good Omens Series Two. Updated 27/7

Amazon Prime has a video interview with David Tennant, Michael Sheen and other cast members about Good Omens Series Two. Updated 26/7

Nerdist video interview with David Tennant and Michael Sheen about Good Omens Series Two has been posted to YouTube. Updated 25/7

Collider video interview with David Tennant and Michael Sheen (and other cast members) about Good Omens Series Two has been posted to YouTube.
Among the topics discussed are hopping through time with Aziraphale and Crowley and who they think is the better driver when it comes to Crowley's beloved Bentley. Updated 25/7

Black Girl Nerds video interview with David Tennant and Michael Sheen (and other cast members) about Good Omens Series Two has been posted to YouTube. Updated 25/7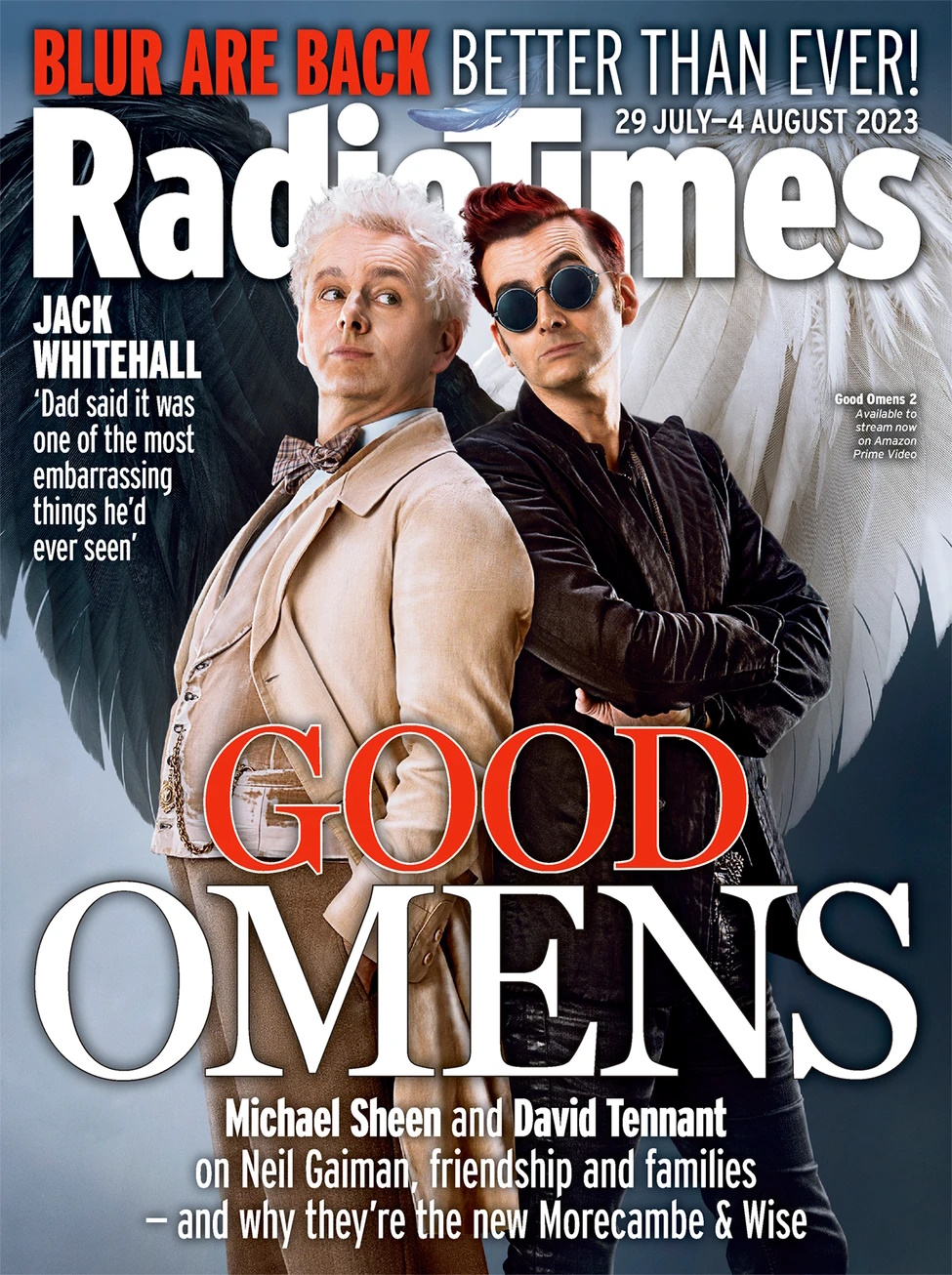 David Tennant and Michael Sheen are on the cover of the latest issue of Radio Times which was published today, plus there is an interview with them inside about Good Omens Series Two. Updated 25/7

A clip from an interview by Nerdist with David Tennant and Michael Sheen about Good Omens Series Two has been posted to YouTube. Updated 25/7

A video interview with David Tennant and Michael Sheen by India Today about Good Omens Series Two and 'the prospects of a third series' has been posted to YouTube. Updated 24/7

Inverse has an interview with David Tennant and Michael Sheen about Good Omens Season Two, about how they dealt with the show's passionate following and what Easter eggs fans can expect to see. Updated 24/7

CinemaBlend has a short video interview with David Tennant and Michael Sheen about Good Omens Series Two. Updated 22/7

A behind the scenes video of Good Omens Series Two has been posted to YouTube. Updated 21/7

Entertainment Weekly has an interview with David Tennant and Michael Sheen about returning as Aziraphale and Crowley and how Season Two expands upon Neil Gaiman and Terry Pratchett's book. Updated 20/7

A video of David Tennant and Michael Sheen speaking about their onscreen chemistry and how much their characters have grown since the first series of Good Omens. Updated 20/7has been posted online. Updated 20/7

A photo of David Tennant with the There She Goes writer Shaun Pye has been posted online. Updated 20/7

A new photo of David Tennant from Good Omens Series Two has been posted online. Updated 19/7

Associated Press has a video interview with David Tennant and Michael Sheen about Good Omens Series Two. Updated 19/7

A video interview with David Tennant and Michael Sheen about the themes of good and evil in Good Omens Series Two and what they love about each other has been posted to YouTube. Updated 18/7

Screen Rant has posted a video interview with David Tennant and Michael Sheen about Good Omens Series Two to YouTube. Updated 18/7

Gizmodo has an interview with David Tennant and Michael Sheen about Good Omens Series Two. Updated 17/7

The Good Omens cast debate good and evil in this short which has been posted to YouTube.
David Tennant is shown after Michael Sheen's clip in the link. Updated 17/7

Slashfilm has another new interview with David Tennant about Good Omens Series Two where he is asked about "Donning Crowley's Slightly Too-Tight Trousers!" Updated 17/7

Collider has a new interview with David Tennant about Good Omens Series Two (and briefly about Doctor Who). Updated 17/7

An interview with David Tennant about the relationship between Crowley and Aziraphale in Good Omens Series Two will be broadcast on The Radio Times Podcast in a couple of weeks.
Some highlights from the interview are in this link. Updated 17/7

A new photo of David Tennant from Good Omens Series Two has been posted online. Updated 16/7

A very brief clip of David Tennant from Good Omens Series Two is shown from 28 seconds in a new promo video from Amazon Prime. Updated 13/7

An interview with David Tennant was broadcast on Times Radio today.
The video has been posted to YouTube.
David was asked about Doctor Who, Good Omens Series Two, There She Goes and "baring all" in Rivals. Updated 12/7

A new poster for Good Omens Series Two featuring has been posted online. Updated 11/7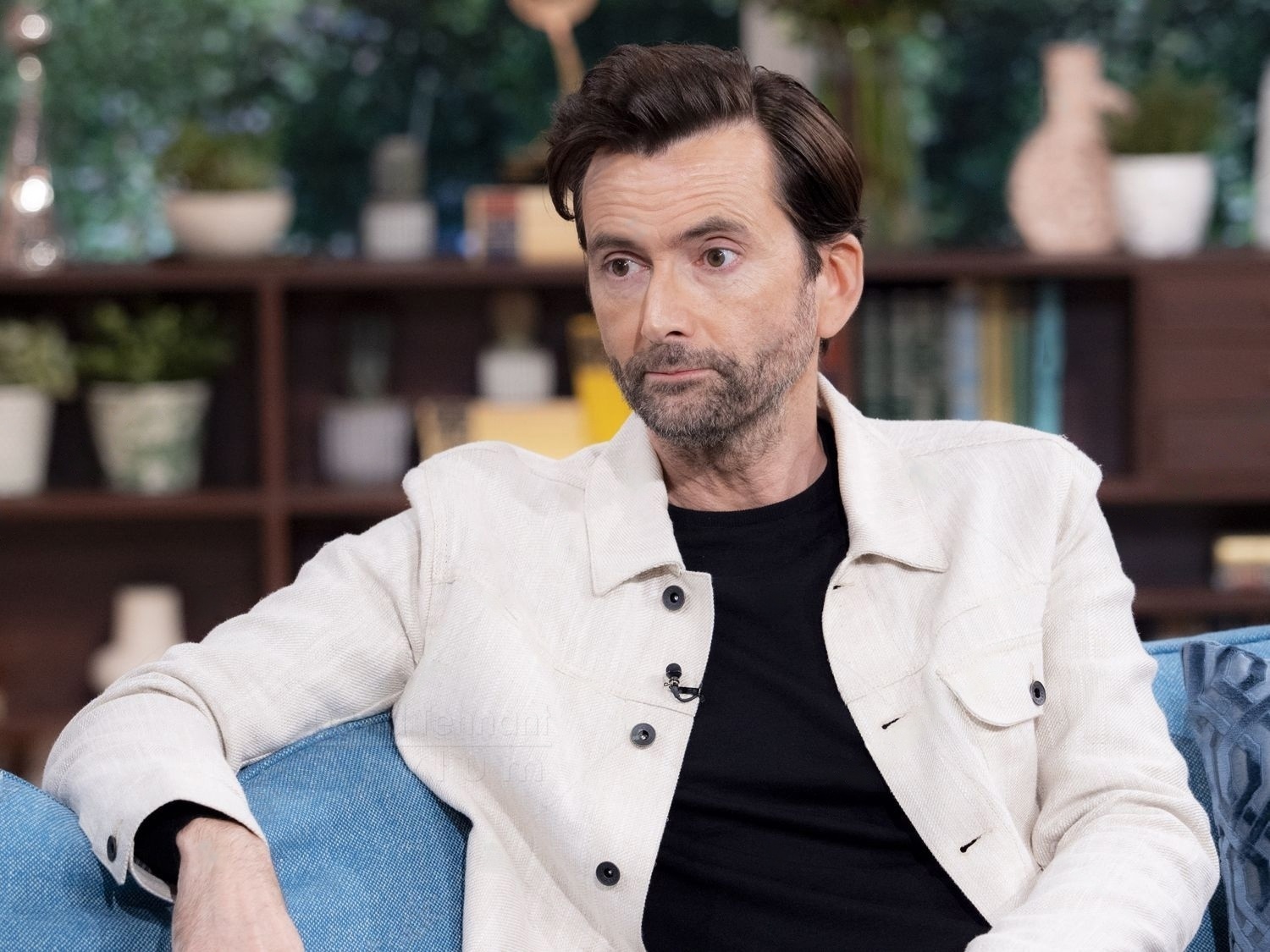 Video of David Tennant's interview on This Morning today to promote Good Omens Series Two has been posted to YouTube. Updated 11/7

David Tennant will be a guest on This Morning today to promote Good Omens Series Two.
The show is on ITV and starts at 10am. Updated 11/7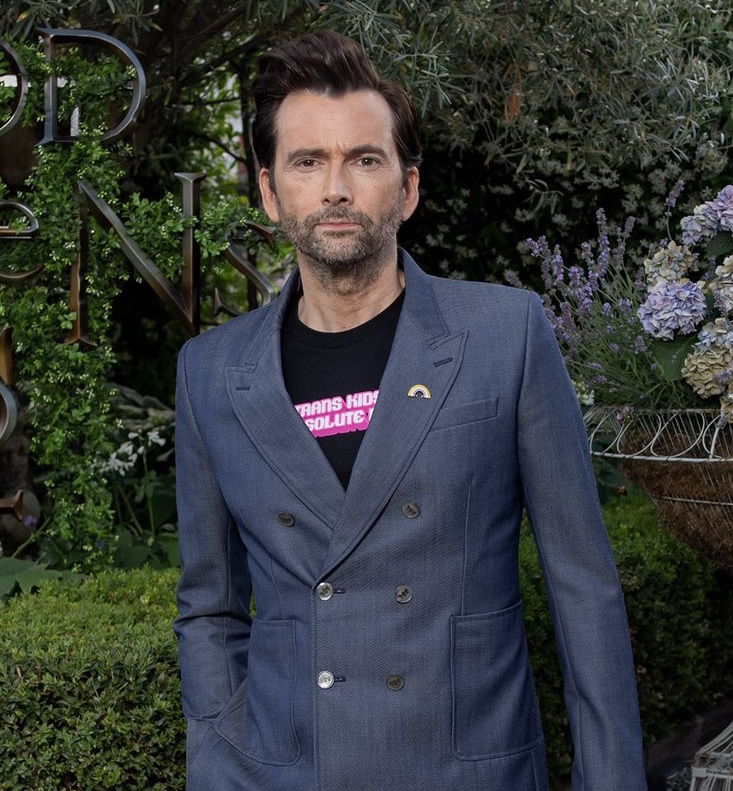 Video of David Tennant and Michael Sheen's interview on The One Show tonight has been posted to YouTube. Updated 10/7

A new clip from Good Omens Series Two (titled Six Shots Of Espresso) has been posted to YouTube. Updated 10/7

A photo of David Tennant and Michael Sheen from The One Show tonight has been posted online. Updated 10/7

A clip from David Tennant's interview on The One Show tonight (speaking about Doctor Who) has been posted online. Updated 10/7

The first photo of David Tennant (and Michael Sheen) on The One Show tonight has been posted online. Updated 10/7

A new promo photo of David Tennant and Michael Sheen from Good Omens Series Two has been posted online. Updated 10/7

David Tennant will be a guest on This Morning tomorrow to promote Good Omens Series Two.
The show is on ITV from 10am to 12.30pm. Updated 10/7

Photos of David Tennant (and Michael Sheen) promoting Good Omens Series Two today have been posted online. Updated 10/7

David Tennant and Michael Sheen are guests on The One Show on BBC Two at 7pm tonight to discuss Good Omens Series Two. Updated 10/7

David Tennant and Michael Sheen will be guests on The One Show on Monday (10th July) on BBC Two at 7pm to discuss Good Omens Series Two. Updated 7/7

A photo of David Tennant and Michael Sheen will be on the cover of next week's issue of SFX Magazine (which is published on Tuesday).
There will also be an interview with them in the magazine about Good Omens Series Two. Updated 7/7

A new promo photo of David Tennant from the second series of Good Omens has been posted online. Updated 7/7

An advance screening of the first two episodes of the second season of Good Omens has been announced for Tuesday 18th July at the Green-Wood Cemetery in Brooklyn, NY.
Link to details. Updated 3/7



June 2023
Four new promo photos from Good Omens Series Two have been posted online. Updated 30/6

A new poster from Good Omens Series Two has been posted online. Updated 30/6

A new clip from Good Omens Series Two has been posted to YouTube. Updated 30/6

A photo from when David Tennant was filming the second series of Good Omens has been posted online. Updated 7/6

Another photo from the second series of Good Omens has been posted online. Updated 7/6

A new poster for the second series of Good Omens has been posted online. Updated 7/6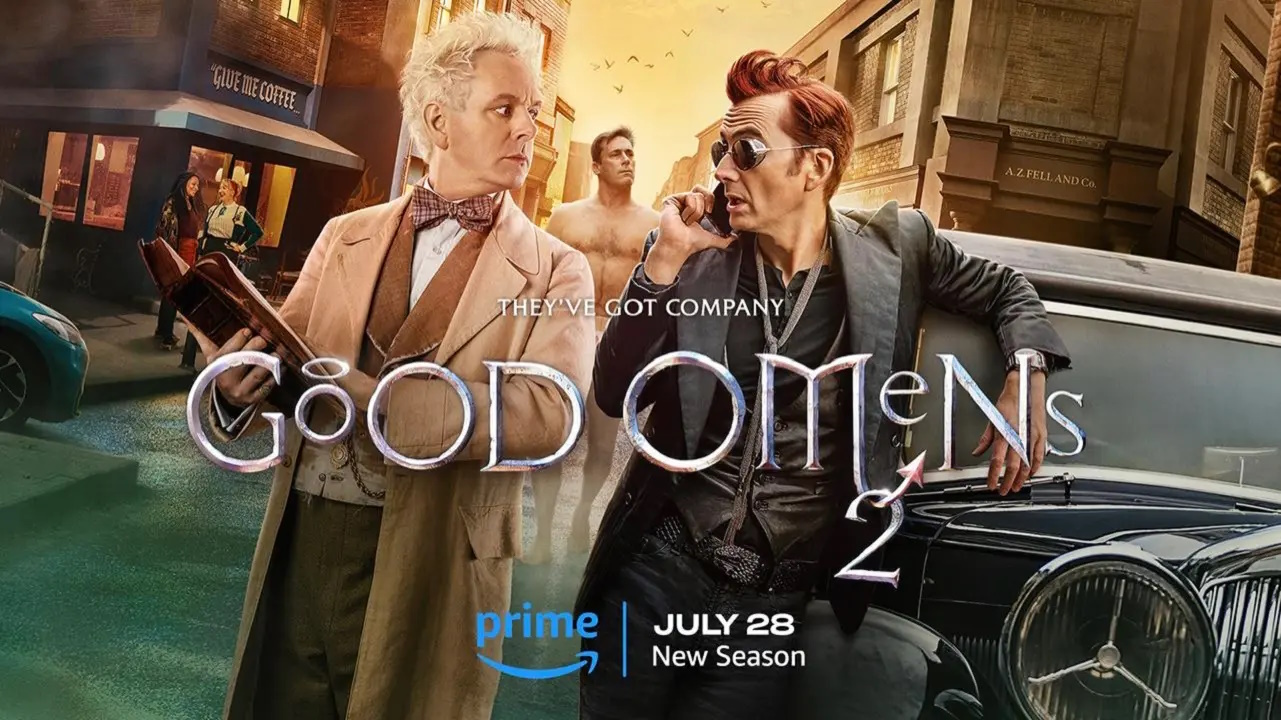 The trailer for the second series of Good Omens has been posted to YouTube. Updated 7/6
A new photo of David Tennant was released to announce a trailer for Good Omens Series Two will be released tomorrow. Updated 6/6
May 2023
The Good Omens Series Two opening titles have been posted online. Updated 31/5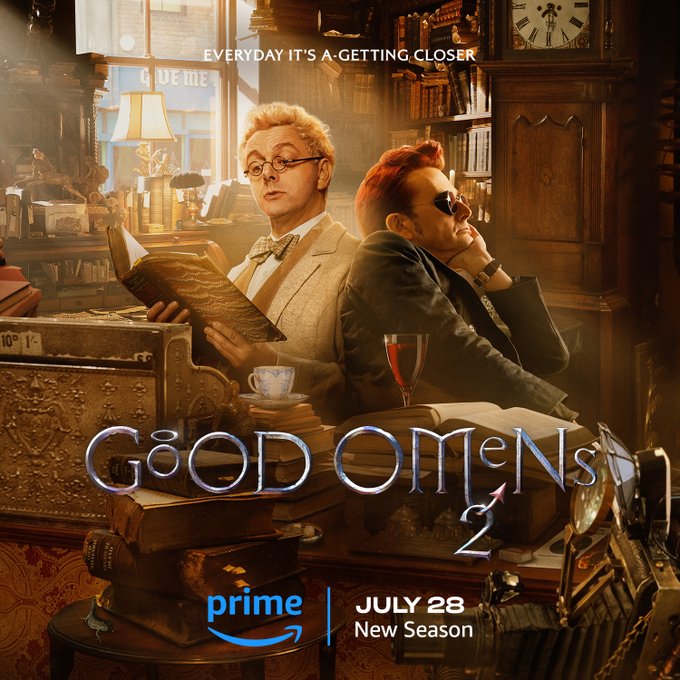 Good Omens Series Two will premiere on Prime Video on Friday 28th July in more than 240 countries and territories worldwide.
A poster to accompany the announcement was posted online. Updated 9/5



April 2023
A filming photo of David Tennant from the first series of Good Omens to celebrate his birthday today has been posted online. Updated 18/4



March 2023
Unfortunately Good Omens didn't win the Audio Drama Award at the Audies 2023 Awards last night as Pipeline won. Updated 28/3

The winners of Audies 2023 Awards will be announced at a ceremony in New York City tonight.
Good Omens was nominated for the Audio Drama Award. Updated 27/3

A clip of David Tennant speaking about Jon Hamm in the second series of Good Omens at Emerald City Comic Con fan convention today has been posted online. Updated 3/3



February 2023
The audio recording of Good Omens is one of the Audies 2023 finalists for the Audio Drama Award.
The other finalists for that award are 1984, Clean Sweep, Coraline and Pipeline.
The winners will be announced at a ceremony on Tuesday 28th March in New York City. Updated 23/2



December 2022
David Tennant was interviewed for 15 minutes on Front Row on BBC Radio Four tonight about the drama Litvinenko.
David's interview is at the start of the show.
David was also asked about the play Good, Staged and Good Omens. Updated 12/12



October 2022
A fun photo of David Tennant from when he was filming the second series of Good Omens has been posted online. Updated 20/10

The pre-recorded video which was played at the Good Omens panel at New York Comic Con last week has been posted online. Updated 10/10

It was announced today at the Good Omens panel at New York Comic Con that the second series will be released in 'Summer 2023.'
A poster was also revealed at the fan convention. Updated 7/10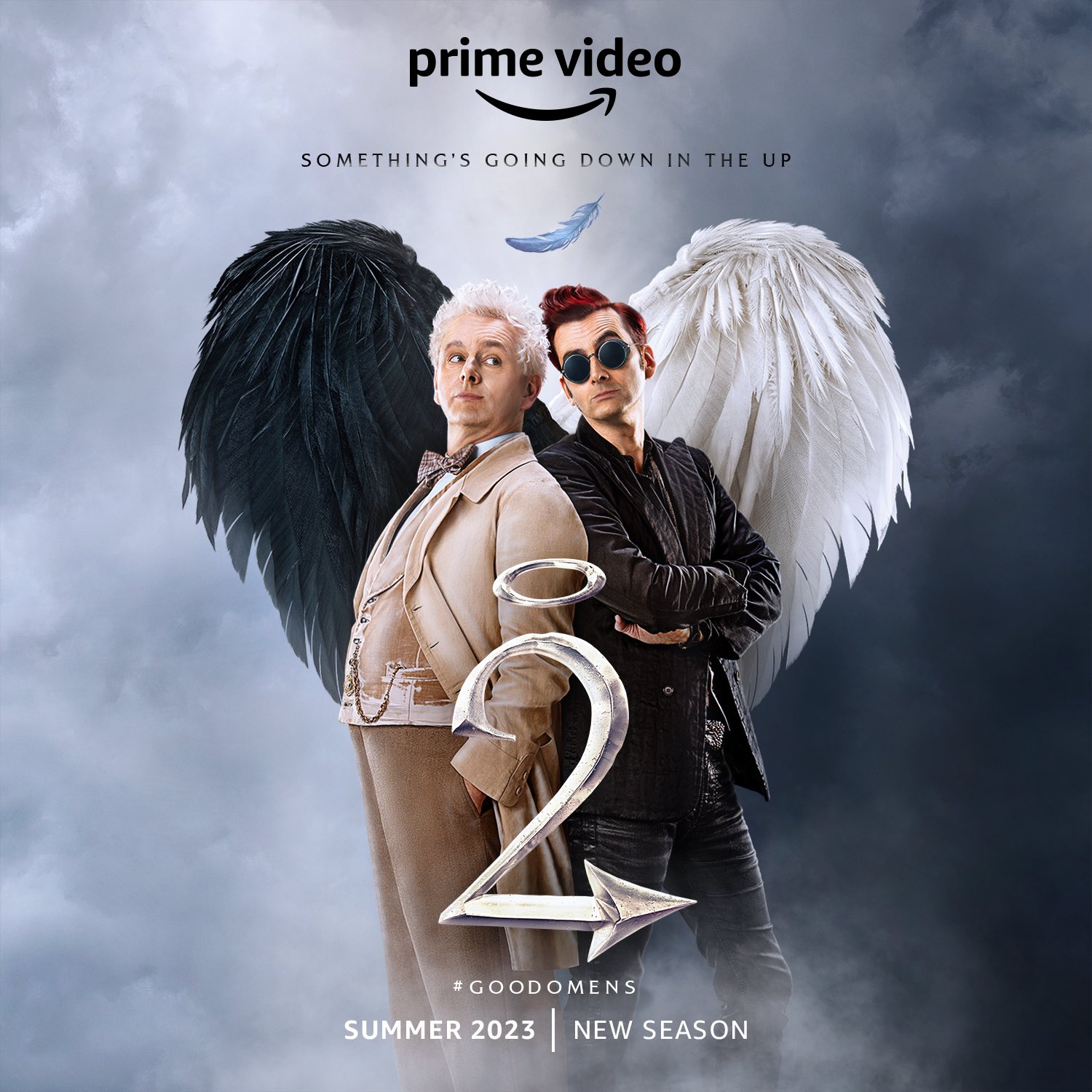 August 2022
Variety reports Netflix's The Sandman has dropped a new episode starring David Tennant Sandra Oh, James McAvoy and Michael Sheen.
It was released at midnight PT and is a new installment of The Sandman Season One.
It is a live action/animated hybrid episode which adapts the two stories from Gaiman's Sandman graphic novels - A Dream Of A Thousand Cats and also Calliope.
A Dream Of A Thousand Cats is the animated portion.
The stars include Tom Sturridge as Dream, Sandra Oh as The Prophet, Rosie Day as The Tabby Kitten, David Gyasi as The Grey Cat, Joe Lycett as The Black Cat, Neil Gaiman as Crow/Skull Bird, James McAvoy as Golden-Haired Man, David Tennant as Don and Michael Sheen as Paul. Updated 19/8



May 2022
The Wizards Of Once: Never And Forever by Cressida Cowell (which is narrated by David Tennant) won the Book Of The Year: Audiobook Fiction Award at the British Books Awards 2022 tonight. Updated 23/5

The winners of the British Books Awards 2022 are announced today.
Two David Tennant audiobooks were nominated for the Audiobook Fiction Book Of The Year Award:
The Wizards Of Once: Never And Forever by Cressida Cowell
The Sandman Act II by Neil Gainman and Dirk Maggs Updated 23/5



April 2022
The David Tennant Raffle for Accord Hospice is live (including a video).
The donations include items for Good Omens, Doctor Who, Much Ado About Nothing and The Sandman Act II.
There are nine lots and each raffle ticket costs £10 (later reduced to £5).
The raffle is open until until 11.55pm on Friday 29th April 2022 which is when the winners will be drawn. Updated 1/4



March 2022
The Argos reports two David Tennant audiobooks have been nominated for the Audiobook Fiction Book Of The Year Award in the British Books Awards 2022.
The books are:
The Wizards Of Once: Never And Forever by Cressida Cowell
The Sandman Act II by Neil Gainman and Dirk Maggs
The winners will be announced at a live event from Grosvenor House London on Monday 23rd May. Updated 25/3

The second series of Good Omens completed filming today. Updated 1/3



February 2022
A photo David Tennant and Michael Sheen visiting a Scottish hospital today for Good Omens filming has been posted online. Updated 23/2

A lovely photo of David Tennant on the set of the second series of Good Omens in Bo'ness, Scotland has been posted online. Updated 15/2



January 2022
A video of David Tennant and Michael Sheen saying happy 101st birthday from the set of the second series of Good Omens has been posted online. Updated 20/1

The Good Omens full cast production is released today in the UK on Audible. Updated 14/1

Good Omens full cast production will be released in the UK on Friday (14th January) on Audible. Updated 11/1



November 2021
Daily Mail has photos of David Tennant filming Good Omens today (including showing his 'snake eyes'). Updated 3/11

Another photo of David Tennant filming the second series of Good Omens today has been posted online. Updated 3/11

A photo of David Tennant filming the second series of Good Omens in Edinburgh today has been posted online. Updated 3/11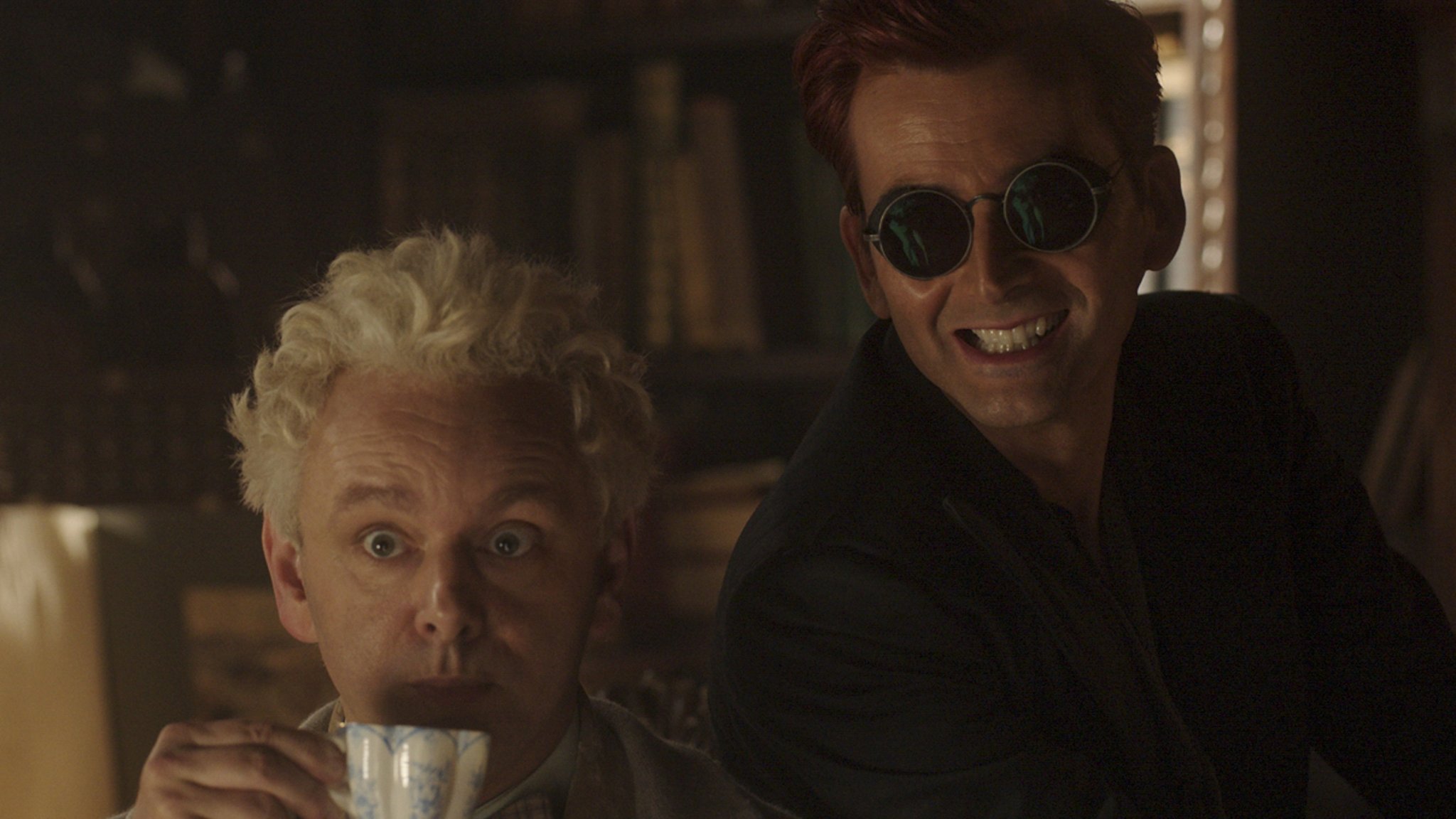 The first two photos of David Tennant and Michael Sheen from the set of the second series of Good Omens have been posted online here and here. Updated 2/11

The Good Omens full cast audiobook (starring David Tennant and Michael Sheen) is released today in the US.
Purchasing links. Updated 2/11



October 2021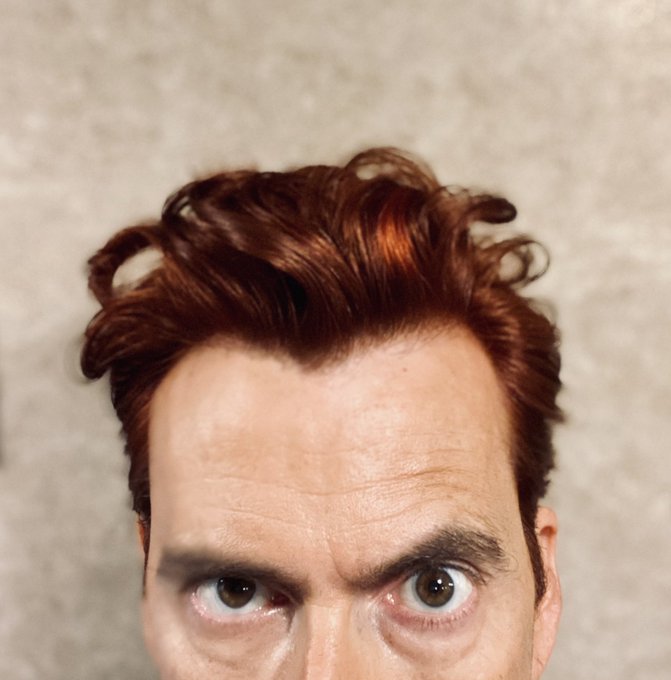 The first photo of David Tennant's ginger hair for filming of the second series of Good Omens has been posted online. Updated 19/10

Filming starts on the second series of Good Omens today.
However David Tennant will not film today as he is not required for today's filming. But we do know he will fly to Scotland today.
The read-through took place in two halves last Thursday and Friday evenings (14th and 15th October). David Tennant took part from London via Zoom. Updated 18/10



September 2021
A Good Omens audiobook (starring David Tennant and Michael Sheen) will be released on Tuesday 2nd November.
It is available to pre-order on Audible. Updated 24/9



July 2021
More filming details about the second series of Good Omens has been posted online.
Filming will start on Monday 18th October and is scheduled for 18 weeks until Friday 11th March (with a three week hiatus for Christmas and New Year).
The production will be based in Bathgate and will be filming in locations in the Central Belt of Scotland. Updated 3/7

Unfortunately David Tennant didn't win the Best Actor In A TV Series Award at the National Film Awards tonight as Matthew Horne won. Updated 1/7

The winners of the 2020 National Film Awards will be announced tonight.
David Tennant was nominated for the Best Actor In A TV Series Award for Good Omens. Updated 1/7



June 2021
A second series of Good Omens has been announced.
Once again it will star David Tennant and Michael Sheen as Crowley and Aziraphale.
Neil Gaiman and Douglas Mackinnon will be the showrunners.
The second series of the six part humorous drama will begin filming later this year in Scotland.
It will be produced by BBC Studios Productions alongside Amazon Studios, Narrativia and The Blank Corporation and will premiere on Amazon Prime Video in 240 countries and territories around the world at a later date. Updated 29/6



December 2020
David Tennant/Crowley Good Omens Funko POP! characters are available to pre-order.
There are two Good Omens characters available which are Aziraphale and Crowley.
They are both available to pre-order for £9.99 or $10.99 each ahead of a March 2021 release or, for a limited time, both are available on the UK site for �18.99.
The characters come packaged in a window display box and measure approximately 6 inches tall. Updated 23/12



November 2020
A new (very old!) photo of David Tennant from Good Omens filming has been posted online. Updated 2/11



October 2020
Good Omens won the BAFTA Cymru Award for Sound at a virtual ceremony tonight. Updated 25/10

Two photos of David Tennant from when he first saw the Bentley used on filming Good Omens have been posted online. Updated 18/10



September 2020
David Tennant wins the Best Actor Award for Good Omens at the Scottish Comedy Awards 2020. Updated 23/9



August 2020
Good Omens won the Hugo Award for Best Dramatic Presentation, Long Form overnight. Updated 1/8



July 2020
Good Omens premieres on BBC Canada and Showcase in Canada tonight.
The first episode is shown at 9pm tonight and subsequent episodes will be shown on the following Sunday evenings.
The whole series is still available in Canada (and worldwide) on Amazon Prime. Updated 19/7

Unfortunately Gareth Spensley didn't win the Special, Visual And Graphic Effects Award for Good Omens at the BAFTA Craft Awards tonight as His Dark Materials won. Updated 17/7

The winners of the BAFTA Craft Awards are announced tonight.
Gareth Spensley was nominated for the Special, Visual And Graphic Effects Award for Good Omens.
The ceremony will be streamed online from 7pm on YouTube and hosted by Stephen Mangan. Updated 17/7



June 2020
Evening Express has reported that David Tennant, Michael Sheen and Neil Gaiman won Radio Times Readers� Award for Good Omens at the first online Sandford St Martin Awards tonight.
The awards celebrates broadcasting about issues around faith and ethics and is usually held at Lambeth Palace (the official London residence of the Archbishop of Canterbury).
Michael Sheen provided an amusing acceptance speech in which he joked that his full-time job is now to be David Tennant's official spokesman! The clip has been posted online. Updated 11/6

David Tennant has been nominated for the Best Actor Award for Good Omens in the Scottish Comedy Awards 2020.
The winners will be announced on Tuesday 4th August.
Voting is only open to those who work in the Scottish Comedy Industry either as performers, writers, producers, promoters, production staff or similar. Updated 9/6

The BAFTA nominations were announced this morning.
Unfortunately there was only one nomination for Good Omens which was Gareth Spensley for the Special, Visual And Graphic Effects Award.
The main ceremony will be broadcast from behind closed doors on Friday 31st July with the ceremony broadcast on BBC One.
The BAFTA Craft Awards, which celebrate behind-the-scenes achievements (including the Special, Visual And Graphic Effects Award), will be streamed on Friday 17th July and hosted by Stephen Mangan. Updated 4/6



May 2020
The winners of the Nebula Awards were announced overnight at an online event. The third episode of Good Omens (Hard times) won the Ray Bradbury Award For Screenwriting. Updated 31/5

At 5pm today David Tennant and Neil Gaiman discussed the 30th anniversary of Good Omens.
A link to watch the video has been posted online. Updated 28/5

David Tennant has been nominated for the Best Actor Award for Deadwater Fell in the long-list of the 24th TV Choice Awards.
Also Criminal, Deadwater Fell and Good Omens are nominated for the Best New Drama Award.
Plus Spy In The Wild has been nominated for the Best Factual Show Award.
Voting ends at midnight on Friday 12th June.
Voting link. Updated 26/5

Good Omens is one of 13 nominees in the Entertainment category of the Peabody Awards.
The awards ceremony was to have been held in June but has been postponed. The new date has not been announced yet. Updated 6/5

David Tennant stars in a Good Omens: Lockdown video.
The video has been released to celebrate the 30th Anniversary today of the publication of the book Good Omens today. Updated 1/5



April 2020
A video of David Tennant's two deleted scenes from Good Omens has been posted online. Updated 16/4

MP3 of David Tennant's performance at Playing In The Dark concert on Tuesday 12th November 2019. Updated 14/4

A video of David Tennant's iconic Crowley looks in Good Omens (including the bath scene) has been posted online. Updated 11/4

Good Omens is a finalist for the Best Dramatic Presentation, Long Form Award at the 2020 Hugo Awards.
The winners will be announced in July or August and will be decided by all supporting or attending/online members of CoNZealand. Voting is scheduled open later this month. Updated 8/4



March 2020
A video of Crowley Being Sassy For 4 Minutes Straight from Good Omens has been posted online. Updated 30/3

Some photos of David Tennant filming Good Omens have been posted online. Updated 29/3

The National Film Awards have been rescheduled from Friday (20th March) to Wednesday 1st July due to the risk of Coronavirus.
David Tennant has been nominated for Best Actor In A TV Series Award for Good Omens. Updated 18/3

Tonight's CAMEO Awards ceremony (and the associated London Book Fair) have been cancelled due to Coronavirus.
Two of David Tennant's projects (Good Omens and How To Train Your Dragon: The Hidden World) were nominated for CAMEO Awards. Updated 9/3



February 2020
Some new photos of David Tennant from shooting Good Omens have been posted online. Updated 25/2

Two of David Tennant's projects have been nominated for three awards.
Good Omens has been nominated for the Book To TV Award in the Creativity Across Media: Entertainment And Originality (CAMEO) Awards 2020.
The third episode of Good Omens has been nominated for the Ray Bradbury Award for screenwriting in the 2019 Nebula Awards. Updated 22/2

Screencaps of David Tennant from the final episode of Good Omens. Updated 20/2

iPlayer link for the final episode (The Very Last Day Of The Rest Of Their Lives) of Good Omens.
The link is valid for 29 days and only plays in the UK. Updated 19/2

Tonight the sixth and final episode of Good Omens has its terrestrial television premiere on BBC Two at 9pm. Updated 19/2

About 50 screencaps of David Tennant from the fifth episode of Good Omens. Updated 13/2

iPlayer link for the fifth episode (The Doomsday Option) of Good Omens.
The link is valid for 29 days and only plays in the UK. Updated 12/2

The fifth episode of Good Omens has its terrestrial television premiere tonight on BBC Two at 9pm. Updated 12/2

Screencaps of David Tennant from the fourth episode of Good Omens. Updated 6/2

iPlayer link for the fourth episode (Saturday Morning Funtime) of Good Omens.
The link is valid for 29 days and only plays in the UK. Updated 5/2

The fourth episode of Good Omens has its UK terrestrial television premiere tonight. Updated 5/2



January 2020
iPlayer link for the third episode (Hard Times) of Good Omens.
The link is valid for 29 days and only plays in the UK. Updated 29/1

The third episode of Good Omens has its terrestrial television premiere tonight on BBC Two at 9pm. Updated 29/1

Good Omens won both the Best TV Comedy Drama Award and the Comedy Of The Year 2019 Award at the 2019 British Comedy Awards. Updated 27/1

Screencaps of David Tennant from the second episode of Good Omens. Updated 23/1

iPlayer link for the second episode of Good Omens.
The link is valid for 27 days and only plays in the UK. Updated 22/1

The second episode of Good Omens has its terrestrial television premiere on BBC Two tonight at 9pm. Updated 22/1

The Good Omens ratings on Wednesday evening on BBC Two was 1 million viewers.
It was against Silent Witness on BBC One (4.8m) and White House Farm on ITV (4.3m).
Good Omens was originally released on Amazon Prime last May and the DVD has been out since October so the figure is quite respectable. Updated 17/1

Daily Mail gives the first episode of Good Omens 5 stars in its review. Updated 16/1

iPlayer link for the first episode of Good Omens.
The link is valid for 27 days and only plays in the UK. Updated 16/1

Screencaps of David Tennant from the first episode of Good Omens. Updated 16/1

Good Omens is the Television Pick Of The Day in most of the 'broadsheet' newspapers today:
The Guardian
The Times
iNews Updated 15/1

Good Omens script book is published in paperback in the UK today. Updated 15/1

The first episode of Good Omens has its terrestrial television premiere on BBC Two tonight at 9pm. Updated 15/1

Good Omens nominated for Best TV Comedy Drama Award at 2019 British Comedy Awards.
Voting for the awards ends on Sunday 26th January. The winners will be announced on Monday 27th January. Updated 13/1

David Tennant nominated for Best Actor In A TV Series Award at National Film Awards for Good Omens.
Voting ends on Tuesday 10th March with the winners announced at the awards ceremony on Friday 20th March which will be broadcast exclusively on Sky Showcase in the UK. Updated 13/1

A one minute mini trailer by BBC Two for Good Omens has been posted online. Updated 8/1

David Tennant to be a guest on Lauren Laverne Show on BBC Radio Six on Wednesday 22nd January.
The three hour show starts at 7.30am but it has not been announced yet at which time David will be interviewed.
This appearance is to promote Deadwater Fell and Good Omens. Updated 6/1



December 2019
Videos of David Tennant and Matt Smith from their panel at Wales Comic Con.
They are asked questions about Doctor Who and Good Omens. Updated 28/12

Quotes by the cast and crew of Good Omens about working with David Tennant. Updated 28/12

A new David Tennant interview about Good Omens for the BBC. Updated 27/12

David Tennant to be a guest on The Zoe Ball Show on Friday 17th January on BBC Radio Two.
The three hour show starts at 6.30am and can be heard worldwide (plus we will post a MP3 of David's section afterwards).
David's appearance is to promote Deadwater Fell and he is expected to mention Good Omens too. Updated 24/12

A clip of David Tennant (from Wales Comic Con) being asked about 'damaging' the Bentley when filming Good Omens has been posted online. Updated 23/12

David Tennant is the special guest at the Playing In The Dark concert which premieres tonight on BBC Radio Three.
The concert was recorded at The Barbican Centre, London on Tuesday 12th November.
David reads an extract from Good Omens.
The broadcast tonight lasts 2 hours and 28 minutes and can be heard worldwide.
There will be a repeat of part of the concert tomorrow (Christmas Day) at 6am on BBC Radio Four but that will not include David's section.
The remainder of the concert (including David's reading) will be broadcast at 3pm in the afternoon of New Year�s Day also on BBC Radio Four. Updated 23/12

The BBC has announced that the start date for Good Omens on BBC Two will be Wednesday 15th January at 9pm. Updated 19/12

Unfortunately Good Omens didn't win the Best English Language Drama (Series) Award at the C21 International Drama Awards tonight as Chernobyl won. Updated 5/12

Winners of the C21 International Drama Awards are announced today.
There She Goes was nominated for the Best Comedy-Drama Award and Good Omens for the Best English Language Drama (Series) Award. Updated 5/12

A photo of the TV Times Award which was won by Good Omens for the Favourite On-Demand Show has been posted online. Updated 3/12

Good Omens has won the Favourite On-Demand Show in the TV Times Awards 2019. Updated 3/12



November 2019
There She Goes and Good Omens have been nominated in the C21 International Drama Awards.
There She Goes has been nominated for the Best Comedy-Drama Award.
And Good Omens has been nominated for the Best English Language Drama (Series) Award. Updated 13/11

Last night at the Playing In The Dark concert in London Neil Gaiman announced that Good Omens would be shown on BBC Two in February. Updated 13/11

Good Omens is released on DVD and Blu-ray in Australia and New Zealand today.
Australia purchase link.
New Zealand purchase link. Updated 13/11

Good Omens script book to be published in paperback in the UK on Thursday 6th February. Updated 10/11

Good Omens is released on DVD and Blu-ray in the US and Canada today. Updated 5/11



October 2019
Good Omens is released on DVD and Blu-ray in the UK today.
A Good Omens Blu-ray Limited Edition Steelbook is also released today. Updated 28/10

Good Omens has been nominated for a National Television Award.
Good Omens is one of the 16 shows which are in the long list for the Comedy Award at National Television Awards.
The vote for the long list opened at midnight and remains open until 11pm on Friday 25th October.
The shortlist will be announced in January 2020 and the winners of the awards will be revealed at the annual ceremony at on Tuesday 28th January 2020 at the O2 Arena in London. Tickets are available for the ceremony and it will be broadcast almost live that evening on ITV. Updated 15/10

The vote closes for TV Times Awards 2019 today.
Good Omens was nominated for the Favourite On-Demand Show Award. Updated 15/10



September 2019
Good Omens is nominated for the Favourite On-Demand Show Award in TV Times Awards 2019.
Voting link.
The vote closes on Tuesday 15th October. Updated 29/9

Neil Gaiman tweeted that Good Omens will be released on DVD and Blu-Ray in Australia and New Zealand on Wednesday 13th November. Updated 26/9

Unfortunately Good Omens did not win any Emmy tonight. Updated 15/9

Emmys are announced tonight in California.
Good Omens was nominated for Outstanding Original Main Title Theme Music, Outstanding Music Composition For A Limited Series and Outstanding Fantasy Sci-fi Costumes. Updated 15/9

Unfortunately neither David nor any of his projects won at the Saturn Awards last night. Updated 14/9

Saturn Awards are announced tonight.
David Tennant was nominated for the Best Actor In Streaming Presentation Award for Good Omens.
Michael Sheen for Good Omens for the Best Supporting Actor In Streaming Presentation Award.
Good Omens for the Best Streaming Fantasy, Sci-Fi, Or Action/Thriller Television Series Award.
Bad Samaritan for the Best Thriller Film Release Award.
How to Train Your Dragon 3: The Hidden World for the Best Animated Film Release Award.
DuckTales for the Best Animated Television Series Award. Updated 13/9

Good Omens to be released on DVD and Blu-ray in the UK on Monday 28th October.
This will be before the show has been broadcast on BBC Two.
A Good Omens Blu-ray Limited Edition Steelbook will also be released on the same day in the UK.
The extras will include episode commentaries and deleted scenes. Updated 12/9



August 2019
Neil Gaiman tweeted today that the Good Omens DVD and Blu-ray (which will be released in the US on Tuesday 5th November) will include deleted scenes and commentaries for all six episodes. Updated 30/8

A great selection of photos of David Tennant with Crowley�s hairstyles from Good Omens has been posted to Tumblr. Updated 30/8

A clip of a fan showing David Tennant her Good Omens puppets at Dragon Con fan convention today has been posted online. Updated 30/8

Good Omens soundtrack album is released on vinyl in the UK today. Updated 16/8

An outtake photo of David Tennant from Good Omens has been posted online. Updated 3/8

Good Omens to be released on DVD and Blu-ray in the US on Tuesday 1st October. Updated 2/8



July 2019
The Good Omens Original Soundtrack is released on CD in the US today. Updated 26/7

A short clip of David Tennant, Michael Sheen and other Good Omens cast discussing bucket lists, who's wearing the best outfits, and each other has been posted online. Updated 24/7

A Good Omens VFX showreel has been posted online. Updated 24/7

Good Omens has been nominated for Outstanding Original Main Title Theme Music, Outstanding Music Composition For A Limited Series and Outstanding Fantasy Sci-fi Costumes at the 2019 Emmys. Updated 16/7

David Tennant has been nominated for a Best Actor Award in the Saturn Awards.
David has been nominated for the Best Actor In Streaming Presentation Award for Good Omens. Michael Sheen has been nominated for Good Omens for the Best Supporting Actor In Streaming Presentation Award.
Also several of David's projects have been nominated for Saturn Awards:
Good Omens has been nominated for the Best Streaming Fantasy, Sci-Fi, Or Action/Thriller Television Series Award.
Bad Samaritan has been nominated for the Best Thriller Film Release Award. Plus How to Train Your Dragon 3: The Hidden World has been nominated for the Best Animated Film Release Award.
DuckTales is also nominated for the Best Animated Television Series Award.
The winners of the 45th Saturn Awards will be announced on Friday 13th September. Updated 16/7

A video of David Tennant and the cast of Good Omens explaining what you need to survive the end times has been posted online. Updated 12/7

Good Omens Original Soundtrack is released on CD in the UK today. Updated 12/7

Good Omens soundtrack album to be released on vinyl in the UK on Friday 16th August. Updated 11/7

Also a video of Michael Sheen speaking about which stars he's been mistaken for has been posted online. Updated 10/7

A video of David Tennant speaking about which stars he's been mistaken for has been posted online. Updated 10/7



June 2019
A video of the Good Omens cast talking about secrets from the set has been posted online. Updated 29/6

A video of the Good Omens cast being asked some moral questions has been posted online.
In this clip Michael Sheen insults David Tennant about regifting! Updated 29/6

A great photo of David Tennant filming Good Omens has been posted online. Updated 16/6

The Wrap has a new interview with David Tennant, Michael Sheen and the Good Omens cast.
The interview also includes a new photo which has been posted online. Updated 14/6

Stylist Magazine has a new interview to promote Good Omens with the title 'David Tennant talks feminism, fatherhood and futility in 2019.'
The interview also includes a new photo which has been posted online. Updated 14/6

The Daily Beast has a new interview with David Tennant about Doctor Who and Good Omens. Updated 12/6

MP3s of David Tennant's interview on The Kevin And Bean Show about Good Omens. Updated 12/6

The Quite Nice And Fairly Accurate Good Omens Script Book is published today in paperback in the US. Updated 11/6

A clip of something David Tennant had to go through to film the phone line scene in Good Omens has been posted online. Updated 10/6

A funny clip of 3 demons from Good Omens (including David Tennant) dancing very badly with a large pin has been posted online. Updated 10/6

MP3s of the David Tennant and Michael Sheen interview on Front Row about Good Omens. Updated 9/6

The Sydney Morning Herald has an interview with David Tennant, Michael Sheen and Neil Gaiman in which David admits to being a bit starstruck by Michael McKean! Updated 8/6

An audio interview by BBC Sounds with some of the cast of Good Omens (including David Tennant) has been posted online. Updated 7/6

Collider has a new interview with David Tennant and Michael Sheen about the first read-through and the costumes in Good Omens. Updated 7/6

David Tennant and Michael Sheen's episode of The Graham Norton Show (to promote Good Omens) has its American premiere tonight on BBC America. Updated 7/6

GQ has a very detailed interview with David Tennant about Good Omens, Doctor Who and DuckTales. Updated 6/6

A short clip of David Tennant speaking about Queen has been posted online. Updated 5/6

A video of the Good Omens cast (including David Tennant) responding to comments by IGN readers has been posted online. Updated 5/6

BT.com has a new video interview with the cast of Good Omens including David Tennant. Updated 4/6

A new video interview with David Tennant and Michael Sheen from the London premiere of Good Omens last week has been posted online. Updated 4/6

A new video interview with David Tennant and Michael Sheen (from SXSW) where David says that Crowley is not all bad in Good Omens has been posted online. Updated 2/6

A photo of David Tennant, Michael Sheen and Neil Gaiman at the Good Omens pop up show at 19 Greek Street in London on Thursday has been posted online. Updated 1/6

A video interview (with Spanish subtitles) with David Tennant and Michael Sheen about Good Omens (including talking about the budget and working with Neil Gaiman) has been posted online. Updated 1/6

The Independent has a new interview with David Tennant (behind a paywall) about Good Omens, feeling disposable as The Doctor in Doctor Who and the divisiveness of British politics.
The item also includes a new photo. Updated 1/6

A video of David Tennant and Michael Sheen on The Graham Norton Show last night to promote Good Omens has been posted online. Updated 1/6



May 2019
A very short interview clip with David Tennant and Michael Sheen about Good Omens by Paste Magazine has been posted online. Updated 31/5

Video of a look at the Good Omens themed experience in London with David Tennant and Michael Sheen has been posted online. Updated 31/5

A clip of David Tennant and Michael Sheen speaking about using English accents (dropping their Welsh and Scottish) for Good Omens but admitting they often have issues with American dialects has been posted online. Updated 31/5

Radio Times has an interesting article about Good Omens filming. Updated 31/5

David Tennant and Michael Sheen are guests on The Graham Norton Show tonight.
It is on BBC One at 10.35pm and the appearance is to promote Good Omens. Updated 31/5

Good Omens soundtrack album is released on download today. Updated 31/5

Good Omens is now available to watch on Amazon Prime Video!
The six part comedy is available in over 200 countries. Updated 31/5

TV Insider has a video interview with David Tennant and Michael Sheen in which David speaks about singing the lullaby and Michael talks about doing magic in Good Omens. Updated 30/5

Video of the 15 minute panel after the first two episodes of Good Omens were screened at the London premiere on Tuesday has been posted online. Updated 30/5

A video of David Tennant and Michael Sheen at the Good Omens experience in London yesterday has been posted online. Updated 30/5

Digital Spy has a video interview of David Tennant, Michael Sheen and the Good Omens cast reflecting on granting Terry Pratchett's final wish. Updated 30/5

BBC has a short David Tennant and Michael Sheen video interview talking about the cost of fame. Updated 29/5

Den Of Geek has a video interview with David Tennant and Michael Sheen about filming Good Omens. Updated 29/5

A clip of David Tennant and Michael Sheen surprising fans in the Good Omens themed escape room today in London has been posted online. Updated 29/5

A photo of David Tennant from the Good Omens promo sessions today has been posted online. Updated 29/5

Front Row tonight on BBC Radio Four at 7.15pm will include an interview with David Tennant and Michael Sheen about Good Omens.
A photo from the recording has been posted online. Updated 29/5

A photo of David Tennant and Michael Sheen in the Good Omens escape room has been posted online. Updated 29/5

Another photo of David Tennant and Michael Sheen being interviewed today about Good Omens and the immersive experience has been posted online. Updated 29/5

This morning David Tennant did some promo for the Good Omens immersive experience which will be open in Soho, London this weekend.
A photo of him with Michael Sheen and a journalist has been posted online. Updated 29/5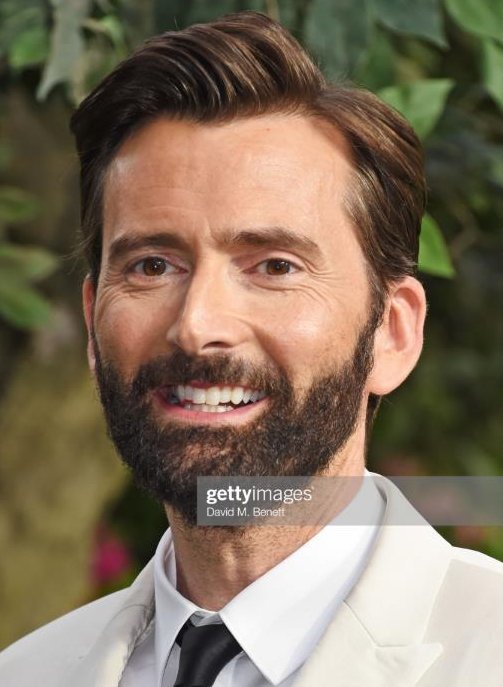 WorldScreen has a new interview with David Tennant and Michael Sheen about Good Omens. Updated 28/5

A short video clip of David Tennant and Michael Sheen at the Good Omens premiere in London tonight has been posted online. Updated 28/5

Photos of David Tennant at the Good Omens premiere in London tonight. Updated 28/5

A photo of David Tennant and Michael Sheen being interviewed at the Good Omens premiere in London has been posted online.
David said he was excited about meeting Terry Gilliam tonight! Updated 28/5

A great photo of David Tennant at the Good Omens London premiere tonight has been posted online. Updated 28/5

The first photo of David Tennant and Michael Sheen at the Good Omens premiere in London tonight has been posted online. Updated 28/5

Video of David Tennant and Jon Hamm taking the Wired Autocomplete Interview has been posted online. Updated 28/5

MP3s of David Tennant and Michael Sheen's interview this afternoon on BBC Radio Two about Good Omens. Updated 28/5

Photos of David Tennant at the Good Omens press conference in London this afternoon have been posted online. Updated 28/5

MP3 of David Tennant and Michael Sheen's interview on Radio X this morning (which plays worldwide). Updated 27/5

Tonight David Tennant attends the Good Omens premiere in Leicester Square, London. Updated 27/5

David Tennant is a guest on the Steve Wright In The Afternoon Show on BBC Radio Two to promote Good Omens today. Updated 27/5

David Tennant and Michael Sheen will also be on Radio X at about 8.30am this morning to promote Good Omens.

David Tennant and Michael Sheen are guests on This Morning on ITV today to promote Good Omens. Updated 27/5

A fun short video interview with David Tennant, Michael Sheen, Jon Hamm and Neil Gaiman has been posted online.
(David says he's the best at keeping secrets!) Updated 27/5

A clip of David Tennant, Michael Sheen and Jon Hamm speaking about the creative atmosphere on the set of Good Omens at the New York premiere this week has been posted online. Updated 26/5

A new photo of David Tennant and Michael Sheen from Good Omens has been posted online. Updated 26/5

David Tennant to be a guest on Steve Wright show on BBC Radio Two on Tuesday (28th) to promote Good Omens. Updated 26/5

Interview with David Tennant in Sunday Times Magazine to promote Good Omens. Updated 26/5

Video of David Tennant and Michael Sheen explaining why fans will welcome the apocalypse in Good Omens. Updated 25/5

Free tickets for the Good Omens world premiere in London on Tuesday (28th May) are available to book online. Updated 25/5

Photo of David Tennant, Michael Sheen and Neil Gaiman at the Good Omens premiere in New York on Thursday evening has been posted online. Updated 25/5

Photo of David Tennant and Michael Sheen at the Good Omens premiere in New York on Thursday evening has been posted online. Updated 25/5

Video of all of David Tennant, Michael Sheen and Jon Hamm's interview on Third Hour Today yesterday to promote Good Omens has been posted online. Updated 25/5

A clip from this morning on Third Hour Today of Jon Hamm, Michael Sheen and David Tennant talking about their roles in Good Omens in which initially Sheen was thought as for as role of the demon but it ended up going to David instead has been posted online. Updated 24/5

Financial Times has a 4 star review of Good Omens. Updated 24/5

Another lovely photo of David Tennant and Michael Sheen for a Good Omens photoshoot has been posted online. Updated 23/5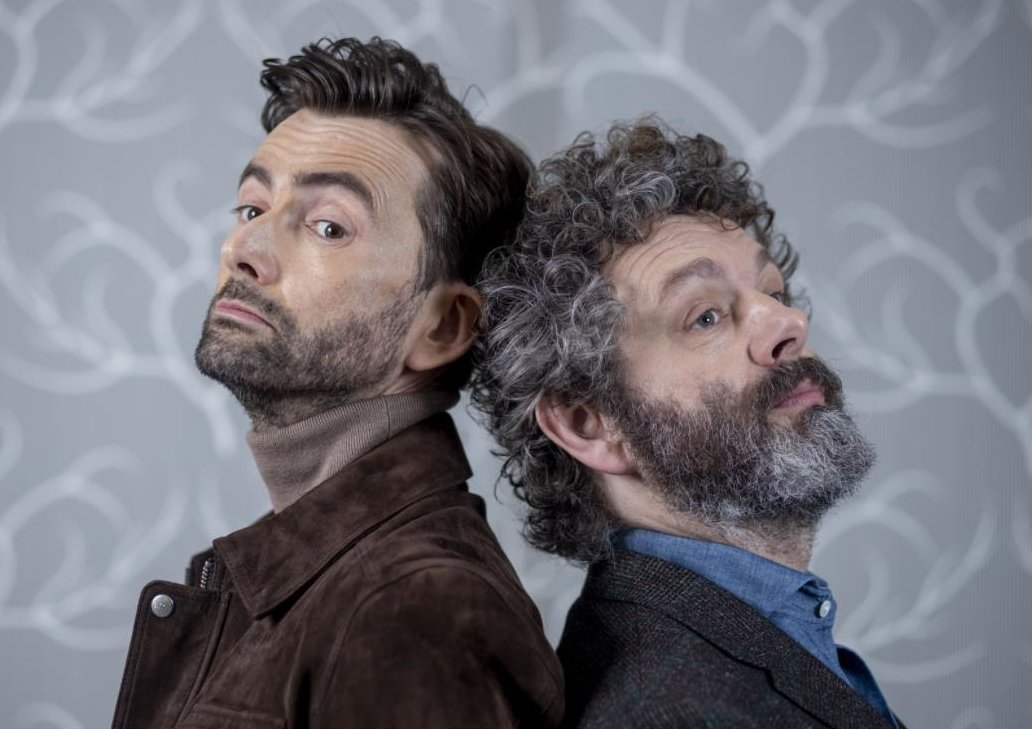 A lovely photo of David Tennant and Michael Sheen for a Good Omens photoshoot has been posted online. Updated 23/5

David Tennant is a guest on the Kevin And Bean radio show today in the Los Angeles area to promote Good Omens.
The show is on from 5am to 10am PT and David's interview will be at 9am (which is 5pm in the UK). Updated 22/5

David Tennant is a guest on The Late Late Show With James Corden in the US tonight.
David records the episode this afternoon in Los Angeles. The appearance is to promote Good Omens. Updated 22/5

David Tennant to be a guest on the Kevin And Bean radio show in the LA area tomorrow to promote Good Omens. Updated 21/5

We've Got This Covered give Good Omens 4.5 stars in its review.
The review concludes with 'In short, it�s damn good.' Updated 21/5

Two new Good Omens set photos of David Tennant have been posted online. Updated 21/5

A photo of David Tennant is on the front of TV And Satellite Week with a short Good Omens interview inside.
About driving the Bentley in the show, David said "Driving it gave me the heebie-jeebies because people kept telling me it was insured for nearly a million quid!" Updated 21/5

Good Omens script and TV companion books are published today in the UK and the US. Updated 21/5

CNet has a review of Good Omens titled 'Devilish David Tennant is a hell of lot of fun.'
The review includes 'The series earns its wings thanks to the heavenly double act of Tennant and Sheen.' Updated 20/5

The first review of Good Omens is online!
The show receives 4 stars from The Independent.
The review includes 'Michael Sheen and David Tennant anchor the episode as the central duo, and make for extremely entertaining company.' Updated 20/5

A video of David Tennant speaking about Michael McKean's accent in Good Omens at MegaCon Orlando yesterday has been posted online. Updated 18/5

A new promo video for Good Omens (with a couple of new scenes featuring David Tennant) has been posted online. Updated 16/5

David Tennant and Michael Sheen to join Neil Gaiman for a Good Omens panel in London.
The talk was originally to be just Neil in conversation with journalist, broadcaster and writer Kirsty Wark on Wednesday 29th May but the two actors have now been added.
The event will take place at the Royal Festival Hall which is part of the Southbank Centre in London. The panel starts at 7.30pm and is scheduled for ninety minutes. Updated 16/5

There's an advance screening of the first episode of Good Omens and a panel with Neil Gaiman in Hollywood tonight. Updated 16/5

David Tennant to be a guest on The Late Late Show With James Corden next Wednesday (22nd May).
The appearance is to promote Good Omens and it will be filmed at 3pm in Los Angeles and will be broadcast on CBS in the US the same evening. Updated 14/5

David Tennant explains why his character has red hair in Good Omens.
An interview extract with a new photo has been posted online. Updated 14/5

The Times also has an interview with Neil Gaiman about Good Omens (also behind a paywall).
Another new photo of David Tennant and Michael Sheen from the interview has been posted online. Updated 12/5

The Times has a (brief) interview with David Tennant and Michael Sheen about Good Omens.
The interview is behind a paywall.
A new photo from the interview has been posted online. Updated 12/5

New interview with David Tennant about Good Omens in SciFiNow Magazine. Updated 7/5

The titles of the six episodes of Good Omens have been posted online. Updated 6/5

Not only has David Tennant been submitted for an Emmy nomination for Camping but Amazon Prime has now submitted him for Good Omens too!
Other cast members have also been submitted.
The actual nominations will be announced on Friday 12th July. Updated 2/5

Good Omens book is republished in paperback the UK today with a photo of David Tennant and Michael Sheen on the cover. Updated 2/5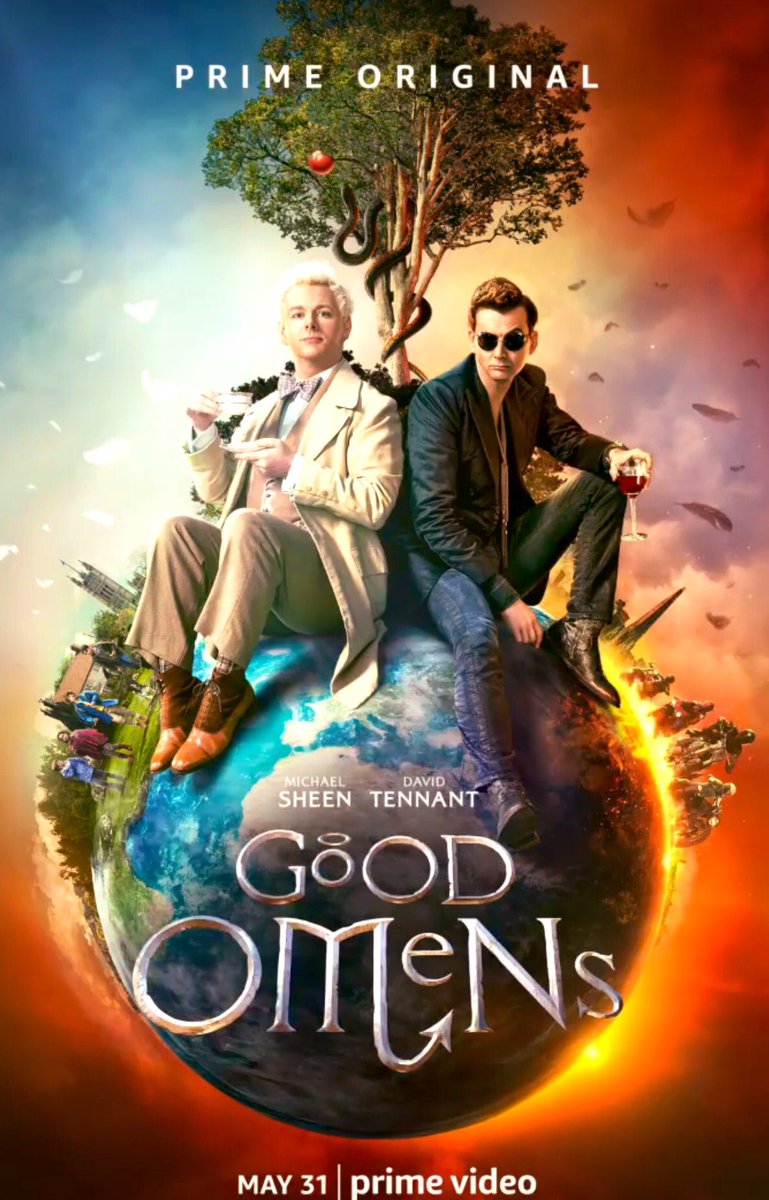 April 2019
KCRW reports there will be an advance screening of the first episode of Good Omens and a panel with Neil Gaiman in Hollywood on Thursday 16th May. Updated 30/4

A clip of David Tennant, Michael Sheen, Jon Hamm, Neil Gaiman and Douglas MacKinnon answering questions about how they would survive an apocalypse has been posted online.
The clip includes puppies! Updated 30/4

A new video interview with David Tennant and Michael Sheen about filming Good Omens (including their favourite locations they filmed) has been posted online. Updated 26/4

New artwork for Good Omens has been posted online. Updated 22/4

SFX Magazine has a double sided Good Omens poster. Updated 17/4

A new Good Omens behind the scenes video has been posted online. Updated 17/4

David Tennant attends a Good Omens event in Los Angeles tonight. Updated 17/4

Entertainment Weekly has a new trailer for Good Omens introducing the Antichrist and a song sung by David Tennant. Updated 15/4

David Tennant to attend Good Omens screening and panel in Los Angeles on Wednesday 17th April. Updated 5/4

A new poster for Good Omens has been posted online. Updated 2/4



March 2019
A new interview with David Tennant and Michael Sheen about Good Omens has been posted online. Updated 27/3

TVInsider has a new video of David Tennant, Micheal Sheen, Neil Gaiman, Jon Hamm, Miranda Richardson and Douglas Mackinnon speaking about the characters in Good Omens. Updated 13/3

SYFY has a new interview with David Tennant and Michael Sheen about Good Omens.
One quote from David in the interview about filming Good Omens is:
"It was one of those jobs where every day was rather delicious. There was something to look forward to almost every day because it spans all of eternity. There were very few days we went, "Oh, it's another day doing that kind of a scene." Everything had a very distinct feel and every day had a set of challenges that were more fun than the last. It was a bit of a whirlwind, this shoot. It was a long shoot and yeah, it, it kept being novel and surprising and it was one of the best jobs, frankly." Updated 13/3

A new trailer for Good Omens has been posted to YouTube. Updated 6/3

A new short clip of Good Omens (featuring David Tennant) has been posted online. Updated 5/3

Another fun photo of David Tennant and Michael Sheen promoting Good Omens from the cover of British Airways magazine High Life has been posted online. Updated 1/3

A fun photo of David Tennant and Michael Sheen promoting Good Omens from the cover of British Airways magazine High Life has been posted online. Updated 1/3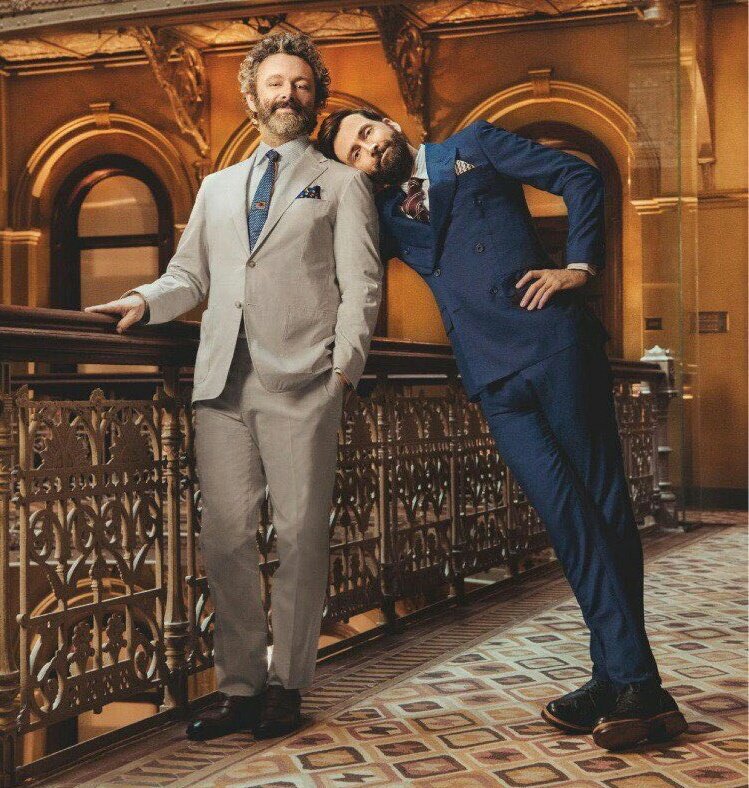 February 2019
A photo of David Tennant and Michael Sheen signing a Good Omens poster has been posted online. Updated 28/2

A photo of David Tennant and Michael Sheen today after being interviewed in London about Good Omens has been posted online. Updated 28/2

Good Omens book to be republished with a photo of David Tennant and Michael Sheen on the cover.
Currently the book has a publish date in the US of Tuesday 5th March and in the UK of Thursday 2nd May. Updated 15/2

Good Omens book to be republished in the UK on Thursday 2nd May with a photo of David Tennant and Michael Sheen on the cover.
The book is available to pre-order. Updated 15/2

Three new images/artwork from Good Omens have been posted online. Updated 13/2

A great photo of David Tennant, Michael Sheen, Neil Gaiman and Douglas Mackinnon from Good Omens filming has been posted online. Updated 13/2

It was also announced at the Good Omens panel at TCA today that Benedict Cumberbatch is playing Satan. Updated 13/2

A video announcing the Good Omens start date has been posted to YouTube. Updated 13/2

The release date for all six episodes of Good Omens on Amazon Prime will be Friday 31st May it was announced at the Good Omens panel at TCA in Los Angeles today.
It will be shown on BBC Two about six months later. Updated 13/2

On Wednesday 13th February 2019 David Tennant attended the Good Omens panel at the Television Critics Association Winter Press Tour in Los Angeles. Updated 13/2

The Observer has a new interview with David Tennant about his podcasts, Doctor Who and Good Omens.
The link also includes a new photo of David. Updated 10/2

A Question And Answer with David Tennant will be published in The Observer on Sunday.

DramaQuarterly has posted an interview with Neil Gaiman about Good Omens including some (old) quotes from David Tennant. Updated 8/2



January 2019
The Independent reports that Good Omens won't be shown on BBC Two until 6 months after it has premiered on Amazon Prime Video.
This is a longer gap than most people were expecting. Updated 4/1

Good Omens script and TV companion books to be published in the UK and the US.
The Quite Nice And Fairly Accurate Good Omens Script Book will be published in the UK on Thursday 4th April and in the US on Tuesday 23rd April in the US. Both books will be available on Kindle but in hardback in the UK and paperback in the US.
The Nice And Accurate Good Omens TV Companion will be published in both hardback and on Kindle. In the UK they will be published on Thursday 4th April and in the US on Tuesday 7th May. Updated 4/1



October 2018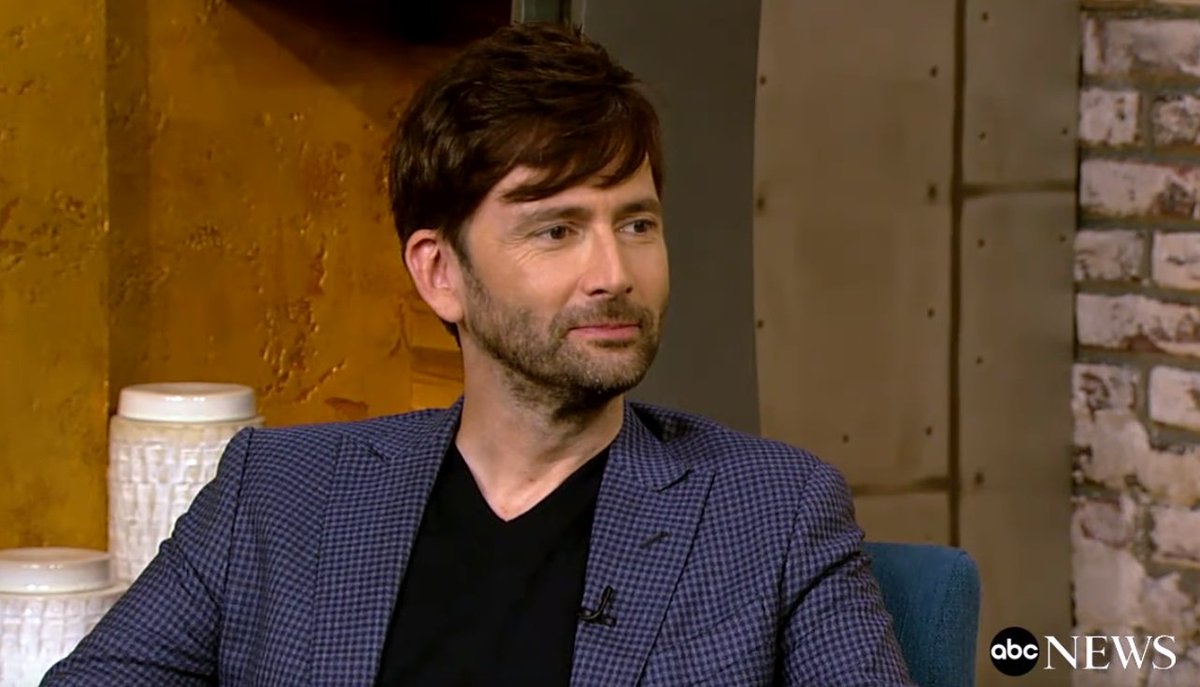 A new video interview with David Tennant by Popcorn has been posted online.
The interview was to promote Camping but David was also asked about Doctor Who, Good Omens and he sang part of a Proclaimers song! Updated 31/10

Den Of Geek have an article from New York Comic Con of David Tennant and Michael Sheen discussing 'The Distinctive Direction Of The Good Omens TV Show' by Douglas Mackinnon.
The quotes from David in the article are:
"I think what's brilliant about Douglas is that he has an absolute grasp of all the disparate elements of what Good Omens is, and there are a lot of them. There's lots going on that we [actors] never really get to truly understand or know. There're whole plot lines that I can't wait to see what they're about, some characters that we're never in a scene with."
And
"You've always felt like Douglas�he's been working on this project certainly a lot longer than I have�had a real sense of what everything was and how it all had to be pulled together. And I felt, probably because I knew him before, probably because of the sense that he brought to set everyday, I could trust that. I didn't have to worry about. I just had to look after my little corner of it because he was in charge." Updated 18/10

A new photo of Michael Sheen and David Tennant at New York Comic Con has been posted online. Updated 16/10

A new photo of Michael Sheen, Miranda Richardson, David Tennant and Jon Hamm from Good Omens at New York Comic Con has been posted online. Updated 16/10

A new photo of David Tennant in medieval armour for Good Omens has been posted online. Updated 14/10

A clip of David Tennant at PaleyFest saying what will surprise fans about the television version of Good Omens has been posted online. Updated 9/10

Videos of David Tennant's interview on BUILD Series today.
The videos should play worldwide.
As well as being asked about Camping, David was also asked about his acting choices, Good Omens and Doctor Who. Updated 9/10

Radio Times has a brief interview with Neil Gamen where he speaks about 'the moment he realised David Tennant HAD to be Crowley in Good Omens.' Updated 9/10

With an Accent TV has added a video to YouTube of David Tennant and Michael Sheen talking about the other actors in Good Omens and their favourite scene in the show. Updated 7/10

A video of David Tennant and Michael Sheen describing each others characters in Good Omens yesterday at New York Comic Con has been posted online. Updated 7/10

A video of David Tennant and Michael Sheen speaking about working together on Good Omens has been posted online. Updated 6/10

Screenshots of the Good Omens trailer. Updated 6/10

The Good Omens trailer was posted to YouTube soon after it was shown at the panel at New York Comic Con: Updated 6/10


A backstage photo of David Tennant, Whoopi Goldberg and the other Good Omens panel members at New York Comic Con today has been posted online. Updated 6/10

Another photo of David Tennant at the Good Omens panel at New York Comic Con today has been posted online. Updated 6/10

The first photo of David Tennant at the Good Omens panel at New York Comic Con today has been posted online. Updated 6/10

This morning David Tennant attends the Good Omens panel at New York Comic Con. Updated 6/10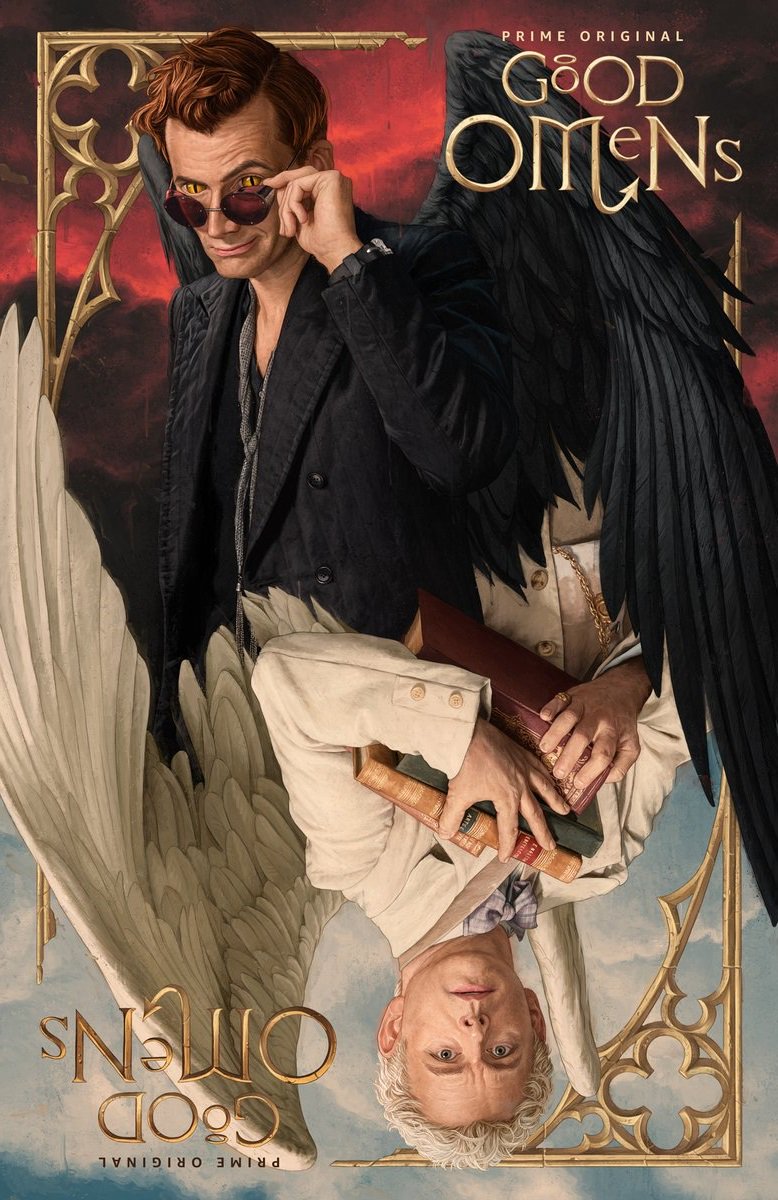 Radio Times has a new photo and another brief interview with David Tennant about Good Omens. The interview is from the press panel on Tuesday.
David Tennant said he was surprised at how far the visual effects had come since his time on Doctor Who. �That�s what�s interesting about doing a show like this. It�s ten years since I did Doctor Who, which has a similar mixture of practical effects and visual effects � and the world has moved on really fast. When we did Doctor Who there would be about five CGI shots per episode. Now we�re almost up to five per scene.� Updated 5/10

Entertainment Weekly has a short interview with David Tennant and Michael Sheen about Good Omens.
In the article David Tennant says �They enjoy being appalled by each other. Yet throughout the eons, they�ve been saving each other�s bacon, repeatedly.�
Speaking about Neil Gaiman David says �It�s such a unique world that he and Terry have created. If anyone else had taken it on, I don�t think we could have captured the real quirky essence of it.�
David also says "�There�s something wonderful about playing a supernatural character. You�re freed from some of the restraints of some of the psychological straight lines that you might have to apply to a human being. Although at the same time Aziraphale and Crowley are very human.� Updated 5/10

Attendees of the Good Omens panel at New York Comic Con tomorrow may receive this poster.
It shows David Tennant with 'those' eyes for the first time! Updated 5/10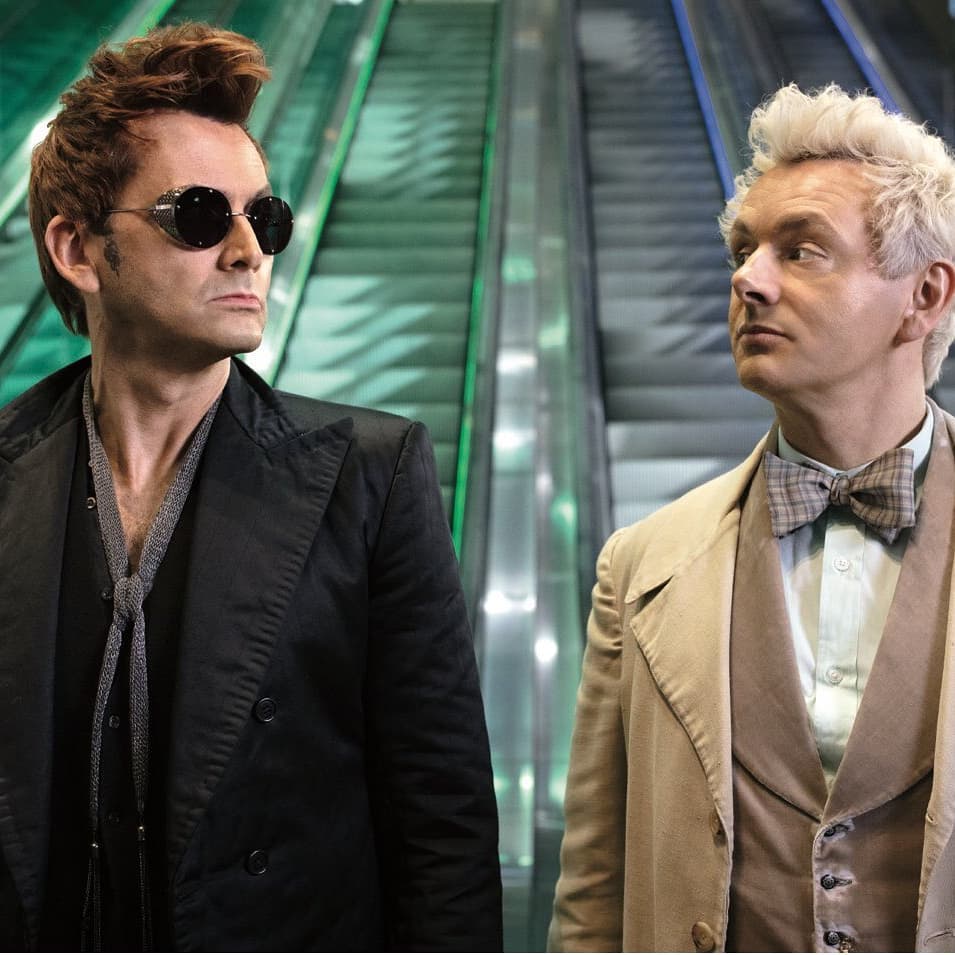 A new Good Omens promo photo of David Tennant and Michael Sheen has been posted online. Updated 5/10

A poster of David Tennant from Good Omens at New York City Comic Con has been posted online. Updated 5/10



A lovely photo of David Tennant with John Hamm at the Good Omens panel today has been posted online. Updated 2/10

David Tennant attended a press panel in London for Good Omens today - photos and quotes. Updated 2/10

A funny photo of David Tennant photobombing today at the Good Omens panel has been posted online. Updated 2/10

A new photo of David Tennant backstage at the Good Omens press panel this morning has been posted online. Updated 2/10

Another photo of David Tennant at the Good Omens press panel in London this morning has been posted online. Updated 2/10

A photo of David Tennant with Michael Sheen, Jon Hamm, Miranda Richardson, Neil Gaiman and Douglas Mackinnon discussing Good Omens at a panel for Prime Video in London this morning has been posted online. Updated 2/10



September 2018
New photos of David Tennant doing an interview about Good Omens today have been posted online. Updated 26/9

David Tennant to attend Good Omens panel at New York Comic Con on Saturday 6th October.
Michael Sheen and Neil Gaiman will also appear.
The panel starts at 10am and is open to all Saturday attendees of the convention. Updated 10/9

David Tennant to appear at PaleyFest NY on Tuesday 9th October.
David will have a Question And Answer panel starting at 6.30pm.
The promo says he'll be asked about Doctor Who and Good Omens.
Tickets start going on sale tomorrow at 12pm ET. Updated 10/9



July 2018
Video of the first glimpse of Good Omens.
The video includes brief interview clips with David Tennant. Updated 21/7

The first clip of Good Omens will be shown at San Diego Comic-Con today. Updated 20/7

Unfortunately David Tennant is now no longer listed as one of the participants at the DuckTales autograph session on Friday at San Diego Comic-Con (which is the day of the Good Omens panel). Updated 16/7

Entertainment Weekly has the first major interview with Neil Gaiman about Good Omens. Updated 13/7

David Tennant is now listed to appear at the DuckTales autograph session at San Diego Comic-Con on Friday 20th July.
Back in June it was announced there would be a DuckTales panel at the same time as the Good Omens panel at the fan conference but now David is listed as some of the DuckTales stars who will be signing autographs that day.
This also makes it more likely that David could make a 'surprise' appearance at the Good Omens panel. Updated 11/7



June 2018
First clip of Good Omens to be shown at San Diego Comic-Con. Updated 28/6

Recap of David Tennant's panel at Denver Comic Con today (about Doctor Who, Good Omens, Camping, etc.). Updated 17/6

Photos, video and recap of David Tennant's panel at Wizard World Des Moines yesterday.
David said he has 'absolutely no plans' at the moment to appear in another episode of Doctor Who but added 'I might be lying!'
David admitted he had not read the book of Good Omens before he was offered the part. Updated 3/6



May 2018
Collider has a new interview with David Tennant about Bad Samaritan, Camping and Good Omens. Updated 3/5



April 2018
Digital Spy has an article about Michael Sheen speaking about Good Omens and his excitement at working with David Tennant.
One quote is: "You know David, he's just the nicest man in the world. We would do scenes and I would literally be watching him and half way through the scene I'd have to stop and go, 'That was very good, you are good aren't you?' It was a real treat." Updated 14/4

Newsweek has a short interview with David Tennant about Good Omens with the title 'David Tennant was unprepared for the fanbase of Good Omens.' Updated 10/4

IMDB has been updated and David Tennant is now listed to appear in all 6 episodes of Good Omens. Updated 4/4

It's not 100% certain but currently IMDB only lists David Tennant in 5 of the 6 episodes of Good Omens. According to the website he will not appear in episode 4. Updated 2/4



March 2018
Today was the final day of principal filming on Good Omens. A photo of the final daily call sheet (day 109) and the final slate were posted to Twitter here and here. Updated 10/3

Yahoo has a new interview with David Tennant about equality, Doctor Who, You, Me And Him, Jessica Jones, Good Omens and Bad Samaritan. Updated 1/3



February 2018
Another audio clip of David Tennant have been posted to Twitter by Heart Scotland News.
In this clip he talks about Doctor Who and Good Omens. Updated 26/2

More lovely words by Neil Gaiman about working with David Tennant on Good Omens have been posted to Twitter. Updated 24/2

MP3s of David Tennant on The Zoe Ball Show.
As well as discussing You, Me And Him, David was also asked about Good Omens, Mary Queen Of Scots and Doctor Who. Updated 24/2

Neil Gaiman posted some nice comments about David Tennant and Michael Sheen to Twitter. Updated 24/2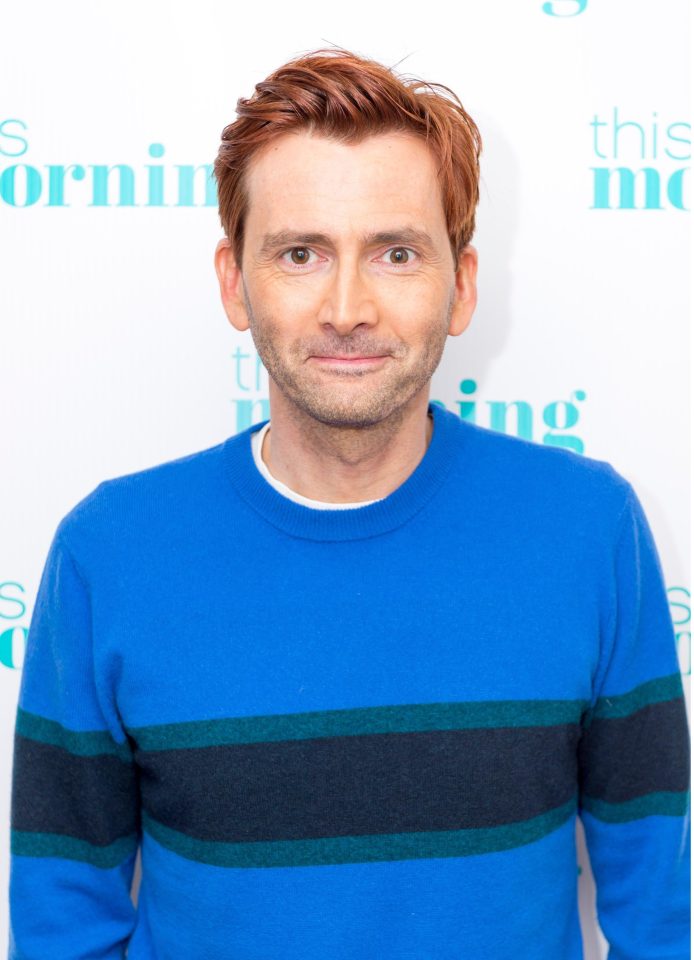 Video of David Tennant on This Morning talking about You, Me And Him, Good Omens and Bad Samaritan. Updated 22/2

Michael Sheen posted some lovely words about filming Good Omens with David Tennant to Twitter. Updated 20/2

A photo of David Tennant on his last day in Cape Town after filming Good Omens has been posted to Twitter. Updated 20/2

David Tennant completed filming his scenes in Good Omens today. Updated 20/2

New interview with David Tennant about Good Omens, You, Me And Him and Mary Queen Of Scots. Updated 17/2

A photo of Danielle Vitalis with David Tennant on the set of Good Omens has been posted to Twitter. Updated 17/2

A new photo of David Tennant and some of the Good Omens cast in Cape Town, South Africa has been posted to Twitter. Updated 11/2

Today Neil Gaiman posted to Twitter that the premiere of Good Omens will be 'Somewhere in the first half of April '19.'
He later changed it to 'Somewhere in the first half of 2019.' Updated 7/2

Neil Gaiman posted to Twitter a tweet which seems to indicate that David Tennant has started filming Good Omens in South Africa. Updated 5/2