DavidTennantOnTwitter.com
David Tennant in Much Ado About Nothing
David Tennant and Catherine Tate confirmed on BBC Breakfast on 8th January 2011 that they would play Much Ado About Nothing at the Wyndham Theatre in London from 16th May until 3rd September 2011.
Tickets were on sale at this link.
Rehearsals started on Monday 4th April and the full cast list is here. A website MuchAdoOnStage.com was set up by the production.
The soundtrack of this production was released on 25th July and included two tracks sung as a duet by David Tennant and Catherine Tate. See here for more info.
The most comprehensive collection of reviews of this production can be found on the Reviews page.
Much Ado About Nothing was nominated for the Best Revival Of A Play Award in the Olivier Awards.
Digital Theatre have made this production available to download at this link.
Link to posts related to Much Ado About Nothing on Blogger.com (usually with more detail).


2021
It was 10 years ago tonight David Tennant and Catherine Tate played their first performance of Much Ado About Nothing at the Wyndham's Theatre in London. Updated 16/5



2020
BBC Radio Shakespeare: A Collection of Eight Comedies is released today.
David Tennant stars in Much Ado About Nothing. Updated 20/8

David Tennant included in BBC Radio Shakespeare comedy collection to be released in August.
The release is titled BBC Radio Shakespeare: A Collection of Eight Comedies and David stars in Much Ado About Nothing.
It will be released on digital download by Audible in the UK and the US on Thursday 20th August. Updated 27/5

The David Tennant donated signed Champagne bottle from the opening night of Much Ado About Nothing to an online charity auction to raise funds for the NHS sold for a winning bid of �400 after 3 bids. Updated 23/5

David Tennant has donated a signed Champagne bottle from the opening night of Much Ado About Nothing to an online charity auction to raise funds for the NHS.
The auction ends at midnight tonight and the current bid is �200.
Photos of David and the bottle have been posted online. Updated 22/5



2017
It was 6 years ago tonight David Tennant played his first performance of Much Ado About Nothing at the Wyndham's Theatre in London. Updated 16/5



2016
5 years ago tonight David Tennant played his first performance of Much Ado About Nothing. Updated 16/5



2015
It was 4 years ago tonight David Tennant and Catherine Tate played their first performance of Much Ado About Nothing! Updated 16/5

Photos of David Tennant, Catherine Tate and Jousie Rouke from a photo shoot in 2011 have been posted to Tumblr. Updated 17/4



2014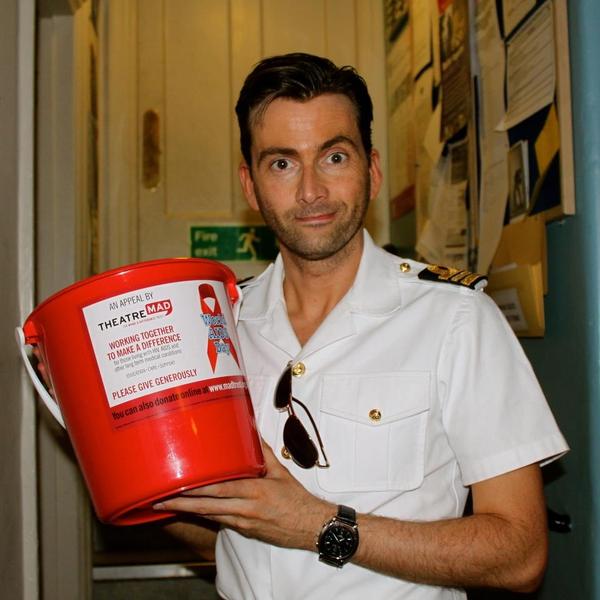 Make A Difference tweeted a photo of David Tennant supporting World AIDS Day bucket collections at theatres. The photo was taken in 2001 and David is wearing his costume from Much Ado About Nothing. Updated 01/12

Catherine Tate said in The Guardian webchat today that she and David Tennant hope to work together again. Updated 26/11

Digital Theatre is holding another watchalong of Much Ado About Nothing at 7.30pm tonight (using the hashtag #MuchAdoCaptions). Updated 25/9

David Tennant's production of Much Ado About Nothing is available with captions from Digital Theatre from today. Updated 18/9

David Tennant's production of Much Ado About Nothing will be available with captions from Digital Theatre from Thursday 18th September.
The company is also holding another watchalong on Thursday 25th at 7.30pm (using the hashtag #MuchAdoCaptions). Updated 15/9

Nick Hern Books have the script of the Much Ado About Nothing production starring David Tennant and Catherine Tate available for just �2.99 with free postage within the UK if you use the code TENNANT1. Updated 9/7

It was 3 years ago today David Tennant and Catherine Tate played the first performance of Much Ado About Nothing! Updated 16/5

Shakespeare Magazine has tweeted that they want stories of fans seeing David Tennant performing Shakespearean roles on stage. Updated 25/4

The Guardian includes Digital Theatre's Much Ado About Nothing watchalong in its Valentine's Day plays. Updated 13/2

Digital Theatre have organised a global online watchalong of Much Ado About Nothing at 7pm UK time on Friday 14th February. Updated 3/2
2013
David Tennant and Catherine Tate are in The Telegraph's Top 10 Benedick and Beatrice great interpretations. Updated 19/9

It was 2 years ago today that David Tennant and Catherine Tate played the final performance of Much Ado About Nothing in London. Updated 3/9

It was 2 years ago today David Tennant & Catherine Tate played the Press Night of Much Ado About Nothing. Updated 1/6

It was 2 years ago tonight that David Tennant and Catherine Tate played their first performance of Much Ado About Nothing. Updated 16/5

Radio Times has an article about Digital Theatre's new television channel with a photo of David Tennant and Catherine Tate from Much Ado About Nothing. Updated 24/4

ScreenDaily have announced that CinemaLive are to release the David Tennant / Catherine Tate's production of Much Ado About Nothing worldwide in cinemas. Updated 15/4

The Telegraph reports that the play Rowan Atkinson is starring in (Quartermaine's Terms) has beaten David Tennant's record for best weekly sales at the Wyndham Theatre. However the Telegraph does not mention that Rowan's tickets are more expensive. Updated 27/2

Digital Theatre have launched a new iPad app where you can watch David Tennant and Catherine Tate's production of Much Ado About Nothing. Updated 10/1
December 2012
The Guardian lists an app from Digital Theatre where you can stream Much Ado About Nothing onto your phone in its list of 40 Best iPhone and iPad Apps. Updated 22/12

David Tennant and Catherine Tate's production of Much Ado About Nothing is mentioned in a BBC article about a new version which will be produced at at the Old Vic during 2013. Updated 3/12



November 2012
David Tennant is briefly mentioned in an interview with Much Ado About Nothing interview Sonia Friedman in The Independent. Updated 11/11



October 2012
Digital Theatre have added a new video voiced by David Tennant about six of the shows they have available including his production of Much Ado About Nothing. Updated 11/10



September 2012
David Tennant's production of Much Ado About Nothing can now be watched on television as Digital Theatre have launched an App for Samsung TV. Updated 18/9

The main points David Tennant mentioned today at the Lords Of Time convention. One thing David said was that he doubted now that there would be a DVD release of Much Ado About Nothing. Updated 10/9

The Evening Standard has an article about Digital Theatre which mentions (including a photo) David Tennant's production of Much Ado About Nothing. Updated 7/9

It was a year ago tonight that David Tennant and Catherine Tate played the final performance of Much Ado About Nothing in London. Updated 3/9



July 2012
The Evening Standard has an article about theatre box office takings in London during 2011 which mentions David Tennant. It is taken from the Press Association item. Updated 5/7

A Press Association article lists David Tennant's name as a contribution to increased theatre takings in 2011 in London. Updated 5/7



June 2012
It was a year ago today David Tennant & Catherine Tate played the Press Night of Much Ado About Nothing. Updated 1/6



May 2012
It was a year ago tonight that David Tennant played the First Night of Much Ado About Nothing! Updated 16/5



April 2012
Unfortunately David Tennant's production of Much Ado About Nothing did not win an Olivier Award tonight. Anna Christie won the Best Revival Of A Play Award. Updated 15/4

The Olivier Awards are announced tonight. Much Ado About Nothing is nominated for the Best Revival Of A Play Award. See here for more details and how to watch or listen to the ceremony. Updated 15/4

It was on this date last year that David Tennant started rehearsing Much Ado About Nothing. Updated 4/4



March 2012
David Tennant�s production of Much Ado About Nothing has been nominated for the Best Revival Of A Play Award in the Olivier Awards which were announced at lunchtime today. Updated 15/3



February 2012
Unfortunately David Tennant lost to James Corden for Best Actor In A Play Award at the What's On Stage Awards tonight. (Lots of fans were surprised by the result and especially the amount that the percentages changed.) However his production of Much Ado About Nothing won the Best Shakespearean Production Award and David Tennant and Catherine Tate reuniting on stage in Much Ado About Nothing won the Theatre Event of the Year Award. Updated 19/2

Tonight the What's On Stage Awards are announced at the Prince of Wales theatre in London. David Tennant has been nominated for the Best Actor In A Play Award for his portrayal of Benedick in Much Ado About Nothing. His production of the play was also nominated for Best Shakespearean Production, plus David Tennant and Catherine Tate reuniting on stage in Much Ado About Nothing was also nominated for the Theatre Event of the Year Award. Updated 19/2

The Oxford Student has an analysis of live theatre versus filmed productions and mentions David Tennant's Hamlet and Much Ado About Nothing (although it does not make it clear that the latter is not yet confirmed for a DVD release). Updated 10/2

David Tennant Treat 4 Today - the Much Ado About Nothing download advert from tonight's Evening Standard. Updated 9/2

On page 11 of tonight's Evening Standard in the London area there is an advert by Digital Theatre for the download of David Tennant's production of Much Ado About Nothing. Updated 9/2

On page 38 of today's Metro newspaper in the London area was an advert for Digital Theatre's download of Much Ado About Nothing. Updated 7/2

Delfont Mackintosh currently have tickets available for the What's On Stage Awards ceremony on Sunday 19th February to find out whether David Tennant has won the Best Actor Award and if Much Ado About Nothing has been named Best Shakesperian Production. Updated 2/2

What'sOnStage has an article about the massive success of Digital Theatre's release of Much Ado About Nothing. Updated 1/2



January 2012
David Tennant's production of Much Ado About Nothing is cited (with a photo) in The Telegraph article about plays making a comeback. Updated 31/1

Today is the final chance to vote for David Tennant as Best Actor, Much Ado About Nothing as best Shakespearian Production and David Tennant and Catherine Tate reuniting on stage as Theatre Event Of The Year in the What's On Stage Awards. Updated 31/1

What's On Stage currently have a 30% discount offer on the download of David Tennant's production of Much Ado About Nothing. The offer ends on Monday. Updated 26/1

Digital Theatre have a 20% off offer this month on the download of David Tennant's production of Much Ado About Nothing when it is purchased with the download of the David Morrissey production of Macbeth from Liverpool. Alternatively, Time Out have extended their 20% off offer for a download of Much Ado About Nothing until 29/2. Updated 13/1

The website The Public Reviews have a competition for today only to win a download of David Tennant's production of Much Ado About Nothing. To enter you have to tweet today "I�m entering the #12daysof2012 Competition on @publicreviews to win a HD copy of @digitaltheatre�s Much Ado About Nothing � PLS RT #Theatre." See here for full details. Updated 9/1

It was a year ago today that David Tennant and Catherine Tate announced on BBC Breakfast that they would be performing Much Ado About Nothing in the summer. The theatre website immediately crashed due to the thousands of people trying to get tickets! Updated 8/1



December 2011
The BBC website includes David Tennant's production of Much Ado About Nothing in its theatrical events which made the headlines in 2011. Updated 30/12

The Guardian compares David Tennant's sell-out production of Much Ado About Nothing to the 100 metres at the Olympics. Updated 30/12

The Independent says that David Tennant's production of Much Ado About Nothing was probably the hottest ticket of 2011. Updated 23/12

TimeOut have exclusive clips from Digital Theatre's download of Much Ado About Nothing with David Tennant & Catherine Tate, plus a discount code which gives 20% off the price of the download. Updated 20/12

The auction for the David Tennant and Catherine Tate signed Much Ado About Nothing script and poster for charity by WestEndLots raised �260 after 17 bids. Updated 15/12

The auction for the David Tennant and Catherine Tate signed Much Ado About Nothing script and poster for charity by WestEndLots ends at noon today. It is currently �165 after 9 bids. Click here to bid. Updated 15/12

According to an article in The Guardian, Shakespeare was 2011 biggest draw in theatres (they include David Tennant's production of Much Ado About Nothing but have printed a photo of him in Hamlet from 2008). Updated 13/12
Click here to read the Press Release we have received about the download of David Tennant's production of Much Ado About Nothing. Updated 13/12
David Tennant's production of Much Ado About Nothing is now available to download. See here for more details. Updated 13/12
The website Come To The Dork Side has posted nine new (to the internet) photos of David Tennant. These were taken during a promotional photo shoot for Much Ado About Nothing earlier this year. Updated 6/12
Amazon are now saying that the DVD of David Tennant's production of Much Ado About Nothing will not be released in the UK "at this time". See here for more info. Updated 6/12
David Tennant was voted the Best Leading Actor In A Play and his production of Much Ado About Nothing was the Best Play at the BroadwayWorld Awards. See here for more details including the other categories the play won at these awards. Updated 5/12
The DVD of David Tennant's production of Much Ado About Nothing is currently listed as #1 on its list of The biggest gainers in Film & TV sales rank over the past 24 hours. Updated 5/12
A DVD of David Tennant's production of Much Ado About Nothing will be released in the UK on 6th February 2012. Click here to pre-order it from Amazon. Updated 4/12
The online version of the Evening Standard has a photo of David Tennant in an article about his What's On Stage Award nomination. Updated 2/12
David Tennant has been nominated for the Best Actor In A Play Award and Much Ado About Nothing has been nominated for the Best Shakespearean Production Award at the What�s On Stage Awards which were announced at lunchtime today. See here for full details and the link to vote. Updated 2/12
November 2011
Today is also the final day to vote for both David Tennant and Much Ado About Nothing in the BroadwayWorld.com Awards. Click here to vote. Updated 30/11

It's the final chance today to nominate David Tennant in the What's On Stage Awards for Much Ado About Nothing. Click here to nominate. Updated 30/11

There are only 5 days remaining to nominate David Tennant in the What's On Stage Awards. Click here to nominate. Updated 24/11

David Tennant is currently leading the Best Leading Actor In A Play poll on BroadwayWorld. Updated 14/11

The auction for the David Tennant and Catherine Tate signed Much Ado About Nothing script and poster for charity by WestEndLots is now at �155 after 7 bids. Click here to bid. It ends on 15th December. Updated 8/11

David Tennant and Catherine Tate have signed a Much Ado About Nothing script and poster for a charity auction by WestEndLots. Click here to bid. The current price is �50 and it ends on 15th December. Updated 4/11

You can nominate David Tennant and his production of Much Ado About Nothing for awards at the What's On Stage Awards. Click here to nominate but remember to type that it is the Wyndham version you are nominating. Updated 2/11



October 2011
The Stage reports that London's West End had a 5.6% increase for the 3rd quarter (July to September) compared to 2010 which is in part due to David Tennant's hugely successful Much Ado About Nothing production. Updated 27/10

The Digital Theatre recording of Much Ado About Nothing, starring David Tennant, will be released for Xmas according to Doctor Who Magazine. However the article also incorrectly states that it will be available on DVD. (It was recorded for download, not DVD.) The reported DVD release has not yet been confirmed by Digital Theatre. Updated 20/10

Unfortunately David Tennant's production of Much Ado About Nothing was omitted from the London Evening Standard Theatre Awards longlist of nominations. Updated 19/10

David Tennant has been nominated as Best Leading Actor (for Much Ado About Nothing) in the BroadwayWorld UK Awards. Click here for details and to vote. Updated 5/10

At EMS today a fan reported that David Tennant spoke about Much Ado About Nothing possibly being released as a DVD but other fans said that he may have meant the download which Digital Theatre will be releasing. Updated 2/10



September 2011
The BBC website cites David Tennant's production of Much Ado About Nothing as one reason that the London stage has had a good year this year. Updated 22/9

David Tennant's production of Much Ado About Nothing is mentioned in an article in The Stage titled "Star power that draws critics as well as audiences." Updated 21/9

At 2.15pm today the Make A Difference Trust tweeted that the pair of pants which were signed by David Tennant and the cast of Much Ado About Nothing had the highest amount bid (�263.56). However later the trust removed the lot from eBay as they were not 100% sure that the signatures were genuine. Updated 8/9

David Tennant's sell out Much Ado About Nothing production is mentioned in an article by The Stage. Updated 7/9

The auction for the pants signed by David Tennant and the cast of Much Ado About Nothing has now reached �122. Click here for the auction which ends on 16th September. Updated 7/9

David Tennant and the cast of Much Ado About Nothing have signed a pair of pants which are being auctioned to raise money for the Make A Difference Trust. Metro have an article about it or click here for the auction. The current bid (at 6.10pm) is �26 and it ends on 16th September. Updated 6/9

Click here to read about all the fun and tricks played during David Tennant's final two performances of Much Ado About Nothing. Updated 4/9

Over 200 people tried for the �10 lottery for tickets for David Tennant's final two performances of Much Ado About Nothing today! Updated 3/9

Today David Tennant plays the final two (the 111th and 112th - his 109th and 110th) performances of Much Ado About Nothing at the Wyndham Theatre in London. Updated 3/9

David Tennant's production of Much Ado About Nothing was filmed by Digital Theatre this week. See here for more details. Updated 2/9

Click here for clips of all of David Tennant's sections on the Absolute Radio Breakfast Show this morning. As well as all the usual chat David discusses Fright Night and Much Ado About Nothng. Updated 2/9

Tonight David Tennant is expected to play the 109th (his 107th) performance of Much Ado About Nothing at the Wyndham Theatre in London. Updated 1/9



August 2011
Tonight David Tennant is expected to play the 110th (his 108th) performance of Much Ado About Nothing. Click here for more details about David Tennant returning to Much Ado About Nothing tonight. Updated 31/8

At 7.30pm tonight David Tennant returned to the stage to play the 108th (his 106th) performance of Much Ado About Nothing at the Wyndham Theatre. Updated 31/8

The BBC have posted an item on their website about David Tennant missing the two performances of Much Ado About Nothing. They say that the producers "hope" he will be able to perform tonight and confirm that he "tested his vocals" in the theatre last night. Updated 31/8

Despite David going to the theatre, tonight Catherine Tate again announced that David Tennant would not be performing Much Ado About Nothing. See here for details. Updated 30/8

Posted at 12.15pm: There are currently tickets online for Much Ado About Nothing for all performances from Wednesday until Saturday. (It may be the last chance to buy tickets in advance!) Updated 30/8

According to a tweet by the BBC Entertainments Team the Wyndhams Theatre still hope that David Tennant will be able to perform tonight. Updated 30/8

Tonight is the 107th performance of Much Ado About Nothing at the Wyndham Theatre in London. It has not been announced yet whether or not David Tennant will be able to perform. Updated 30/8

David Tennant was unable to perform Much Ado About Nothing tonight. See here for details. Updated 29/8

This is the final week of Much Ado About Nothing. At the Wyndham Theatre in London David Tennant and the cast play performances 106 to 112. Updated 29/8

This week David Tennant plays performances 99 to 105 of Much Ado About Nothing at the Wyndham Theatre in London. Updated 22/8

MP3s of all of David Tennant's parts of The Chris Evans Show yesterday have been added to the MP3 section of DavidTennantOnTwitter.com or click here for the direct link. Much Ado About Nothing is mentioned in passing. Updated 20/8

Today David Tennant plays the 97th and 98th performances of Much Ado About Nothing at the Wyndham Theatre in London. Updated 20/8

The Guardian Weekend interview with David Tennant is now online. David discusses Much Ado About Nothing and Fright Night as well as about his career in general. Updated 19/8

This week David Tennant plays performances 92 to 98 of Much Ado About Nothing at the Wyndham Theatre in London. Updated 15/8

The Express has an item about the price of tickets for David Tennant's production Much Ado About Nothing. Updated 14/8

Today David Tennant plays performances 90 and 91 of Much Ado About Nothing at the Wyndham Theatre in London. Kylie Minogue will watch the afternoon performance today. Updated 13/8

Click here to read about another disrupted performance of Much Ado last night. Updated 10/8

Click here to read about the disrupted performance of Much Ado last night. Updated 9/8

This week David Tennant plays performances 85 to 91 of Much Ado About Nothing at the Wyndham Theatre in London. Updated 8/8

After playing their 84th performance tonight David Tennant and the cast are now exactly three quarters of the way through their 112 performance run of Much Ado About Nothing. Updated 6/8

BroadwayWorld.com says that David Tennant's production of Much Ado About Nothing is "Breaking all Wyndham's Box Office records." Updated 4/8

Click here to see a spoiler (and illegally taken) photo of Davd Tennant in a skirt frpm Much Ado About Nothing. Updated 3/8

The Wyndham Theatre now has their third version of the programme for the David Tennant production of Much Ado About Nothing for sale. Updated 2/8

SeatChoice claims that David Tennant's production of Much Ado About Nothing is their third most popular show at the moment in regards to searches on their website (but they seem to be forgetting that tickets for it are very difficult to obtain). Updated 1/8

A Blog item in The Independent lists David Tennant's production of Much Ado About Nothing as one of the successes in the West End. Updated 1/8

This week David Tennant plays performances 78 to 84 of Much Ado About Nothing at the Wyndham Theatre in London. Updated 1/8



July 2011
David Tennant Treat 4 Today - an MP3 of the Sonia Friedman (producer of Much Ado About Nothing) interview on Front Row on Radio Four tonight. Updated 29/7

High ticket sales for David Tennant's production of Much Ado About Nothing are mentioned in an article in The Telegraph. Updated 29/7

ThereOughtToBeClowns has the first (fan) review of the soundtrack CD of David Tennant's production of Much Ado About Nothing. Updated 28/7

An article about cheap seats in the theatre by Herald Scotland reports that David is starting to get a bald patch they believe. Updated 28/7

Of the 11 tracks on the Much Ado About Nothing soundtrack David Tennant and Catherine Tate only sing on the two bonus tracks Sigh No More and We Go Together. Updated 25/7

The soundtrack of Much Ado About Nothing is released today and includes two tracks (Sigh No More and We Go Together) sung as a duet by David Tennant and Catherine Tate. See here for more info. Updated 25/7

This week David Tennant plays performances 71 to 77 of Much Ado About Nothing at the Wyndham Theatre in London. Updated 25/7

Click here for details about how to win tickets to see David Tennant in Much Ado About Nothing on Tuesday 2nd August. Updated 23/7

Posted at 10.30am: There are currently tickets (mainly unsold hospitality seats) for five of the seven performances next week of David Tennant's Much Ado About Nothing. Updated 23/7

Posted at 11.45am: There are some good seats available online now for David Tennant's Much Ado About Nothing for both today and tomorrow's two performances including second row but be quick! Updated 22/7

This week David Tennant plays performances 64 to 70 of Much Ado About Nothing at the Wyndham Theatre in London. Updated 18/7

Glamour Magazine have posted a nice, smiley photo of David Tennant and Catherine Tate after Much Ado About Nothing on Tuesday evening. Updated 16/7

Click here for a review of Much Ado About Nothing from the New York Times. Updated 15/7

It seems to be a day of illegal videos as this is a link to David Tennant singing We Go Together from the Much Ado About Nothing soundtrack. Updated 15/7

We can not condone filming in a theatre, but this is a clearer video of David Tennant dancing at the end of Much Ado About Nothing. Updated 15/7

The release of David Tennant's Much Ado About Nothing soundtrack CD has be delayed until 25th July. Pre-order it here. On iTunes it's currently #7 in the charts.Updated 14/7

David Tennant's sell-out Much Ado About Nothing production is mentioned by Mark Shenton in his Blog on The Stage again. Updated 14/7

Click here to listen to Sigh No More by David Tennant and Catherine Tate. Updated 13/7

David Tennant Treat 4 Today - it's a scan of page 27 of tonight's Evening Standard which has a photo of David Tennant and Catherine Tate signing autographs after last night's Much Ado About Nothing performance. Updated 13/7

This afternoon David Tennant plays in the invitation-only understudy run of Much Ado About Nothing. Updated 13/7

The original cast soundtrack of Much Ado About Nothing is now available on iTunes. Click here to download it. Tracks 10 and 11 (Sigh No More and We Go Together) are just David Tennant and Catherine Tate. Updated 12/7

This week David Tennant plays performances 57 to 63 of Much Ado About Nothing. Updated 11/7

Alasdair Stuart has written a review of David Tennant's Much Ado About Nothing. The pr�cis he posted on Twitter was "IT'S REALLY, REALLY, SERIOUSLY GOOD." Updated 10/7

After playing the 56th performance tonight, David Tennant and the cast are now officially half way through the run of Much Ado About Nothing. Updated 9/7

Click here for a great summation of the hilarious performance of David Tennant's Much Ado About Nothing last night. Updated 9/7

PlayShakespeare.com has a comparison article between the Wyndham / The Globe and Guildford's Much Ado About Nothing productions. Updated 6/7

David Tennant is mentioned briefly in an article in The Stage about turning theatre around. Updated 6/7

This week David Tennant plays performances 50 to 56 of Much Ado About Nothing. By Saturday they will be halfway through the run. Updated 4/7

The soundtrack of Much Ado About Nothing will be released on 18th July and will include two tracks sung by David Tennant and Catherine Tate. See here for more info. Updated 1/7



June 2011
Click here for a detailed review of David Tennant's production of Much Ado About Nothing. Updated 28/6

This week David Tennant plays the 43rd to 49th performances of Much Ado About Nothing. Updated 27/6

David Tennant Treat 4 Today - the Jo Whiley interview from backstage at the Wyndham Theatre. Updated 23/6

Click here for a review by someone who obviously didn't enjoy much about Much Ado About Nothing. Updated 22/6

David Tennant was interviewed briefly on the Jo Whiley show last night. Click here to listen to it (his section starts at 18 minutes 50). Updated 22/6

Tonight's Evening Standard has a full page advert for David Tennant's Much Ado About Nothing. This is the first advert which has been run for the production. Updated 21/6

TNT Magazine give Much Ado About Nothing four stars and have posted a brief review. Updated 21/6

Click here for some new photos of all the cast of Much Ado About Nothing (including one new picture of David Tennant). These were taken fro the beginning of the run so some things have changed. Updated 20/6

TheaterNewsOnline's review of Much Ado About Nothing says that people were laughing too much during the play! Updated 18/6

The review of Much Ado About Nothing from the News Of The World. Updated 18/6

The Guardian looks at the plots, sub-plots and various previous productions of Much Ado About Nothing. (David Tennant's version is mentioned). Updated 18/6

The Morning Star has given the 33rd review of Much Ado About Nothing and say that David Tennant is "particularly skilful in comedy." This review has been added to the Reviews page. Updated 16/6

David Tennant's Much Ado About Nothing production (with a photo) is mentioned in an article by The Guardian titled "Do we stage too much Shakespeare?" Updated 15/6

The Oxford Times reviewed Much Ado About Nothing last night and say "the feelgood factor could not be any higher." They also mention that he wore an eye patch during that performance and claim that it was due to an operation earlier that day. However he did not wear the eye patch during tonight's performance. This 32nd review of the play has been added to the Reviews page. Updated 15/6

Exeunt Magazine gives Much Ado About Nothing five stars and describes it as "easily one of the funniest and most exciting productions in the West End." This 31st review has been added to the Reviews page. Updated 15/6

The British Shakespeare Association (of which David Tennant is an Honorary Associate) write about him appearing in Much Ado About Nothing. Updated 14/6

This week David Tennant plays performances 29 - 35 of Much Ado About Nothing starting with the 29th tonight. Updated 13/6

Now that David Tennant and the cast have played the 28th performance of Much Ado About Nothing they are now a quarter of the way through the 112 performance run of the play. Updated 11/6

The Much Ado About Nothing Reviews page now has links to 30 reviews of the production. Updated 11/6

There's a great review of David Tennant's Much Ado About Nothing by IndieLondon.com. This review has been added to the Reviews page. Updated 8/6

David Tennant Treat 4 Today - a scan of the review which appeared in the Culture magazine of The Sunday Times newspaper in which Christopher Hart compares the David Tennant / Wyndham Theatre version of Much Ado About Nothing with the production which is currently playing at The Globe. Updated 8/6

Mark Shenton from The Stage has written an article about seeing Much Ado About Nothing after reading the Press Night reviews (which is how most people will see the play). Updated 8/6

Today David Tennant plays the only Wednesday matinee of Much Ado About Nothing of the run (plus there is another performance tonight). This is because Catherine Tate can't perform a matinee on Saturday this week. Updated 8/6

Londonist has an item about how to get tickets for David Tennant's Much Ado About Nothing (plus there are hospitality tickets available for most performances). Updated 6/6

The Telegraph has an article with the great title "David Tennant proves too daunting an adversary for Sir Jonathan Miller." Updated 6/6

This week David Tennant plays performances 22 to 28 of Much Ado About Nothing. The matinee is on Wednesday this week for the only time during the run. Updated 6/6

The Good Review has an interview with Tom Bateman who plays Claudio in Much Ado About Nothing and he talks fondly about David Tennant. Updated 5/6

The Guardian has posted a comparison between David Tennant's and The Globe's versions of Much Ado About Nothing. Updated 4/6

Links to all the reviews of Much Ado About Nothing (and some photos) have been added to the Press Night round-up page. Updated 3/6

David Tennant's Much Ado About Nothing is one of the 5 Critics' Choices in tonight's Evening Standard (with a photo). Updated 3/6

David Tennant Treat 4 Today - The Times review of Much Ado About Nothing. Updated 3/6