DavidTennantOnTwitter.com
David Tennant - Good

David Tennant starred in a revival of CP Taylor's play Good at the Harold Pinter Theatre in London. The theatre is located in Panton Street, London SW1Y 4DN.
The run was originally scheduled to be a 10 week run from Tuesday 6th October 2020 to Saturday 19th December 2020. However, due to the pandemic, in September it was announced that the run had been postponed to Wednesday 21st April 2021 until Saturday 17th July and it would run for 12 weeks instead of the original 10. But in February 2021 it was announced that the play had been postponed again.
In May 2022 it was announced that the run was rescheduled for Thursday 6th October 2022 until Saturday 24th December.
In September it was announced that the play would open one day earlier - on Wednesday 5th October.
In November 2022 an extra week of performances for Good was added for Monday 2nd to 7th January 2023.
There were performances each evening that week at 7.30pm and a matinee at 2.30pm on the Saturday.
In total the run lasted 12 weeks at the Harold Pinter Theatre.
Press Night was Wednesday 12th October.
Good is an award-winning play which is in two acts written by British playwright Cecil Philip Taylor. It was originally commissioned by The Royal Shakespeare Company in 1981 and has been described as the definitive piece written about the Holocaust in the English-speaking theatre.
It is set in pre-war Germany and it shows how John Halder, a liberal-minded professor whose best friend is the Jewish Maurice, could not only be seduced into joining the Nazism but step-by-rationalised-step end up embracing the final solution justifying to his conscience the terrible actions. Alan Howard played the main role of John Halder while Sir Charles Dance was the star of a Donmar Warehouse revival in 1999.
Good is a production from a new company called Fictionhouse which was set up by Dominic Cooke who is a former artistic director of the Royal Court and its former executive director Kate Horton. David Tennant said Cooke was one of the UK's all-time great theatre directors and Good was 'a fantastic bit of writing that is more pertinent and resonant now than it ever has been.'
David Tennant played John Halder. The cast also included Elliot Levey and Sharon Small who played multiple characters. It was directed by Dominic Cooke.
Good will be broadcast to cinemas worldwide.
This is part of the National Theatre Live programme and will be available in cinemas in the UK and Ireland from Thursday 20th April 2023 and in other countries from Thursday 15th June.
Rehearsals started on Tuesday 30th August.
Good The Play website.

Link to posts related to Good on Blogger.com (usually with more detail).


March 2023
A trailer for the cinema screenings of Good has been posted online. Updated 16/3



February 2023
David Tennant nominated for the Best Actor Award for the play Good in the Olivier Awards.
Also the play Good is nominated for the Best Revival Award.
Elliot Levey for Best Actor In A Supporting Role Award and Sharon Small for Best Actress In A Supporting Role Award.
The winners will be announced at a ceremony in the Royal Albert Hall, London on Sunday 2nd April. Updated 28/2

Unfortunately Dominic Cooke did not win the Best Direction Award at the What's On Stage Awards tonight as Phelim McDermott won for My Neighbour Totoro. Updated 12/2

Unfortunately David did not win the Best Performer In A Play Award at the What's On Stage Awards tonight as Jodie Comer won for Prima Facie. Updated 12/2

Unfortunately Good did not win the Best Play Revival Award at the What's On Stage Awards tonight as Cock won. Updated 12/2

Unfortunately neither Elliot Levey nor Sharon Small won the Best Supporting Performer In A Play Award at the What's On Stage Awards tonight as Gwyneth Keyworth won for To Kill A Mockingbird. Updated 12/2

The winners of the What's On Stage Awards are announced tonight at a ceremony at the Prince of Wales Theatre, London. The winners were decided by a public vote.
David Tennant was one of the nominees for the Best Performer In A Play Award.
Also Good was nominated for Best Play Revival, both Elliot Levey and Sharon Small for the Best Supporting Performer In A Play Awards plus Dominic Cooke for the Best Direction Award. Updated 12/2



January 2023
A short video of David Tennant, Elliot Levey and Sharon Small in support of Camp Simcha has been posted online.
The full video will be released next week. Updated 18/1

A great photo of David Tennant signing autographs after the final performance of Good tonight has been posted online. Updated 7/1

This week David Tennant plays performances 84 to 90 of Good.
This week there are performances every evening from Monday to Friday at 7.30pm, plus a matinee on Saturday (7th January) at 2.30pm. Updated 02/01



December 2022
A lovely photo of David Tennant with the cast and crew of Good has been posted online. Updated 24/12

A photo of David Tennant reunited with some of the cast of Litvinenko who watched him in the play Good has been posted online. Updated 22/12

This week David Tennant plays performances 78 to 83 of Good.
This week there are performances every evening from Monday to Friday at 7.30pm, plus a matinee on Saturday (24th December) at 1.30pm. Updated 19/12

David Tennant was interviewed for 15 minutes on Front Row on BBC Radio Four tonight about the drama Litvinenko.
David's interview is at the start of the show.
David was also asked about the play Good, Staged and Good Omens. Updated 12/12

This week David Tennant plays performances 70 to 77 of Good.
This week there are performances every evening from Monday to Saturday at 7.30pm, plus matinees on Wednesday (14th) and Saturday (17th December) at 2.30pm. Updated 12/12

David Tennant has been nominated for the Best Performer In A Play Award at the What's On Stage Awards.
Also Good is nominated for the Best Play Revival Award, both Elliot Levey and Sharon Small for the Best Supporting Performer In A Play Award and Dominic Cooke for the Best Direction Award.
The winners for all the awards will be revealed at a ceremony on Sunday 12th February 2023 at the Prince of Wales Theatre.
The winners are decided by a public vote. Updated 8/12

A new interview with David Tennant by Times Radio about Litvinenko, Doctor Who, Good and Staged has been posted to YouTube. Updated 5/12

This week David Tennant plays performances 63 to 69 of Good.
This week there are performances every evening from Monday to Saturday at 7.30pm, plus a matinee on Saturday (10th December) at 2.30pm. Updated 5/12



November 2022
An extra week of performances for Good has been added for Monday 2nd to 7th January 2023.
There will be performances each evening at 7.30pm and a matinee at 2.30pm on the Saturday. Updated 24/11

This week David Tennant plays performances 48 to 55 of Good.
This week there are performances every evening from Monday to Saturday at 7.30pm, plus matinees on Wednesday (22nd) and Saturday (26th November) at 2.30pm. Updated 21/11

Good to be broadcast to cinemas worldwide.
This is part of the National Theatre Live programme and will be available in cinemas in the UK and Ireland from Thursday 20th April 2023 and in other countries from Thursday 15th June.
The screened performance will be filmed at the matinee on Wednesday 23rd November. Updated 16/11

This week David Tennant plays performances 41 to 47 of Good.
This week there are performances every evening from Monday to Saturday at 7.30pm, plus a matinee on Saturday (19th November) at 2.30pm. Updated 14/11

Nominations for the What's On Stage Awards are now open. Good falls into the date range so both the play and David Tennant are eligible.
Nomination link. Updated 10/11

This week David Tennant plays performances 34 to 40 of Good.
This week there are performances every evening from Monday to Saturday at 7.30pm, plus a matinee on Saturday (12th November) at 2.30pm. Updated 7/11



October 2022
This week David Tennant plays performances 27 to 33 of Good.
This week there are performances every evening from Monday to Saturday at 7.30pm, plus a matinee on Saturday (5th November) at 2.30pm. Updated 31/10

This week David Tennant plays performances 19 to 26 of Good.
This week there are performances every evening from Monday to Saturday at 7.30pm, plus matinees on Wednesday (26th) and Saturday (29th October) at 2.30pm. Updated 24/10

This week David Tennant plays performances 12 to 18 of Good.
This week there are performances every evening from Monday to Saturday at 7.30pm plus a matinee on Saturday (22nd October) at 2.30pm.
The performance on Tuesday evening (18th October) is a captioned performance. Updated 17/10

A photo of David Tennant backstage at the play Good yesterday has been posted online. Updated 16/10

The Telegraph (behind a paywall) has given Good 4 stars in it's review which it describes David Tennant's acting as 'a remarkable lead performance.'
It's review starts:
'Few actors can project charismatic affability better than David Tennant. Fewer still are mercurial enough to be able to switch all that off and go dead behind the eyes. Updated 13/10

The Independent (behind a paywall) has a 3 star review of Good.
It includes 'David Tennant is hypnotic in muddled Nazi drama.' Updated 13/10

A video interview with David Tennant, Sharon Small, Elliot Levey and Dominic Cooke from the Press Night of Good has been added to YouTube. Updated 13/10

iNews gives Good 5 stars in its review.
The review includes 'David Tennant is magnetic as a Nazi professor.' Updated 13/10

The Guardian gives Good 4 stars.
It sums it up as ''David Tennant is magnificent in chilling drama.' Updated 13/10

The Stage (behind a paywall) has a 4 star review of Good.
The title is ''David Tennant gives a meticulous performance.' Updated 13/10

The website London Theatre has given Good only 3 stars.
But the site's review includes 'Tennant superbly captures Halder's latent vanity and self-serving rationalisations and does well with both the odd moments of humour (including a folk dance) and vulnerable reflections' Updated 13/10

There's a 4 star review of Good from The Arts Desk.
The review includes 'Tennant's performance is genius, his natural Scottish accent promoting the air of incongruous sincerity around Halder.' Updated 13/10

BroadwayWorld gives Good 4 stars and includes the phrase 'David Tennant is excellent as Halder. Updated 13/10

A 4 star review from Evening Standard for Good.
It includes 'This is the truest, most natural performance I've ever seen him give in a theatre.' Updated 13/10

Time Out has a 4 star review of Good.
It includes ''Tennant really is terrific. As I said, the man knows a thing or two about portraying evil; his performance is perfectly judged.' Updated 13/10

What's On Stage awards Good 3 stars:
'Tennant is perfect casting. He has a remarkable ability as an actor to suggest a darkness beneath an affable surface.' Updated 13/10

The Times gives Good four stars in its review which includes the phrase 'Don't expect fireworks. What you get is something stranger, more insidious and I suspect much more memorable.' Updated 13/10

Financial Times has a five star review of Good.
The review includes 'Tennant is riveting: witty and intensely human but also brilliantly precise.' Updated 13/10

Tonight David Tennant performs the Press Night of the play Good at the Harold Pinter Theatre, London. Updated 12/10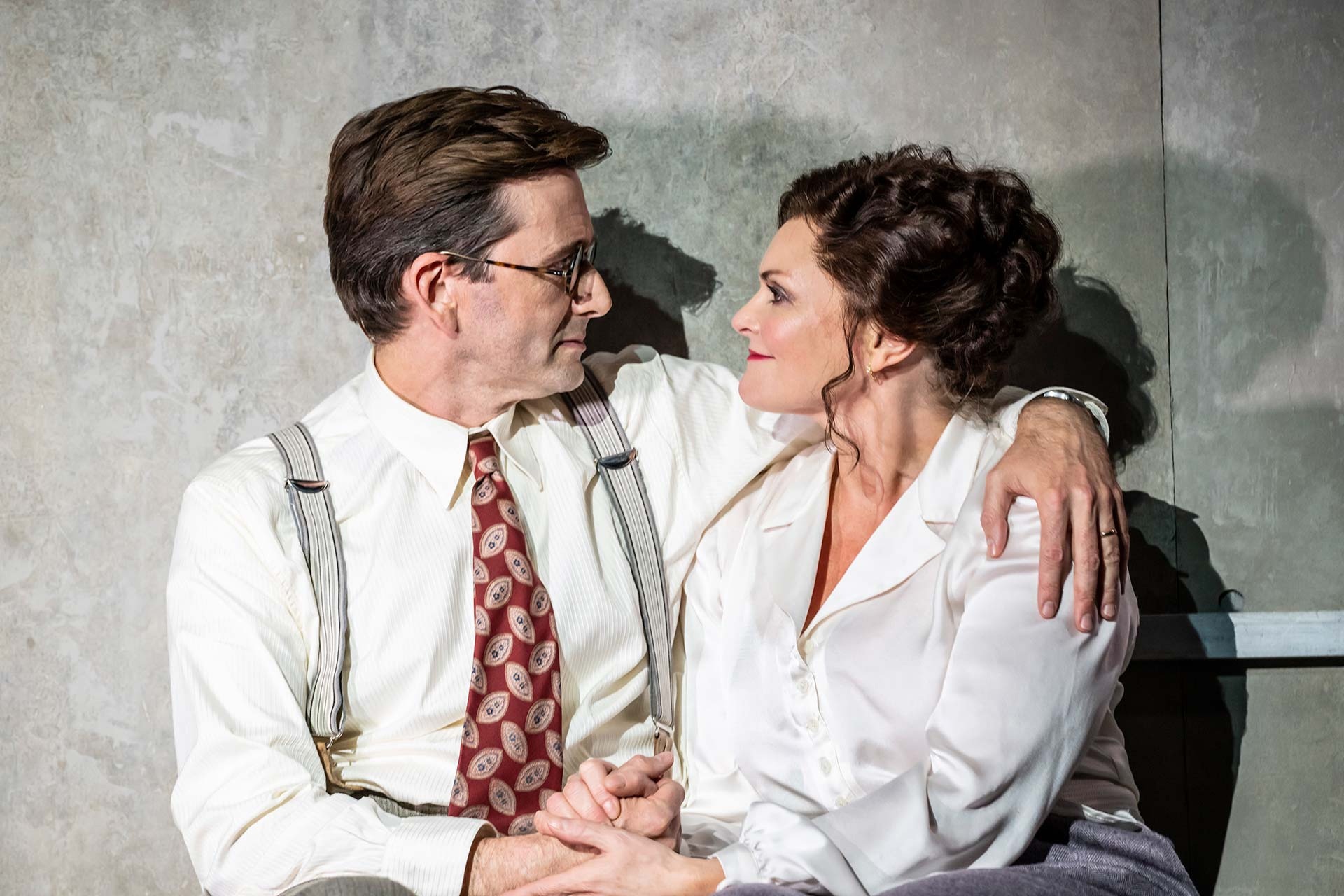 Production photos of David Tennant in costume on the stage of Good have been posted online here, here and here. Updated 10/10

David Tennant returns to the stage tonight when he plays the first performance of the play Good at the Harold Pinter Theatre, London. Updated 5/10

The Times has a new interview (behind a paywall) with David Tennant about Good, briefly about Doctor Who and how he was once voted Rear Of The Year!
It includes a new photo of David (with Good director Dominic Cooke). Updated 2/10

Today was the first day of tech rehearsals at the theatre for Good. Updated 1/10

iPlayer link (UK only) to watch David Tennant on The Graham Norton Show last night.
As there were several guests on the sofa, David was mainly asked about Good.
The link will be available for over one year. Updated 1/10



September 2022
MP3 of David Tennant interview on BBC Radio Four today which plays worldwide.
As well as talking about Good, David also discussed Inside Man and Doctor Who. Updated 30/9

The BBC has a short interview with David Tennant about appearing in the 60th anniversary of Doctor Who and about Good. Updated 30/9

MP3s (which play worldwide) of David Tennant on The Zoe Ball Show today.
The appearance was to promote Inside Man which starts on BBC One on Monday 26th September and also his play Good (with performances from 5th October).

David Tennant to be a guest on The Graham Norton Show on Friday 30th September.
The episode will be broadcast on BBC One at 10.40pm.
David's appearance is to promote his play Good and also Inside Man. Updated 21/9

An extra performance of Good has been announced.
The run will now start a day earlier than originally planned - on Wednesday 5th October. Updated 21/9
Rehearsal photos of David Tennant in Good. Updated 21/9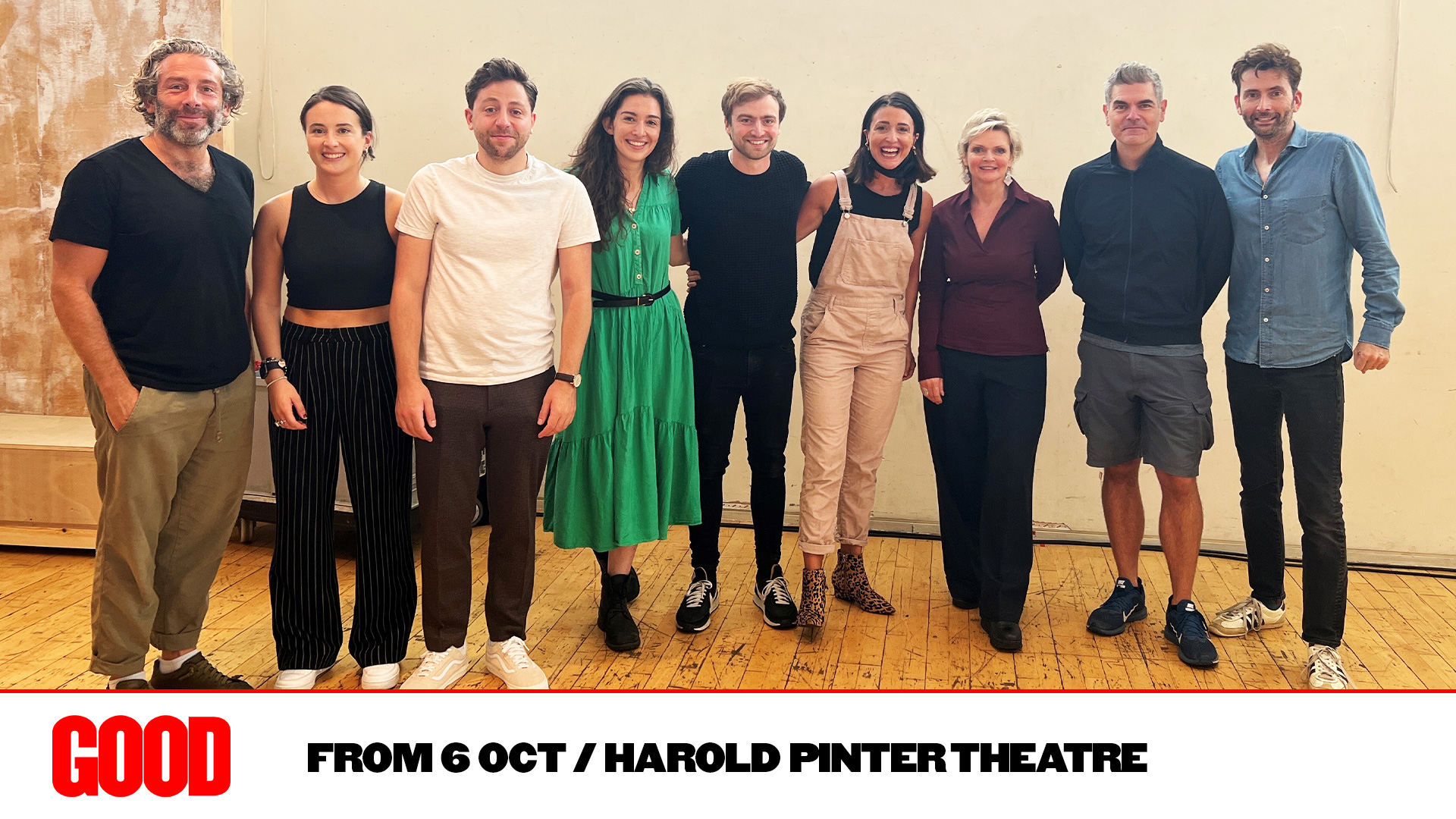 Two rehearsal photos of the play Good have been posted online here and here. Updated 5/9



August 2022
Director Dominic Cooke posted that rehearsals for the play Good started today. Updated 30/8



July 2022
Sharon Small will take the role originally announced for Fenella Woolgar in Good at the Harold Pinter Theatre.
As previously announced, David Tennant and Elliot Levey will star in the play which runs from Thursday 6th October until Christmas Eve. Updated 21/7

David Tennant is now currently no longer listed as the guest on the Dermot O'Leary Show on BBC Radio Two on Saturday 23rd July. Updated 5/7

David Tennant will be the guest on the Dermot O'Leary Show on BBC Radio Two at 8am on Saturday 23rd July.
The show can be heard worldwide and is to discuss his upcoming play Good. Updated 3/7



June 2022
Tickets to see David Tennant in the play Good in London from 6th October are now available to the general public.
Purchasing link. Updated 8/6



May 2022
The play Good has been rescheduled to October 2022.
It will run at the Harold Pinter Theatre in London for 11 weeks from Thursday 6th October 2022 until Christmas Eve (Saturday 24th December.)
Current ticket holders have been given priority access to the new dates before they are made available to the public. Point of purchase companies will be in touch with existing ticket holders.
Tickets will be made available to the public on Wednesday 10th June. Updated 27/5



June 2021
The Times (behind a paywall) has a new interview with David Tennant to promote the BAFTA awards tomorrow.
The interview includes two new photos.
David is also asked about Staged and Des.
He also says that he still hopes the play Good will go ahead. Updated 5/6



February 2021
Good has been postponed again due to the pandemic.
Originally David Tennant was due to star in Good at the Playhouse Theatre in London for a 10 week run from Tuesday 6th October 2020 to Saturday 19th December 2020. However, due to the pandemic, it was announced in September that the run had been postponed to Wednesday 21st April 2021 until Saturday 17th July and moved to the Harold Pinter Theatre.
The latest announcement is that it will still play at the Harold Pinter Theatre but the new dates have not been announced yet.
Current ticket holders will be given priority access to the new dates before they are made available to the public. Point of purchase companies will be in touch with existing ticket holders and additional seats will be made available to the public later. Updated 16/2



October 2020
Tickets to see David Tennant in the play Good are on sale to the public again now. Updated 19/10

Fans who have booked to see David Tennant in the play Good are being emailed this afternoon with rearranged dates so should check their emails. Updated 12/10



September 2020
The play Good has been rescheduled to Wednesday 21st April 2021 until Saturday 17th July.
The Press Night will be on Tuesday 27th April and the play has been moved to the Harold Pinter Theatre, London.
It will run for 12 weeks instead of the original 10.
Current ticket holders will be given priority access to the new dates before they are made available to the public. Point of purchase companies will be in touch with existing ticket holders and additional seats will be made available to the public at 10am on Monday 12th October. Updated 14/9



July 2020
David's forthcoming play Good has been postponed until Spring 2021.
David Tennant was to have returned to the stage in October to star in a revival of CP Taylor's play Good at the Playhouse Theatre in London. It was going to be a 10 week run from Tuesday 6th October to Saturday 19th December 2020.
Current ticket holders will be given priority access to the new dates before they are made available to the public. The point of purchase companies will be in touch with ticket holders as soon as the new dates are known. Updated 23/7



June 2020
BBC Sounds has audio of the David Tennant and Dame Judi Dench interview about the future of theatre, All Around The World In Eighty Days and Good on last night's Coronavirus Newscast.
David's part starts at 17 minutes. Updated 26/6

David Tennant revealed on Coronavirus Newscast that they had filmed one and a half episodes of Around The World In 80 Days before lockdown started.
He did not give any update on his forthcoming play Good.
Performances for that are scheduled to start in October. Updated 25/6

David Tennant and Dame Judi Dench will discuss the future of theatre on tonight's Coronavirus Newscast on BBC News Channel at 9.25pm.
The show is repeated on BBC One at 11.45pm. Updated 25/6

David Tennant talks about Staged and the play Good to Radio Times.
In the same article Michael Sheen explains how he could have become the Tenth Doctor in Doctor Who. Updated 9/6

The Times has a new interview with David Tennant and Michael Sheen about Staged (behind a paywall).
The interview says that they spent two weeks making the first episode, on spec, without pay. Then David says "We�ve done the last five episodes in about three weeks."
David also says about the play Good "As the months tick by there�s not an obvious solution as to how we will do a play in September but I don�t think we�ve quite given up yet." Updated 4/6



March 2020
On Tuesday 20th October the performance of Good at Playhouse Theatre London will be Audio Described and the performance on Tuesday 27th October will be Captioned. Updated 9/3



February 2020
The Press Night for Good will be Wednesday 14th October. Updated 11/2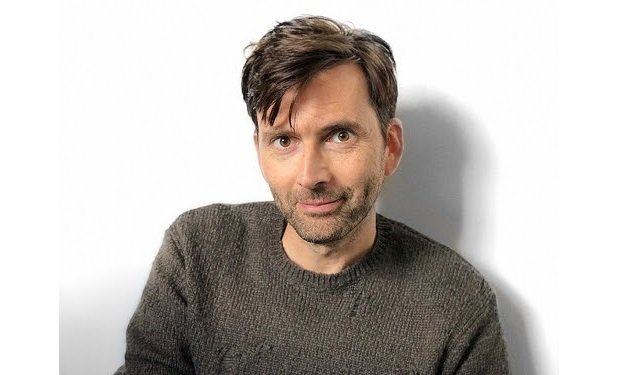 A new photo of David Tennant to promote Good has been posted online. Updated 11/2

David Tennant will appear in Good from Tuesday 6th October to Saturday 19th December.
Tickets are on sale today. Members tickets are already on sale and tickets go on sale to the general public at noon.
It will be a 10 week run. The performances will be Monday to Friday at 7.30pm and Saturdays at 2.30pm and 7.30pm (so 7 performances each week). Updated 11/2

David Tennant to return to the theatre in October in a revival of CP Taylor�s play Good at the Playhouse theatre.
The exact dates of the performances nor the length of the run has not been announced yet. Updated 11/2