David Tennant - Don Juan In Soho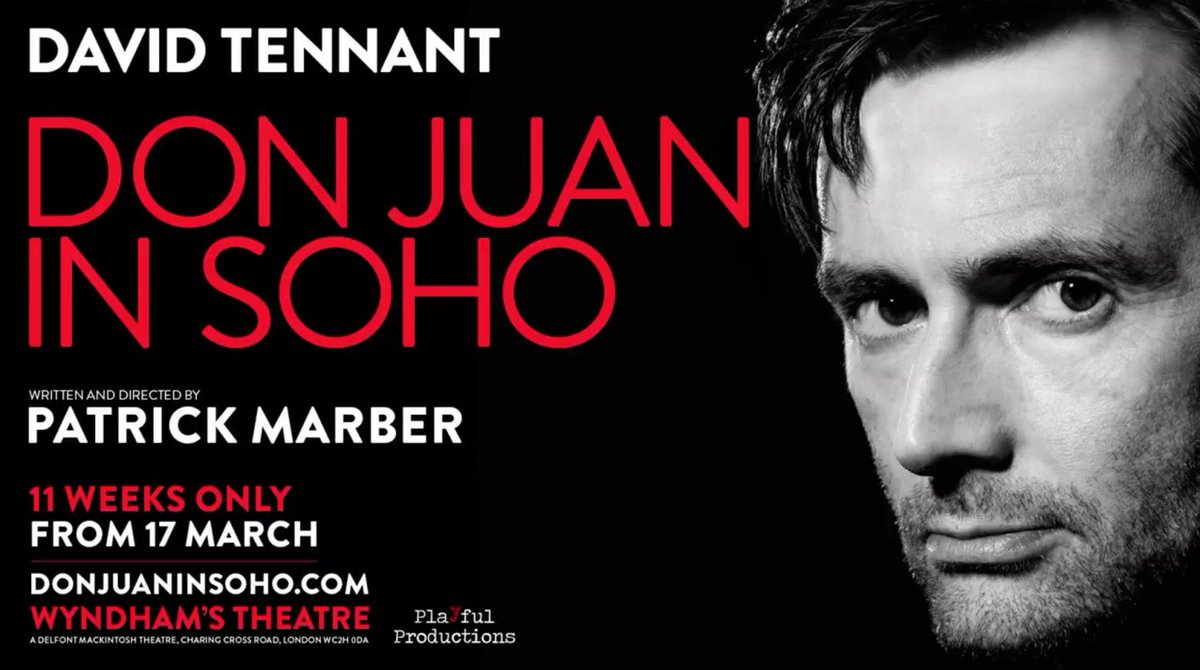 David Tennant returned to the West End stage to play a lothario in Patrick Marber's Don Juan In Soho at the Wyndham's theatre in London.
The limited run started on Friday 17th March 2017 and ended on Saturday 10th June. Rehearsals started on Monday 6th February.
The Press Night was Tuesday 28th March at 7pm.
The performances were Monday to Saturday each week at 7.30pm with a matinee on Saturdays only at 2.30pm.
The performance on Thursday 4th May was captioned and on Tuesday 9th May it was audio described.
Link to purchase tickets.
A limited number of £20 day seats were available from 10am at the box office on the day of each performance.
Also TodayTix had a lottery for £20 front row for each performance.
David Tennant played DJ who was described as 'the lordly DJ, a priapic lothario cutting a swathe through modern Soho.' The play was directed by Marber himself.
Gawn Grainger played Louis and Adrian Scarborough played Stan.
In February 2018 David Tennant won the Best Actor In A Play Award at the What's On Stage Awards for this role in Don Juan In Soho.
Don Juan In Soho is a contemporary take on the classic Molière comedy Dom Juan. The play first premiered at the Donmar Warehouse in December 2006 when it was directed by Michael Grandage.
The synopsis of the play according to Faber is:
'The infamous, amoral hedonist in a society entranced by sensation. Moliere's farcical, tragic, anarchic Don Juan (1665) is the inspiration for Patrick Marber's new play in which the action of the original is relocated to present day Soho, London.
Whereas Moliere condemned his anti-hero to a literal Hell, Marber condemns him to a hell of his own making.'
Unfortunately, due to music rights issues, there were no plans to film Don Juan In Soho during the run. David Tennant spoke about this at the beginning of May.
Press reviews of Don Juan In Soho.
Fan photos and videos of David Tennant at the stage door after Don Juan In Soho.
Link to posts related to Don Juan In Soho on Blogger.com (usually with more detail).


2018
David Tennant has been nominated for the Best Actor Award at the International Achievement Recognition Awards (IARA).
David is nominated for his role in Don Juan In Soho.
The 5th annual IARA Awards ceremony will take place on Saturday 22nd September at Hilton Hotel Canary Wharf in London

.
The winners of the IARA Awards are decided by a public vote and voting is open now. Updated 10/7
It was a year ago today that David Tennant played the final two performances of Don Juan In Soho. Updated 10/6
David Tennant won the Best Actor In A Play Award at What's On Stage Awards tonight.
David did not attend the ceremony but he filmed a video and said "The What's On Stage Awards are a wonderful evening celebrating everything that's good about London theatre and I'm so chuffed to be winning this for Don Juan in Soho, thank you all so much. It was a real privilege doing a play about Soho in Soho." Updated 25/2
Unfortunately Don Juan In Soho did not win the Best Play Revival Award at the What's On Stage Awards tonight as Hamlet won.
Also Adrian Scarborough lost out to Fraa Fee (for The Ferryman) for the Best Supporting Actor In A Play for his role in Don Juan In Soho. Updated 25/2
The winners of What's On Stage Awards are announced tonight.
David Tennant and Don Juan In Soho were both nominated. Updated 25/2