DavidTennantOnTwitter.com
David Tennant - Television appearances
David Tennant's TV Appearances For Today are posted each day throughout the year on David_Tennant on Twitter.
The first series of the eight part 2013 police drama Broadchurch is still often broadcast in various countries around the world. The second series was broadcast on ITV in the UK in 2015 and the third and final series of Broadchurch in 2017 in the UK. All three series were also broadcast in dozens of other countries around the world.
All of David Tennant's episodes of Doctor Who are frequently repeated on W in the UK and on BBC America in the US.
Posts related to David Tennant on other television shows on Blogger (usually with more detail).
Over the years David Tennant has appeared in numerous television programmes both as an actor and as himself.
This section of the website looks at his most recent appearances.

December 2017
The BBC (and Lizo Mzimba in particular) lists Good Omens as one of its television shows to look out for in 2018. Updated 30/12

You, Me And Him has its television premiere in the US today. Updated 29/12

David Tennant is a guest on Miranda Does Christmas which premieres tonight on Channel Four at 9pm. Updated 27/12

BBC America has a day of David Tennant episodes of Doctor Who today. Updated 26/12

BBC America has a day of David Tennant episodes of Doctor Who tomorrow. Updated 25/12

David Tennant was shown (very) briefly in the new Doctor Who episode Twice Upon A Time today. Updated 25/12

The Highway Rat premieres on BBC One at 4.45pm today. Updated 25/12

Gudrun The Viking Princess (which is narrated by David Tennant) is available on BBC iPlayer from today.
It is available in the UK only for two months and consist of 10 five minute episodes. Updated 25/12

DuckTales starts broadcast from today in Germany but it will be dubbed into German so David Tennant's voice will not be heard. Updated 22/12

BBC America continues its Doctor Who marathon today (including loads of David Tennant episodes) leading up to the new episode Twice Upon A Time on Christmas Day. Updated 21/12

BBC America continues its Doctor Who marathon today (including loads of David Tennant episodes) leading up to the new episode Twice Upon A Time on Christmas Day. Updated 20/12

It is not confirmed but PursueNews has reported that Chew 'may' be made into a television show. In April it was announced that the movie had been cancelled. Updated 19/12

Gudrun The Viking Princess will now be available on BBC iPlayer from Christmas Day.
(Previously it was to have been available from Boxing Day.) Updated 19/12

BBC America starts a Doctor Who marathon (including loads of David Tennant episodes) from today and leading up to the new episode Twice Upon A Time on Christmas Day. Updated 19/12

David Tennant is the host of Have I Got A Bit More News For You on BBC One tonight. Updated 18/12

BBC America has Doctor Who marathon (including loads of David Tennant episodes) from Tuesday and leading up to the new episode Twice Upon A Time on Christmas Day.
The link includes a promo trailer. Updated 17/12

The Doctor Who regeneration episodes (including David Tennant's) are available now and all over Christmas on BBC iPlayer. Updated 16/12

DuckTales episode The Living Mummies Of Toth-Ra has its Australian and New Zealand premiere today. Updated 16/12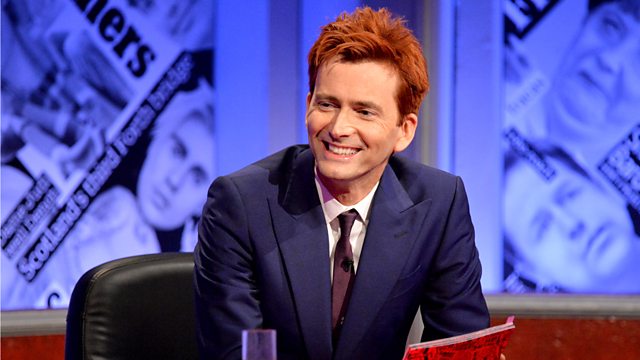 David Tennant is the host of Have I Got News For You tonight on BBC One at 9pm. Updated 15/12

You, Me And Him will stream in US from tomorrow and have its television premiere in the country on Friday 29th December. Updated 14/12

David Tennant records Have I Got News For You tonight. Updated 14/12

Tonight David Tennant records Miranda Does Christmas. Updated 9/12

David Tennant's episode of Thunderbirds Are Go premieres on ITV. Updated 9/12

DuckTales episode The Impossible Summit Of Mt. Neverrest! has its Australian and New Zealand premiere today. Updated 9/12

David Tennant to be a guest on Miranda Does Christmas.
The programme will premiere on Wednesday 27th December on Channel 4 at 9pm and it is being recorded this coming Saturday (9th December). Updated 7/12

The first promo photo of David Tennant's character Tycho Reeves has been posted to Twitter.
David's episode airs on Saturday (9th) at 8.30am on Childrens ITV and at 12.45pm on ITV. Updated 5/12

David Tennant to be the host of Have I Got News For You on Friday 15th December.
The episode will be recorded on Thursday 14th December.
The extended version (called Have I Got A Bit More News For You) will be broadcast on Monday 18th December. Updated 2/12

DuckTales episode The Impossible Summit Of Mt. Neverrest! premieres in the US and Canada today. Updated 2/12

DuckTales episode The Infernal Internship Of Mark Beaks! has its Australian and New Zealand premiere today. Updated 2/12

Broadchurch Season Three is available in Spain from today (on Netflix). Updated 1/12



November 2017
David Tennant has provided the voiceover for Gudrun The Viking Princess which is broadcast this Christmas. Updated 30/11

The Highway Rat will premiere on BBC One on Christmas Day. Updated 30/11

How To Build A Robot premieres on Channel 4 tonight at 10.35pm. Updated 29/11

Doctor Who regeneration episodes (including David Tennant's) and The Day Of The Doctor will be available on BBC iPlayer over Christmas (UK only). Updated 28/11

W1A Season Three concludes in Canada tonight. Updated 28/11

The broadcast date of David Tennant's episode of Thunderbirds Are Go has been announced as Saturday 9th December.
This is a week earlier than expected as episode 24 will not be broadcast on UK television. Updated 27/11

DuckTales starts tonight in Italy on Disney Channel at 7.45pm.
However it will be dubbed into Italian so David Tennant's voice will not be heard. Updated 26/11

DuckTales episode The House Of The Lucky Gander! has its Australian and New Zealand premieres today. Updated 25/11

DuckTales start date announced for Italy: Sunday 26th November at 7.45pm on Disney Channel but it will be dubbed into Italian (so David Tennant's voice will not be heard). Updated 21/11

Episode five of W1A Season Three has its Canadian premiere tonight. Updated 21/11

What We Did On Our Holiday has its Italian television premiere on CieloTV tonight at 9.15pm. Updated 20/11

The documentary which was to be called called Trust Me - I'm A Robot has had its title changed to How To Build A Robot.
It will premiere on Channel 4 on Wednesday 29th November at 10.35pm. Updated 19/11

Episode four of W1A Season Three has its Canadian premiere tonight. Updated 14/11

Broadchurch Season Three concludes in France tonight.
Episodes seven and eight will broadcast at 9pm and 9.50pm respectively. Updated 13/11

DuckTales episode The Beagle Birthday Massacre! has its Australian and New Zealand premiere today.
Unfortunately this is an episode which does not feature David's character Scrooge McDuck. Updated 11/11

Recovery has an unofficial release on DVD. Updated 8/11

Broadchurch Season Three concludes in Germany tonight as episodes seven and eight are broadcast.

Episode three of W1A Season Three has its Canadian premiere tonight. Updated 7/11

Episodes five and six of Broadchurch Season Three have their French premiere tonight. Updated 6/11

DuckTales premieres in the UK today. Updated 4/11

W1A Season Three concludes tonight in Australia when episodes five and six are broadcast on on BBC First. Updated 4/11

DuckTales episode The Great Dime Chase! has its Australian and New Zealand premiere today. Updated 4/11

Second episode of W1A Season Three has its Canadian premiere on BBC Canada. Updated 3/11

DuckTales to premiere a week early in the UK.
Instead of being broadcast on Monday 13th November as originally announced, the first episode will premiere this Saturday (4th). Updated 1/11

Episodes five and six of Broadchurch Season Three have their German premiere tonight. Updated 1/11



October 2017
Episodes three and four of Broadchurch Season Three have their French premiere tonight. Updated 30/10

DuckTales episode nine premieres in the US and Canada today. Updated 28/10

Episodes three and four of W1A Series Three premiere in Australia tonight. Updated 28/10

DuckTales episode Terror Of The Terra-Firmians! premieres in Australia and New Zealand today.
Unfortunately this is an episode of DuckTales which does not feature Scrooge McDuck so David Tennant's voice will not be heard. Updated 28/10

Fireman Sam: Alien Alert has its UK television premiere early tomorrow morning.
It will be shown on Channel Five at 7.25am. Updated 27/10

W1A Season Three premieres in Canada on BBC Canada tonight. Updated 27/10

David Tennant to narrate a new documentary titled Trust Me - I'm A Robot. Updated 25/10

Episodes three and four of Broadchurch Season Three have their German premiere tonight. Updated 25/10

Sixth and final episode of the third series of W1A premieres tonight on BBC Two at 10pm. Updated 23/10

Broadchurch Season Three premieres tonight in France. Updated 23/10

Fireman Sam: Alien Alert will have its UK television premiere on Saturday. Updated 22/10

DuckTales episode eight premieres in the US today.
The episode is titled The Infernal Internship Of Mark Beaks! Updated 21/10

W1A Series Three premieres in Australia tonight. Updated 21/10

DuckTales season starts today in Australia and New Zealand. Updated 21/10

Broadchurch Season Three starts broadcast tonight in Germany. Updated 18/10

The fifth episode of the third series of W1A premieres on BBC Two tonight at 10pm. Updated 16/10

DuckTales episode seven (The House Of The Lucky Gander!) premieres in the US today. Updated 14/10

DuckTales premieres in Australia and New Zealand tonight. Updated 13/10

The tenth and final episode of Inside Birmingham Children's Hospital is on More4 at 10pm tonight. Updated 11/10

David Tennant to voice The Highway Rat in BBC One animated special this Christmas. Updated 10/10

David Tennant, Broadchurch, Spy In The Wild and W1A have been nominated for National Television Awards 2018.
David Tennant has been nominated for the Drama Performance Award, Broadchurch for the Crime Drama Award, Spy In The Wild for the Factual Entertainment Award and W1A for the Comedy Award.
Voting is now open and closes at 11pm on Friday 27th October.
The winners will be announced at The O2 London on Tuesday 23rd January 2018. Updated 10/10

Fourth episode of the third series of W1A premieres on BBC Two at 10pm tonight. Updated 9/10

The Tales Of Para Handy (including David Tennant's episode) released on DVD today. Updated 9/10

DuckTales episode six (Terror Of The Terra-Firmians!) premieres in the US today.
This is the first episode which will feature both David Tennant and Catherine Tate. Updated 7/10

DuckTales to premiere in the UK on Monday 13th November and Catherine Tate has joined the cast.
The one-hour special Woo-oo! will be broadcast that day with the series proper starting in the UK in early 2018. Updated 6/10

Video of David Tennant's interview on Good Morning Britain about Fireman Sam: Alien Alert. Updated 5/10

It wasn't announced in advance but David Tennant's interview on Good Morning Britain about Fireman Sam: Alien Alert was finally broadcast today. Updated 5/10

The ninth episode of Inside Birmingham Children's Hospital premieres tonight. Updated 4/10

Unfortunately David Tennant's pre-recorded interview about Fireman Sam: Alien Alert was not broadcast on Good Morning Britain today. No reason was given.

David Tennant is a guest on Good Morning Britain tomorrow morning.
The show is on ITV from 6am to 8.30am but the time of David's pre-recorded interview has not been announced.
This interview is to promote the movie Fireman Sam: Alien Alert which was released on DVD yesterday. Updated 3/10

Broadchurch Season Three start date announced for France: Monday 23rd October. Updated 3/10

DuckTales episode five (featuring David Tennant) premieres in the US tonight.
The episode is titled Escape To/From Atlantis! Updated 3/10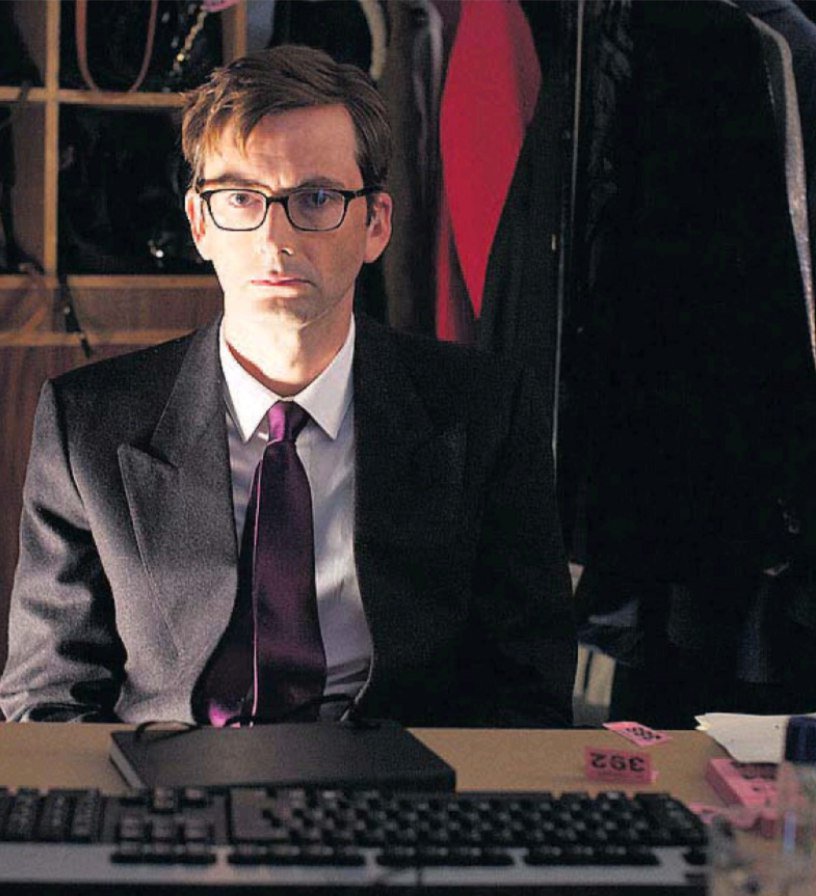 A first photo of David Tennant from Hang Ups has been posted to Twitter. Updated 2/10
David Tennant has joined the cast of Channel Four's new comedy Hang Ups.
It will be broadcast in 2018. Updated 2/10
The third episode of the third series of W1A premieres on BBC Two at 10pm tonight. Updated 2/10
DuckTales to premiere in Australia and New Zealand on Friday 13th October. Updated 1/10
The final two episodes of the David Tennant narrated Inside Birmingham Children's Hospital will be broadcast on More4 this month.
The episodes will premiere on Wednesdays 4th and 11th October at 10pm. Updated 1/10
September 2017
David Tennant to be a guest on Good Morning Britain on Wednesday.
This pre-recorded interview is to promote the release on DVD of Fireman Sam: Alien Alert. Updated 30/9

DuckTales episode four premieres on Disney XD in the US today.
The episode is titled The Beagle Birthday Massacre! Updated 30/9

The new series of Thunderbirds Are Go starts on ITV today at 8.30am (but not David Tennant's episode). Updated 30/9

The DuckTales start date in Germany will be Friday 22nd December but it will be dubbed into German so David Tennant's voice will not be heard. Updated 29/9

Second episode of the third series of W1A premieres on BBC Two tonight at 10pm. Updated 25/9

DuckTales season premieres on Disney XD in the US today.
The first two episodes (Daytrip Of Doom! and The Great Dime Chase!) are broadcast at 7am, 10am, 12.30pm, 5pm, 8pm, 11.30pm and 3am. Updated 23/9

First episode of the third series of W1A premieres on BBC Two tonight at 10pm. Updated 18/9

The first Thunderbirds Are Go trailer which features David Tennant.
The series starts on Saturday 30th September. Updated 17/9

The first W1A Series Three video clip is posted online.
The new series starts next Monday (18th September) on BBC Two at 10pm. Updated 11/9
David Tennant won the Best Actor Award and Broadchurch won the Best Drama Series Awards at the TV Choice Awards tonight!
Olivia Colman also won the Best Actress Award for Broadchurch.
Unfortunately Doctor Who did not win the Best Family Drama Award as Call The Midwife won. Updated 4/9
Winners of TV Choice Awards are announced at a ceremony at London's Dorchester Hotel tonight.
David Tennant (for Broadchurch) has been short-listed for the Best Actor Award and Broadchurch is short-listed for the Best Drama Series Award.
Also Olivia Colman was nominated (for Broadchurch) for the Best Actress Award and Doctor Who for the Best Family Drama Award. Updated 4/9
Broadchurch Season Three premieres in Switzerland on RSI LA 1 tonight (in Italian). Updated 3/9
August 2017
Broadchurch Season Three start date announced for Germany: Wednesday 18th October. Updated 31/8

David Tennant narrates new documentary The World's Greatest Kids' Films.
The 90 minute documentary was shown today and will be repeated tonight and tomorrow afternoon on 4seven. Updated 27/8

Official confirmation and a quote from David Tennant about Good Omens.
It will broadcast in 2019 on BBC Two (after Amazon has shown it). Updated 15/8

David Tennant expected to star (with Micheal Sheen) in Good Omens.
Variety has announced it is happening although Deadline say the actors are still in talks.
The comedy Good Omens will consist of 6 one hour television episodes which will premiere on Amazon and then be shown on BBC. Updated 15/8

David Tennant to return in Season Two of Marvel's Jessica Jones.
The season will be released on Netflix in 2018.
A new photo of David on set has been released too. Updated 14/8

DuckTales premieres on Disney XD in the US. It starts with a one-hour television movie which is presented for 24 consecutive hours starting from midnight tonight. Updated 11/8

David Tennant's interview about DuckTales to be shown on Good Morning America today.
This is the interview he, Danny Pudi and Ben Schwart recorded on Tuesday but was not broadcast that day. Updated 11/8

David Tennant is a guest on The Late Show With Stephen Colbert tonight. Updated 9/8

Video of David Tennant's interview on AOL Build today to promote DuckTales.
That link also has some press photos from the interview. Updated 8/8

Video of David Tennant, Danny Pudi and Ben Schwart (from the DuckTales cast) interview on ABC News Live today. Updated 8/8

Video of David Tennant, Danny Pudi and Ben Schwart interview from Good Morning America today.
Although they were not shown on television, they were still interviewed and it was posted online. Updated 8/8

Unfortunately, despite being advertised, David Tennant and the DuckTales cast were not on the televised episode of Good Morning America today. Updated 8/8

David Tennant is a guest on AOL BUILD today to promote DuckTales. Updated 8/8

David Tennant is a guest on Good Morning America tomorrow to promote DuckTales. Updated 7/8

DuckTales promo videos start being broadcast in the UK from today. Updated 7/8

David Tennant to be a guest on Good Morning America on Tuesday. Updated 4/8

David Tennant to be a guest on AOL BUILD next Tuesday to promote DuckTales. Updated 3/8

David Tennant is a guest on The Late Show With Stephen Colbert next Wednesday. Updated 3/8

DuckTales promo videos will be broadcast in the UK starting next week. Updated 3/8

David Tennant has joined the cast of the new animated series Final Space.
It will be broadcast in 2018 on TBS Network in the US. Updated 21/7

David Tennant to voice Tycho Reeves in Thunderbirds Are Go. Updated 17/7

The Tales Of Para Handy (including David Tennant's episode) to be released on DVD on Monday 9th October. Updated 15/7

Unfortunately David Tennant did not win Best Actor (TV) Award at Sunday Herald Culture Awards 2017 tonight as Morven Christie won. Updated 13/7

Sunday Herald Culture Awards 2017 are announced tonight: David Tennant nominated for Best TV Actor Award. Updated 13/7

Gracepoint starts broadcast tonight in France for the first time. Updated 3/7

Unfortunately, with no advance notice, What We Did On Our Holiday was not shown on Italian television as advertised. Updated 1/7

What We Did On Our Holiday has its Italian television premiere tonight. Updated 1/7



June 2017
What We Did On Our Holiday has its Italian television premiere on Saturday. Updated 29/6

Broadchurch Season Three has its US premiere on BBC America tonight at 10pm. Updated 28/6

BBC Four starts a rare repeat of Spies In Warsaw tonight. Updated 28/6

BBC America in the US to show a 4 minute clip of Broadchurch Season Three tonight. Updated 23/6

BBC Four to run a rare repeat of Spies In Warsaw. Updated 22/6

Proclaimers: This Is The Story (hosted by David Tennant) premiers tonight in Scotland on BBC Two. Updated 21/6

Unfortunately, due to coverage of the Grenfell Tower Fire, David Tennant's interview was not broadcast today on Good Morning Britain. We'll post when we know a new date. Updated 15/6

David Tennant's pre-recorded interview with Richard Arnold about Fireman Sam: Alien Alert is on Good Morning Britain today on ITV sometime between 6am and 8.30am. Updated 15/6

DuckTales to start in the US on Saturday 12th August with a one hour special.
The 21 episode series will then premiere from Saturday 23rd September.
A video with a new DuckTales opening title sequence was posted to YouTube. Updated 14/6

The new documentary Proclaimers: This Is The Story to broadcast on BBC Two Scotland on Wednesday 21st June. Updated 13/6

Gracepoint to broadcast in France from Monday 3rd July. Updated 13/6

No reason was given but David Tennant's pre-recorded interview with Richard Arnold for Good Morning Britain on ITV has been rescheduled to Thursday (15th) sometime between 6am and 8.30am. Updated 13/6

David Tennant's pre-recorded interview with Richard Arnold for Good Morning Britain is on ITV today sometime between 6am and 8.30am. Updated 13/6

Broadchurch Series Three to be repeated on ITV Encore from 21st June. Updated 10/6

A video and television interview of David Tennant talking about Fireman Sam: Alien Alert.
Vue Cinemas have posted to Twitter a video showing David Tennant recording his lines for the movie Fireman Sam: Alien Alert.
Also David's pre-recorded interview with Richard Arnold for Good Morning Britain is scheduled in the television listings for next Tuesday (13th). Good Morning Britain is on ITV between 6am and 8.30am. Updated 7/6



May 2017
Broadchurch Season Three starts broadcast on Giallo TV in Italy.
Episodes one and two will be shown starting at 9pm. Updated 29/5

Broadchurch Season Three start date in the US is Wednesday 28th June at 10pm.
The link has a trailer from BBC America. Updated 25/5

Unfortunately Shakespeare Live! did not win the BAFTA Live Event Award as The Queen's 90th Birthday Celebration won. Updated 14/5

David Tennant was briefly shown at the start of BAFTA tonight on BBC One when there was a compilation video which included the To Be Or Not To Be sketch from Shakespeare Live! Updated 14/5

The 2017 BAFTAs are announced tonight: Shakespeare Live! (which was hosted by David Tennant and Catherine Tate) has been nominated for the Live Event Award.
The award ceremony will be broadcast on BBC One between 8pm and 10pm. Updated 14/5

Broadchurch Series Three starts broadcast in The Netherlands and Luxembourg on RTL4 tonight at 10.30pm (a revised start time). Updated 14/5

The Broadchurch Series Three start date has officially been announced for Italy: Monday 29th May.
It will be broadcast on Giallo TV starting that day at 9.05pm.
The channel will broadcast two episodes each Monday evening for four weeks. Updated 9/5

Tonight Broadchurch Series Three starts broadcast in Sweden on TV4 at 9pm. Updated 3/5

The Broadchurch final episode is officially the most-watched television show of 2017 so far.
The figures (which include ITV + 1) show that 11.605 million people watched the episode. This means that it overtook Sherlock which had received 11.3 million viewers.
Overall the third and final series of Broadchurch had an average of 10.7 million viewers. This was a 1.5 million increase on Series Two and 1.3 million on the first series in 2013. Updated 2/5

The Broadchurch Series Three start date has been announced for The Netherlands and Luxembourg: Sunday 14th May on RTL4.
The whole series will also be available from Friday 5th May on Videoland in The Netherlands. Updated 1/5



April 2017
BBC America tweeted today that Broadchurch Season Three will be broadcast in the US 'this summer.'
In January they announced it would start in March but in March they tweeted 'later this year.' Updated 26/4

Broadchurch Season Three starts broadcast in Israel on HOT Xtra VOD today. Updated 26/4

Broadchurch Series Three starts broadcast in Latin America tonight.
It starts at 10pm in Argentina, Chile, Columbia, Ecuador, Peru and Uruguay and at 11pm in both The Caribbean and Venezuela.
Most countries are screening it on channel 201 or in HD on 1201. Updated 24/4

Broadchurch Series Three start date announced for Sweden: Wednesday 3rd May on TV4 at 9pm. Updated 23/4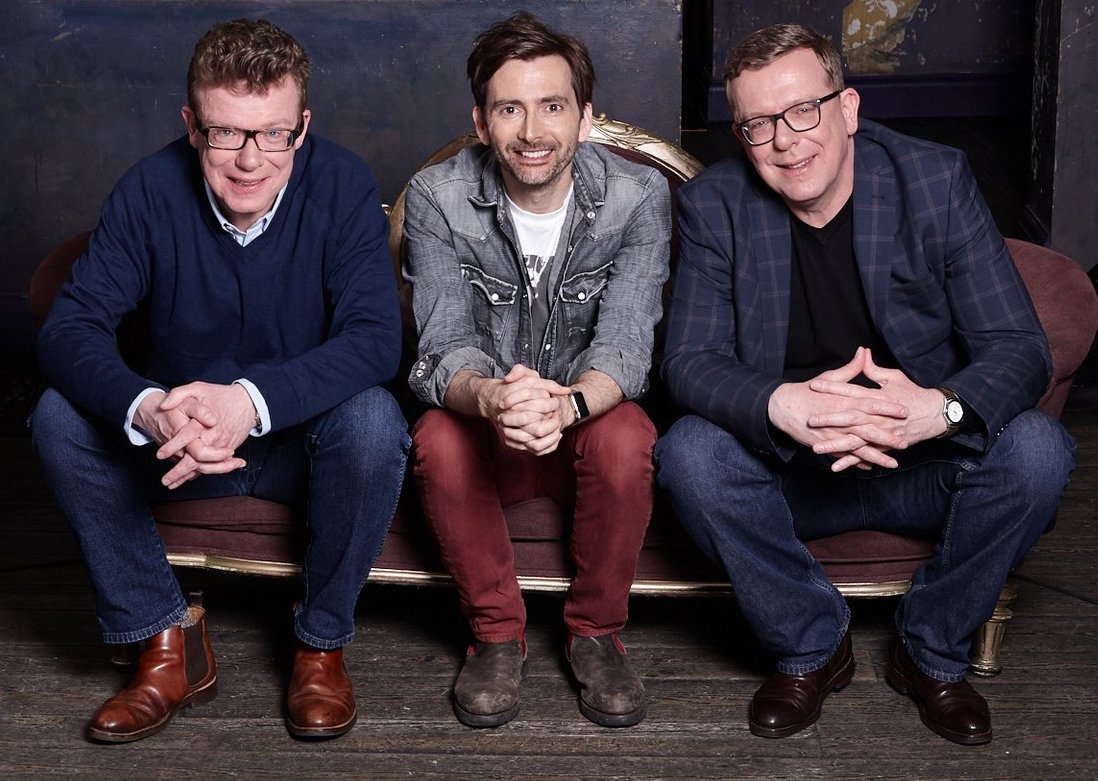 A new photo of David Tennant with The Proclaimers from a BBC TV Scotland documentary on 30 years since their the band's first album has been posted to Twitter. Updated 20/4
Broadchurch Season Three starts broadcast in Israel on HOT Xtra VOD on Wednesday 26th April. Updated 20/4
Video of David Tennant's very brief interview on Billy Connolly And Me: A Celebration. Updated 18/4
Broadchurch Series Three premieres in South Africa tonight. Updated 18/4
David Tennant is one of the celebrities included in a special one hour long tribute to Billy Connolly on ITV at 9pm. Updated 18/4
The first two episodes of Broadchurch Series Three premiere in Norway tonight on NRK 1 starting at 9.25pm. Updated 17/4
The eighth and final ever episode of Broadchurch Series Three premieres on ITV at 9pm.
The episode will also be broadcast on TV3 in Ireland at 10pm and in cinemas (with bonus content). Updated 17/4
David Tennant is one of the celebrities included in a special one hour long tribute to Billy Connolly on ITV next Tuesday (18th). Updated 11/4
BBC America in the US has 25 consecutive hours of David Tennant episodes of Doctor Who tomorrow. Updated 10/4
Episode seven of Broadchurch Series Three premieres tonight. Updated 10/4
BBC America has 25 consecutive hours of David Tennant episodes of Doctor Who this week. Updated 8/4
Broadchurch Series Three premieres in Poland tonight on Ale Kino+ at 8.10pm. Two episodes will be broadcast. Updated 5/4
Episode six of Broadchurch Series Three premieres on ITV tonight at 9pm. The episode will also be broadcast on TV3 in Ireland at 10pm. Updated 3/4
March 2017
Episode five of Broadchurch Series Three premieres on ITV tonight at 9pm. The episode will also be broadcast on TV3 in Ireland at 10pm. Updated 27/3

Broadchurch Series Three start date announced for Norway: Monday 17th April. Updated 26/3



An interview with David Tennant will be shown on The Andrew Marr Show today at 9am. Updated 26/3

The first photo of David Tennant on Graham Norton's Big Chat Live for Comic Relief tonight has been posted to Twitter . Updated 24/3

David Tennant will make an appearance on Graham Norton's Big Chat Live for Comic Relief tonight at 10.40pm on BBC One. Updated 24/3

Video narrated by David Tennant against malaria which was shown on Comic Relief tonight. Updated 24/3

An interview with David Tennant will be shown on The Andrew Marr Show on Sunday.
The interview is pre-recorded and to promote Don Juan In Soho.
A photo from the interview has been posted to Twitter. Updated 24/3

Episode four of Broadchurch Series Three premieres on ITV tonight at 9pm. The episode will also be broadcast on TV3 in Ireland at 10pm. Updated 20/3

David Tennant's second appearance on Top Gear has its premiere on BBC America. Updated 19/3

Episode three of Broadchurch Series Three premieres on ITV tonight at 9pm. The episode will also be broadcast on TV3 in Ireland at 10pm. Updated 13/3

David Tennant's episode of Top Gear premieres on BBC Two tonight at 8pm. Updated 12/3

David Tennant's second appearance on Top Gear to premiere on BBC America next week. Updated 9/3

Episode two of Broadchurch Series Three premieres on ITV at 9pm. The episode will also be broadcast on TV3 in Ireland at 10pm. Updated 6/3

Episode one of Broadchurch Season Three has its Canadian premiere on Showcase tonight. Updated 5/3

Broadchurch Series Three has its New Zealand premiere on TVNZ 1 tonight at 8.30pm. Updated 5/3

Episode one of Broadchurch Season Three has its Australian premiere on ABC tonight at 8.30pm. Updated 3/3

David Tennant is a guest on The One Show on BBC One tonight at 7pm to promote Don Juan In Soho. Updated 2/3

Broadchurch Series Three start date announced for Poland: Wednesday 5th April.
It will be shown on on Ale Kino+ at 8.10pm and the channel will broadcast the first two episodes that evening. Updated 1/3

David Tennant to be a guest on The One Show tomorrow (Thursday).
This appearance is to promote Broadchurch Series Three (which premiered on ITV on Monday), Don Juan In Soho (which opens on 17th March) and Mad To Be Normal (which had its premiere last Sunday). Updated 1/3



February 2017
Video interview from Scotland Tonight from the press interviews on Sunday where David is asked about Mad To Be Normal, Broadchurch, Don Juan In Soho and Doctor Who. Updated 28/2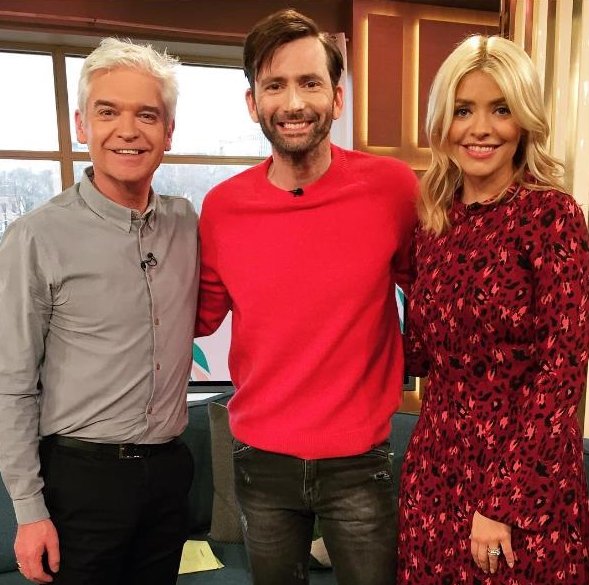 ITN have posted some video clips from the set of Broadchurch. Updated 27/2

Video and loads of photos of David Tennant interview about Broadchurch on This Morning today. Updated 27/2

There was a brief David Tennant interview about Mad To Be Normal on BBC Scotland today. Updated 27/2

David Tennant is a guest on This Morning today. Updated 27/2

Broadchurch Series Three premieres tonight in the UK and Ireland.
Episode one of the final series will be on 9pm on ITV and on TV3 in Ireland at 10pm. Updated 27/2

A photo of David Tennant with David Farrell of STV Glasgow and STV Edinburgh for Live At Five (which will be broadcast tomorrow) has been posted to Twitter. Updated 26/2

David Tennant recorded an episode of Top Gear last night.
His episode will be broadcast on BBC Two on Sunday 12th March. Updated 26/2

David Tennant will be a guest on The One Show one evening next week. (The exact day has not been announced yet.) Updated 24/2

The Broadchurch Series Three start date has been announced for Ireland: Monday 27th February on TV3.
It will be broadcast just an hour after its premiere on ITV. Updated 24/2

David Tennant to be a guest on This Morning on ITV on Monday (to promote Broadchurch). Updated 24/2
It wasn't announced in advance but tonight David Tennant presented the award for Best British Female Artist to Emeli Sandé at The Brit Awards at the O2 Arena in London which was broadcast live on ITV. The first photo of David there was posted to Twitter. Updated 22/2
The Broadchurch Series Three start date has been announced for New Zealand. It's Sunday 5th March on TVNZ 1 at 8.30pm. Updated 21/2
Today Julie Hesmondhalgh on Lorraine described David Tennant and Olivia Colman working on Broadchurch as "incredibly generous, lovely and really funny." Updated 21/2
Julie Hesmondhalgh will be on Lorraine on ITV at 8.30am today talking about Broadchurch. Updated 21/2
Broadchurch Series Three start date announced for Australia: Friday 3rd March at 8.30pm on ABC. Updated 16/2
Broadchurch Series Three start date announced: Monday 27th February. Updated 15/2
David Tennant voiced a brief Red Nose Day / W1A trailer just before Let It Shine on BBC One tonight. Updated 11/2
Special 'making of' episode of Spy In The Wild (which is narrated by David Tennant) is on BBC One at 7.30pm. The episode is titled Meet The Spies. Updated 3/2
Last night it was the trailer (less the written words) of Mad To Be Normal which was shown on Film 2017 on BBC One. Updated 2/2
Fourth episode of Spy In The Wild (which is narrated by David Tennant) is on BBC One tonight at 8pm. This episode is titled Mischief. Updated 2/2
A clip of Mad To Be Normal will be shown on Film 2017 tonight on BBC One at 11.35pm. Updated 1/2
The Broadchurch Season Three start date has been announced for Canada. It's on Sunday 5th March on Showcase. The start time is not known yet. Updated 1/2
The Australian premiere of David Tennant's episode of The Last Leg is on ABCTV tonight at 10pm. Updated 1/2
January 2017
Unfortunately This Morning did not 'grill Lenny Henry on Broadchurch Series Three' as they promised in their promo. Updated 31/1

Lenny Henry will be interviewed on This Morning today about Broadchurch. The programme starts at 10.30am on ITV. Updated 31/1

Promo for Broadchurch Series Three is starting! There is a press screening in London tonight and tomorrow Lenny Henry will be interviewed on This Morning. The programme starts at 10.30am on ITV. Updated 30/1

David Tennant is a guest on The Last Leg on Channel 4 tonight. The show is broadcast live. Updated 27/1

The third episode of Spy In The Wild (which is narrated by David Tennant) is on BBC One at 8pm tonight. Updated 26/1

The BBC confirms that a third series of W1A will be broadcast this year.
Filming will start in February. Updated 25/1

The second episode of Spy In The Wild is narrated by David Tennant on BBC One tonight at 8pm.
This episode is titled Intelligence. Updated 19/1

It was announced today at the Television Critics Association panel that Broadchurch Season Three will broadcast from March on BBC America in the US.
That is the month following its premiere on ITV in the UK so it is much sooner after the initial broadcast than the first two seasons. Updated 13/1

An impressive 5.33m watched the first episode of Spy In The Wild last night on BBC One.
That was 24.6% of those people watching television at that time. Updated 13/1

First episode of Spy In The Wild is narrated by David Tennant on BBC One at 8pm tonight.
This episode is titled Love. Updated 12/1

Broadchurch was included in a new 90 minute Channel Four programme called Britain's Favourite TV Detectives (with video). Updated 8/1

ITV has posted a teaser trailer for Broadchurch Series Three online.
It says that the third and final series will air starting in February. Updated 1/1

What We Did On Our Holiday has its UK television premiere tonight on BBC Two starting at 10pm. Updated 1/1




2016 Television


2015 Television