DavidTennantOnTwitter.com
David Tennant - Mary Queen Of Scots
David Tennant plays John Knox in the Josie Rourke movie directorial debut movie Mary Queen Of Scots.
Mary Queen Of Scots is a portrait of the early life of the charismatic Mary Stuart who became Queen Of France at 16 and a widow by her 18th birthday. The movie also explores Mary's relationship with Queen Elizabeth I.
John Knox was was a Scottish minister, theologian and writer who was a leader of the country's Reformation and was the founder of the Presbyterian Church of Scotland. In several interviews with Mary Queen Of Scots Knox admonished her for supporting Catholic practices and, when she was imprisoned for her alleged role in the murder of her husband Lord Darnley, Knox openly called for her execution. Originally one newspaper stated that David would play the character of Anthony Babington.
The press release stated that the two queens were 'rivals in power and love, and female regents in a masculine world. The two must decide how to play the game of marriage versus independence. Determined to rule as much more than a figurehead, Mary asserts her claim to the English throne, threatening Elizabeth's sovereignty.'
Saoirse Ronan stars as Mary Stuart while Margot Robbie plays Elizabeth I. The cast includes Guy Pearce, Brendan Coyle, Martin Compston, Jack Lowden and Joe Alwin.
The world premiere date for Mary Queen Of Scots was Thursday 15th November 2018 when the movie closed the American Film Institute Festival. The closing night gala took place at the historic TCL Chinese Theatre in Hollywood, Los Angeles. David did not attend the premiere.
The movie was released in the UK on Friday 18th January 2019 after its initial release in the US on Friday 7th December 2018.
The UK and European premiere of Mary Queen Of Scots was on Monday 10th December in London.
It was held at Cineworld Cinema in Leicester Square and David Tennant attended.
Principal photography began on Monday 14th August 2017 in Edinburgh although David was not involved then as he was filming Season Two of Marvel's Jessica Jones.
Josie Rourke was the artistic director of Donmar Warehouse and directed David Tennant in the play Much Ado About Nothing in 2011.
The movie was produced by Focus Features in collaboration with Working Title. Focus Features will release Mary, Queen Of Scots in the US and Universal Pictures International (UPI) distribute the film internationally.
the movie will be released on DVD, Blu-ray and digital download in the US in February 2019.
Link to posts related to Mary, Queen Of Scots on Blogger.com (with more detail).


2019
Mary Queen Of Scots is released on digital download in the US today. Updated 19/2

Mary, Queen Of Scots is released in Brazil today. Updated 14/2

Unfortunately Mary Queen Of Scots didn't win any of the BAFTAs tonight. Updated 10/2

The winners of the BAFTAs are announced tonight.
Margot Robbie was nominated for Best Supporting Actress for Mary Queen Of Scots, plus the movie has also been nominated for the Costume Design and Hair And Make-up awards. Updated 10/2

An interview with David Tennant about Mary Queen Of Scots movie will be in the next issue of The Scots Magazine which celebrates its 280th birthday today!
A photo showing their first ever issue from 1739 plus one with David on the cover has been posted online. Updated 9/2

Mary Queen Of Scots is released in Spain and Sweden today. Updated 8/2

Mary Queen Of Scots is released in Estonia, Finland, India and Lithuania today. Updated 1/2

Mary, Queen Of Scots is released in Hungary today. Updated 31/1

Unfortunately Margot Robbie didn't win the Outstanding Performance By A Female Actor In A Supporting Role Award for Mary Queen Of Scots at SAG Awards last night as Emily Blunt won for A Quiet Place. Updated 28/1

The SAG Awards are announced today at a ceremony which will be simulcast live on TNT and TBS in the US at 8pm.
Margot Robbie has been nominated for the Outstanding Performance By A Female Actor In A Supporting Role Award for Mary Queen Of Scots. Updated 27/1

Mary, Queen Of Scots is released in Bulgaria, Poland and Romania today. Updated 25/1

Mary, Queen Of Scots is released in Argentina, Croatia and Lebanon today. Updated 24/1

Mary Queen Of Scots movie has received two Oscar nominations.
It has received nominations for the Costume Design Award (Alexandra Byrne) and the Hair And Makeup Award.
The winners will be announced on Sunday 24th February. Updated 22/1

Mary, Queen Of Scots is released today in the UK and Ireland. Updated 18/1

Mary, Queen Of Scots is released in Australia, Germany, Italy, the Netherlands, Portugal and Russia today. Updated 17/1

Mary Queen Of Scots to be released on DVD, Blu-ray and download in the US on Tuesday 26th February. Updated 15/1

The Scottish premiere of Mary Queen Of Scots is tonight at the Cameo Picturehouse on Home Steet after an initial gathering at Edinburgh Castle.
Saoirse Ronan, Jack Lowden, Josie Rourke, James McArdle, Karen Dunbar and Nicola Sturgeon are expected to attend but not David Tennant. Updated 14/1

Unfortunately Mary Queen Of Scots didn't winner either award at the Critics Choice Awards last night.
The movie was nominated for Best Costume Design Award (Alexandra Byrne) and the Best Hair And Makeup Award. Updated 14/1

Critics' Choice Awards are announced tonight.
Mary Queen Of Scots has been nominated for both the Best Costume Design Award (Alexandra Byrne) and the Best Hair And Makeup Award.
The winners will be announced at a gala event which will air live on the CW Network in the US from the Barker Hanger in Santa Monica. Updated 13/1

Margot Robbie has been nominated for Best Supporting Actress for Mary Queen Of Scots at the BAFTAs.
The movie has also been nominated for the Costume Design and Hair And Make-up awards.
The winners will be announced at a ceremony on Sunday 10th February. Updated 9/1



December 2018
BehindTheLensOnline reports that director Josie Rourke has some great things to say about David Tennant in Mary Queen Of Scots movie.
Josie's comments included:
'This is a fun fact, David is the son of a Scottish minister. And if you are Scottish, you know exactly who John Knox is. Heís also the key figure in Scottish reformation. People have gone, ďOh my God, that gigantic beard, whatís that?Ē Iím like, ďGoogle John Knox.Ē Thatís exactly what the guy looked like.'
She also said:
'The other amazing thing about David, and heís such a great Shakespearian actor as well, is that probably the majority of what he says in the film is not Beau Willimonís writing, itís the actual words of John Knox. Heís able to make that stuff, as he does when he plays Shakespeare roles, feel freshly minted and bring it into the present. I do think, actually, thatís one of the reasons why heís so chilling. To me certainly, heís speaking with the authority of that man who looked Mary Queen of Scots in the eye and challenged her like that. Mary said she feared John Knox more than she feared all of the armies of Europe.' Updated 20/12

A Mary Queen Of Scots cast featurette video has been posted online.
David's part starts at 50 seconds. Updated 12/12

Variety reports Margot Robbie has been nominated for the Outstanding Performance By A Female Actor In A Supporting Role Award for Mary Queen Of Scots at the SAG Awards.
The winners will be announced at a ceremony which will be simulcast live on TNT and TBS in the US on Sunday 27th January at 8pm. Updated 12/12

A video of David Tennant speaking to STV at the Mary Queen Of Scots premiere last night has been posted online. Updated 11/12

A video of David Tennant speaking about his character in Mary Queen Of Scots at the premiere last night has been posted online.
David's part starts at 9 mins 40 seconds. Updated 11/12

A video interview of David Tennant on the red carpet at the Mary Queen Of Scots premiere in London tonight and how he never met Margot Robbie on set has been posted online. Updated 10/12

A photo of David Tennant with the cast of Mary Queen Of Scots at the premiere in London tonight has been posted online. Updated 10/12

Press photos of David Tennant at the Mary Queen Of Scots movie premiere tonight. Updated 10/12

The first photo of David Tennant at the Mary Queen Of Scots premiere in London tonight has been posted online. Updated 10/12

Mary Queen Of Scots has been nominated for both the Best Costume Design Award (Alexandra Byrne) and the Best Hair And Makeup Award at Critics' Choice Awards.
The winners will be announced at a gala event which will air live on the CW Network in the US on Sunday 13th January from the Barker Hanger in Santa Monica. Updated 10/12

Tonight is the UK and European premiere of Mary Queen Of Scots in Leicester Square, London.
David Tennant is expected to attend. Updated 10/12

Mary, Queen Of Scots is released in the US. Updated 7/12

A behind the scenes clip of Mary Queen Of Scots (featuring David Tennant from one minute 53 seconds) has been posted online. Updated 5/12

Mary Queen Of Scots movie has its New York premiere today as screenings start in the US.
Although the official release date is not until Friday (7th), screenings start today of the movie in the US. The main screening is the New York premiere but other movie theaters will hold screenings before Friday's official release date. Updated 4/12



November 2018
The UK and European premiere of Mary Queen Of Scots is on Monday 10th December in London.
It will be held at Cineworld Cinema in Leicester Square and David Tennant is expected to attend. Updated 28/11

Variety reports that Mary Queen Of Scots has won its first award as Max Richter won the Best Original Score Award at the Hollywood Media In Music Awards.
The album is available to pre-order. Updated 26/11

Tickets to see Mary Queen Of Scots in the US are now on sale.
The website MaryQueenOfScotsTickets.com has links.
The movie opens in the US on Friday 7th December. Updated 16/11

Collider has a review of Mary Queen Of Scots which includes the comment about David Tennant that he 'gets a couple of monologues that he knocks out of the park.' Updated 16/11

The Guardian has a 4 star review of Mary Queen Of Scots. Updated 16/11

Tonight is the world premiere of Mary Queen Of Scots movie at the historic TCL Chinese Theatre in Hollywood, Los Angeles. Updated 15/11



October 2018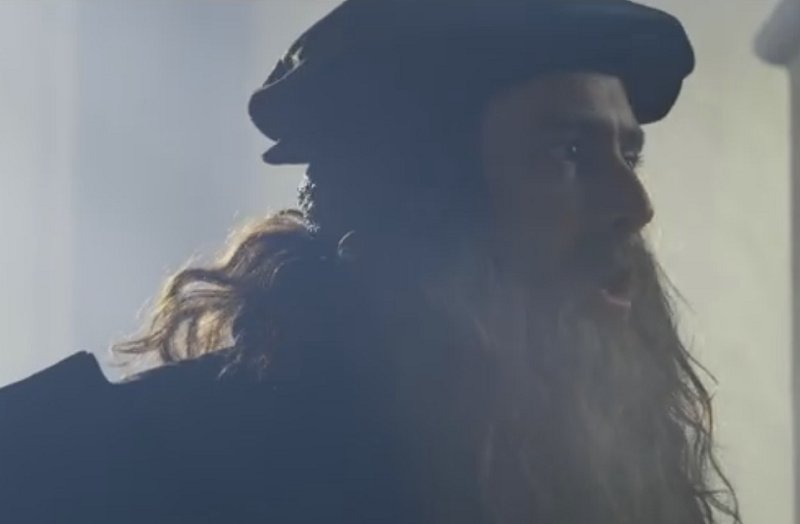 A new (international) trailer for Mary Queen Of Scots movie has been posted to YouTube by Universal Pictures Australia and plays worldwide.
The movie opens on:
US: Friday 7th December
Australia: Thursday 17th January
UK: Friday 18th January
A close up of David Tennant from the movie has been posted to Twitter. Updated 4/10



September 2018
The world premiere date for Mary Queen Of Scots movie is Thursday 15th November.
The movie will close the American Film Institute Festival.
The closing night gala will take place at the historic TCL Chinese Theatre in Hollywood, Los Angeles.
It has not been announced yet whether David will attend the premiere. Updated 25/9



July 2018
The brief glimpse of David Tennant from the Mary Queen Of Scots trailer has been posted to Twitter. Updated 12/7

The US trailer for Mary, Queen Of Scots movie has been posted online.
The trailer features David Tennant's voice from one minute 45 seconds and he is is shown very briefly. Updated 12/7



May 2018
The release date for the movie Mary Queen Of Scots in the UK has been delayed from Friday 14th September 2018 to Friday 18th January 2019. Updated 10/5



April 2018
The release of Mary Queen Of Scots has been delayed in the US until December.
The link has the release dates in other countries too. Updated 19/4



February 2018
MP3s of David Tennant on The Zoe Ball Show.
As well as discussing You, Me And Him, David was also asked about Good Omens, Mary Queen Of Scots and Doctor Who. Updated 24/2

New interview with David Tennant about Good Omens, You, Me And Him and Mary Queen Of Scots. Updated 17/2



January 2018
Mary, Queen Of Scots movie release dates for UK, US, Spain, Sweden and Germany.
Currently the known dates are the UK on Friday 14th September, Sweden on Friday 5th October, Spain on Thursday 1st November, the US on Friday 2nd November and Germany on Thursday 15th November. Updated 3/1



2017
IMDB now lists David Tennant's role as John Knox in Mary Queen Of Scots movie. Updated 10/11

The first photo of David Tennant on the set of Mary Queen Of Scots on Friday has been posted to Twitter. Updated 15/10

New article from The Times: David Tennant takes on plotter role in Mary Queen of Scots film
It says David will play the character Anthony Babington and that the movie 'will receive a limited release in the UK on Friday 2nd November 2018.' Updated 29/9

David Tennant has a role in the movie Mary, Queen Of Scots.
This movie is Josie Rourke's movie directorial debut and is expected to be released during 2018. Updated 17/8