DavidTennantOnTwitter.com
David Tennant in Doctor Who

David Tennant completed filming his tenure of Doctor Who as the Tenth Doctor on Wednesday 20th May 2009.
David Tennant's final two episodes of Doctor Who were aired around Christmas / New Year. The End Of Time (Part One) was broadcast on BBC1 from 6pm until 7pm on Christmas Day in the UK and on 26th December in the US. The End Of Time (Part Two) was broadcast on BBC1 from 6.40pm until 7.55pm on New Year's Day in the UK and on 2nd January on BBC America in the US.
This means that David Tennant's tenure as the Tenth Doctor was officially 6 years (2005 - 2010).
On Thursday 14th December 2017 David Tennant was one of the actors who attended a special Doctor Who Breakfast in aid of Comic Relief.
50th Anniversary
David Tennant reprised his role as the Tenth Doctor for the Doctor Who 50th anniversary special episode which aired on Saturday 23rd November 2013 from 7.50pm until 9.05pm in the UK. It was broadcast at exactly the same time around the world. 93 countries broadcast the episode so it was seen by 100 million people!
The episode was called The Day Of The Doctor and was 75 minutes in length.
60th Anniversary
On 15th May 2022 it was announced that David Tennant and Catherine Tate will return to Doctor Who for the show's 60th anniversary which it celebrates in November 2023.
Following a brief appearance at the end of Jodie Whitakker's final Doctor Who episode The Power Of The Doctor (which premiered on Sunday 23rd October 2022), the BBC announced David Tennant and Catherine Tate will appear in three special episodes which are all set to air in November 2023.
The first trailer (featuring David Tennant) for Doctor Who in 2023:

Posts related to Doctor Who on Blogger (usually with more detail).

January 2023
The Tenth Doctor Doctor Who books Planet Of The Ood and Waters Of Mars will be published on Thursday 13th July.
Both books are available to pre-order. Updated 19/1
A lovely photo of the 2023 Doctor Who team has been posted online. Updated 06/01
It was 13 years ago today David Tennant regenerated from being the Tenth Doctor in Doctor Who.
In the first 12 hours after we posted that our tweet had over 18,000 views! Updated 01/01/23
December 2022
A photo of David Tennant (and Catherine Tate) is on the cover of the TV & Satellite Week magazine issue for 7th to 13th January as the magazine looks ahead to dramas in 2023 (including Doctor Who). Updated 30/12

A new promo photo of David Tennant from Doctor Who has been posted online. Updated 25/12

The first trailer (featuring David Tennant) for Doctor Who in 2023 has been posted online:



Updated 25/12

It was 17 years ago today David Tennant appeared in his first full episode of Doctor Who (The Christmas Invasion).
In the first 24 hours after we tweeted that, the tweet had received over 20K views! Updated 25/12

The video of David Tennant's interview on This Morning today about Litvinenko (and briefly about Doctor Who) has been posted to YouTube. Updated 8/12

A new interview with David Tennant by Times Radio about Litvinenko, Doctor Who, Good and Staged has been posted to YouTube. Updated 5/12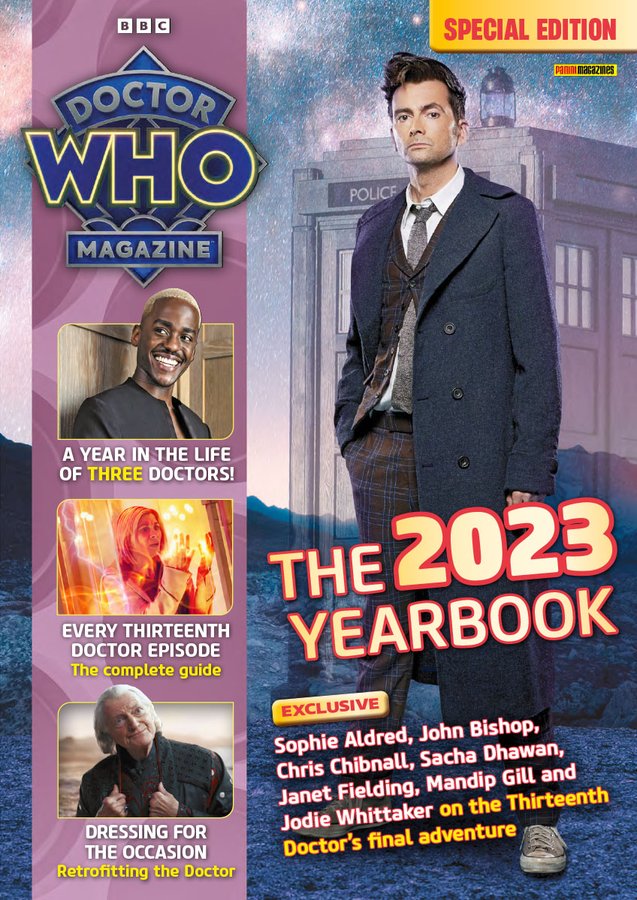 A photo of David Tennant is on the cover of the Doctor Who 2023 Yearbook which is published today.
It is available from branches of WH Smith and to order online (UK, Ireland and Gibraltar only) from Panini.co.uk.
The digital edition is at PocketMags.com. Updated 1/12
November 2022
A clip of David speaking (or not speaking) about Doctor Who from his interview on BBC Breakfast today has been posted online. Updated 30/11

David Tennant is part of an 8 part Doctor Who audio series from Big Finish.
As well as David, Tom Baker, Peter Davison, Colin Baker, Sylvester McCoy, Paul McGann, Christopher Eccleston will also appear.
The series will be released monthly with the first seven parts being released between May and October 2023 and a final coda in November 2024 (according to the press release). Updated 23/11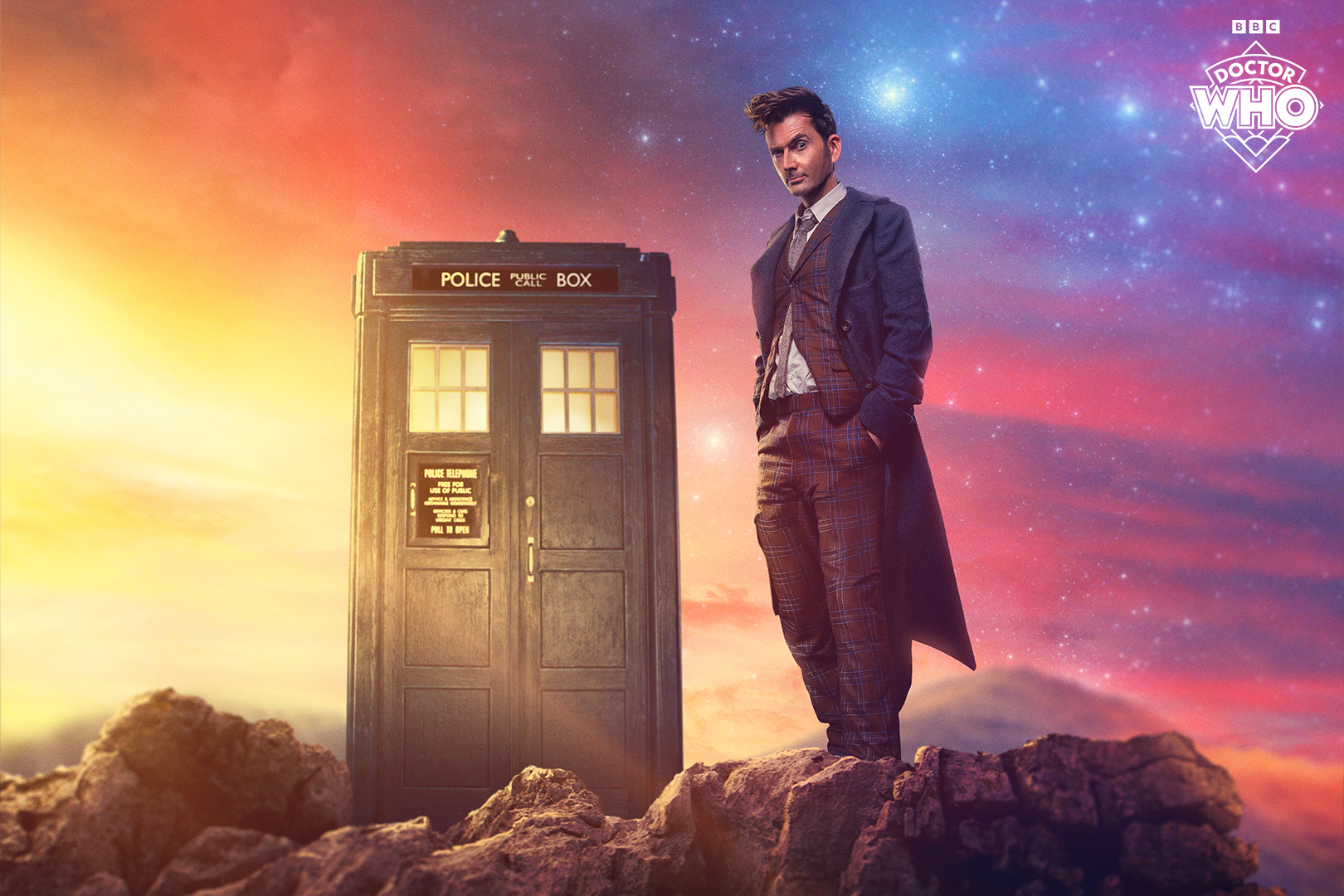 A new promo photo of David Tennant as the Fourteenth Doctor has been released. Updated 23/11
A video of David Tennant and Catherine Tate wishing fans a Happy Doctor Who Day has been posted online. Updated 23/11
There are two photos of David Tennant in a new Doctor Who promo photo (as both the Tenth and Fourteenth Doctors) which has been posted online. Updated 23/11
Doctor Who Magazine #584 is on sale from today (with the photo of David Tennant on the cover).
Details about the articles in this issue are available here. Updated 10/11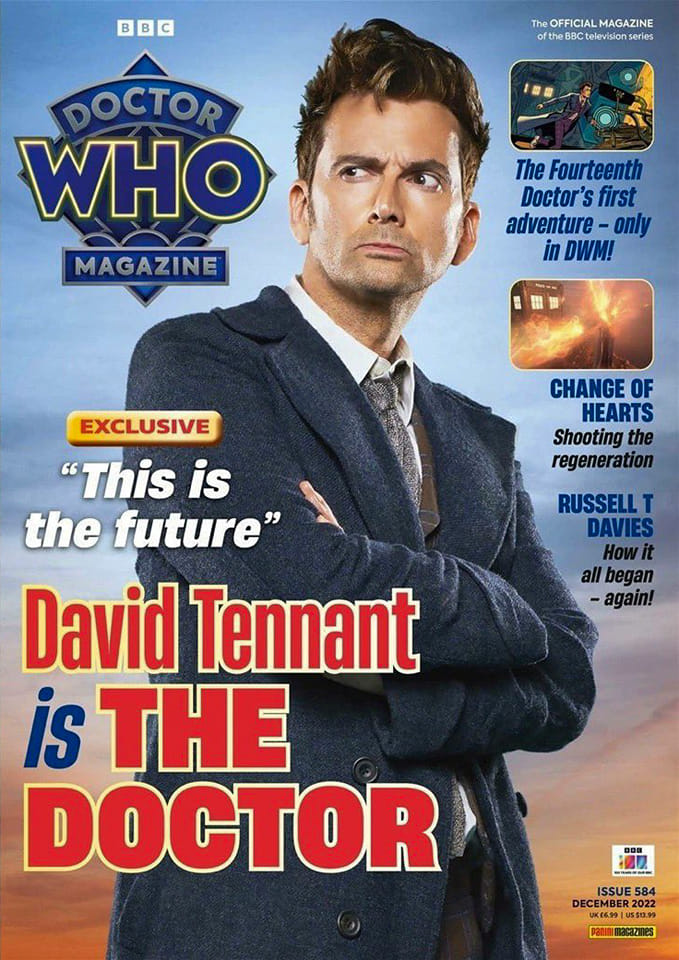 A photo of David Tennant is on the cover of Doctor Who Magazine issue 584.
The issue is officially published on Thursday. Updated 8/11
October 2022
The video of David Tennant's interview on BBC 10pm News last night about returning to Doctor Who has been posted to YouTube. Updated 24/10
David Tennant's reappearance in Doctor Who (and a brief interview) was shown during BBC News at 10pm tonight!
Screencap. Updated 23/10
Recap of the news about David Tennant in Doctor Who. Updated 23/10
The BBC has also announced that David Tennant and Catherine Tate will reprise their roles for the 60th anniversary and they will appear in three special episodes which are all set to air in November 2023. Updated 23/10
The trailer for David Tennant in Doctor Who in 2023 has been posted to YouTube. Updated 23/10
A video of David's appearance at the end of The Power Of The Doctor has been posted to YouTube. Updated 23/10
A promo photo of David Tennant in Doctor Who has been posted online. Updated 23/10
A photo of David Tennant on Doctor Who tonight has been posted online. Updated 23/10
David Tennant's brief appearance on the Doctor Who episode The Power Of The Doctor had the words "I know these teeth. What? What WHAT?" Updated 23/10
David Tennant has just appeared on the Doctor Who episode The Power Of The Doctor!!! Updated 23/10
A fun video of David Tennant and Catherine Tate signing a fan's shirt when they filmed Doctor Who earlier this year has been posted online. Updated 22/10
The Times has a new interview (behind a paywall) with David Tennant about Good, briefly about Doctor Who and how he was once voted Rear Of The Year!
It includes a new photo of David (with Good director Dominic Cooke). Updated 2/10
September 2022
MP3 of David Tennant interview on BBC Radio Four today which plays worldwide.
As well as talking about Good, David also discussed Inside Man and Doctor Who. Updated 30/9

The BBC has a short interview with David Tennant about appearing in the 60th anniversary of Doctor Who and about Good. Updated 30/9

Scottish Daily Express reports David Tennant gave an eulogy at the funeral of Bernard Cribbins at Woking Crematorium today (as did Catherine Tate). Updated 14/9

Doctor Who: Tenth Doctor Classic Companions audio drama is released by Big Finish on CD and digital download. Updated 14/9



August 2022
A clip of David Tennant speaking about leaving Doctor Who at his panel at FAN EXPO Boston yesterday has been posted online. Updated 15/8

A clip of David Tennant speaking about his favourite part of the TARDIS at his panel at FAN EXPO Boston today has been posted online. Updated 14/8

A clip of David Tennant talking about Doctor Who at his panel at FAN EXPO Boston today has been posted online. Updated 14/8

Vortex Magazine #162 from Big Finish includes an article featuring some of their audio readers speaking about working with David Tennant over the years.
The magazine is free to download at this link. Updated 1/8



July 2022
The Mirror has reported a Doctor Who spin-off series in conjunction with the 60th anniversary special will be broadcast.
It is believed it will be called Doctor Who: Unleashed and will begin in 2023.
It will be similar to Doctor Who Confidential. Updated 19/7

Doctor Who The Fires of Pompeii novel is released as an audiobook (via download and CD) and also as a book on Kindle and paperback today. Updated 14/7

Radio Times has an extract from the Doctor Who Fires Of Pompeii novel. Updated 12/7

Titan Comics has various Doctor Who bundles which are available until Thursday 28th July. Updated 8/7



June 2022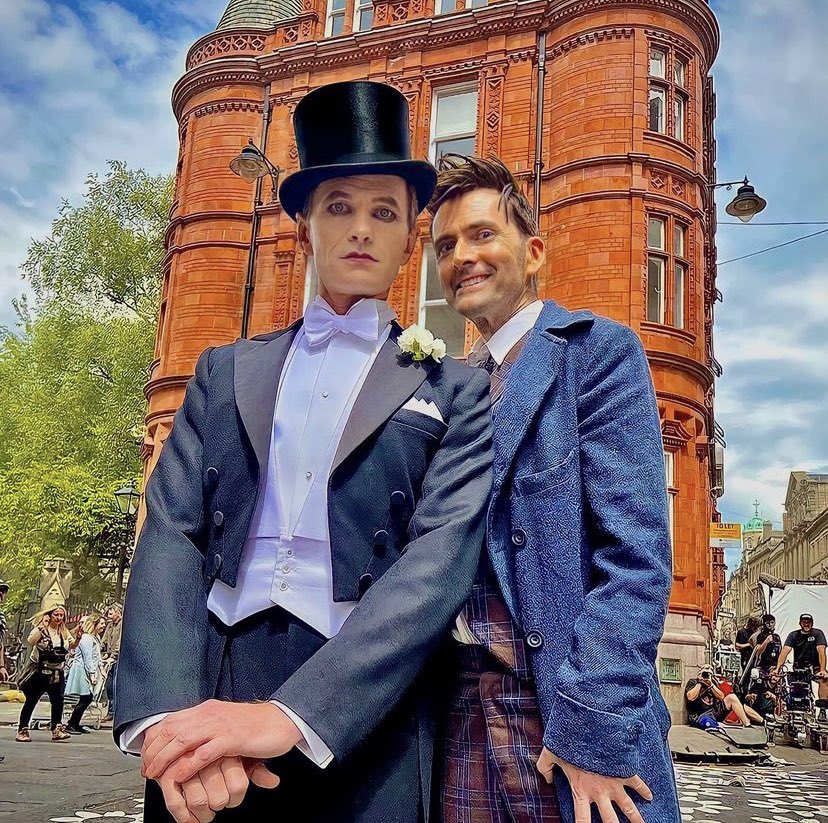 A photo from Doctor Who filming last month of David Tennant and Neil Patrick Harris has been posted online. Updated 23/6

Doctor Who Magazine #579 is published today (with a photo of David Tennant and Catherine Tate on the cover). Updated 23/6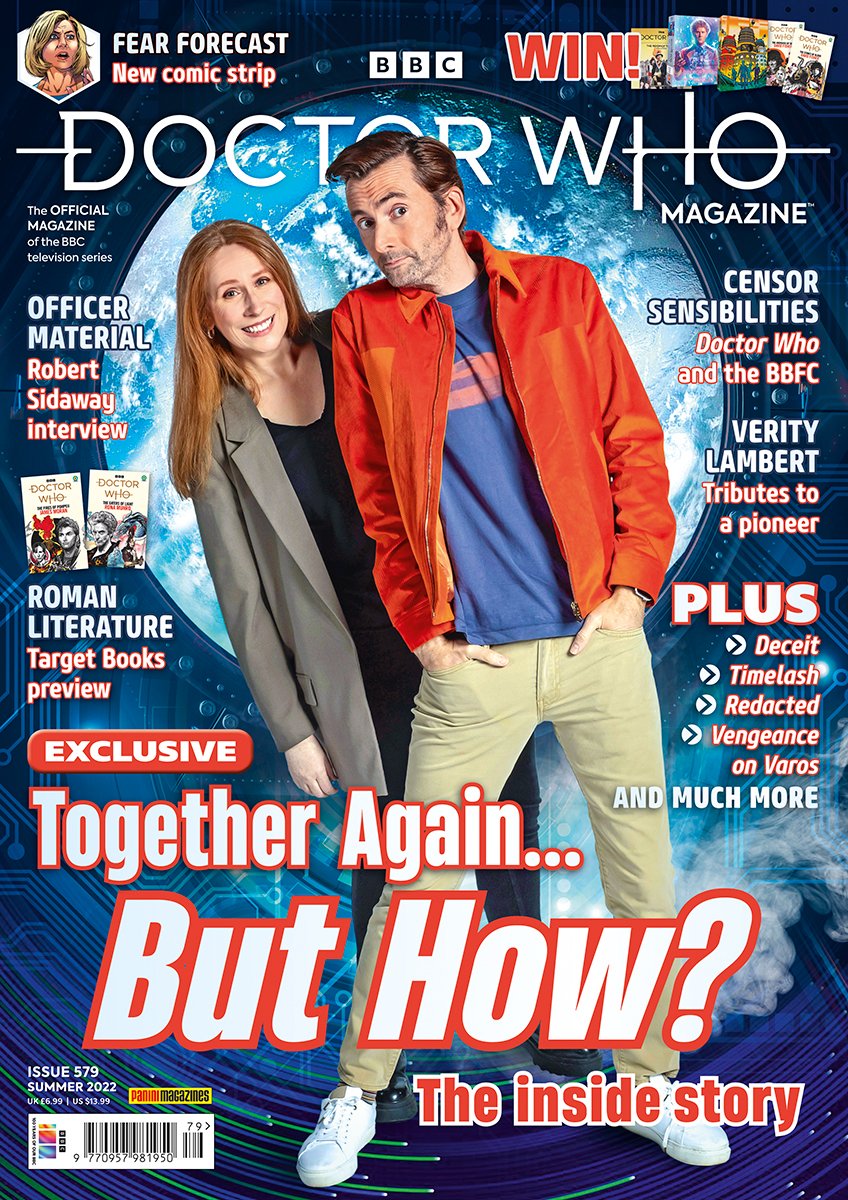 A photo of David Tennant and Catherine Tate is on the cover of Doctor Who Magazine #579 which is published on Thursday (23rd June). Updated 20/6

It was 17 years ago today that David Tennant first appeared in Doctor Who at the end of The Parting Of The Ways! Updated 18/6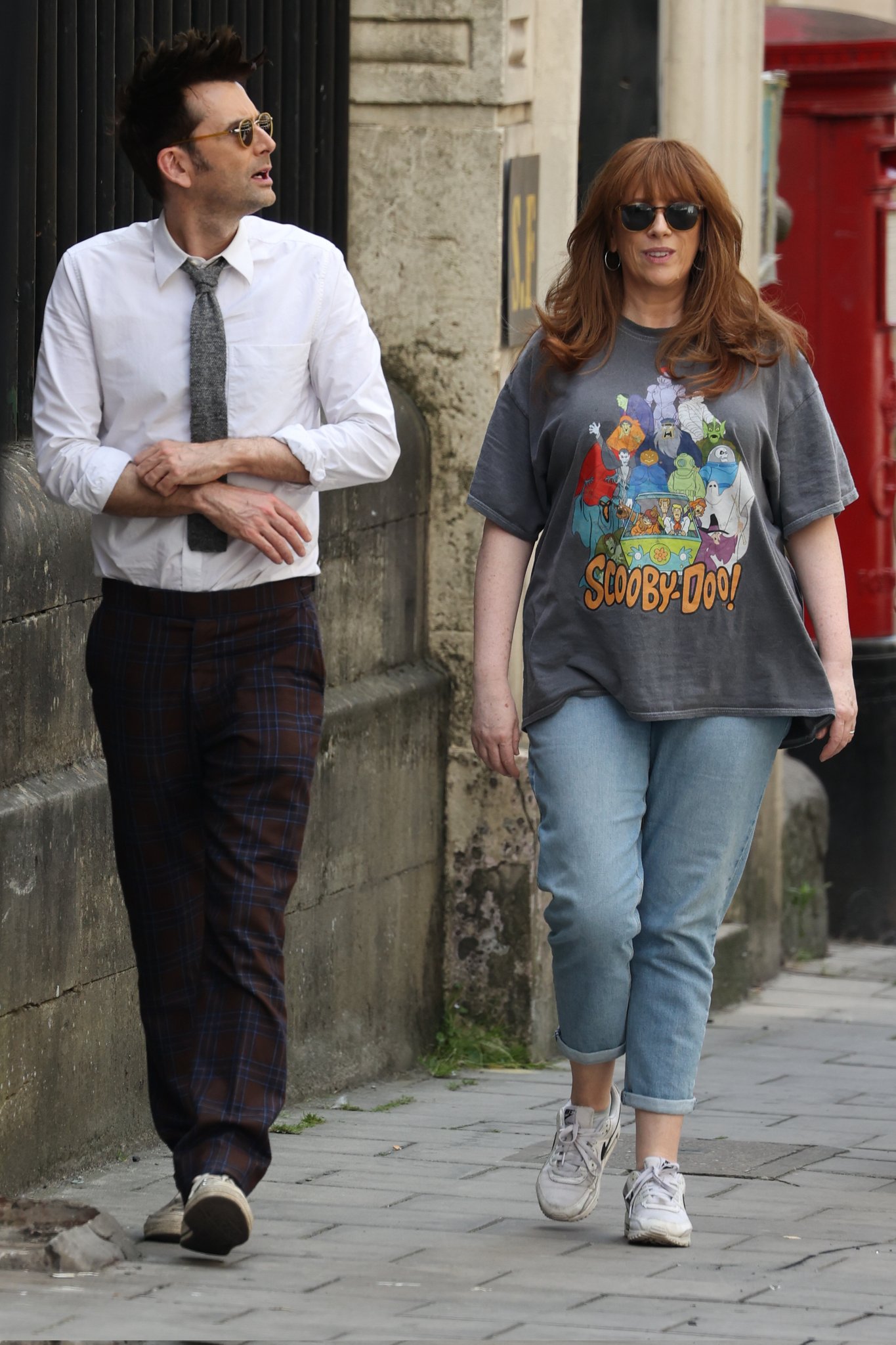 Daily Mail has more photos of David Tennant filming Doctor Who today. Updated 16/6
The first photo of David Tennant and Catherine Tate on the set of Doctor Who filming in Bristol today has been posted online. Updated 16/6
The David Tennant and Derek Jacobi Doctor Who audio drama The War Master: Self-Defence is released today by Big Finish.
The four disk set consists of the stories:
The Forest of Penitence by Lou Morgan
The Players by Una McCormack
Boundaries by Lizbeth Myles
The Last Line by Lizzie Hopley Updated 16/6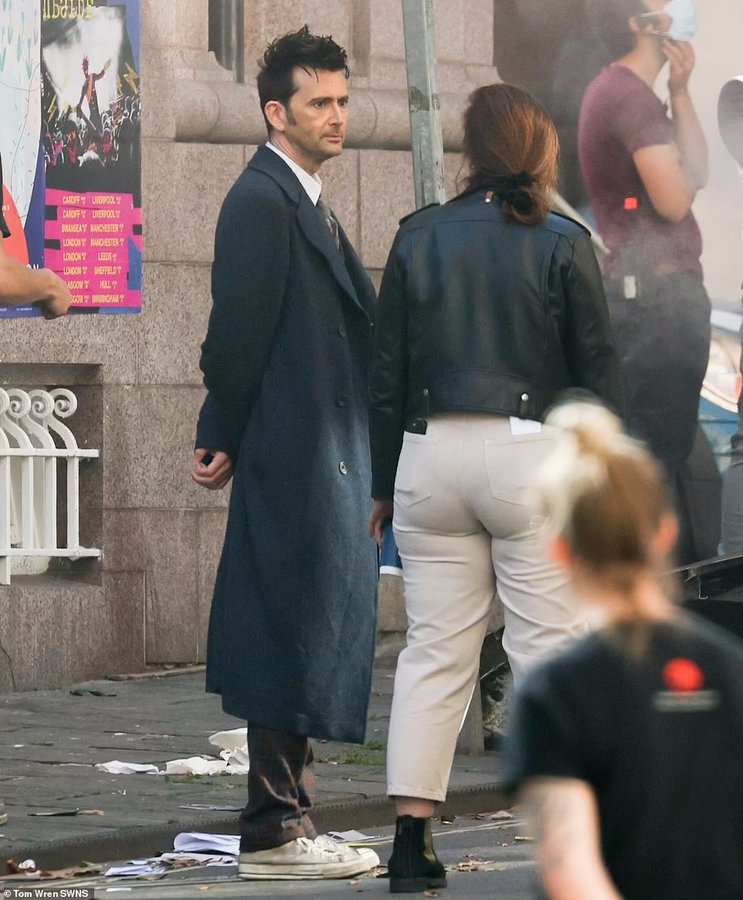 A clip of David Tennant and Neil Patrick Harris dancing while filming Doctor Who today has been posted online. Updated 15/6
Daily Mail has more photos and video of David Tennant filming Doctor Who today. Updated 15/6
A photo of David Tennant (wearing an 'interesting' suit) on the set of Doctor Who today has been posted online.
Also BristolPost have a page of action photos/clips with possible SPOILERS. Updated 15/6
A small clip of David Tennant filming Doctor Who in Bristol today has been posted online. Updated 15/6
The first photo of David Tennant on the set of Doctor Who filming in Bristol today has been posted online. Updated 15/6
The Doctor Who audiodrama Wink (starring David Tennant and Colin Baker) is released today on CD and download by Big Finish.
Purchasing link. Updated 8/6
Overnight David Tennant and Catherine Tate filmed scenes for Doctor Who in Axminster Road, Cardiff. Updated 7/6
Overnight David Tennant and Catherine Tate filmed scenes for Doctor Who in Axminster Road, Cardiff.
David arrived on set at about 12.45am.
His stunt double was also seen on set and scenes with UNIT soldiers were among the scenes filmed.
So far no clear photos of David filming have been posted online but this photo was taken. Updated 4/6
May 2022
A fun video of David Tennant, Peter Davison and Peter Capaldi signing for Hares Of Hampshire has been posted online. Updated 19/5

On Wednesday 18th May David Tennant filmed Doctor Who in Camden, London for a third time (but this was overnight until 5am on Thursday morning). Updated 18/5

Daily Mail has photos of David Tennant, Catherine Tate and Yasmin Finney filming Doctor Who in Camden, London today. Updated 17/5

The first photo of David Tennant with Yasmin Finney (who plays a character named Rose) on the Doctor Who filming set today has been posted online. Updated 17/5

Daily Mail has photos of David Tennant, Catherine Tate and Bernard Cribbins filming Doctor Who in Camden, London today.
(24 hours after we tweeted that, our tweet had received over 7,200 likes!). Updated 16/5

The first photo of David Tennant on the Doctor Who filming set today has been posted online. Updated 16/5



David Tennant and Catherine Tate return to Doctor Who.
The pair are currently filming for the sci-fi show's 60th anniversary which it celebrates in November 2023.
The BBC have released three promo photos to accompany the announcement (which are in the link). Updated 15/5



April 2022
A trailer for the Doctor Who audiodrama Wink (featuring David Tennant and Colin Baker) has been posted online.
It will be released by Big Finish in June. Updated 29/4

Doctor Who: Tenth Doctor Classic Companions audio drama to be released on CD and as a download by Big Finish in September. Updated 25/4

At his panel at German Comic Con fan convention David Tennant described him returning (with Russell T Davies) as the Fourteenth Doctor in Doctor Who as "weird and not something you would expect' as he explains there's no point in him either denying or confirming it.
A clip of this has been posted to YouTube. Updated 23/4

The Doctor Who story Dead Air (which is read by David Tennant) is re-released on Soundwave Green vinyl discs today. Updated 23/4

As well as an audiobook, The Fires Of Pompeii will be released as a book (on Kindle and in paperback) on the same day (Thursday 14th July).
Pre-order link. Updated 20/4

It was 17 years ago today it was announced David Tennant would play the Tenth Doctor in Doctor Who. Updated 16/4

Doctor Who The Fires of Pompeii to be released as an audiobook via download and CD on Thursday 14th July.
The cover art has not been revealed yet but it can be pre-ordered from this link. Updated 15/4

The David Tennant Raffle for Accord Hospice is live (including a video).
The donations include items for Good Omens, Doctor Who, Much Ado About Nothing and The Sandman Act II.
There are nine lots and each raffle ticket costs £10 (later reduced to £5).
The raffle is open until until 11.55pm on Friday 29th April 2022 which is when the winners will be drawn. Updated 1/4



March 2022
Doctor Who News reports that the Doctor Who story Dead Air (which is read by David Tennant) will be re-released on Soundwave Green vinyl discs on Saturday 23rd April. Updated 1/3



February 2022
Doctor Who Chronicles 2007 is published today.
It examines the stories, people, events and news in 2007 when David Tennant was the Tenth Doctor. Updated 24/2



January 2022
Doctor Who: Out Of Time 3 - Wink audiobook is available to pre-order from Big Finish.
It features David Tennant as the Tenth Doctor and Colin Baker as the Sixth Doctor.
It will be released in July. Updated 14/1

The next Doctor Who Chronicles will be published on Thursday 24th February and will cost £9.99.
The 116 page publication will look at the stories, people, events and news in 2007 when David Tennant was the Tenth Doctor.
Pre-order link. Updated 6/1

It was 12 years ago today David Tennant regenerated from being the Tenth Doctor in Doctor Who.
In the first 12 hours after we posted that it was liked over 1,000 times! Updated 01/01




Doctor Who 2021


Doctor Who 2020


Doctor Who 2019


Doctor Who 2018


Doctor Who 2017


Doctor Who 2016


Doctor Who 2015


Doctor Who 2014


Doctor Who November and December 2013


Doctor Who July to October 2013


Doctor Who April to June 2013


Doctor Who January to March 2013


Doctor Who 2012