David Tennant - Doctor Who Breakfast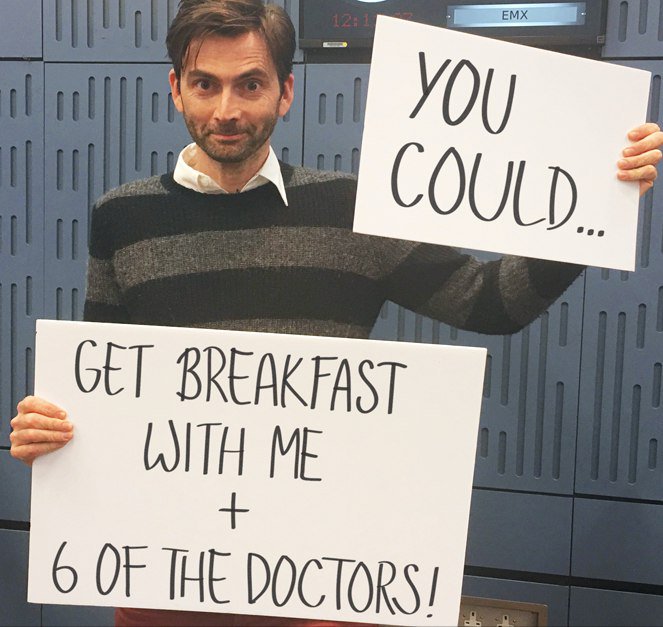 David Tennant is one of the seven actors who have played The Doctor in Doctor Who who will attend this special full English breakfast at The Wolseley Hotel in London. The other actors involved are Peter Capaldi, Matt Smith, Paul McGann, Sylvester McCoy, Peter Davison and Colin Baker.
The event is in aid of Comic Relief/Red Nose Day in both the UK and the US.
There are only six seats available for fans at the table of which two of them will go to the highest bidder (and his or her plus one). That online auction had a winning bid of £25,100 after only 3 bids.
The remaining four seats will be won through two raffles, one in the UK and one for US fans (which includes a flight to London and hotel stay). To enter the raffle fans needed to purchase a ticket which costs just £5 or $10.
The date of the breakfast has not been announced yet.
David Tennant filmed a video to promote the event:
Link to posts related to David Tennant at the Doctor Who Breakfast on Blogger.com (usually with more details).
The lottery closes today for US fans to win Breakfast With The Doctors (and a flight to London) from Red Nose Day USA. Updated 30/5
A new photo of David Tennant for the Red Nose Day US Doctor Who lottery has been posted to Twitter. Updated 25/5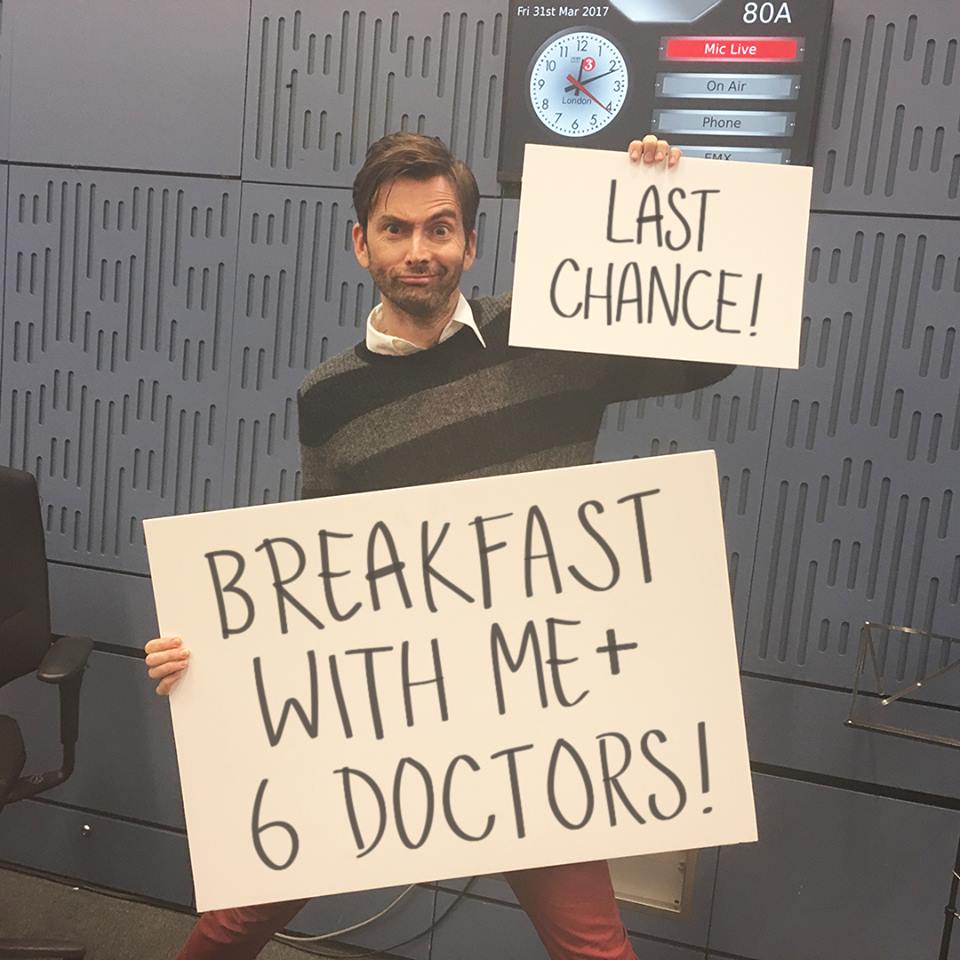 Breakfast With The Doctors lottery in the UK ends at 6.30pm today. Updated 25/5
The auction to win Breakfast With The Doctor Whos ended tonight with a winning bid of £25,100 after just three bids. Updated 24/5
Chance to win breakfast with seven Doctors (including David Tennant) in the Red Nose Day auction closes. Updated 24/5
The same video as we've posted before (but with different cuts and the original background) of David Tennant talking about Breakfast With The Doctors for Comic Relief has been posted to YouTube. Updated 2/5
Competition for US fans to win Breakfast With The Doctors (and a flight to London) from Red Nose Day USA.
Entry for the competition ends online on Tuesday 30th May and the winner will be announced on or around Friday 9th June. Updated 23/4
A new photo of David Tennant promoting the Doctor Who breakfast with 7 actors who have played The Doctor for Comic Relief has been posted to Twitter. Updated 19/4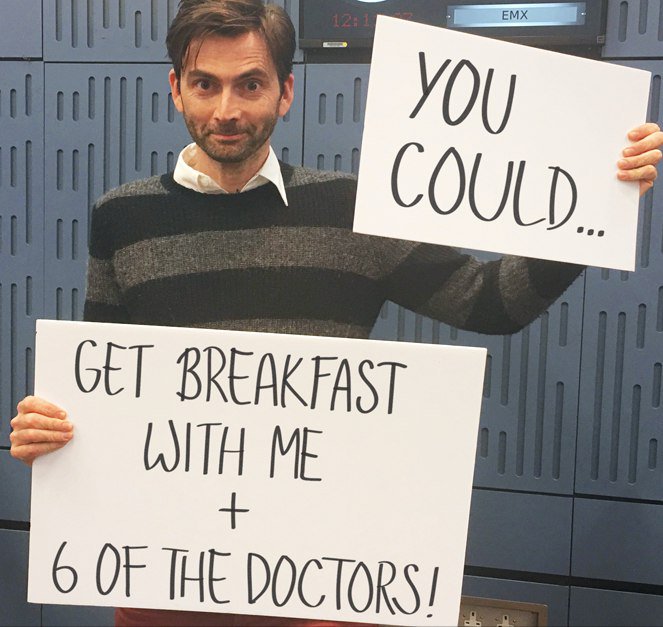 Video of David Tennant talking about the Breakfast With The Doctors auction and lottery for Comic Relief. Updated 7/4
Photos of David Tennant on Graham Norton's Big Chat Live about the Doctor Who Breakfast. Updated 25/3
Video of David Tennant on Graham Norton's Big Chat Live for Comic Relief last night. David was mainly asked about the Doctor Who breakfast. Updated 25/3
MP3 of a David Tennant interview on BBC Radio Two yesterday about the Doctor Who breakfast for Comic Relief. Updated 24/3
Chance to win breakfast with seven Doctors (including David Tennant) in a Red Nose Day auction and lottery. Updated 17/3