DavidTennantOnTwitter.com
David Tennant - Around The World In 80 Days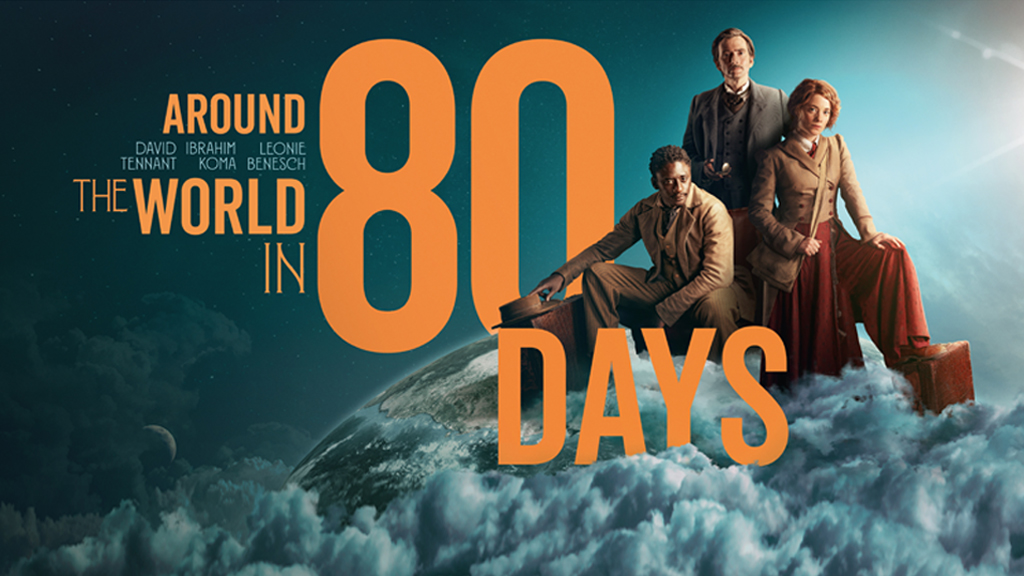 David Tennant will star as Phileas Fogg in the television adaption of Around The World In 80 Days.
It is a new television adaptation of the Jules Verne novel and is a France Televisions co-production as part of Alliance which is a partnership with RAI and ZDF which aims to to develop international projects. It is also co-produced by Slim Film and Television in London.
The eight episode series is being shot in English and filming started on Monday 24th February 2020. Filming took place in South Africa and Budapest (4 episodes in each location). Due to the pandemic filming was halted for several months but restarted in October 2020 and was completed in early February 2021. The drama is now expected to premiere in late 2021.
Originally Ahmed Sylla was announced to play the role of Passepartout and that was later changed to French comedian and actor Ibrahim Koma. Journalist Abigail Fix will be played by Leonie Benesch.
Other stars include Jason Watkins as Bernard Fortescue (who is Fix's father and a prolific newspaper owner) and Peter Sullivan as Fogg's childhood friend Nyle Bellamy with whom he strikes up the outrageous bet that sets the story in motion. Also Lindsay Duncan, Dolly Wells, Richard Wilson, Faical Elkihel, Anthony Flanagan, Gary Beadle and Giovanni Scifoni will take guest roles.
The series was adapted by writers including Ashley Pharoah (Life On Mars) and Caleb Ranson (Child Of Mine). Steve Barron (The Durrells) was the lead director with Charles Beeson (The Mentalist) directing a number of episodes.
Around The World In 80 Days had its worldwide television premiere on the station La Une in Belgium on Sunday 5th December.
Known broadcast start dates:
Belgium (La Une) - Sunday 5th December 2021
Germany (streaming on ZDFmediathek) - Saturday 11th December
Switzerland (RTS1) - Tuesday 14th December
France (France2) - Monday 20th December
Germany (ZDK) - Tuesday 21st December
Poland (ZDK) - Tuesday 21st December
UK (BBC One) - Sunday 26th December
US (PBS Masterpiece) - Sunday 2nd January 2022
Italy (RA1) - Originally announced as Sunday 2nd January but that has now been delayed
Other countries (e.g. Channel 7 in Australia) have not announced their start dates yet.
The budget for each episode is €3 million.
The world premiere of Around The World In 80 Days took place in the Out Of Competition section of Canneseries on Sunday 10th October in Cannes at the Palais des Festival et des Congres.
A second series of Around The World In 80 Days was announced in November 2021.
The first trailer:

The second trailer:

Link to posts related to Around The World In 80 Days on Blogger.com. (Usually with more detail.)
January 2022
The third episode of Around The World In 80 Days has its American premiere tonight on Masterpiece (on PBS) at 8pm. Updated 16/1
The sixth episode of Around The World In 80 Days has its British premiere on BBC One at 6.10pm today. Updated 16/1
An interesting video about the filming of the train on the bridge scene in Around The World In 80 Days (and some nice comments about David Tennant) has been posted to YouTube. Updated 11/1
The second episode of Around The World In 80 Days has its American premiere on Masterpiece (on PBS) at 8pm tonight. Updated 9/1
The fifth episode of Around The World In 80 Days has its British premiere on BBC One at 6.10pm today. Updated 9/1
Around The World In 80 Days has been nominated for the Best Visual Effects (TV Drama/Fiction) Award in the French GENIE Awards.
The winners will be announced at a ceremony on Wednesday 26th January. Updated 7/1
Around The World In 80 Days is released on DVD in France. Updated 7/1
A video of the cast and crew (including David Tennant) describing Around The World In 80 Days has been posted online. Updated 7/1
David Tennant is interviewed on Masterpiece Studio Podcast about Around The World In 80 Days. Updated 03/01
The seventh and eighth episodes of Around The World In 80 Days are broadcast on France2 at 9.10pm and 10pm tonight in France. Updated 03/01
Tonight Around The World In 80 Days has its American premiere on Masterpiece (on PBS) at 8pm. Updated 02/01
Third and fourth episodes of Around The World In 80 Days have their British premiere on BBC One at 6.20pm and 7.10pm tonight. Updated 02/01
A nice promo clip featuring David Tennant in Around The World In 80 Days has been posted online. Updated 01/01
December 2021
New York Times has a new interview with David Tennant about Around The World In 80 Days. Updated 31/12

A video of the cast of Around The World In 80 Days discussing part of the first episode has been posted online.
It includes a minor spoiler if it has not broadcast in your country yet. Updated 28/12

The seventh and eighth episodes of Around The World In 80 Days are broadcast from 8.55pm on RTS1 in Switzerland tonight. Updated 28/12

The fourth, fifth and sixth episodes of Around The World In 80 Days are broadcast on France2 tonight in France.
The episodes are on at 9.05pm, 10pm and 10.50pm. Updated 27/12

A new mini trailer for Around The World In 80 Days has been posted online. Updated 26/12

The seventh and eighth episodes of Around The World In 80 Days have their Belgium premiere on the station La Une tonight. Updated 26/12

The first two episodes of Around The World In 80 Days have their British premiere on BBC One today. Updated 26/12

In an interview with Radio Times Leonie Benesch has some lovely things to say about working with David Tennant on Around The World In 80 Days.
Her comments include:
"I would do pretty much any job with David [Tennant] involved, just because that means I can learn more from him."
"No matter what he does, he�s always brilliant. And then on top of that, he's also such a great number one on the call sheet, because he leads by example, in the best way."
"He always has a nice word to say to everyone, but it doesn't make anything about him. Something I'm still to learn." Updated 25/12

Financial Times has a four star review of Around The World In 80 Days. Updated 23/12

The iNews has a new interview with David Tennant about Around The World In 80 Days. Updated 23/12

The seventh and eighth episodes of Around The World In 80 Days are broadcast tonight from 10.15pm on ZDK in Germany and Poland. Updated 23/12

A new clip of David Tennant speaking about his fellow actors on Around The World In 80 Days has been posted online. Updated 22/12

Radio Times podcast includes an interview with David Tennant about Around The World In 80 Days.
David's segment starts at 35 minutes. Updated 22/12

The fifth and sixth episodes of Around The World In 80 Days are broadcast tonight from 10.15pm on ZDK in Germany and Poland. Updated 22/12

A new clip of David Tennant reminiscing about his favourite set on Around The World In 80 Days has been posted online. Updated 21/12

A new promo photo of David Tennant from Around The World In 80 Days has been posted online. Updated 21/12

Fourth, fifth and sixth episodes of Around The World In 80 Days are broadcast tonight from 9pm on RTS1 in Switzerland. Updated 21/12

Around The World In 80 Days has its German and Polish television premiere tonight.
The first four episodes are broadcast from 8.15pm to 11.25pm on ZDK in both countries. Updated 21/12

A new clip of David Tennant speaking about Around The World In 80 Days has been posted online. Updated 20/12

MP3s of David Tennant's interview on The Zoe Ball Show today about Around The World In 80 Days. Updated 20/12

TV Magazine has a new interview with David Tennant about Around The World In 80 Days.
The interview is in French but Google translates it quite well. Updated 20/12

Around The World In 80 Days has its French television premiere today.
The first three episodes will be broadcast on France2 at 9.10pm, 10pm and 10.50pm. Updated 20/12

David Tennant is a guest on The Zoe Ball Show on BBC Radio Two today.
David is due on the show at 8.40am and his appearance is to promote Around The World In 80 Days. Updated 20/12

The fifth and sixth episodes of Around The World In 80 Days have their Belgium premiere on the station La Une tonight. Updated 19/12

David Tennant is a guest on The Andrew Marr Show on BBC One at 9am today.
The appearance is to promote Around The World In 80 Days. Updated 19/12

Another promo clip from Around The World In 80 Days has been posted online.
This clip looks at 'culinary delights.' Updated 18/12

Following the broadcast of the first two episodes of Around The World In 80 Days on BBC One on Boxing Day, episodes three and four will be on Sunday 2nd January at 6.20pm and 7.10pm.
The fifth episode is on Sunday 9th January at 6.10pm. Updated 18/12

David Tennant to be a guest on The Andrew Marr Show on Sunday (19th December).
The show is on BBC One at 9am and the appearance is to promote Around The World In 80 Days. Updated 17/12

David Tennant to be a guest on The Zoe Ball Show on BBC Radio Two on Monday (20th December).
The appearance is to promote Around The World In 80 days.
The Zoe Ball Show starts at 6.30am and is three hours in length. It has not been announced yet at what time David will be on the show.
BBC Radio Two can be heard worldwide (plus we will add a MP3 of his interview afterwards). Updated 15/12

A short promo clip of Around The World In 80 Days has been posted online. Updated 14/12

First three episodes of Around The World In 80 Days broadcast on RTS1 in Switzerland tonight. Updated 14/12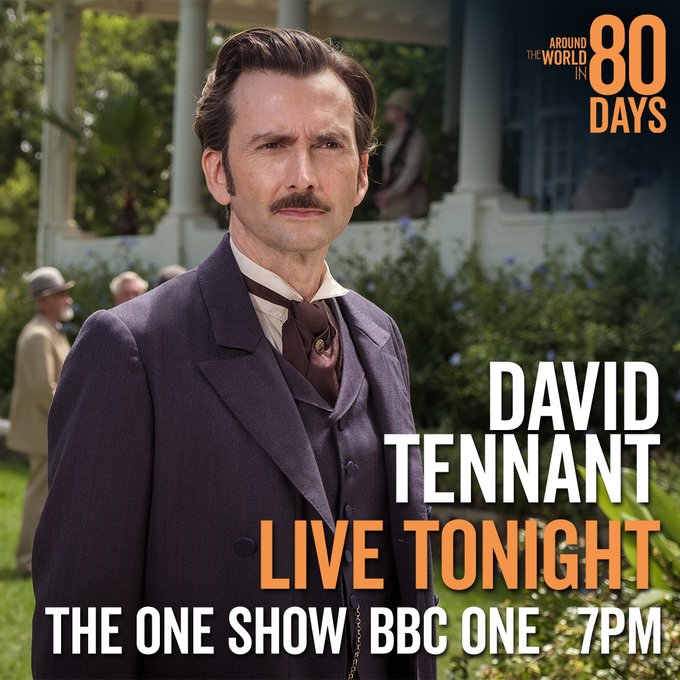 A clip of David Tennant speaking about Around The World In 80 Days on The One Show tonight has been posted online. Updated 13/12

The BBC trailer for Around The World In 80 Days has been posted online. Updated 13/12

David Tennant is a guest on The One Show on BBC One tonight at 7pm.
The appearance is to promote Around The world In 80 Days.Updated 13/12

A short clip of David Tennant, Ibrahim Koma and Leonie Benesch answering some fun questions about Around The World In 80 Days has been posted online. Updated 12/12

Third and fourth episodes of Around The World In 80 Days have their Belgium premiere on the station La Une tonight. Updated 12/12

A promo video with new clips of David Tennant from Around The World In 80 Days has been posted online. Updated 11/12

Daily Mail has a short interview with David Tennant about Around The World In 80 Days (with two new photos). Updated 11/12

The whole series of Around The World In 80 Days is available to stream in Germany on ZDFmediathek from 10am today. Updated 11/12

David Tennant will be a guest on The One Show on BBC One on Monday (13th December).
The show starts at 7pm and David's appearance is to promote Around The World In 80 Days. Updated 10/12

There is also a small photo of David Tennant from Around The World In 80 Days on the cover of the Christmas issue of TV Times which was published today. Updated 7/12

There's a small photo of David Tennant from Around The World In 80 Days on the cover of the Christmas issue of TV & Satellite Week which was published today. Updated 7/12

Around The World In 80 Days has its worldwide television premiere today.
The first two episodes are broadcast on the station La Une in Belgium.
The first episode will be shown at 8.55pm and the second at 9.50pm. Updated 5/12

Daily Mail has some new photos of David Tennant from when he filmed Around The World In 80 Days. Updated 2/12



November 2021
The UK premiere of Around The World In 80 Days will be on Boxing Day (Sunday 26th December) on BBC One with two episodes that evening which will be shown at 5.50pm and 6.40pm. Updated 30/11

A video interview by France Televisions with David Tennant about Around The World In 80 Days has been posted to YouTube.
Link to the full playlist from France Televisions for the show. Updated 30/11

BBC Press has announced that in the UK 'the first episodes of Around The World In 80 Days will be available from Boxing Day and it will be a boxset on iPlayer in the New Year.' Updated 29/11

A mini trailer for Around The World In 80 Days has been posted online. Updated 29/11

Second series of Around The World In 80 Days announced. Updated 29/11

Also a new trailer for Around The World In 80 Days has been posted online. Updated 26/11

A new photo of David Tennant from Around The World In 80 Days has been posted online. Updated 26/11

BT.com has a new interview with David Tennant about Around The World In 80 Days. Updated 26/11

David Tennant is also on the cover of TV & Satellite Week (for Around The World In 80 Days). Updated 23/11

There is a small photo of David Tennant from Around The World In 80 Days on the cover of TV Choice magazine. Updated 23/11




A new trailer for Around The World In 80 Days has been posted to YouTube. Updated 23/11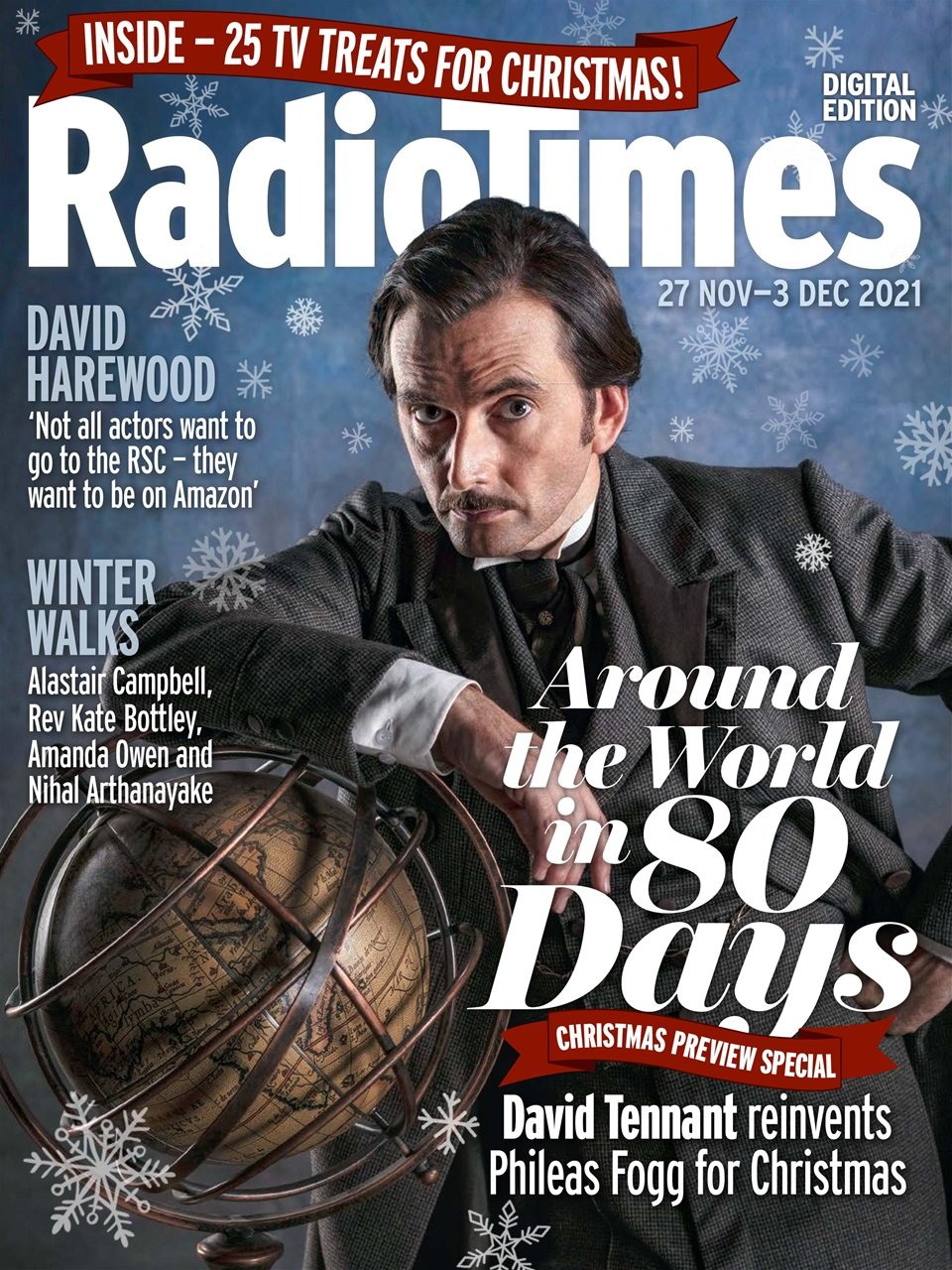 David Tennant is on the cover of the issue of Radio Times which is published tomorrow.
There is also an interview with him about Around The World In 80 Days inside. Updated 21/11

Another new promo photo of David Tennant in Around The World In 80 Days has been posted online here. Updated 18/11

Another two promo photos of David Tennant in Around The World In 80 Days have been posted online here and here. Updated 17/11

Another two promo photos of David Tennant in Around The World In 80 Days have been posted online here and here. Updated 16/11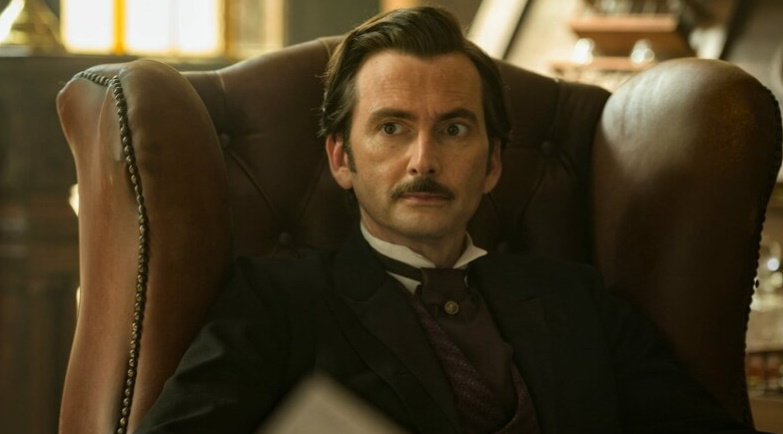 Two new promo photos of David Tennant in Around The World In 80 Days have been posted online here and here. Updated 15/11

New promo photos of David Tennant in Around The World In 80 Days. Updated 14/11

The title sequence for Around The World In 80 Days has been posted online. Updated 9/11

The German premiere dates have been announced for Around The World In 80 Days.
It will have its German premiere on Tuesday 21st December on the station ZDK. That evening from 8.15pm to 11.25pm the first four episodes will be broadcast.
Starting at 10.15pm on Wednesday 22nd December the fifth and sixth episodes will be shown and the final two episodes will be broadcast at the same time on Thursday 23rd December.
Prior to that, the whole series will be available to stream in Germany on ZDFmediathek from 10am on Saturday 11th December. Updated 8/11



October 2021
Around The World In 80 Days will premiere on Masterpiece (on PBS) in the US and on RAI1 in Italy on Sunday 2nd January.
Masterpiece has posted a trailer online.
Other stations (including the BBC) have not announced their start dates yet. Updated 25/10

A video which includes David Tennant speaking about Around The World In 80 Days has been posted to YouTube. Updated 20/10

A new trailer for Around The World In 80 Days has been posted online. Updated 17/10

The 50 minute David Tennant video interview from Cannes Series has been posted to YouTube.
As well as discussing Around The World In 80 Days, David is also asked about Doctor Who, Casaonva, Broadchurch, Deadwater Fell and There She Goes. Updated 10/10

Video interview with David Tennant will be available online today and Around The World In 80 Days has its world premiere.
The first two episodes of the eight part drama will be shown tonight at a festival in Cannes. Updated 10/10

Drama Quarterly has an interesting interview (including some new tidbits) with writer Ashley Pharoah, director Steve Barron and executive producers Simon Crawford Collins and Lionel Uzan about making Around The World In 80 Days. Updated 8/10



September 2021

Radio Times has some exclusive stills of David Tennant from Around The World In 80 Days. Updated 17/9
Deadline has an article about Around The World In 80 Days with a teaser trailer video.
The article says the world premiere will be on Sunday 10th October (at Cannes Series).
Masterpiece has added the trailer to YouTube. Updated 17/9
It may be removed at some point but currently there's a trailer for France TV for Around The World In 80 Days on YouTube. Updated 14/9
June 2021
The world premiere of Around The World In 80 Days will take place in the Out Of Competition section of Canneseries sometime between from Friday 8th and Wednesday 13th October in Cannes at the Palais des Festival et des Congr�s. Updated 24/6



March 2021
Today the production company tweeted it was a year ago today filming on filming on Around The World In 80 Days had to halt due to coronavirus. Updated 19/3



February 2021
We've been told by one of the crew that this is scheduled to be the final week of filming in South Africa of Around The World In 80 Days. Updated 1/2



January 2021
An article in Variety reported that 'with a bit of luck, shooting will be completed in the next four weeks' on Around The World In 80 Days.
After shutting down filming in March 2020, it resumed in mid-November. Updated 20/1



December 2020
David Tennant is named Best Male Actor Of 2020 by readers of Digital Spy for Des.
The link includes a video of David accepting the award on the set of Around The World In 80 Days. Updated 26/12



November 2020
A new photo of David Tennant on the set of Around The World In 80 Days has been posted online. Updated 27/11

A message from David Tennant about Headway Essex's latest fund raising campaign has been posted online.
The video was filmed on the set of Around The World In 80 Days. Updated 23/11

A new photo of David Tennant from the set of Around The World In 80 Days has been posted online. Updated 19/11

It's been confirmed Around The World In 80 Days will be shown on PBS Masterpiece in the US.
New cast members announced are Jason Watkins as Bernard Fortescue (who is Fix�s father and a prolific newspaper owner) and Peter Sullivan as Fogg�s childhood friend Nyle Bellamy with whom he strikes up the outrageous bet that sets the story in motion.
Also Lindsay Duncan, Dolly Wells, Richard Wilson, Faical Elkihel, Anthony Flanagan, Gary Beadle and Giovanni Scifoni will take guest roles. Updated 10/11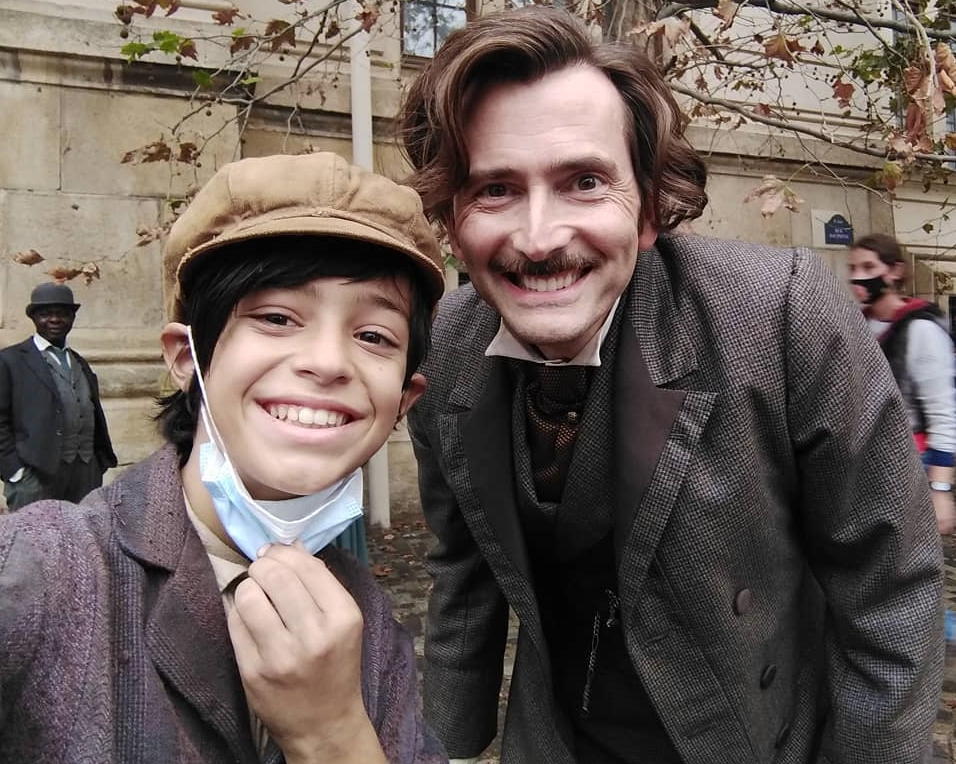 A new photo of David Tennant from the set of Around The World In 80 Days (with young actor David Braps) in Romania has been posted online. Updated 4/11
October 2020
The first photo since filming restarted of David Tennant on the set of Around The World In 80 Days was posted online by one of the actors.
He later removed the photo so, out of respect, we deleted our tweet too. Updated 28/10



September 2020
Variety has reported that Around The World In 80 Days will restart production next month in Romania before moving to South Africa.
The article also has a slightly different production photo. Updated 25/9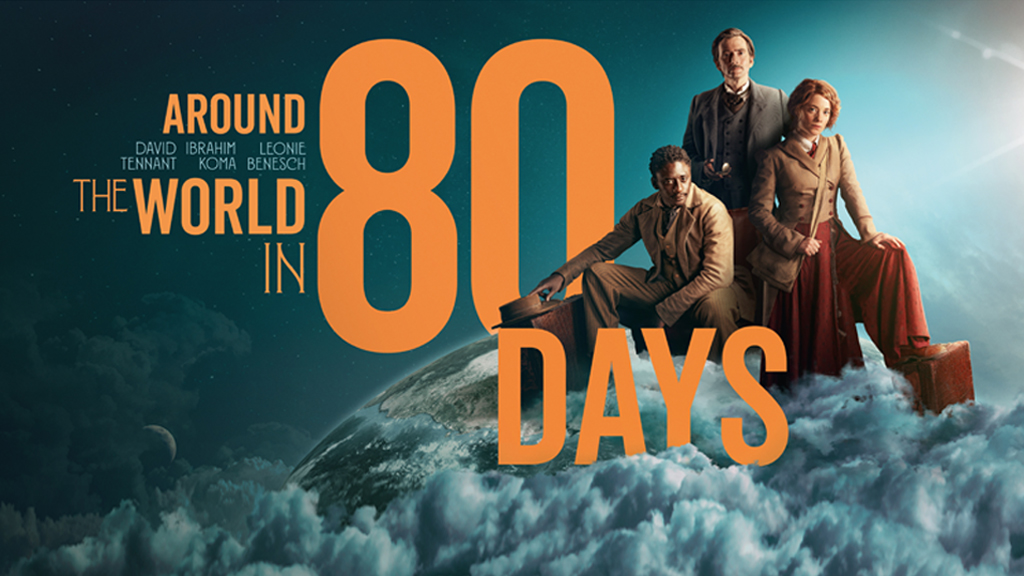 The first photo (and poster) of David Tennant from Around The World In 80 Days has been posted online.
It was announced today that filming will resume in South Africa in 'one month.' Updated 16/9
July 2020
Variety reports the broadcast of Around The World In Eighty Days 'has now been put back a year to Christmas 2021.'
The article also says:
'One episode (of eight) is in the bag and there are, theoretically, choices about which territory the globe-trotting drama returns to, with Romania, France and Italy among the scheduled locations of its episodically-planned shoot.
However, despite the country's intensive lockdown due to many densely populated areas, producer Simon Crawford Collins reckons it has to be South Africa, where cameras first rolled at Cape Town Film Studios in February.
"There are so many unknowns everywhere else. We're already relying on the goodwill of a big Netflix show going into the studio after us that uses the same construction manager. The cost of shutting down has been in the millions — we've had 24-hour security guards on our sets since February."
The series has more than 100 speaking parts and Slim Film+TV is in regular talks with the cast, including lead David Tennant, about their welfare and availability. According to Crawford Collins the one upside is that having enjoyed the experience prior to lockdown, everyone has a real determination to get back.' Updated 17/7

At the Serie Series festival in France today it was announced that filming will soon resume on Around The World In 80 Days.
It was also announced that the broadcast of the 8 episode series will be delayed until 2021 (previously it was scheduled for late 2020). Updated 2/7



June 2020
BBC Sounds has audio of the David Tennant and Dame Judi Dench interview about the future of theatre, All Around The World In Eighty Days and Good on last night�s Coronavirus Newscast.
David's part starts at 17 minutes. Updated 26/6

David Tennant revealed on Coronavirus Newscast that they had filmed one and a half episodes of Around The World In 80 Days before lockdown started.
He did not give any update on his forthcoming play Good.
Performances for that are scheduled to start in October. Updated 25/6

David Tennant and Dame Judi Dench will discuss the future of theatre on tonight�s Coronavirus Newscast on BBC News Channel at 9.25pm.
The show is repeated on BBC One at 11.45pm. Updated 25/6



April 2020
TVInside has a new (short) interview with David Tennant which is mainly about Deadwater Fell.
David was also asked about how different shooting Around The World In 80 Days (which he was filming in South Africa at the time the interview was conducted).
David's reply was 'Today, we were on the Atlantis dunes in Cape Town, which are these endless rolling vistas of white sand. We've had camels. We've had things exploding. So far, it's been enormous fun. But yes, very different.' Updated 4/4



March 2020
Deadline reports that, not surprisingly, filming on Around The World In 80 Days has suspended its South Africa shoot as a precaution against the Coronavirus crisis. Updated 17/3



February 2020
Filming is scheduled to start today on Around The World In Eighty Days.
But who will play Passepartout?
Originally Ahmed Sylla was announced to play the role of Passepartout and that was later changed to French comedian and actor Ibrahim Koma. However his name is now no longer linked to the show and no replacement has yet been announced. Updated 24/2



January 2020
Filming on Around The World In 80 Days is scheduled to start on Monday 24th February according to a press event in France today.
The 8 episode series will be filmed in Budapest (Hungary) and South Africa - 4 episodes in each place.
Previously it was announced that some filming would take place in Romania as well as South Africa. Updated 21/1



December 2019
More details have been announced about David Tennant starring in Around The World In 80 Days. Updated 4/12



June 2019
Programme-tv.net reports that at the press conference today for France T�l�visions, it was officially announced that David Tennant will star as Phileas Fogg in the television adaption of Around The World In Eighty Days.
It will be shot in English and will consist of 8 episodes.
Filming is scheduled to start in January 2020. Updated 18/6

The Times has confirmed that David Tennant will star in Around The World In Eighty Days for broadcast in 2020. Updated 18/6

It's not confirmed but the French newspaper Le Figaro reports David Tennant will play the part of Phileas Fogg in a new television adaptation of the Jules Verne novel Around The World In Eighty Days.
It is a France T�l�visions co-production as part of Alliance which is a partnership with RAI and ZDF which aims to to develop international projects.
If true, production is scheduled to start in January 2020. Updated 15/6