DavidTennantOnTwitter.com
David Tennant Photos 2020
Unlike some websites, we take great care not to breach copyright on this David Tennant website (i.e. people should not post other people's photos elsewhere without permission first from the photographer).
Consequently this website does not have many photos included but instead we link to where the photographer themselves have chosen to post their photos.
If you feel that we have accidentially breached your copyright the contact details are available to contact us.
For posts related to David Tennant Photos on Blogger.com click here.

December 2020
A photo of David Tennant and Michael Sheen will be on the cover of Radio Times next week (the issue published on Tuesday 5th January) for Staged.
A photo of the cover has been posted online.
Radio Times describes Staged as one of the magazine's 'most anticipated shows in 2021.' Updated 29/12

TV Choice has a brief interview with David Tennant and Michael Sheen about Staged which has been posted online.
There is also a small photo of both actors on the front cover of the magazine. Updated 29/12

David Tennant was shown very briefly in Jennifer Saunders' Memory Lane With Michael Sheen which premiered on ITV yesterday.
It can be seen on ITV Hub in the UK only. David is shown at the 28 minutes mark. Updated 24/12



Promo photos of David Tennant from The Graham Norton Show tonight. Updated 18/12

A photo of David Tennant from the concert in aid of Alzheimer Scotland and the Equity Benevolent Fund has been posted online. Updated 12/12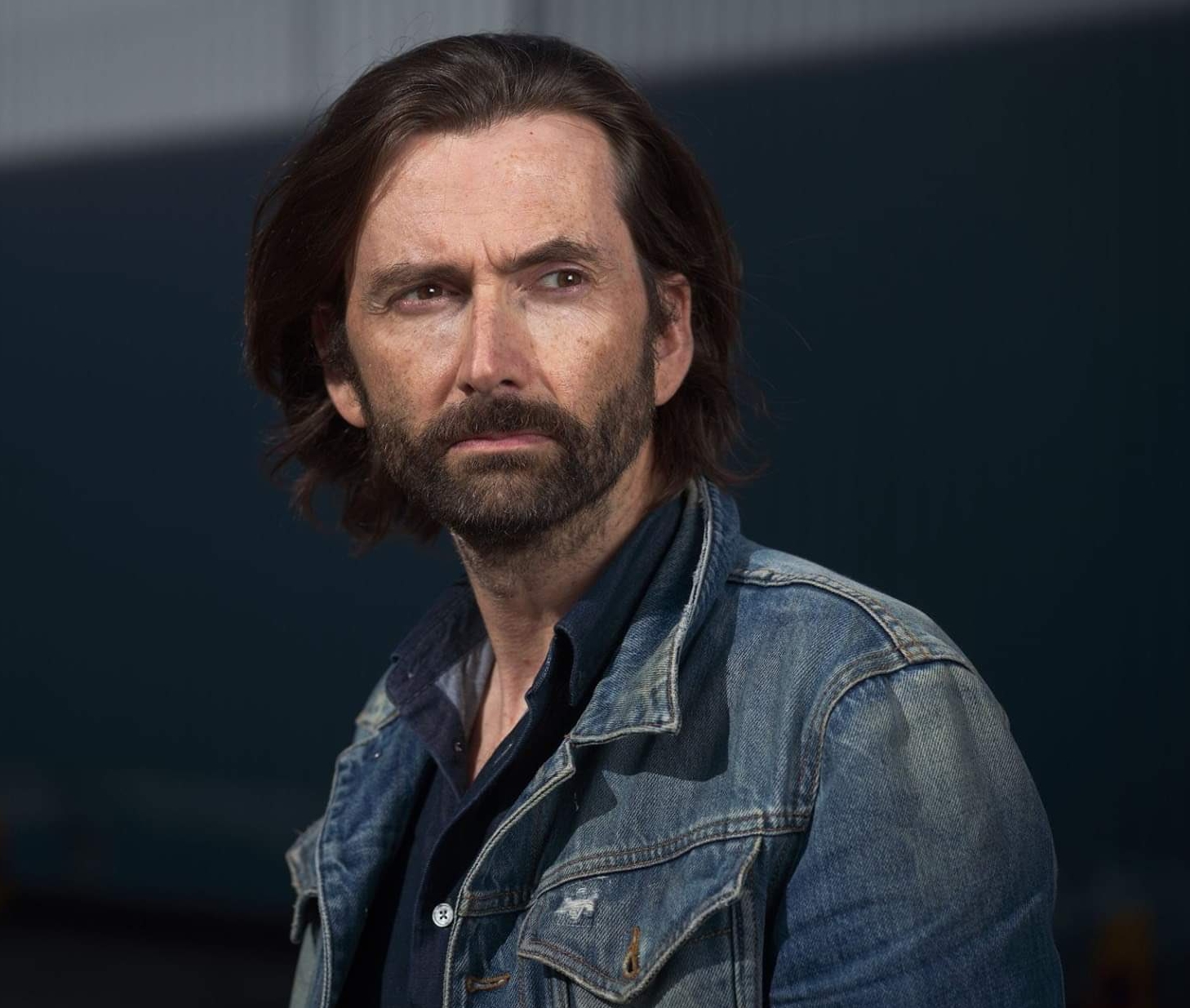 A new promo photo of David Tennant from the second series of Staged has been posted online. Updated 11/12
Doctor Who: Tenth Doctor Classic Companions audio release in September 2022 from Big Finish.
As well as starring David Tennant as the Tenth Doctor, the release will include Louise Jameson playing Leela, Sarah Sutton as Nyssa, Sophie Aldred as Ace and John Leeson voicing the character K9.
A new photo of David recording the release has been posted online. Updated 8/12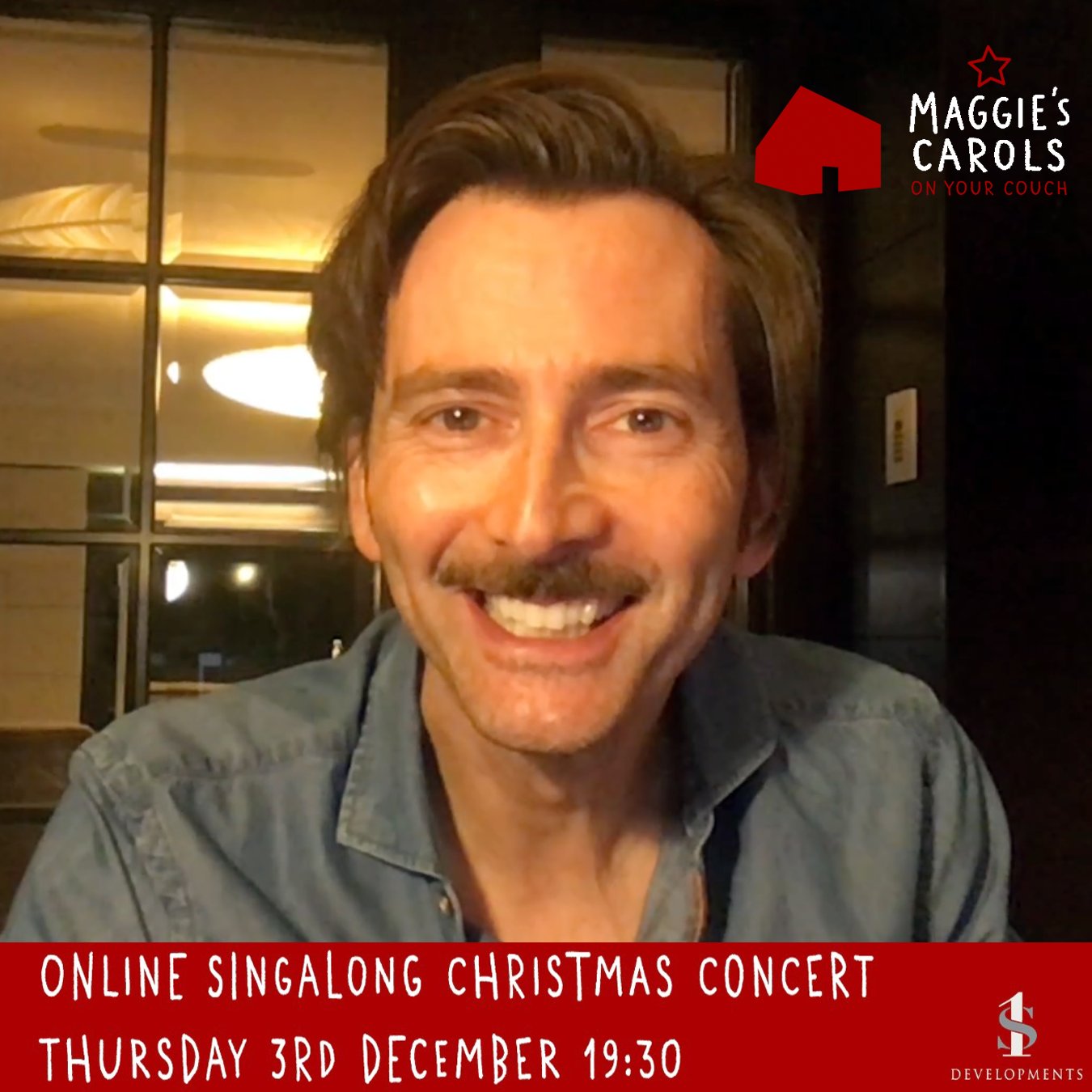 David Tennant will join the charity Maggie's singalong Carol Concert tomorrow online. Updated 2/12
November 2020
A new photo of David Tennant on the set of Around The World In 80 Days has been posted online. Updated 27/11

A new photo of David Tennant from the set of Around The World In 80 Days has been posted online. Updated 19/11

The first 250 people who donate or raise £35 (or more) for Headway Essex will receive a signed card from David Tennant.
Details are in this link. Updated 8/11

A new photo of David Tennant drinking out of a mug with Michael Sheen's face on it has been posted online. Updated 7/11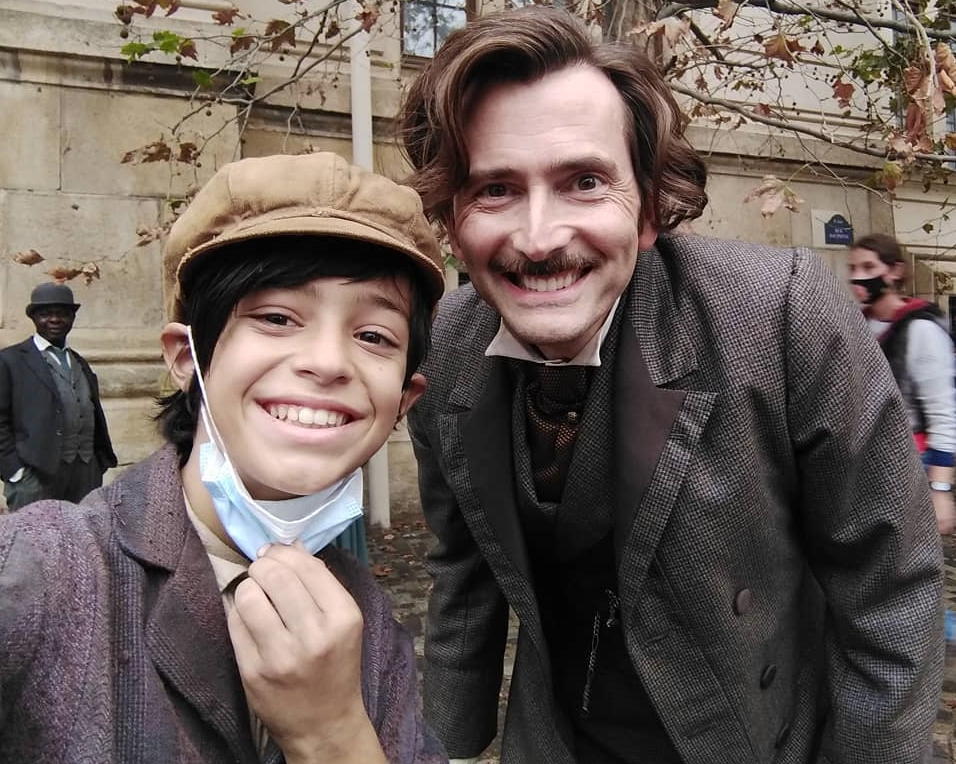 A new photo of David Tennant from the set of Around The World In 80 Days (with young actor David Braps) has been posted online. Updated 4/11
A new (very old!) photo of David Tennant from Good Omens filming has been posted online. Updated 2/11
October 2020
The first photo since filming restarted of David Tennant on the set of Around The World In 80 Days was posted online by one of the actors.
He later removed the photo so, out of respect, we deleted our tweet too. Updated 28/10

Des will premiere on Starzplay on Sunday 29th November.
Posters for France and Germany have been posted online. Updated 22/10

Photos of David Tennant at the Adobe MAX conference virtual event. Updated 21/10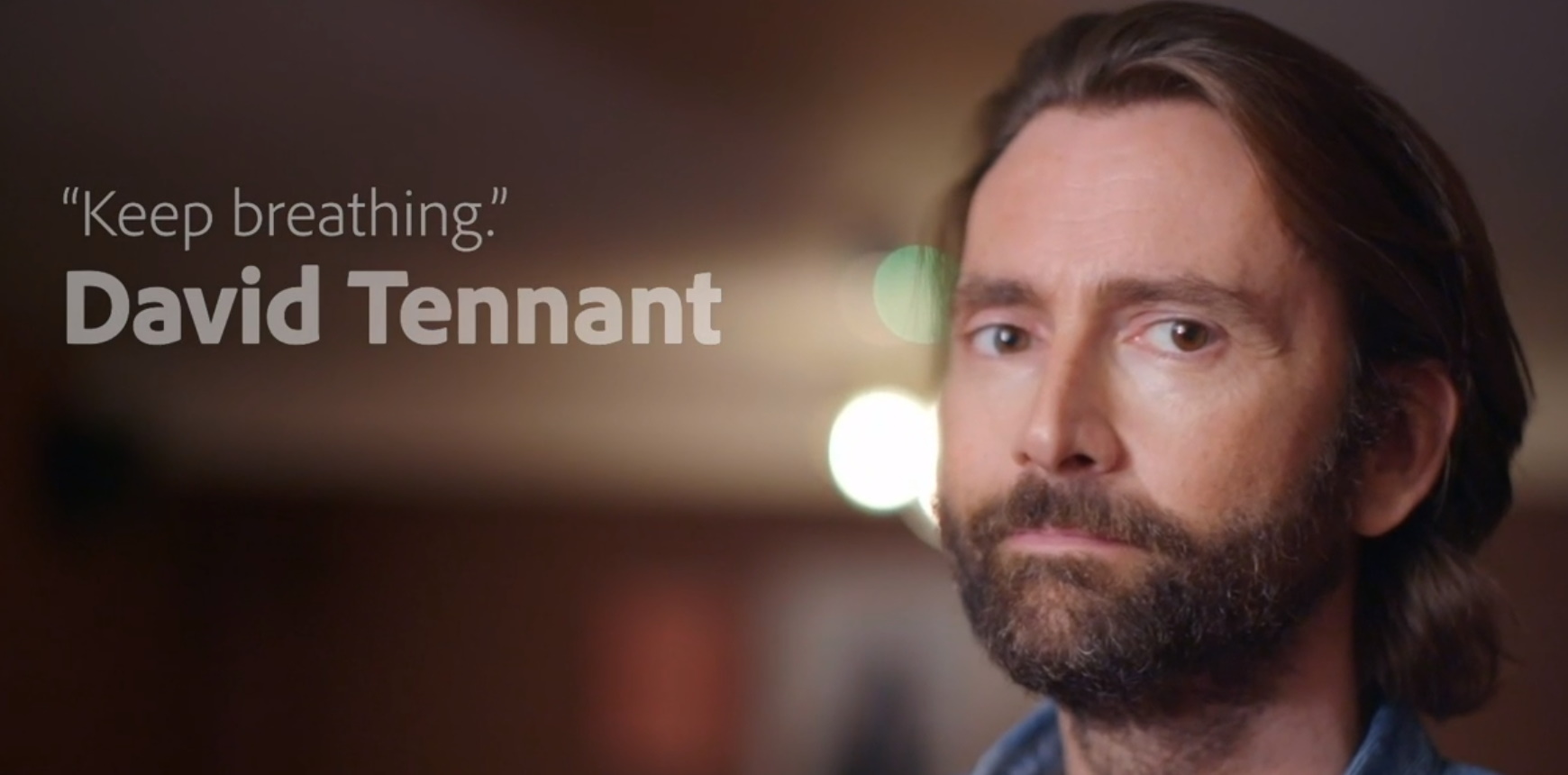 <9>

The first photo of David Tennant from his recorded film at the Adobe MAX conference virtual event today has been posted online. Updated 21/10

David Tennant is one of the stars involved in the Take A Moment campaign. His photo from the exhibition has been posted online. Updated 20/10

Two photos of David Tennant from when he first saw the Bentley used on filming Good Omens have been posted online. Updated 18/10

Photos of David Tennant from Sarah Maple's Nazi Sexy Shark Show have been posted online. Updated 9/10



September 2020
Variety has reported that Around The World In 80 Days will restart production next month in Romania before moving to South Africa.
The article also has a slightly different production photo. Updated 25/9

A new promo photo for David Tennant Does A Podcast With...Tim Minchin (which will be released tomorrow) has been posted online. Updated 21/9

More photos of David Tennant on the set of Des have been posted online. Updated 20/9

A great photo of David Tennant on the set of Des with Daniel Mays has been posted online. Updated 19/9

A great photo of David Tennant on the set of Des with Jason Watkins has been posted online. Updated 18/9

A photo of David Tennant and director Lewis Arnold on the set of Des has been posted online. Updated 18/9

A lovely tweet by director Lewis Arnold about David Tennant in Des (with some photos) has been posted online. Updated 17/9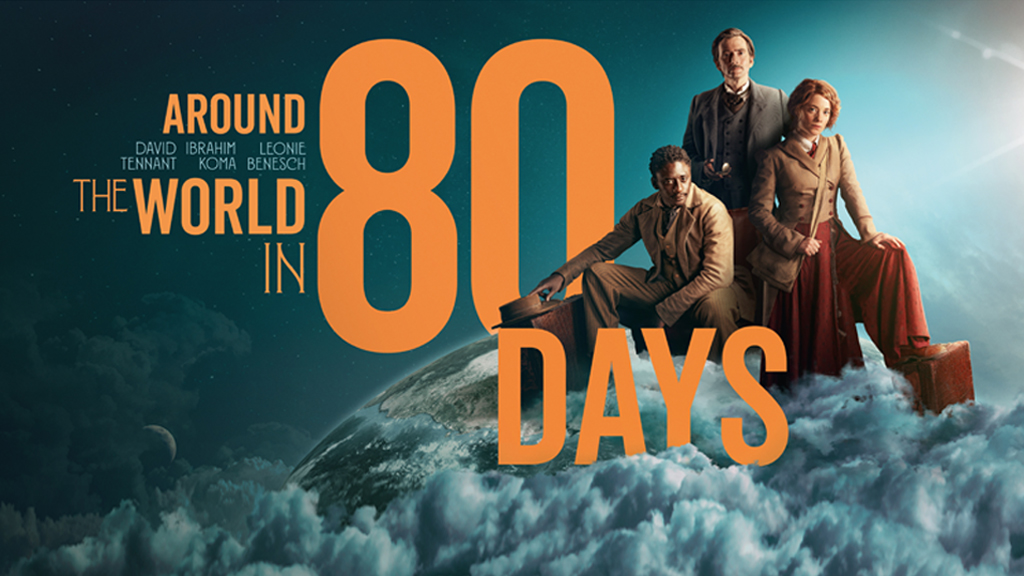 The first photo (and poster) of David Tennant from Around The World In 80 Days has been posted online.
It was announced today that filming will resume in South Africa in 'one month.' Updated 16/9
Due to the sensitive topic of the drama and out of respect for the families of Nilsen's victims, we have made the decision not to post screencaps of David Tennant in Des as we feel it would be inappropriate. Updated 14/9
The cover art for the DVD and Blu-ray in the UK for Des has been posted online. Updated 10/9
There are photos (of varying sizes) of David Tennant on the cover of several more television listings magazines today. Most include interviews inside about Des too:
TV Times
TV Choice
TV And Satellite week Updated 8/9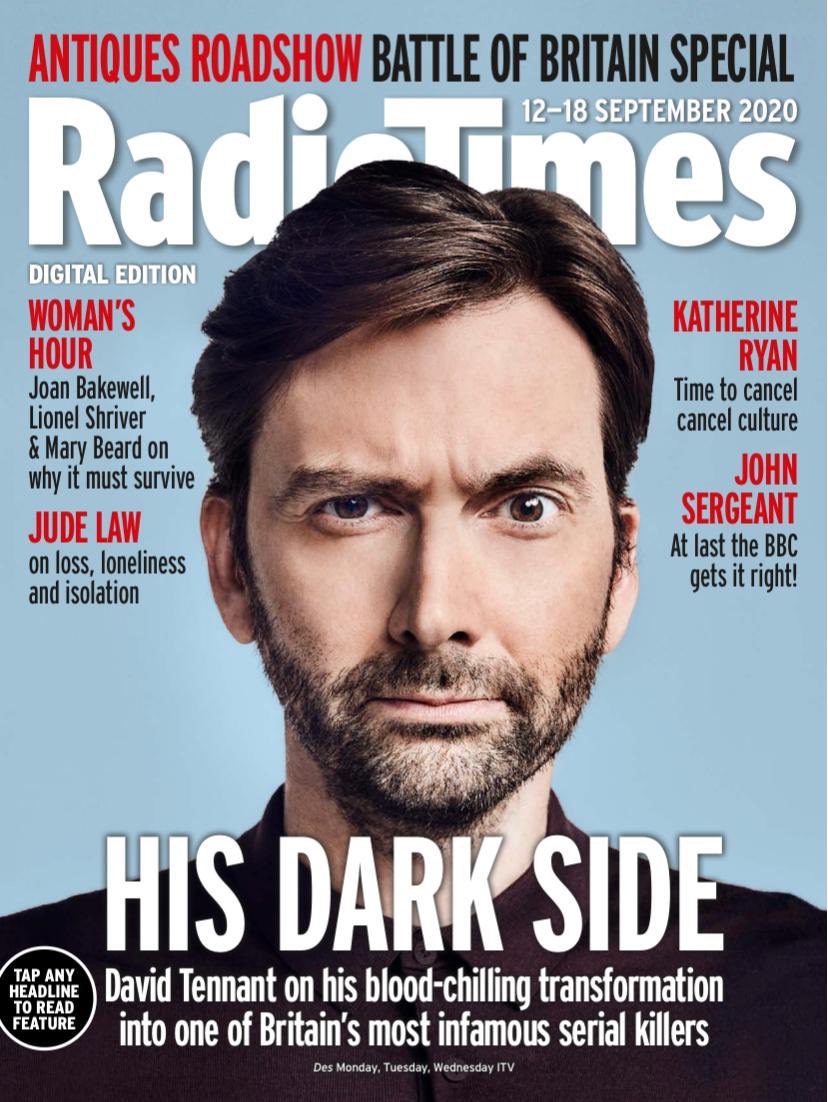 David Tennant is on the cover of the issue of Radio Times which is published tomorrow.
The magazine also contains an interview with him about Des.
The cover has been posted online. Updated 7/9
Another new photo of David Tennant from Des has been posted online. Updated 4/9
A new photo of David Tennant from Des has been posted online. Updated 4/9
Another new photo of David Tennant from the drama Des has been posted online. Updated 3/9
A slightly different new photo of David Tennant from Des has been posted online. Updated 3/9
A new photo of David Tennant from Des. Updated 3/9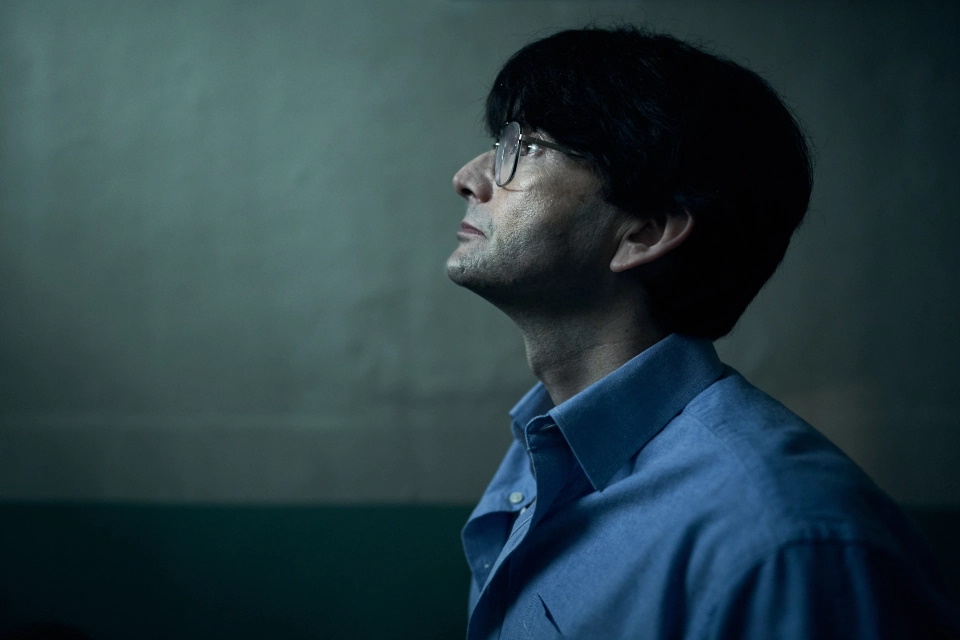 August 2020
Photos of David Tennant at the There She Goes Question And Answer online session tonight have been posted online here and here. Updated 31/8

A slightly different new photo of David Tennant from Des (and cropped by us) has been posted online. Updated 31/8

An interview with David Tennant will be shown on ITV News tonight about Des.
A screenshot of David in the drama from the news has been posted online. Updated 28/8

A new photo of David Tennant from Des from The Telegraph interview has been posted online. Updated 28/8

Four new photos of David Tennant from ITV's forthcoming drama Des have been posted online. Updated 24/8

A lovely photo of David Tennant at his Talking Shakespeare event online today has been posted online. Updated 17/8

A photo from today's Des press panel (via Zoom) has been posted online. Updated 13/8

A new photo of David Tennant from Des has been posted online. Updated 13/8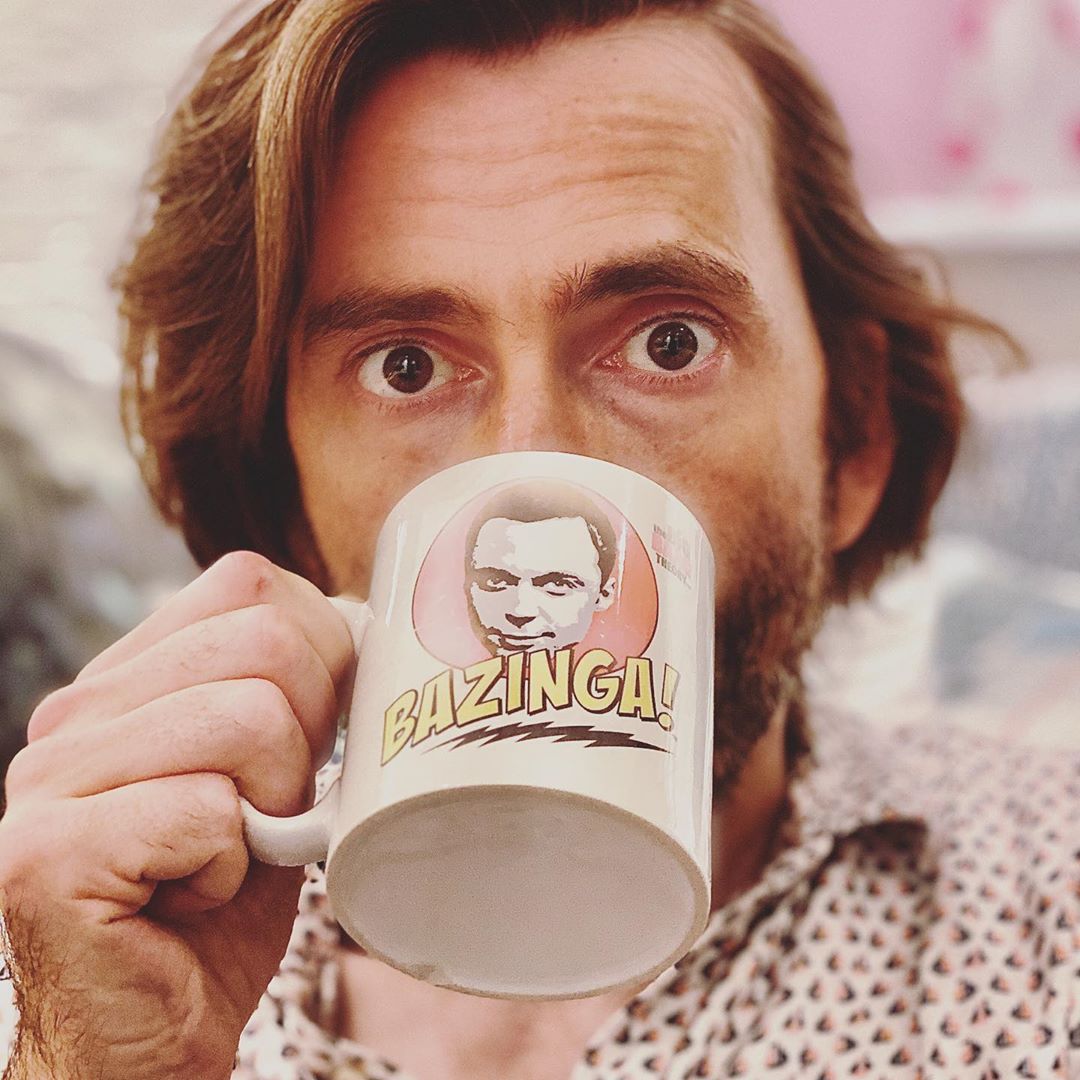 A new photo of David Tennant with a Jim Parsons mug has been posted online. Updated 11/8
Screencaps of David Tennant from the fifth episode of the second series of There She Goes. Updated 6/8
David Tennant is on the cover of the September issue of Candis Magazine. Updated 6/8
July 2020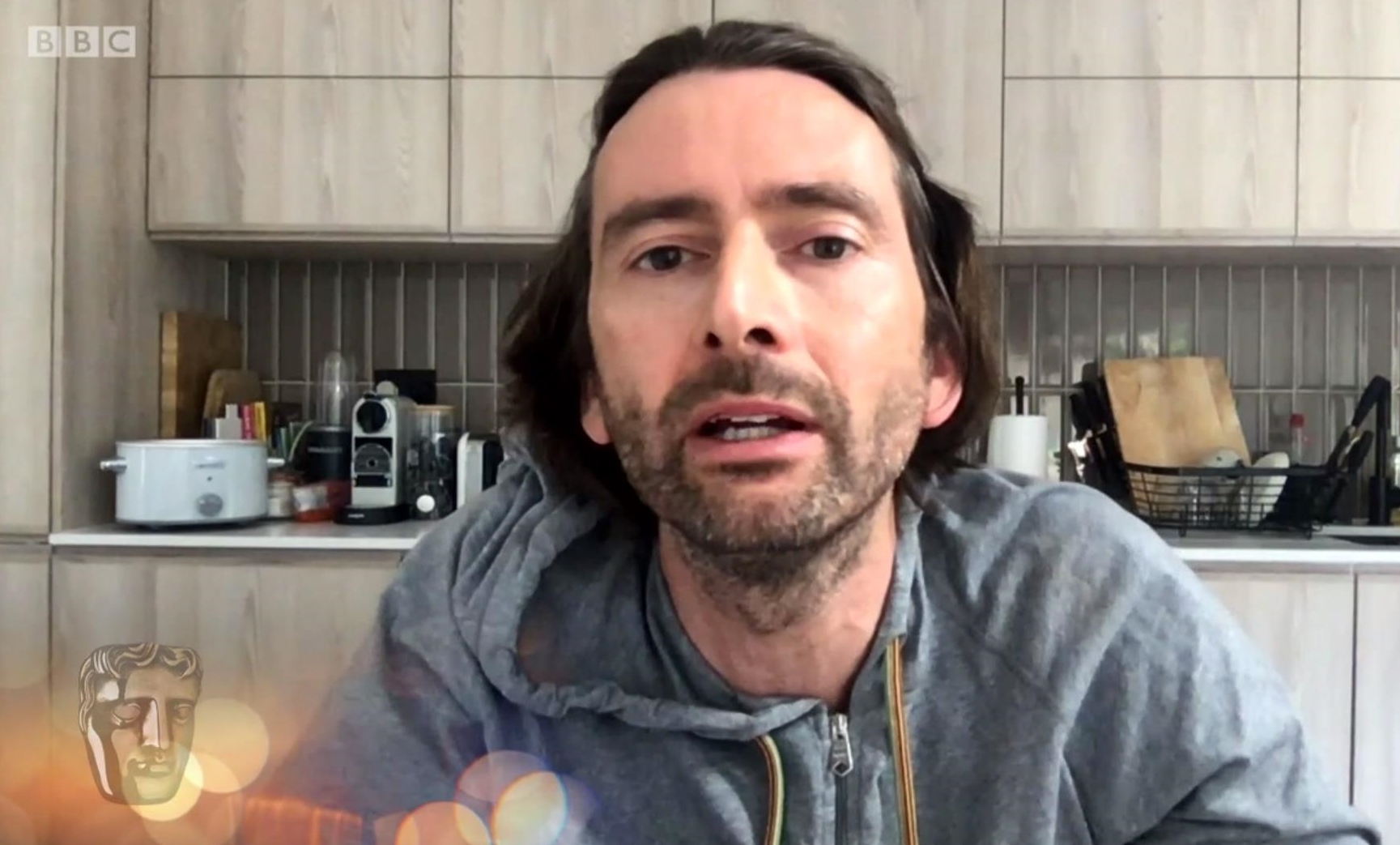 A photo of David Tennant from the BAFTA ceremony tonight has been posted online.
He and Michael Sheen performed a funny mini Staged sketch to present the award. Updated 31/7

Screencaps of David Tennant from the fourth episode of the second series of There She Goes (We Need To Talk About Rosie). Updated 30/7

New photos of David Tennant from Des. Updated 30/7

Screencaps of David Tennant from the third episode of the second series of There She Goes. Updated 23/7

The BBC has released a photo from next week's episode of There She Goes (which is titled We Need To Talk About Rosie). Updated 22/7

Screencaps of David Tennant from the second episode of the second series of There She Goes. Updated 16/7

David Tennant is on one of the four Radio Times covers which are published today.
It is to promote a show which celebrates The NHS called Dear NHS Superstars.
The show premieres on BBC One on Thursday 23rd July.
David Tennant's cover has been posted online. Updated 14/7



David Tennant is on one of the four Radio Times covers which are published tomorrow.
It is to promote a show which celebrates The NHS called Dear NHS Superstars.
The show premieres on BBC One on Thursday 23rd July.
David Tennant's cover has been posted online. Updated 13/7

New photos of David Tennant from There She Goes have been posted online. Updated 11/7

A photo of David Tennant (and co-stars) from filming There She Goes has been posted online. Updated 10/7

Screencaps of David Tennant from the first episode of the second series of There She Goes. Updated 10/7

Den Of Geek has a new interview (and a new photo) with David Tennant about There She Goes. Updated 9/7

More photos which were taken of David Tennant for The Guardian interview have been posted online. Updated 8/7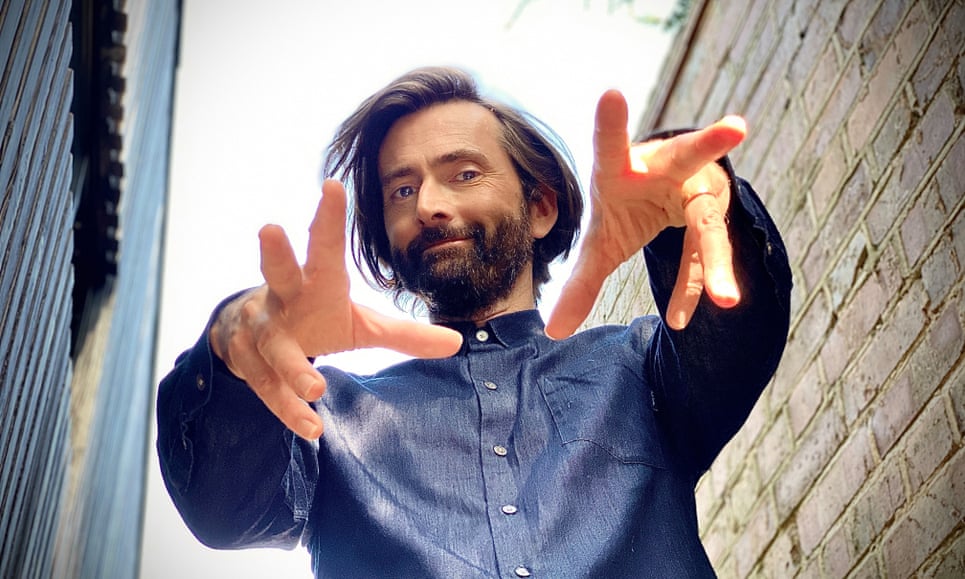 The Guardian has a new interview with David Tennant about There She Goes.
The interview includes a new photo of David which has been posted online. Updated 8/7

A new photo of David Tennant from There She Goes has been posted online. Updated 7/7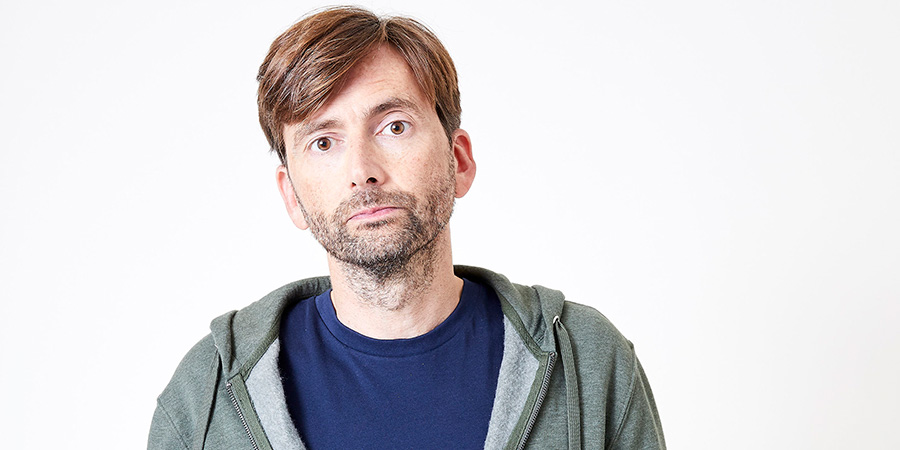 A new photo of David Tennant from There She Goes has been posted online. Updated 6/7

A new photo of David Tennant and his family in There She Goes has been posted online. Updated 3/7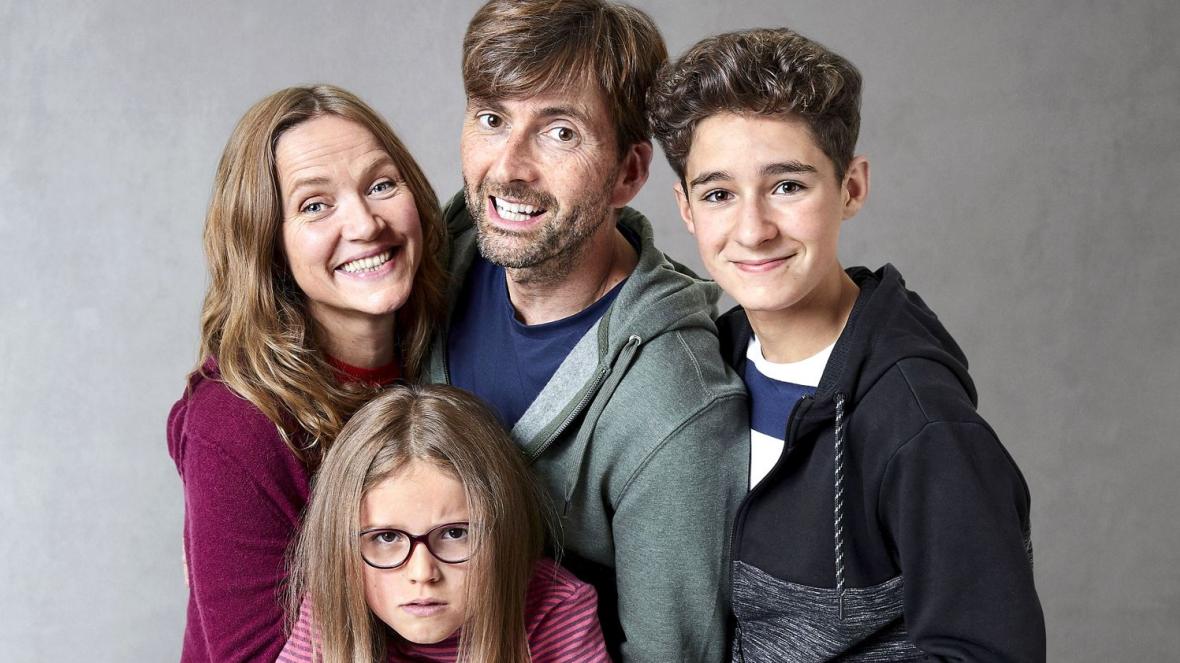 A new photo of David Tennant and the cast of There She Goes has been posted online. Updated 1/7

A lovely photo of David Tennant and the cast of There She Goes has been posted online. Updated 1/7

Interview with David Tennant about the second series of There She Goes.
The link also includes a new photo of David from the second series. Updated 1/7



June 2020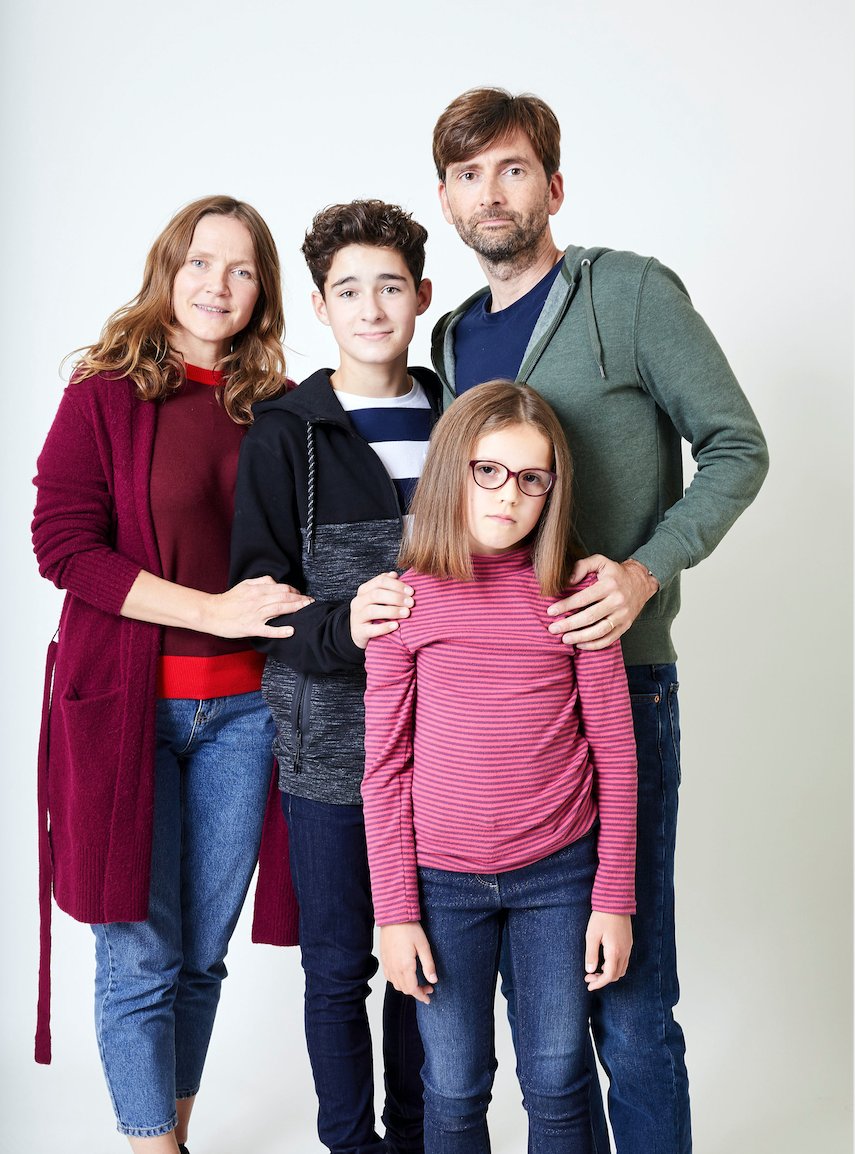 A new promo photo of the cast of There She Goes has been posted online. Updated 30/6

A new photo of the cast of There She Goes has been posted online. Updated 30/6

There's a small photo of the cast of There She Goes on the front cover of the new issue of TV Choice magazine. Updated 30/6

Photos of David Tennant hosting the online charity quiz tonight have been posted online. Updated 29/6

David Tennant and Alex Kingston have recorded a new set of Doctor Who audio adventures for Big Finish.
The set has guest appearances by Peter Davison and Colin Baker and will be released in November.
The three stories are Expiry Dating by James Goss, Precious Annihilation by Lizzie Hopley and Ghosts by Jonathan Morris.
A photo of David Tennant recording the new audio has been posted online. Updated 24/6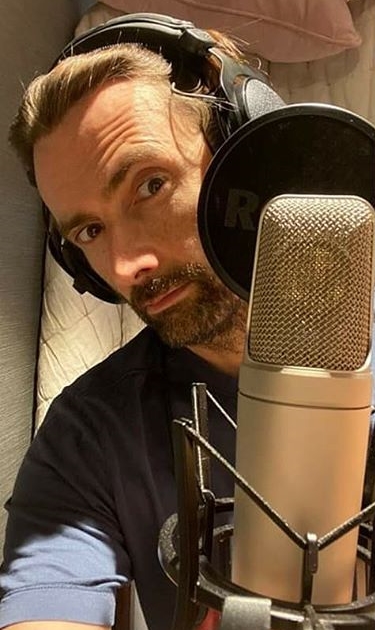 A full length photo of David Tennant in his Doctor Who Tenth Doctor costume for his appearance on The Late Late Show With James Corden has been posted online. Updated 20/6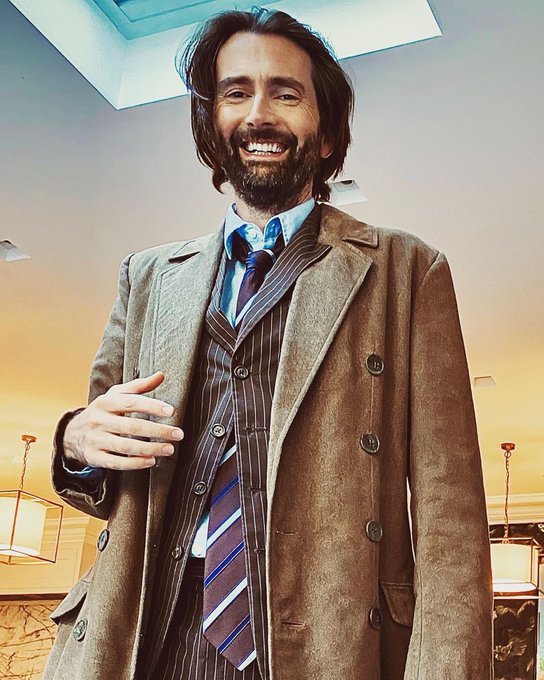 A new behind-the-camera photo of David filming Staged has been posted online. Updated 17/6
A new photo of David Tennant from The Sunday Times photoshoot in 2019 has been posted online. Updated 16/6
Screencaps of David Tennant and Michael Sheen on The One Show tonight. Updated 9/6
A photo of David Tennant and Michael Sheen is on the front cover of The Times Saturday Review for Staged which is also the Critic's Choice. Updated 6/6
Promo photos of David Tennant from Staged. Updated 5/6
May 2020
The front page of The Telegraph today has a photo of David Tennant on it in regards to his upcoming BBC One television comedy Staged. Updated 30/5

A lovely photo of photographer Arwel Wyn Jones with David Tennant and Billie Piper on the set of Doctor Who has been posted online. Updated 16/5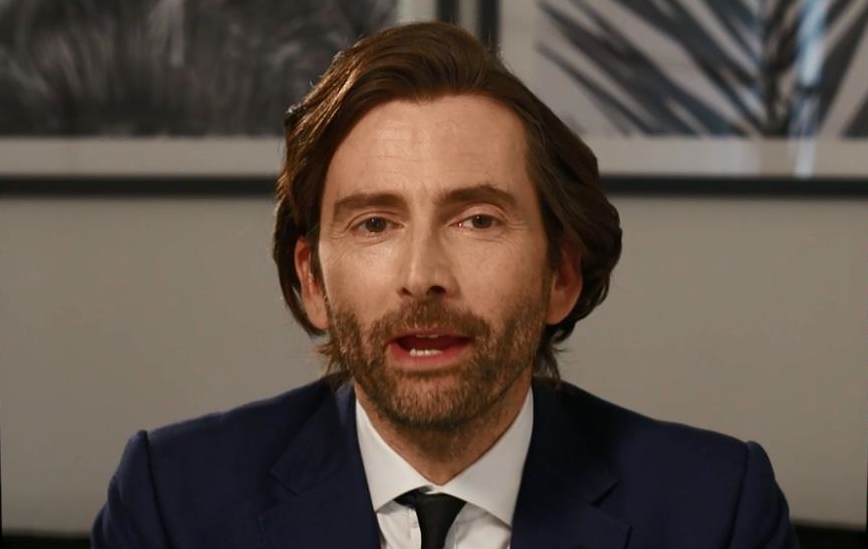 The first photo of David Tennant on Have I Got News For You has been posted online. Updated 7/5
April 2020
Issue #551 of Doctor Who Magazine is published today with a photo of David Tennant on the cover.
The issue contains interviews with former showrunners Russell T Davies and Steven Moffat. Updated 30/4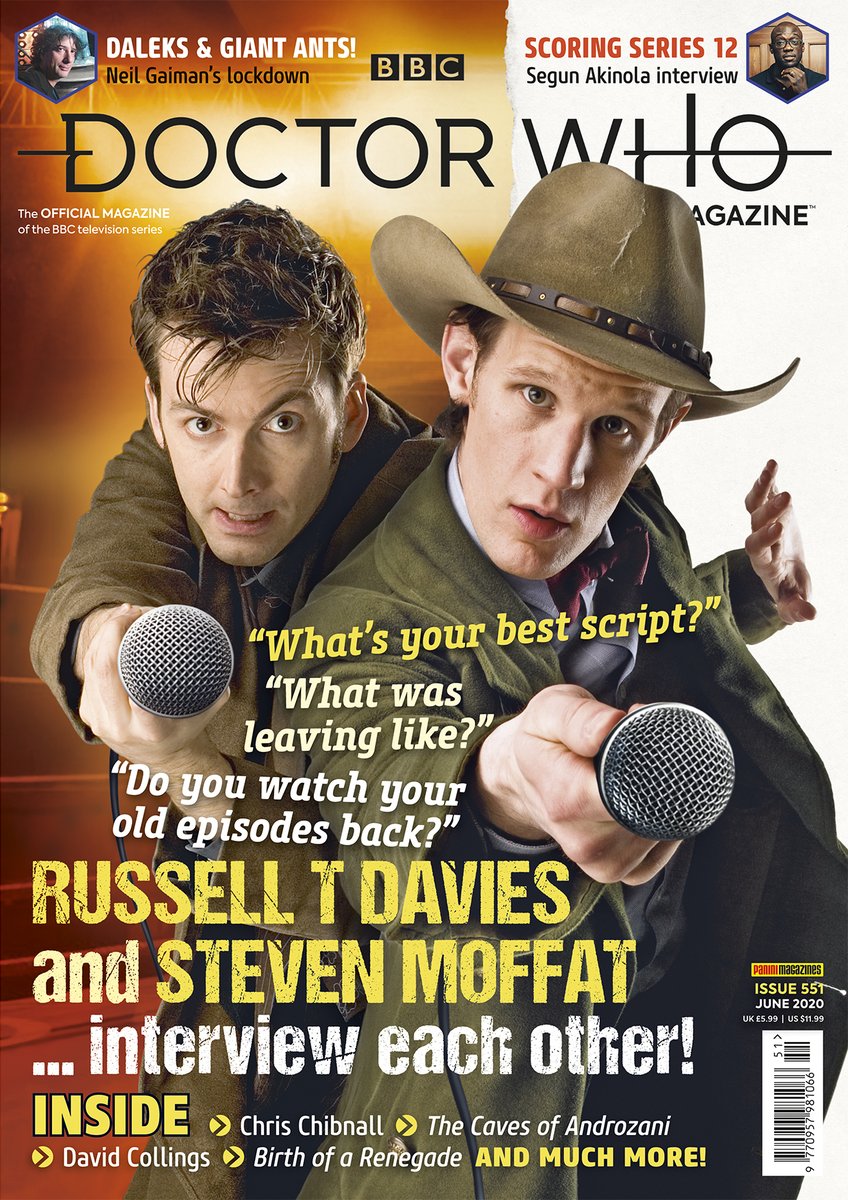 Issue #551 of Doctor Who Magazine is published on Thursday (30/4) and has a photo of David Tennant on the cover.
The issue contains interviews with former showrunners Russell T Davies and Steven Moffat. Updated 27/4

The first photo of David Tennant on The Big Night In has been posted online. Updated 23/4

A 'new to us' photo of David Tennant filming the Doctor Who episode The Christmas Invasion has been posted online. Updated 23/4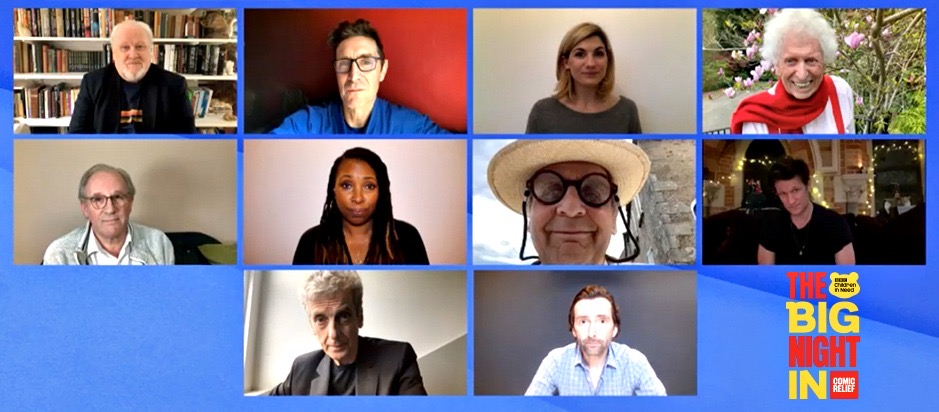 The first photo of David Tennant and the other nine Doctors for The Big Night In tonight has been posted online. Updated 23/4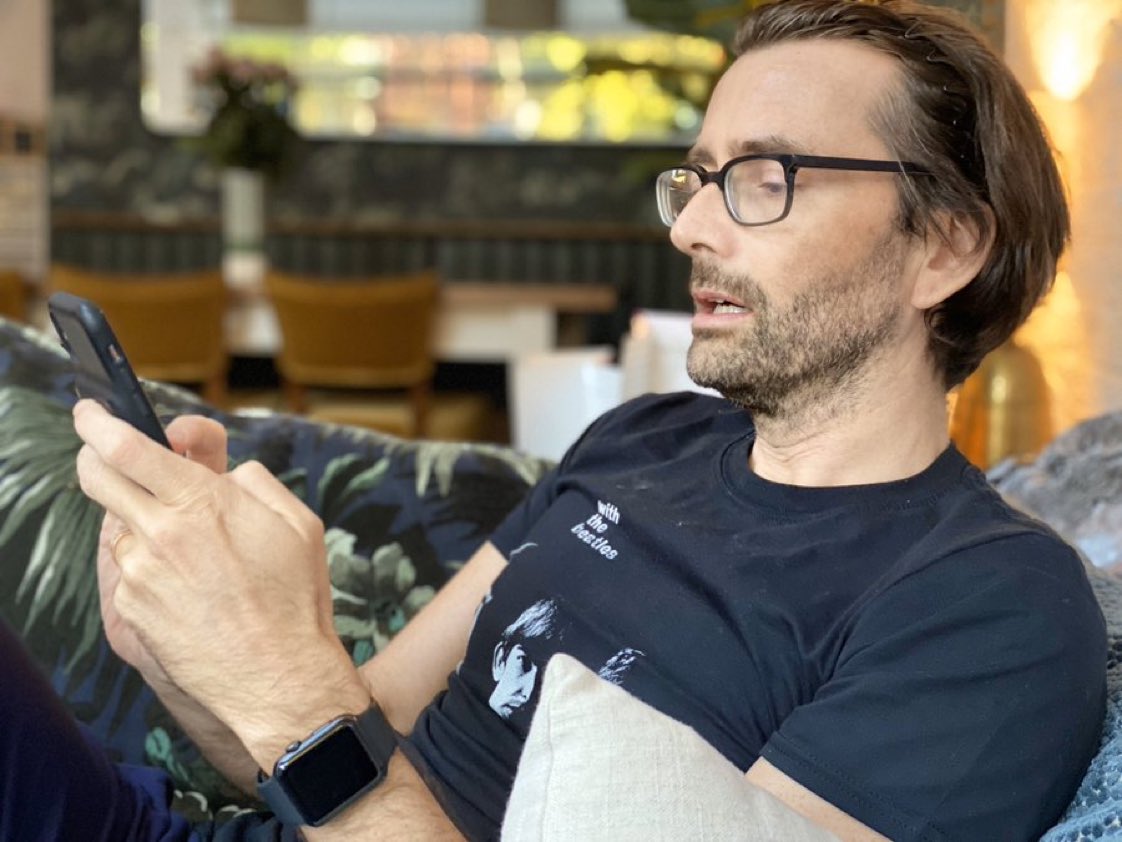 Tweets by DavidTennant during the #SubwaveNetwork watchalong tonight.
The link also includes some photos and a video. Updated 19/4

The first photo of David Tennant live tweeting during the #SubwaveNetwork watchalong tonight has been posted online. Updated 19/4

Today is David Tennant's 49th Birthday.
To celebrate we tweeted photos of him throughout the day. Updated 18/4



March 2020
Some photos of David Tennant filming Good Omens have been posted online. Updated 29/3



February 2020
Some new photos of David Tennant from shooting Good Omens have been posted online. Updated 25/2

Yesterday evening David attended Arabella Weir's stand-up show Does My Mum Loom Big In This? at the Leicester Square Theatre in London. A photo of him by a poster for the show has been posted online. Updated 22/2

Screencaps of David Tennant from the final episode of Good Omens. Updated 20/2

About 50 screencaps of David Tennant from the fifth episode of Good Omens. Updated 13/2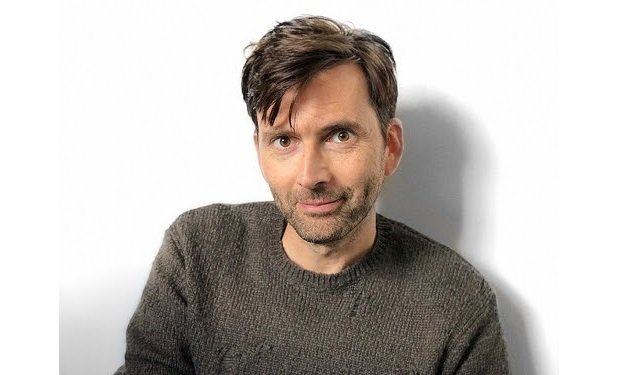 A new photo of David Tennant to promote Good has been posted online. Updated 11/2

The cover art for the Big Finish Tenth Doctor Short Trip audiobook The Shattered Hourglass by Robert Napton has been posted online.
The book is read by Madame Vastra actress Neve McIntosh and will be released in December.
Pre-order link. Updated 6/2

3 more photos of David Tennant on set yesterday have been posted online. Updated 6/2

A photo of David Tennant on set yesterday has been posted online.
The project has not been announced yet. Updated 6/2

Screencaps of David Tennant from the fourth episode of Good Omens. Updated 6/2

A new photo of David Tennant on the set of Deadwater Fell has been posted online. Updated 3/2

Screencaps of David Tennant in the final episode of Deadwater Fell. Updated 1/2



January 2020
David Tennant presented the Best Drama Series Award at The National Television Awards at the O2 Arena, London tonight.
A photo of him on stage has been posted online. Updated 28/1

Screencaps of David Tennant in the third episode of Deadwater Fell. Updated 25/1

Screencaps of David Tennant on The Last Leg last night. Updated 25/1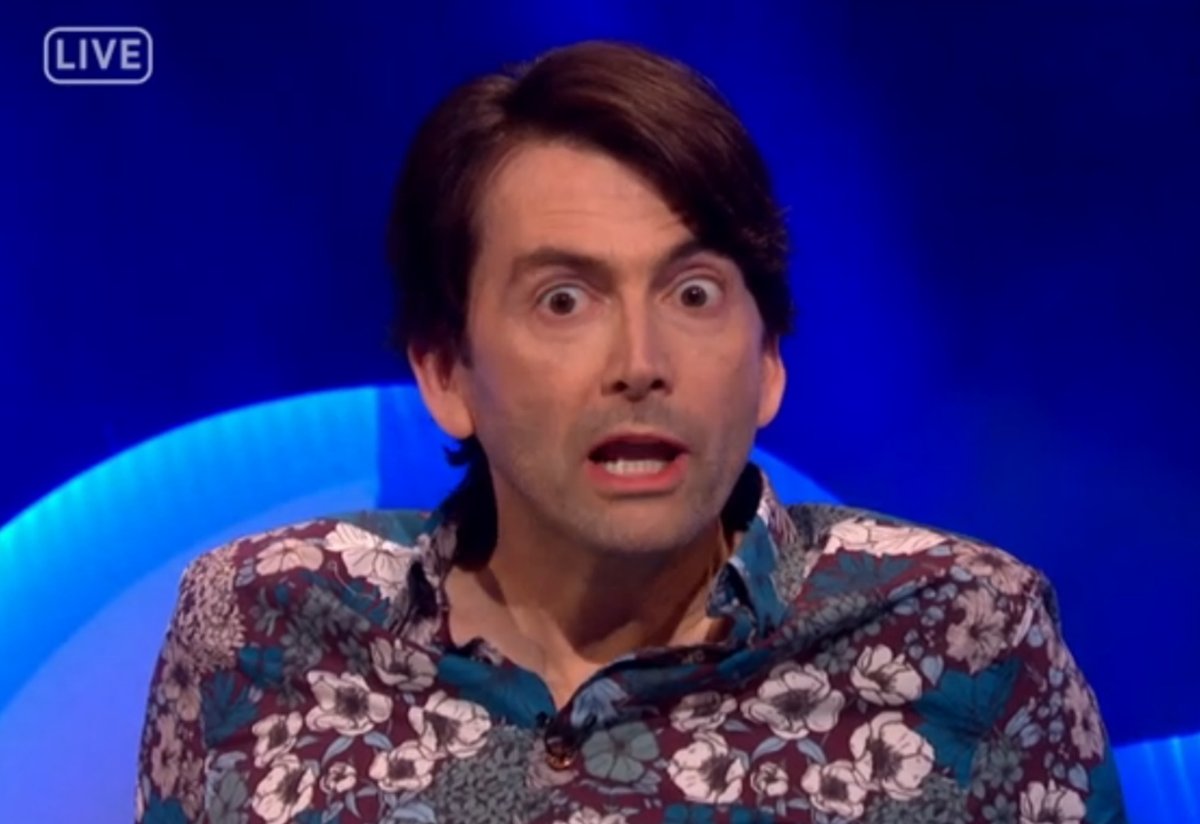 A photo of David Tennant and comedian Suzi Ruffell on The Last Leg on Channel 4 tonight has been posted online. Updated 24/1

Another fun photo of David Tennant on The Last Leg on Channel 4 tonight has been posted online.
This photo is from the Terry Jones tribute section. Updated 24/1

A fun photo of David Tennant on The Last Leg on Channel 4 tonight has been posted online. Updated 24/1

The first photo of David Tennant on The Last Leg on Channel 4 tonight has been posted online. Updated 24/1

A photo of David Tennant from the trailer for The Last Leg on Channel 4 tonight has been posted online. Updated 24/1

Deadwater Fell is iNews TV Pick Of The Day.
The article has a new photo of David Tennant (from the fourth episode). Updated 24/1

Promo photos of David Tennant from the third episode of Deadwater Fell. Updated 23/1

Screencaps of David Tennant from the second episode of Good Omens. Updated 23/1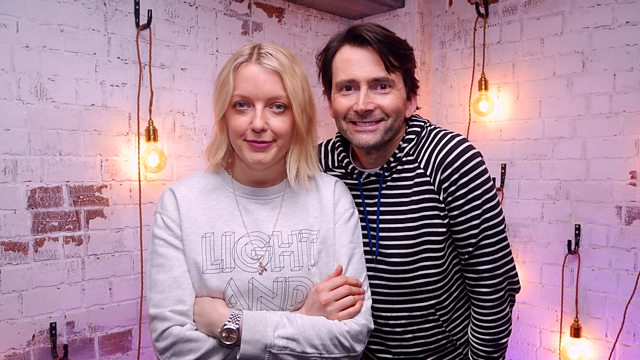 Photo of David Tennant from when he recorded his interview with Lauren Laverne for BBC Radio Six last Friday has been posted online.
The interview will broadcast on Wednesday (22nd). Updated 20/1

About 50 non-spoiler screencaps of David Tennant in the second episode of Deadwater Fell. Updated 18/1

A new behind the scenes photo from Deadwater Fell has been posted online. Updated 17/1

Another two photos of David Tennant on The Zoe Ball Show today have been posted online. Updated 17/1

Two more photos of David Tennant on The Zoe Ball Show today have been posted online. Updated 17/1

A photo of David Tennant on The Zoe Ball Show today has been posted online. Updated 17/1

The first photo of David Tennant on The Zoe Ball Show has been posted online. Updated 17/1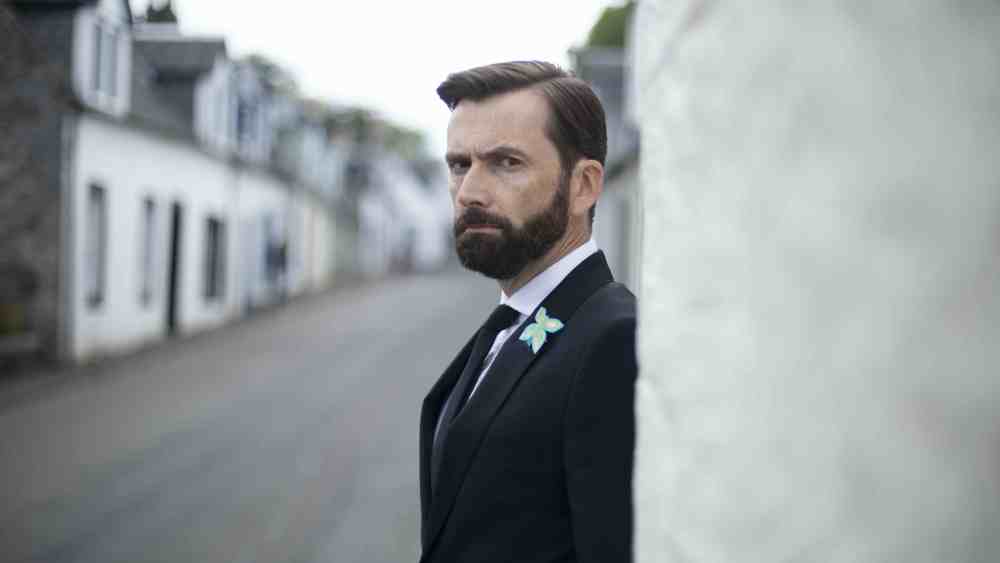 A new photo of David Tennant from Deadwater Fell has been posted online. Updated 16/1

Promo photos of David Tennant from the second episode of Deadwater Fell. Updated 16/1

Screencaps of David Tennant from the first episode of Good Omens. Updated 16/1

30 non-spoiler screencaps of David Tennant in the first episode of Deadwater Fell. Updated 11/1

An advert for Deadwater Fell is the wrap-around for Metro newspaper in London this morning.
A photo of it has been posted online. Updated 10/1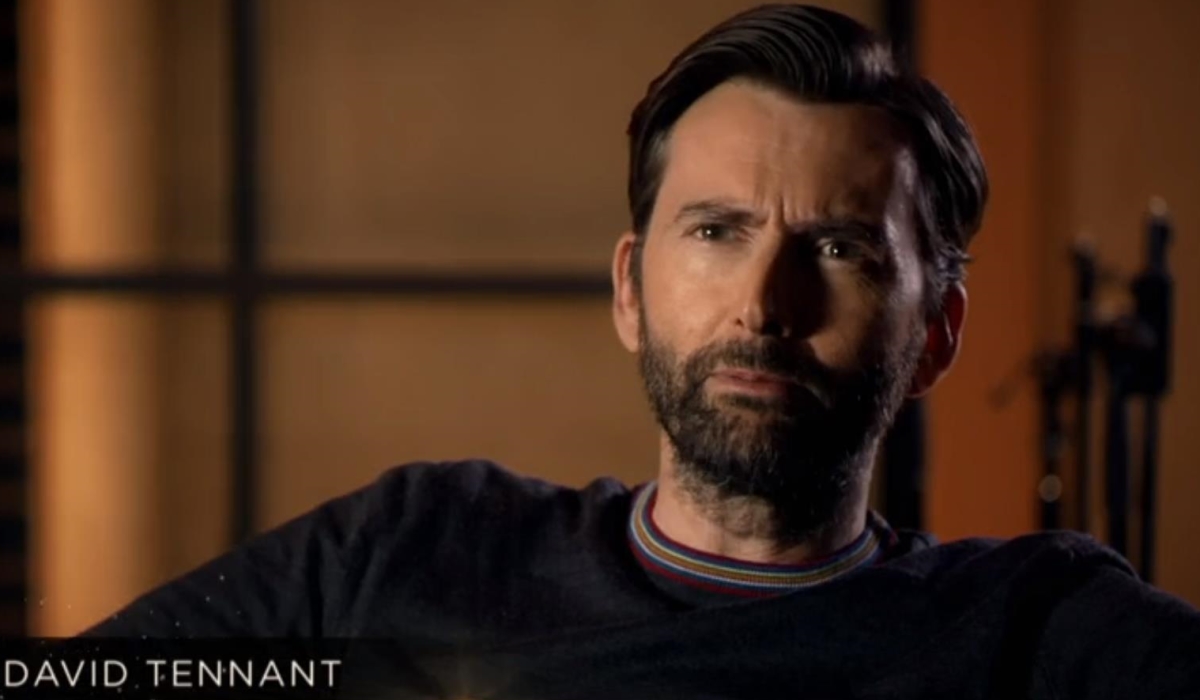 A screenshot of David Tennant on The National Television Awards Celebrate 25 Years show has been posted online. Updated 7/1




2019 Photos


2018 Photos


2017 Photos


2016 Photos


2015 Photos


2014 Photos


July to December 2013 Photos


January to June 2013 Photos


2012 Photos


2011 Photos


2010 Photos


2009 Photos





The main aim of David_Tennant@Twitter is to post information about the actor David Tennant. If you repeat the information online it would be appreciated if you could post that you read it first on DavidTennantOnTwitter.com, just as we are always careful to give full credit.