DavidTennantOnTwitter.com
David Tennant - Bad Samaritan
David Tennant stars in the movie Bad Samaritan which centres on two young car valets who use their business as a front to burglarize the houses of their unsuspecting patrons. Life is good for the petty thieves until they target the wrong house which changes their lives forever.
David stars as a thief called Cale Erendreich in the movie which is produced by Dean Devlinís Electric Entertainment company. Devlin has directed it himself and Brandon Boyce (Apt Pupil, Wicker Park) penned the screenplay for the thriller.
The movie was shot from December 2016 in and around the greater Portland, Oregon area. Filming was scheduled from Monday 5th December 2016 until Tuesday 17th January 2017 but it was extended by a few days due to problems with the weather.
Robert Sheenan also stars in the movie as Sean Falco and Carlito Olivero plays the role of Derek Hamilton.
The movie will be released in the US on Friday 4th May 2018. It was released in Belarus on Thursday 12th April. A confirmed release date for the UK has not been announced yet.
The quote from Dean Devlin in the press release was "Iím a huge fan of Davidís work. Iím overjoyed at the opportunity to work with him. Brandonís script had me on the edge of my seat. Tennantís intensity is a perfect match for this material."
Trailer:

Link to posts related to Bad Samaritan on Blogger.com (with more detail).


April 2018
A new video clip from Bad Samaritan titled Meet Cale has been added to YouTube. Updated 21/4

Entertainment Weekly has a new interview with David Tennant about Bad Samaritan.
The article includes a new photo of David Tennant from the movie.
Bad Samaritan is one of the summer movies Entertainment Weekly say they can't wait to watch. Updated 20/4

A new promo graphic of David Tennant from Bad Samaritan has been posted to Twitter. Updated 19/4

A birthday wish video from Rob Sheehan to David Tennant has been posted to Twitter which shows new filming footage. Updated 19/4

Bad Samaritan is released in Russia today. Updated 19/4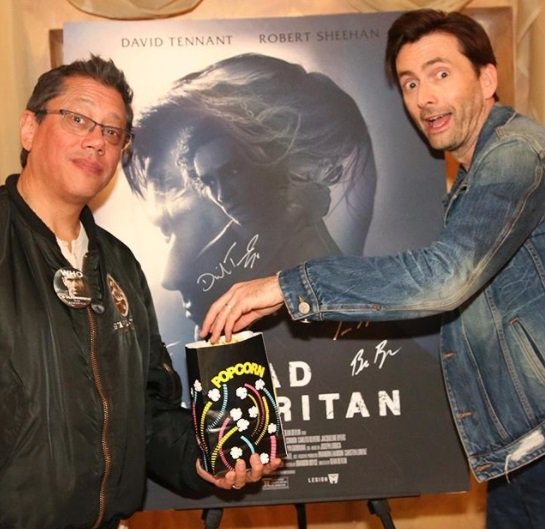 New photo of Dean Devlin and David Tennant in front of a Bad Samaritan poster has been posted to Twitter. Updated 12/4

Bad Samaritan is released in Belarus today. Updated 12/4

A new promo clip for Bad Samaritan including some new scenes from the movie has been posted to Twitter. Updated 10/4

MovieMagic reports that UK distributor Signature Entertainment will distribute Bad Samaritan in the UK. No release date has been announced yet. Updated 9/4

Photos and video of David Tennant at Bad Samaritan screening in San Jose, CA on Saturday 7th April. Updated 9/4

David Tennant to attend the free screening of Bad Samaritan tonight in San Jose, CA. Updated 7/4

David Tennant attends Silicon Valley Comic Con in San Jose, CA today.
Dean Devlin will also attend a panel for Bad Samaritan there today and a free screening of the movie tonight. Updated 7/4

LegionM will hold a free screening of Bad Samaritan tomorrow near Silicon Valley Comic Con which will be introduced by Dean Devlin. Updated 6/4

FilmMusicReporter has the track listing and the revised cover for the soundtrack album for Bad Samaritan which will be released on Friday 4th May. Updated 4/4

DreadCentral has a free screening of Bad Samaritan and a panel with Dean Devlin in New York on Thursday 19th April. Updated 3/4

A website for the movie BadSamaritanFilm.com has been launched today. Updated 2/4



March 2018
LRM has a detailed interview with Dean Devlin and Brandon Boyce about Bad Samaritan. They say that the movie will open in 2,500 theaters in the US on 4th May. Updated 31/3

Video of an interesting round-table interview with Dean Devlin and Brandon Boyce about filming Bad Samaritan has been posted to YouTube. Updated 30/3

Some David Tennant gifs from Bad Samaritan have been added to Twitter. Updated 28/3

A short video interview from Wonder Con of Dean Devlin talking about Bad Samaritan (and David Tennant in particular) has been added to YouTube. Updated 25/3

David Tennant wasnít at the Bad Samaritan panel at Wonder Con today but he did send a video saying hello to everyone in Anaheim before they showed the trailer. Updated 24/3

A panel about Bad Samaritan will be held at Wonder Con today.
Director Dean Devlin, writer Brandon Boyce and Carlito Olivero will attend the panel at 4pm to debut exclusive footage and answer questions about the movie. Updated 24/3

Video and photos of David Tennant watching the reactions of fans to the Bad Samaritan trailer. Updated 24/3

Today at 6.30pm Legion M have their panel at Wonder Con in Anaheim, CA. The projects discussed will include Bad Samaritan. Updated 23/3

Director Dean Devlin, writer Brandon Boyce and Carlito Olivero will appear at WonderCon on Saturday 24th March at 4pm to debut exclusive footage and answer questions about Bad Samaritan. Updated 10/3

The release date of Bad Samaritan has been delayed again in the US. This time from 27th April to Friday 4th May. Updated 8/3

Yahoo has a new interview with David Tennant about equality, Doctor Who, You, Me And Him, Jessica Jones, Good Omens and Bad Samaritan. Updated 1/3

Tonight there is a preview screening of Bad Samaritan in California.
The screening will be hosted by Dean Devlin. Updated 1/3



February 2018
It is not confirmed but IMDB lists Bad Samaritan to be released in The Netherlands on Thursday 17th May.
This is the only non-US date known so far. Updated 26/2

FilmThreat.com has a new interview with Dean Devlin and Carlito Oliveros about Bad Samaritan.
One quote from Dean about David Tennant is 'David is one of the most remarkable actors Iíve ever seen. People who have seen the trailer are actually disturbed because heís so likable as Doctor Who and on Broadchurch. Theyíll be just as disturbed to see what a good villain he is.'
Carlito added 'David definitely keeps you on your game. Heís not a two-take type of guy. He makes you want to get better as an actor every time, man. Heís so focused. Even when weíre not filming, heís just in his role, depending on whatever set heís on. Super sweetheart, perfectionist, and it just made me want to become a better actor every time. It was amazing.' Updated 24/2

Free preview screening of Bad Samaritan in California next week.
The screening will be hosted by Dean Devlin. Updated 23/2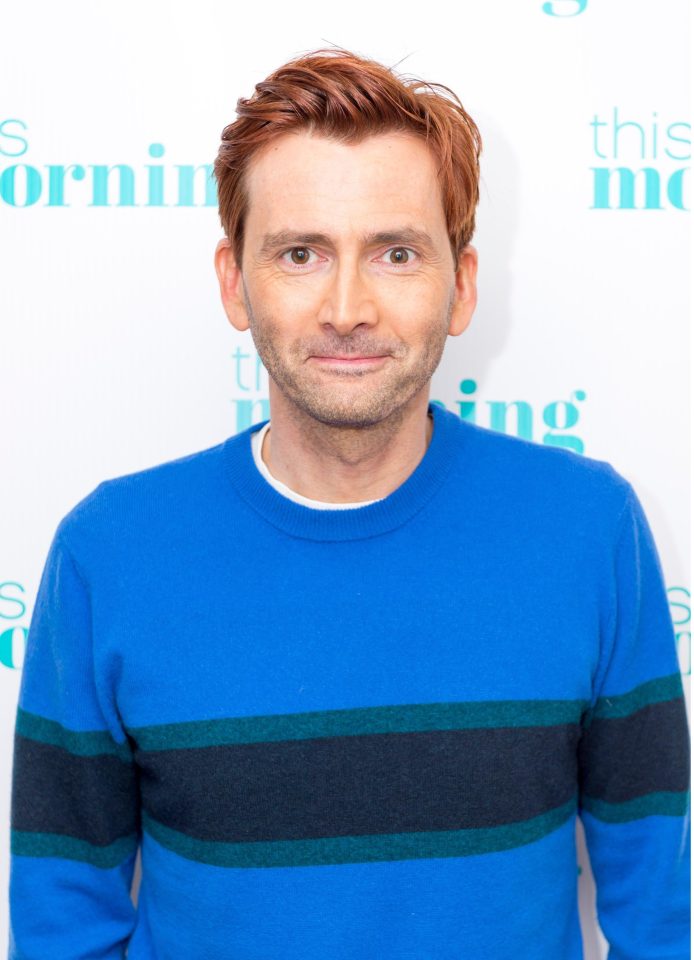 Video of David Tennant on This Morning talking about You, Me And Him, Good Omens and Bad Samaritan. Updated 22/2

The release of Bad Samaritan has been delayed from Friday 30th March to Friday 27th April.
Also an extended trailer has been posted online. Updated 16/2

Video featuring new scenes of David Tennant from Bad Samaritan. Updated 13/2

The Sheehab has an interview with Hannah Barefoot about her role in Bad Samaritan including what she learned acting with and watching David Tennant on set. Updated 8/2




Screencaps of David Tennant from the Bad Samaritan trailer. Updated 6/2

Entertainment Weekly has a new photo of David Tennant from Bad Samaritan. Updated 6/2

The first trailer for Bad Samaritan has been posted online. Updated 6/2

The soundtrack CD for Bad Samaritan will be released in the US on Friday 30th March (which is the same date as the movie is released).
The CD is available to pre-order. Updated 5/2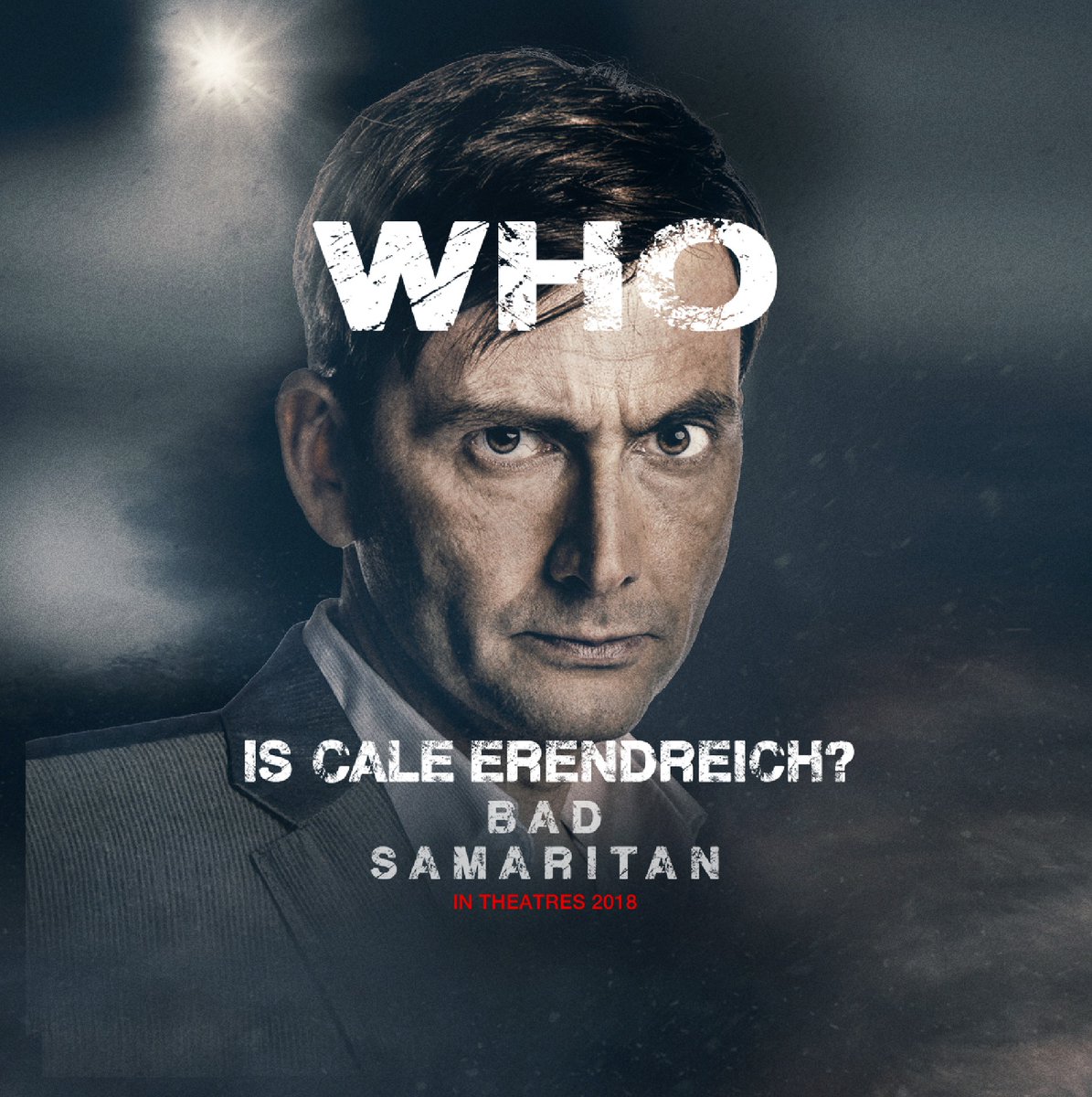 Dean Devlin has announced that the trailer for Bad Samaritan will be revealed next week.
A promo graphic of David Tennant for the movie has been posted to Twitter. Updated 3/2
January 2018
Los Angeles Times confirms the 30th March release date for Bad Samaritan. Updated 12/1



December 2017
It's not confirmed but AMC Theatres lists Bad Samaritan to open in the US on Friday 30th March. Updated 26/12



October 2017
Recap of the Dean Devlin panel about Bad Samaritan at New Yok Comic Con today.
A short David Tennant video was shown before the panel and, from the photos posted online, David was on location for Good Omens. Updated 5/10

The first footage of David Tennant in Bad Samaritan is expected to be shown today at the Dean Devlin panel at New Yok Comic Con. Updated 5/10



September 2017
Some footage of Bad Samaritan will be shown at Dean Devlin's panel at New York Comic Con on Thursday 5th October. Updated 6/9



May 2017
A preview screening (for market research purposes) of Bad Samaritan takes place today in Long Beach, CA. Updated 25/5

Tonorrow there will be a screening of Bad Samaritan in Long Beach, CA for market research purposes.
Tickets are still available. Updated 24/5

The Hollywood Reporter reports Bad Samaritan has now also been sold in Netherlands, Korea, Turkey, Greece, Indonesia, Malaysia and on international airlines. Updated 22/5

A new photo of David Tennant from Bad Samaritan has been posted to Twitter. Updated 19/5

ScreenDaily reports that Bad Samaritan has already been sold to Germany, the Middle East and Latin America after the first day of the Cannes Film Festival.
That link also contains a new photo of David Tennant from the movie. Updated 18/5

The Cannes Film Festival opens today. Three David Tennant movies are included.
Although he won't attend himself, David Tennant's movies Mad To Be Normal, You, Me And Him and Bad Samaritan are all involved in the film market part of the festival which is designed to promote movies to new markets and is only for people within the industry. Updated 17/5

Bloody-Disgusting reports that Bad Samaritan will be shown to industry insiders at the Cannes Film Festival this year. The festival starts tomorrow. Updated 16/5
The poster and first official photo of David Tennant from Bad Samaritan. Updated 14/5
BroadwayWorld mentions that Bad Samaritan has completed post production. No release date has been announced yet. Updated 3/5
April 2017
Metro has a 60 second interview with David Tennant about Mad To Be Normal, Don Juan In Soho and Bad Samaritan. Updated 7/4



February 2017
ScreenDaily reports footage of Bad Samaritan will be shown at the Berlin Film Festival which started today. This is an industry festival and showing the footage is designed to aid getting distribution into various markets. Updated 9/2



January 2017
A lovely photo of David Tennant with Delpaneaux A. Wills on the set of Bad Samaritan a few weeks ago has been posted to Instagram. Updated 27/1

According to IMDB David Tennant's character in Bad Samaritan will be called Cale Erendreich. Updated 4/1

A photo of David Tennant with a fan yesterday on the set of Bad Samaritan has been posted to Instagram. Updated 4/1

Bad Samaritan resumes filming today after their break for Christmas and the New Year. Updated 3/1



December 2016
Another lovely photo of David Tennant with some fans on the set of Bad Samaritan has been posted to Twitter. Updated 21/12

A lovely photo of David Tennant with some young fans on the set of Bad Samaritan has been posted to Twitter. Updated 20/12

Videos of David Tennant filming Bad Samaritan last night. Updated 13/12

First video (and photo) of David Tennant filming Bad Samaritan in Portland, OR last night. Updated 10/12

The first photos of filming on Bad Samaritan (although they don't show David Tennant) in Portland, OR have been posted to Twitter. Updated 8/12

Filming on Bad Samaritan is scheduled to start today in Portland, Oregon. Updated 5/12

Backstage have posted that filming on Bad Samaritan is schedueled to end on 17th January.
That means the whole shoot is from Monday 5th December 2016 until Tuesday 17th January 2017. Updated 1/12



November 2016
According to Project Casting filming on Bad Samaritan starts on Monday (5th December). Updated 29/11

Variety has an interview with Dean Devlin where he says Bad Samaritan will start filming in December. Updated 6/11



October 2016
Bad Samaritan director Dean Devlin has made some more lovely comments about David Tennant. Updated 25/10



August 2016
Two videos of Bad Samaritan director Dean Devlin expressing his joy about working with David Tennant. Updated 26/8

David Tennant to star in the movie Bad Samaritan. It will be shot later this year in and around the greater Portland, Oregon area. Updated 25/8