DavidTennantOnTwitter.com
David Tennant - Mad To Be Normal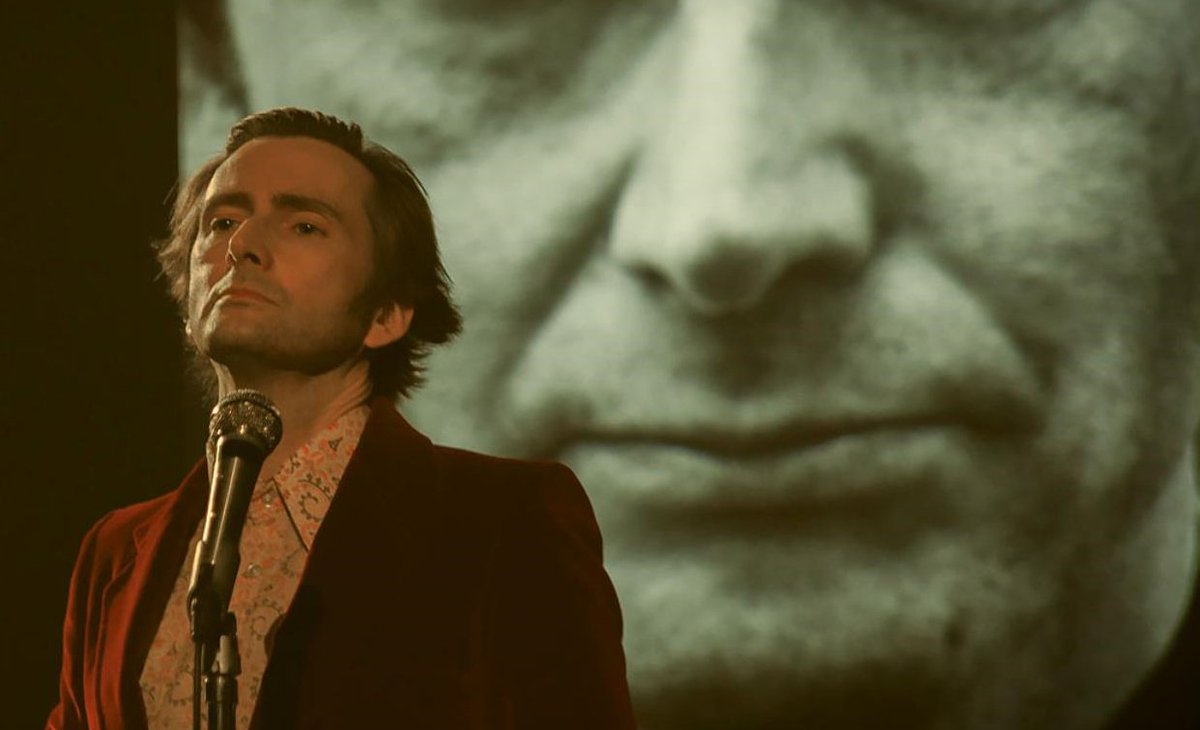 David Tennant is the star in a biopic of renowned Scottish psychiatrist R.D.Laing - the ĎAcid-Marxist.í
The movie is called Mad To Be Normal and is a UK / Germany co-production which features the story of Laing and his unique community at Kingsley Hall in East London during the 1960ís. Originally Mad To Be Normal was going to be called Metanoia.
Shooting on Mad To Be Normal started on Monday 1st February 2016 and concluded on Tuesday 1st March. Most of the filming was on location in Yorkshire with two days in London.
The quote from David Tennant about the production before filming was "I have long been fascinated by the life and work of RD Laing.
This is a wonderful opportunity to celebrate and discover this important man and I am honoured and thrilled to be involved in telling this story.
Robert Mullanís passion for the subject is inspiring and the presence of the brilliant Elisabeth Moss makes this something I cannot wait to start work on."
London-based Gizmo Films produced the movie in collaboration with Bad Penny Productions which was the production company led by Phin Glynn. Peter Dunphy was the executive producer and the producers were Phin Glynn, Charlotte Arden and Alan Latham. This was the fourth feature for Gizmo Films writer and director Robert Mullan who is also the author of three books about Laing.
As well as David Tennant, Mad To Be Normal stars Elisabeth Moss, Gabriel Byrne, Michael Gambon and David Bamber.
In the 1960ís and 70ís R.D. Laingís books regularly topped the student best-seller lists in the US. He shared the same stage as bands like the Grateful Dead and was never far away from controversy. The psychiatric establishment regularly tried to close his community at Kingsley Hall, seeing his occasional therapeutic use of LSD and his belief in metanoia (self-healing) as irresponsible and unscientific.
Mad To Be Normal had a limited release in the UK from Thursday 6th April 2017 which followed an exclusive one week run in cinemas in Glasgow from Thursday 23rd March. It was also screened in Russia and at a few film festivals in the US.
The movie had a digital release in the US on Friday 16th February and on DVD on Tuesday 20th February.
It had a digital release in the UK on Monday 13th August 2018 but no DVD released has been announced yet.
The production company said in December 2017 that they were negotiating a UK television deal for 'early 2018.'
David Tennant at the Mad To Be Normal premiere - Sunday 26th February 2017.

David Tennant at the Mad To Be Normal London screening and panel - Sunday 9th April 2017.

Link to posts related to Mad To Be Normal on Blogger.com (with more detail).


Known filming dates and locations
A proportion of filming of the movie is out of the public eye but the known dates / locations so far were:
February 2016
Mon 1 - Scampston Hall in Yorkshire. David Tennant and Elisabeth Moss on set.
Tues 2 - Stone Trough Books, Walmgate, York. David Tennant and Elisabeth Moss filmed a scene where he was doing a book signing.
Wed 3 - York University. David Tennant and Elisabeth Moss on set and included a scene where he was addressing a classroom of students.
Thurs 4 - York University. David Tennant and Elisabeth Moss on set.
Fri 5 - The Venue at Storthes Hall (student accommodation), Huddersfield. David Tennant and Michael Gambon on set.
Sat 6 - Malton in Yorkshire until 12.30pm. David Tennant on set.
Week commencing Monday 15th - Escrick village and Bubwith until Thursday 18th. David Tennant on set.
Fri 19 - Scarborough. David Tennant on set.
Sat 20 or Sun 21 - Malton marketplace.
Mon 22 - Malton in Yorkshire. David Tennant on set.
Tues 23 - Hidden Monkey Tea Room in Malton, Yorkshire. David Tennant on set.
Mon 29 - Filming moved to London (Kingsley Hall).
March 2016
Tues 1 - Filming wrapped in London. David Tennant on set.



2019
Mad To Be Normal has its UK television premiere when it is shown on Sky Cinema Premiere at 11am today with a repeat on the same station tonight at 10pm. Updated 4/2

Mad To Be Normal is The Times Film Choice for tomorrow. Updated 3/2

Mad To Be Normal will have its UK television premiere in February.
It will premiere on Monday 4th February when it is shown on Sky Cinema Premiere at 11am with a repeat on the same station at 10pm that evening. Updated 16/1



2018
Amazon in the US has a link to purchase Mad To Be Normal on DVD which plays in the UK and Europe.
This link was tweeted by the movie's writer Robert Mullan. Updated 15/10

Mad to Be Normal is released on VOD in the UK today. Updated 13/8

Mad to Be Normal to be released on VOD in the UK on Monday 13th August. Updated 9/7

Mad To Be Normal has its television premiere in New Zealand today. Updated 6/6

Tonight Mad To Be Normal has its first screening at Reel Abilities Film Festival tonight in New York. The movie will be screened at Marlene Meyerson JCC Manhattan at 9pm. Updated 10/3

Mad To Be Normal is released on DVD in the US today. Updated 20/2

Mad To Be Normal has a digital release in the US today. Updated 16/2

Tonight Mad To Be Normal is the opening film in the 2018 Mostly British Film Festival in San Francisco. The screening is sold out. Updated 15/2

The release date of the DVD of Mad To Be Normal in the US has been changed from Tuesday 13th March to Tuesday 20th February. Updated 13/2

Tickets are now available to watch Mad To Be Normal at the Reel Abilities Film Festival in New York.
The movie will be screened first on Saturday 10th March at Marlene Meyerson JCC Manhattan at 9pm and on Monday 12th March at NY Public Library, 67th St Library at 3pm.
It will also screen on Friday 9th March at York College Little Theater at 1pm and on Sunday 11th March at Alamo Drafthouse Yonkers at 2pm. Updated 12/2

Tonight Mad To Be Normal is the closing night movie for the Oxford Film Festival in Mississippi. More details are at this link. Updated 11/2

Mad To be Normal to screen at a film festival in New York City.
The movie will screen at the 10th annual ReelAbilities Film Festival in New York. The date(s) of the screening(s) will be announced on Monday when tickets will also go on sale.
The ReelAbilities Film Festival runs from Thursday 8th March until Wednesday 14th March. Updated 9/2

Today is the US West Coast premiere of Mad To Be Normal in aid of Gnosis Retreat Center in San Francisco. Updated 4/2

The new cover art revealed for the DVD release of Mad To Be Normal in the US (on Tuesday 13th March) has been posted to Twitter. Updated 30/1

Mad To Be Normal will be released on DVD in the US and Canada on Tuesday 13th March. Updated 21/1

Mad To Be Normal will be the closing night movie for the Oxford Film Festival in Mississippi on Sunday 11th February.
More details are at this link. Updated 8/1

US West Coast premiere of Mad To Be Normal in aid of Gnosis Retreat Center announced.
The movie will be screened on Sunday 4th February in San Francisco. Updated 5/1



December 2017
Mad To Be Normal to have a digital release in the US on Friday 16th February. Updated 13/12

An update from Mad To Be Normal on the movie has been posted to Facebook.
They said they are negotiating a UK television deal for early 2018 and also a US theatrical (cinema) and home entertainment deal which will also have a Q1 2018 delivery. Updated 5/12



November 2017
The Canadian premiere of Mad To Be Normal is tonight at the Rendezvous With Madness Film Festival. Updated 3/11

Mad To Be Normal has its Russian premiere today. Updated 1/11



October 2017
Mad To Be Normal will be shown at the Naples Film Festival today in Naples, FL. Updated 27/10

Mad To Be Normal to have its Russian premiere at New British Film Festival. Updated 14/10

EventBrite is the link to purchase tickets for the Canadian premiere of Mad To Be Normal on Friday 3rd November. Updated 7/10

The Canadian premiere of Mad To Be Normal will be at the Rendezvous With Madness Film Festival on Friday 3rd November.
Tickets go on sale tomorrow. Updated 5/10



September 2017
Deadline confirms that Mad To Be Normal will be released in the US. Updated 19/9



August 2017
Round-up and video of all of David Tennant's 45 minute panel at Wizard World Columbus today.
As well as talking about Jodie Whittaker becoming the Thirteenth Doctor, David announced that Mad To Be Normal will be released in the US. He added "We've only just heard but we're not sure at the moment how it will be released." Updated 5/8



July 2017
Tonight Mad To Be Normal won Galway Film Fleadh Best International Feature Award. Updated 16/7

Mad To Be Normal will be shown tonight at Galway Film Fleadh. Writer and director Robert Mullan will attend the screening. Updated 12/7



June 2017
Mad To Be Normal to be shown at Galway Film Fleadh on Wednesday 12th July.
Writer and director Robert Mullan will attend the screening. Updated 29/6

Unfortunately Mad To Be Normal didn't win the Best Feature Film Award at the Shanghai International Film Festival as Pauwi Na (Pedicab) won. Updated 25/6

The Golden Goblet Awards are announced today. Mad To Be Normal is nominated for the Best Feature Film Award. Updated 25/6

Mad To Be Normal is screened at Shanghai Film Festival today. Updated 20/6

Mad To Be Normal will have 3 screenings at Shanghai International Film Festival starting on on Tuesday 20th June. Updated 15/6



May 2017
Gizmo Films tweeted today that they hope Mad To Be Normal will become available on VOD this summer so fans outside UK will be able to watch it too. Updated 23/5

Mad To Be Normal is screened at the Cannes Film Festival this afternoon. Updated 21/5

Mad To Be Normal nominated for a Golden Goblet Award at Shanghai International Film Festival. Updated 19/5

The Cannes Film Festival opens today. Three David Tennant movies are included.
Although he won't attend himself, David Tennant's movies Mad To Be Normal, You, Me And Him and Bad Samaritan are all involved in the film market part of the festival which is designed to promote movies to new markets and is only for people within the industry. Updated 17/5



April 2017
David Tennant is one of the actors who has received an award from Newport Beach Film Festival. Updated 30/4

A new clip of David Tennant from Mad To Be Normal. Updated 27/4

A new photo of David Tennant from Mad To Be Normal has been posted to Twitter. Updated 21/4

Mad To Be Normal has its US debut showing today at the Newport Film Festival in California tonight. Updated 21/4

The Guardian gives Mad To Be Normal 4 stars in a review with the sub-title 'David Tennant gives a brilliant performance as RD Laing, the radical psychiatrist who rewrote the rules on mental health treatment. Updated 7/4

The Express awards Mad To Be Normal 4 stars and concludes its review with 'However, Tennant is so commanding you canít tear your eyes away from him. Itís the kind of performance that deserves to be remembered come awards season in a film that will revive interest in the life and work of Laing.' Updated 7/4

Metro has a 60 second interview with David Tennant about Mad To Be Normal, Don Juan In Soho and Bad Samaritan. Updated 7/4

The Times has a 4 star review of Mad To Be Normal. The review includes 'The charismatic core is David Tennant.' Updated 7/4

Behind The Scenes video of filming Mad To Be Normal. Updated 6/4

A new video interview with David Tennant about Mad To Be Normal. This one is fron 5 Live. Updated 6/4

A new clip of David Tennant in Mad To Be Normal has been posted to YouTube. Updated 6/4

Mad To Be Normal is released in cinemas in the UK today. Updated 6/4

A new (exclusive to us!) two minute clip of David Tennant and Elisabeth Moss in Mad To Be Normal. Updated 4/4

Videos of David Tennant being interviewed on Magic Radio about Mad To Be Normal and Doctor Who. Updated 4/4

The iPaper has an article about Mad To Be Normal, RD Laing and how well David Tennant nails him in the movie. Updated 4/4

The Arts Desk has a 3 star review of Mad To Be Normal. The title is 'David Tennant is electric as RD Laing.' Updated 4/4

BBC Arts has posted a video clip of David Tennant talking about RD Laing and Mad To Be Normal to Twitter. Updated 3/4

The Upcoming has a 4 star review of Mad To Be Normal. Updated 3/4

MP3 of David Tennant's interview on The Gaby Roslin Show about Mad To Be Normal. Doctor Who is also mentioned. Updated 2/4

MP3s of David Tennant's interview on Loose Ends.
In the interview David was asked about Mad To Be Normal, Don Juan In Soho, Doctor Who and Broadchurch. Updated 1/4



March 2017
The Hollywood Reporter has a review of Mad To Be Normal which includes 'a fine showcase for Tennant's acting skills.' Updated 31/3

MP3s of all the David Tennant sections on Absolute Radio today (plus videos and photos) where Mad To Be Normal was mentioned a few times. Updated 31/3

Mad To Be Normal will be shown at the Belfast Film Festival today. Updated 31/3

A new gif of David Tennant from Mad To Be Normal has been posted to Twitter. Updated 27/3

After the 4.20pm screening of Mad To Be Normal today in Glasgow there will be a panel discussion moderated by Dr. Peter Byrne of the Royal College of Psychiatrists and the Mental Health Foundation. Updated 26/3

Herald Scotsman gives Mad To Be Normal 3 stars in its brief review which includes the description the 'ever-charismatic David Tennant.' Updated 24/3

MP3 of David Tennant interview and review of Mad To Be Normal on BBC Radio Scotland yesterday. Updated 24/3

Mad To Be Normal starts an exclusive one week run at the Glasgow Film Theatre today. Updated 24/3

Drector Robert Mullan says lovely things about working with David Tennant on Mad To Be Normal. Updated 23/3

British Psychological Society's magazine has a review of Mad To Be Normal which includes 'David Tennant is believably energetic and charismatic.' Updated 22/3

New clip of David Tennant from Mad To Be Normal. This clip shows David as RD Laing giving the start of a lecture. Updated 21/3

Sunday Herald Magazine has an interview with David Tennant about Mad To Be Normal which is titled 'Madness And me.' Updated 19/3

Mad To Be Normal will be shown at Newport Beach Film Festival in California. The festival runs from Thursday 20th to Thursday 27th April. Updated 16/3

Some nationwide screenings have been announced for Mad To Be Normal. A new website has been set up and a poster has been added to Twitter. Updated 15/3

David Tennant to attend an extended introduction to a second London screening of Mad To Be Normal on Sunday 9th April. Updated 14/3

David Tennant to attend a panel after a special London screening of Mad To Be Normal on Sunday 9th April. Updated 10/3

New video interview with David Tennant and Robert Mullan about Mad To Be Normal. Updated 6/3

A clever David Tennant/RD Laing gif has been posted to Twitter. Updated 1/3

David Tennant to be a guest on The One Show tomorrow (Thursday).
This appearance is to promote Broadchurch Series Three (which premiered on ITV on Monday), Don Juan In Soho (which opens on 17th March) and Mad To Be Normal (which had its premiere last Sunday). Updated 1/3



February 2017
Video and loads of photos of David Tennant interview about Broadchurch (where he mentioned Mad To Be Normal) on This Morning today. Updated 27/2

There was a brief David Tennant interview about Mad To Be Normal on BBC Scotland today. Updated 27/2

The National has a review of Mad To Be Normal which describes it as an 'excellent showcase for Tennantís inimitable, charismatic screen presence.' Updated 27/2

The List only gives Mad To Be Normal 2 stars but reports 'The plus here is Tennant.' Updated 27/2

ScreenDaily has the first review of Mad To Be Normal.
It includes the phrases 'David Tenant turns in a memorable performance' and 'The filmís main asset is Tennant; his Laing is both commanding and nurturing, provocative and playful.' Updated 27/2

Photos of David Tennant at the premiere of Mad To Be Normal tonight. Updated 26/2

Photos of David Tennant at the Glasgow Film Festival press interviews today. Updated 26/2

The Scotsman has an interview with David Tennant about Mad To Be Normal. Updated 26/2

The first video interview of David Tennant and Robert Mullan at the Glasgow Film Festival today about Mad To Be Normal. Updated 26/2

David Tennant attends the world premiere of Mad To Be Normal at the Glasgow Film Festival. Updated 26/2

Glasgowist has a review of Mad To Be Normal which includes the phrase 'a stunning performance from David Tennant.' Updated 25/2

The first review of David Tennant's forthcoming movie Mad To Be Normal (with lovely comments about his acting) has been posted online by Radio Scotland. Updated 23/2

David Tennant's forthcoming movie Mad To Be Normal will be reviewed on The Janice Forsyth Show today on BBC Radio Scotland today. Updated 23/2

Mad To Be Normal director tells Oxford Times how David Tennant helped bring in Elizabeth Moss, Michael Gambon and Gabriel Byrne to the movie. Updated 21/2

Herald Scotland has an interview with Robert Mullan about the back story to the movie Mad To Be Normal. Updated 19/2

Two new photos of David Tennant from Mad To Be Normal have been posted to Twitter. Updated 17/2

First screening in England (with a panel) has been announced for Mad To Be Normal.
It will be held at the Ultimate Picture Palace in Oxford on Wednesday 12th April starting at 6.15pm. Updated 15/2

Details of screenings of Mad To Be Normal in Inverness from Friday 7th to Thursday 13th April have been posted to Twitter. Updated 14/2

Details and tickets on sale for the preview screenings of Mad To Be Normal in Glasgow in March.
The 23 screenings at the Glasgow Film Theatre will be between Friday 24th and Thursday 30th.
The screening on Sunday 26th March at 4.20pm will be followed by a panel discussion which will be moderated by Dr. Peter Byrne of the Royal College of Psychiatrists and the Mental Health Foundation. (Please note David Tennant will not attend this panel.) Updated 13/2

David Tennant's interview in The Times Magazine today.
As well as life in general, David briefly discusses Doctor Who, Broadchurch, Mad To Be Normal and Don Juan In Soho. Updated 11/2

Mad To Be Normal will be released in the UK on Thursday 6th April.
This will follow an exclusive one week run in cinemas in Glasgow from Thursday 23rd March. Updated 6/2

Last night it was the trailer (less the written words) of Mad To Be Normal which was shown on Film 2017 on BBC One. Updated 2/2

A clip of Mad To Be Normal will be shown on Film 2017 tonight on BBC One at 11.35pm. Updated 1/2

The trailer has been released for Mad To Be Normal. Updated 1/2



January 2017
The first three second video from Mad To Be Normal has been released online. Updated 18/1

Tickets to see David Tennant at the world premiere of Mad To Be Normal at the Glasgow Film Festival sold out today across 3 cinemas in 20 minutes!

Tickets go on sale today to see David Tennant at the world premiere of Mad To Be Normal at the Glasgow Film Festival.

Another new photo of David Tennant from Mad To Be Normal has been posted to Twitter. Updated 7/1

Daily Record interview with Mad To Be Normal writer Bob Mullan has two new photos of David Tennant. Updated 6/1

David Tennant will attend the world premiere of Mad To Be Normal at the Glasgow Film Festival on Sunday 26th February. Updated 4/1



October 2016
Mad To Be Normal have posted that the movie is now being screened to distributors in the UK and US including at the upcoming American Film Market in Santa Monica California. They will also be taking the film to the Berlinale - Berlin International Film Festival. Investors have already been invited to private screenings and they say that the 'response has been excellent.' Updated 26/10

Last night there was a screening for investors of Mad To Be Normal at The Hospital Club in London. No release date has been announced yet for the movie. Updated 20/10

New photos of David Tennant in Mad To Be Normal. Updated 10/10



August 2016
Artwork for some (not finalised) posters for Mad To Be Normal have been posted to Tumblr. Updated 5/8



June 2016
Two new photos of David Tennant from Mad To Be Normal have been added to Twitter here and here. Updated 9/6



May 2016
Mad To Be Normal is presented at Cannes from today. Updated 13/5

A new photo of David Tennant from Mad To Be Normal has been posted to Twitter. Updated 2/5



April 2016
A new photo of David Tennant from Mad to Be Normal has been posted to Twitter. Updated 29/4
March 2016
A new photo of David Tennant from Mad To Be Normal has been posted to Twitter. Updated 30/3

A screengrab of David Tennant on the set of Mad To Be Normal has been posted to Twitter. Updated 3/3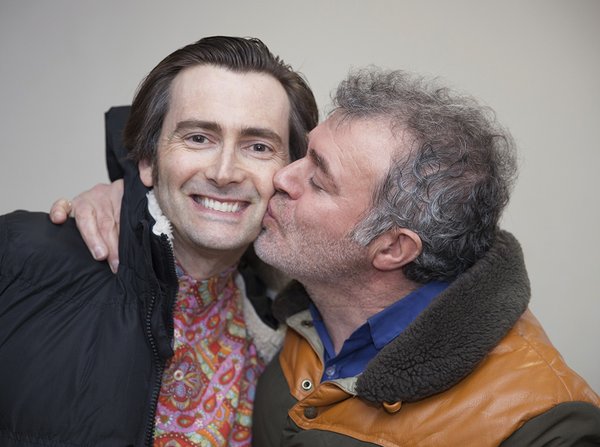 A fun photo of David Tennant with the director of photography on Mad To Be Normal has been posted to Twitter. Updated 3/3
Filming wrapped on Mad To Be Normal yesterday. David Tennant took cupcakes for the cast and crew! Updated 2/3
February 2016
A new photo of David Tennant from Mad To Be Normal has been posted to Twitter, plus an interview with the movie's producer Phin Glynn is on a blog where he mentions David. Updated 22/2

A new photo of David Tennant filming Mad To Be Normal has been posted to Twitter. Updated 21/2

A new photo of David Tennant on the set of Mad To Be Normal has been posted to Twitter. Updated 19/2

Another new photo of David Tennant as R.D. Laing in Mad To Be Normal has been posted to Twitter. Updated 12/2

Four more photos of David Tennant from Mad To Be Normal have been posted to Tumblr. Updated 11/2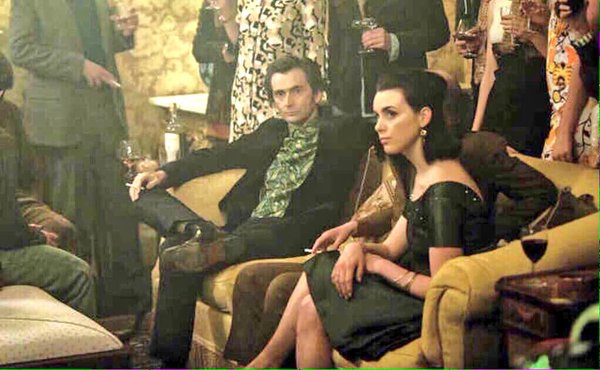 Another photo of David Tennant from Mad To Be Normal has been posted to Twitter. Updated 11/2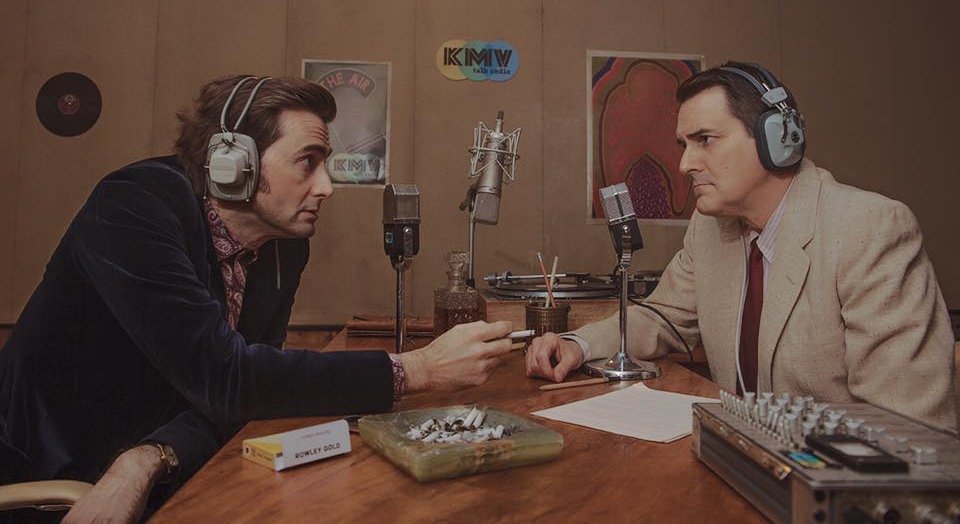 The first official photo of David Tennant as R.D. Laing in Mad To Be Normal has been posted to Twitter. Updated 10/2
David Tennant will film Mad To Be Normal at York University again today. Updated 4/2
Daily Mail has posted a new photo of David Tennant from yesterday on the Mad To Be Normal set. Updated 3/2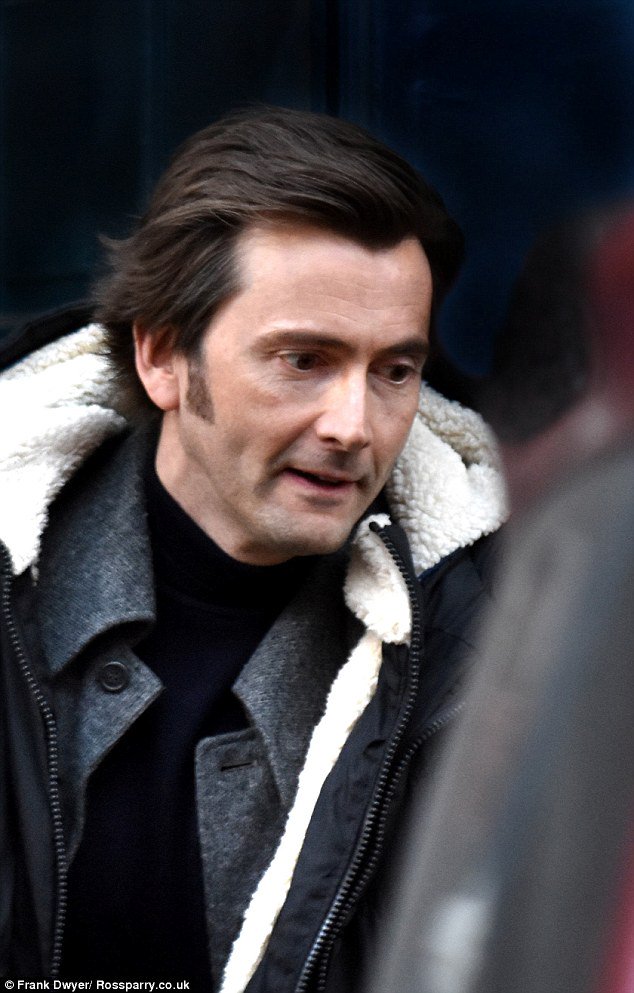 David Tennant will film Mad To Be Normal at York University today. Updated 3/2
York Press have posted a video of David Tennant on the set of Mad To Be Normal in Walmgate, York today.
A screencap of David from the video was posted to Twitter.
The article reported that about 20 extras wearing 1960s clothing were also seen in the street, forming a queue to enter Stone Trough Books, before being ushered inside to film a scene where Laing is signing copies of his book.
The quote from Phin Glynn (one of the producers) was "We're filming in York for about four weeks and we're on day two now. This week is a big week as we're shooting some of the heaviest days." Updated 2/2
The first photo of David Tennant on the set of Mad To Be Normal yesterday has been posted to Twitter. Updated 2/2
Filming starts on Mad To Be Normal today. The movie will be filmed in London and Yorkshire. Updated 1/2
January 2016
YorkVision reports that some filming of Mad To Be Normal will take place on the University Of York campus next month. Updated 26/1

Gizmo Films posted to Facebook that filming starts on Mad To Be Normal on Monday 1st February. Updated 24/1

Change of name and filming location for David Tennant's movie Metanoia. It will now be called Mad To Be Normal and filming will take lace in Yorkshire (instead of Germany) and in London. Filming will start in Febrary. Updated 16/1
September 2015
ScreenDaily reports that Metanoia starts filming in January 2016. (Previously only the first quarter of the year was announced.) Updated 12/9
May 2015
The Scotsman has more details about David Tennant's new movie Metanoia. Updated 15/5

David Tennant will star in the movie Metanoia.
It is a biopic of Scottish psychiatrist R.D. Laing who was known as the ĎAcid-Marxist.í
Shooting is expected to take place in the first quarter of 2016 in Cologne and on location in London. Updated 15/5