David Tennant stars in the romantic-comedy movie You, Me And Him alongside Lucy Punch (Bad Teacher) and Faye Marsay (Game Of Thrones). Nina Sosanya and Ingrid Oliver are also in the cast.
The film tells the story of two women's differing experiences with pregnancy. One is a 40-year-old magistrate, the other a carefree party girl. The twist is that they are in a relationship with each other.
David Tennant plays the couple's neighbour John. His character is described as an obnoxious Scot who is responsible for one of the pregnancies.
According to ScreenDaily 'Writer-director Daisy Aitkens makes her feature debut on the film produced by Phin Glynn (Mad To Be Normal), Georgia Moffat (96 Ways To Say I Love You) and Harriet Hammond (Mad To Be Normal). Post-production will be handled by Lipsync. Promotion and brokering will be provided by Charlie Wood and Warrior Promotions. DoP is John de Borman (Quartet).'
Filming started on Monday 31st October 2016 and ended on Friday 2nd December. David shot his scenes in a few days in November. The movie was released online in the US on Friday 15th December 2017 and shown on a few minor television stations there from Friday 29th December 2017.
The movie was released in cinemas in the UK on Thursday 12th April 2018 after its European premiere at the Glasgow Film Festival on Sunday 25th February which David attended. David also attended a screening in Birmingham on Saturday 31st March and on Sunday 1st July on the island of Jersey both in aid of Baby Lifeline. The movie had a digital release in the UK on Monday 1st October 2018.
Previously this movie was to have been called Fish Without Bicycles.
David Tennant's video 'advert' for You, Me And Him:

(with more detail).


2018
You, Me And Him to be released on DVD in the UK on Monday 11th February. Updated 13/11

A video of David Tennant picking a winner of the You, Me And Him competition earlier today has been posted to YouTube. Updated 8/10

David Tennant won the Best Supporting Actor Award at the tenth annual Lady Filmmakers Awards.
David won for the movie You, Me And Him which also won the Best Foreign Film Award.
David did not attend the ceremony at Via Alloro restaurant on Sunday evening in Los Angeles. Updated 3/10

Bad Penny Productions posted two tweets (here and here) about a competition to stand a chance of winning a You, Me And Him poster signed by David Tennant himself.
The winner will be announced by David himself next Monday live on Instagram. Updated 2/10

You, Me And Him has its digital release in the UK today. Updated 1/10

You, Me And Him to be released on iTunes in the UK on Monday.
Also David Tennant has been nominated for the Best Supporting Actor Award for this movie at the Lady Filmmakers Festival in Los Angeles.
The winners will be announced tomorrow evening (which David is not expected to attend). Updated 29/9

The New Zealand television premiere of You, Me And Him is on Sky Movies Extra tonight at 8.30pm. Updated 1/8

David Tennant to attend charity screening of You, Me and Him on Jersey.
The screening is in aid of Baby Lifeline and will take place on Sunday 1st July. Updated 19/6

Details of a You, Me And Him red carpet screening on Jersey on 1st July in aid of Baby Lifeline have been posted to Twitter.
Some stars from the cast will attend (but names have not been announced yet).
Tickets (at £35) are already on sale. Updated 26/5

A short video from David Tennant about the screening of You, Me And Him and a panel with the writer in Stockton has been posted to Twitter.
Unfortunately it was posted less than an hour before the screening started. Updated 19/4

MP3s, videos and photos of David Tennant's interview broadcast on Magic Radio this morning.
This was a pre-recorded interview to promote You, Me And Him but David also speaks about Camping. Updated 14/4

The Express gives a 3 star (short) review of You, Me And Him. Updated 13/4

The Times (behind a paywall) has a 2 star review of You, Me And Him. Updated 13/4

The Guardian has a 3 star review of You, Me And Him. Updated 12/4

Officially You, Me And Him is released in cinemas in the UK today.
Unfortunately it's not being screened anywhere today.
The link contains a new video from David suggesting people set up their own screenings. Updated 12/4

Today You, Me And Him is released on iTunes and On Demand in Canada. Updated 10/4

The Guardian has a new interview with David Tennant.
Although the interview is to promo You, Me And Him, it's quite a generic soundbite interview with the subtitle 'Organised religion gave me a good moral compass.' Updated 7/4

A video briefly showing David Tennant at the You, Me And Him Birmingham premiere and then an extended trailer for the movie has been posted to YouTube. Updated 6/4

You, Me And Him has a week of preview screenings in Glasgow from today. Updated 6/4

You, Me And Him to be released on iTunes and On Demand on Tuesday in Canada. Updated 5/4

Heart Radio News has an audio interview where David Tennant talks about You Me And Him and filming in Stratford-upon-Avon. Updated 31/3

David Tennant attends Birmingham charity screening of You, Me And Him tonight. Updated 31/3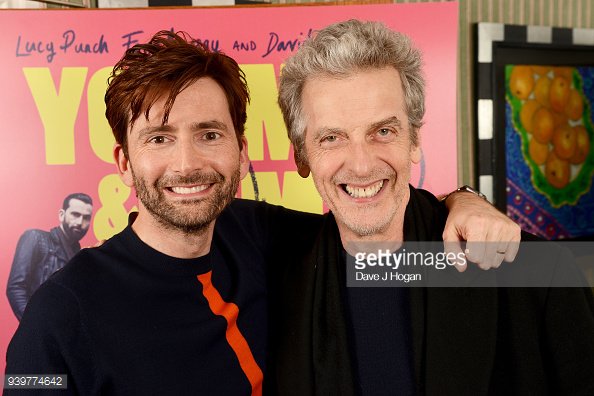 A lovely close-up photo of David Tennant at the screening of You, Me And Him tonight has been posted to Twitter. Updated 29/3
It wasn't announced in advance but tonight David Tennant attended a screening of You, Me And Him in London.
The first photo of him there (with Peter Capaldi) has been posted to Twitter. Updated 29/3
Glasgow Film reports that You, Me And Him will have a week of preview screenings in Glasgow from Friday 6th to Thursday 12th April.
The movie will be released in cinemas in the UK on Thursday 12th April. Updated 25/3
Yahoo has a new interview with David Tennant about equality, Doctor Who, You, Me And Him, Jessica Jones, Good Omens and Bad Samaritan. Updated 1/3
STV News have posted three videos of David Tennant talking about You, Me And Him and Doctor Who. Updated 26/2
David Tennant's video 'advert' for You, Me And Him movie and an audio interview from yesterday. Updated 26/2
Tonight David Tennant attends Glasgow Film Festival as You, Me And Him has its European premiere. Updated 25/2
MP3s of David Tennant on The Zoe Ball Show.
As well as discussing You, Me And Him, David was also asked about Good Omens, Mary Queen Of Scots and Doctor Who. Updated 24/2
David Tennant is a guest on The Zoe Ball Show this afternoon.
This interview is mainly to promote You, Me And Him. Updated 24/2
David Tennant to be a guest on The Zoe Ball Show on Saturday afternoon on BBC Radio Two.
The interview is to promote You, Me And Him. Updated 22/2