David Tennant at Wizard World Madison Fan Convention 2016
Saturday 9th and Sunday 10th April 2016
David Tennant attended Wizard World Madison fan convention at Alliant Energy Center in Madison, WI on Saturday 9th and Sunday 10th April. Also joining David was Alex Kingson from Doctor Who. Matt Smith was to have appeared too but he cancelled.
There were various photo ops and autograph sessions including photos with David with Alex. David Tennant also held a separate Q&A panel.
David attended from 2pm to 7pm on Saturday and 12pm to 4pm on Sunday.
Link to posts related to David Tennant at Wizard World Madison on Blogger.com (usually with more details).




New photos of David Tennant at fan conventions recently. Updated 22/5

Audio of David Tennant's at Madison Comic Con. Updated 15/4

Photos of David Tennant with fans on Sunday at Wizard World Madison. Updated 11/4

The first photo of David Tennant and Alex Kingston at Wizard World Madison today has been posted to Twitter. Updated 10/4

The first photo of David Tennant at Wizard World Madison today has been posted to Twitter. Updated 10/4

Photos of David Tennant with fans at Wizard World Madison yesterday. Updated 10/4

Photos of David Tennant with Alex Kingston yesterday at Wizard World Madison. Updated 10/4

Photos of David Tennant at his panel yesterday at Wizard World Madison. Updated 10/4

Today David Tennant makes his second appearance at Wizard World Comic Con Madison. Updated 10/4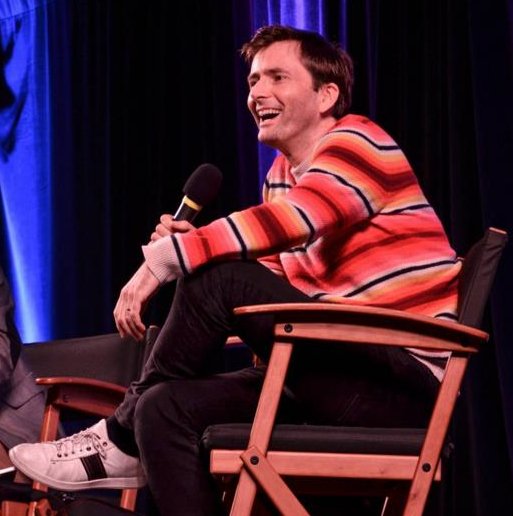 Wizard World have also posted a photo of David Tennant with the kid he brought up on stage from his panel to Twitter. Updated 9/4

Wizard World have posted a lovely photo of David Tennant at his panel to Twitter. Updated 9/4

Round-up of the David Tennant panel at Wizard World Madison today. Updated 9/4

The first photo of David Tennant at his panel at Wizard World Madison today has been posted to Twitter. Updated 9/4

A dramatic black and white photo of David Tennant at Wizard World Madison today has been posted to Twitter. Updated 9/4

Another funny photo of David Tennant and Alex Kingston at Wizard World Madison today has been posted to Twitter. Updated 9/4

The first solo photo of David Tennant at Wizard World Madison today has been posted to Twitter. Updated 9/4

A funny photo of David Tennant and Alex Kingston at Wizard World Madison today has been posted to Twitter. Updated 9/4

The first photo of David Tennant and Alex Kingston at Wizard World Madison today has been posted to Twitter. Updated 9/4

Today David Tennant attends Wizard World Comic Con Madison. Updated 9/4

Unfortunately Matt Smith has canceled his appearance at Wizard World Madison in April. Updated 24/3

David Tennant adds Sunday to his appearance at Wizard World Madison in April. Updated 10/3

Krysten Ritter will now no longer appear at Wizard World Madison in April. She is still attending St. Louis which includes dual photo ops with David Tennant. Updated 4/3

Matt Smith and Alex Kingston will now also join David Tennant at Wizard World Madison in April.
Unfortunately Billie Piper has had to cancel her appearance at this event. Updated 23/2

Krysten Ritter and Mike Colter from Marvel's Jessica Jones will join David Tennant at both the Wizard World St. Louis and Wizard World Madison fan conventions. There are photo ops with all three actors and with just David and Krysten. Updated 20/2

Tickets to see David Tennant and Bille Piper at the two Wizard World Comic Cons in April are now on sale. Updated 10/11

The onsale date for David Tennant's appearances at the Wizard World Comic Cons in St Louis and Madison in April has changed from today to around Sunday 15th November. Billie Piiper is also now attending both events. Updated 31/10

David Tennant to attend Wizard World Comic Cons in St Louis and Madison in April. Updated 9/10