David Tennant - Absolute Radio Breakfast Show
Friday 18th December 2015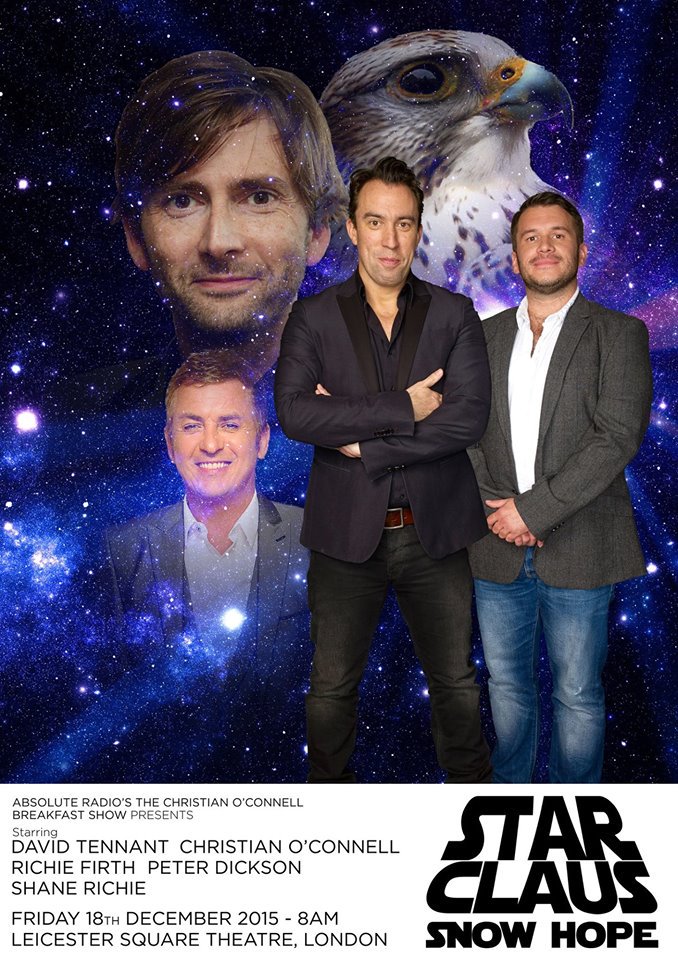 On Friday 18th December David Tennant appeared in the Absolute Radio Christmas Pantomine starting at 8am.

The panto is called Star Claus Snow Hope and David played a character based on Darth Vadar called Dave Vadar. EastEnders actor Shane Ritchie, Richie Firth and Peter Dickson also appeared.

The pantomine was broadcast live from the Leicester Square Theatre in London and hosted by Christian O'Connell.

The show streamed live on the internet at this link but only within the UK. We added MP3s of David Tennant's sections of the show after broadcast plus Absolute Radio added a video of the pantomime which plays worldwide.

Please note the timings may not be exact as there was a delay online, plus sometimes different songs / ads were played on the radio version compared to online.

| | | | |
| --- | --- | --- | --- |
| Start time of clip | Clip length | Topics discussed | Listen |
| 7.17am | 3 mins 6 secs | Star Wars movie | MP3 link |
| 7.34am | 4 mins 42 secs | Shane Ritchie interview (with David joining in) | MP3 link |
| 7.39am | 10 secs | David joining in with the travel! | MP3 link |
| 8.08am | 14 mins 20 secs | Star Claus: Snow Hope pantomime part one | MP3 link |
| 8.30am | 14 mins 17 secs | Star Claus: Snow Hope pantomime part two | MP3 link |
| 8.50am | 51 secs | David Tennant saying Happy Christmas to his family | MP3 link |
Video of David Tennant in the Absolute Radio Star Wars themed panto. Updated 18/12
Photos of David Tennant at the Absolute Radio panto from Getty Images. Updated 18/12
Radio Times has more photos and video clips of David Tennant at the Absolute Radio panto today. Updated 18/12
Photos of David Tennant at the Absolute Radio panto today have been posted to Tumblr. Updated 18/12
Photo of David Tennant in his fun jumper today has been posted to Twitter. Updated 18/12
First photo of David Tennant in his costume at the Absolute Radio Star Wars themed pantomime has been posted to Twitter. Updated 18/12
Photo of David Tennant and the cast of the Absolute Radio Star Wars themed pantomime today has been posted to Twitter. Updated 18/12
The first photo of David Tennant at the Absolute Radio Star Wars themed pantomime today has been posted to Twitter. Updated 18/12
The first photo of David Tennant at the Absolute Radio Star Wars themed pantomime today has been posted to Twitter. Updated 18/12
David Tennant stars in the Absolute Radio Star Wars themed pantomime at 8am today. Updated 18/12
David Tennant's telephone call to Absolute Radio this morning. Updated 30/11
Absolute Radio has announced on FaceBook that David Tennant will be chatting to Christian O'Connell on the Breakfast Show tomorrow morning. Updated 29/11
David Tennant to star in the Absolute Radio Breakfast Show pantomime on Friday 18th December. Updated 27/11